Peloton instructor Andy Speer is debuting a new style of Tread Bootcamps called "HIIT Bootcamps." Additionally, Peloton is launching a new flash challenge for Bootcamp classes. Andy shared the news about the HIIT Tread Bootcamps via Instagram:
Team! I am so pumped to crank up the intensity🔥and the volume 🔊 with you in my new HIIT Bootcamp starting Monday, September 12th at 12pm.
This 30min class will maximize your time on the tread and the floor with 6 sections of precisely programmed sprints and strength exercises. The playlist will push you with a different theme of HIT songs each class.
Join me LIVE every Monday at 12pm 👊🏻
"HIIT" stands for "high intensity interval training" and Andy's new Tread Bootcamp format will contain six total HIIT sections – presumably three on the Tread, and three on the strength mat. Each class will be 30 minutes in length, designed as a standalone workout for those who may be short on time. To go along with the "HIIT" theme, the playlist will consist entirely of hit songs.
Classes will take place live on Mondays at 12:00pm ET; the first class aired on Monday, September 12. Andy also recommends taking his 60 minute Total Strength classes on Sundays to "maximize your training."
In conjunction with this new Bootcamp format, Peloton is also launching a flash challenge called the "Fall Bootcamp Challenge." You can sign up and opt into the challenges via the website, through your Bike or Tread touchscreen, or from the App.
The Fall Bootcamp Challenge runs from September 12 through October 10, a total of 29 days. The challenge description reads:
Earn badges from bronze to gold as you take bootcamp classes from now until October 10th. And you can mix it up – we have a variety of bootcamp classes to choose from across Bike, Tread, floor, and boxing.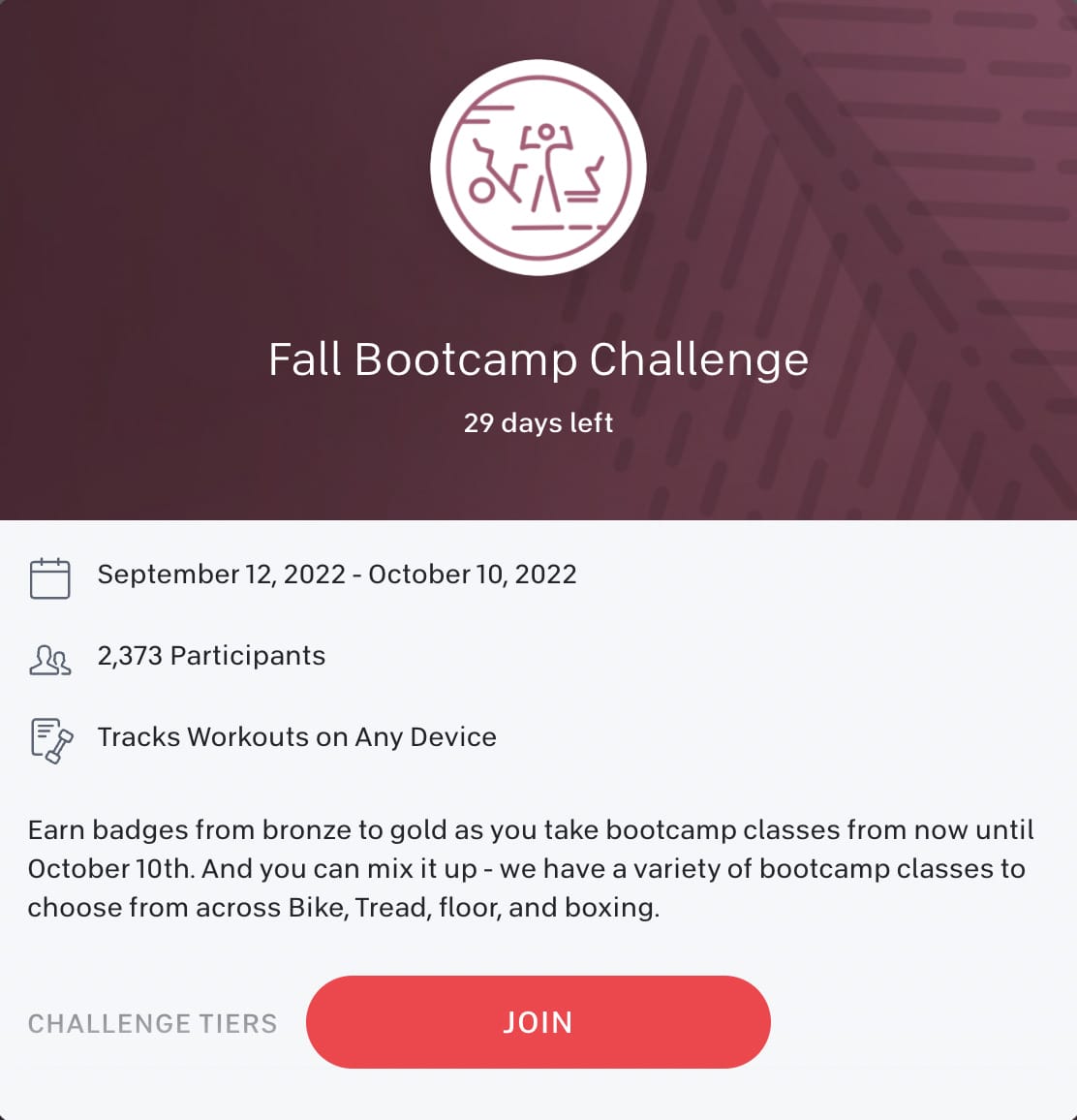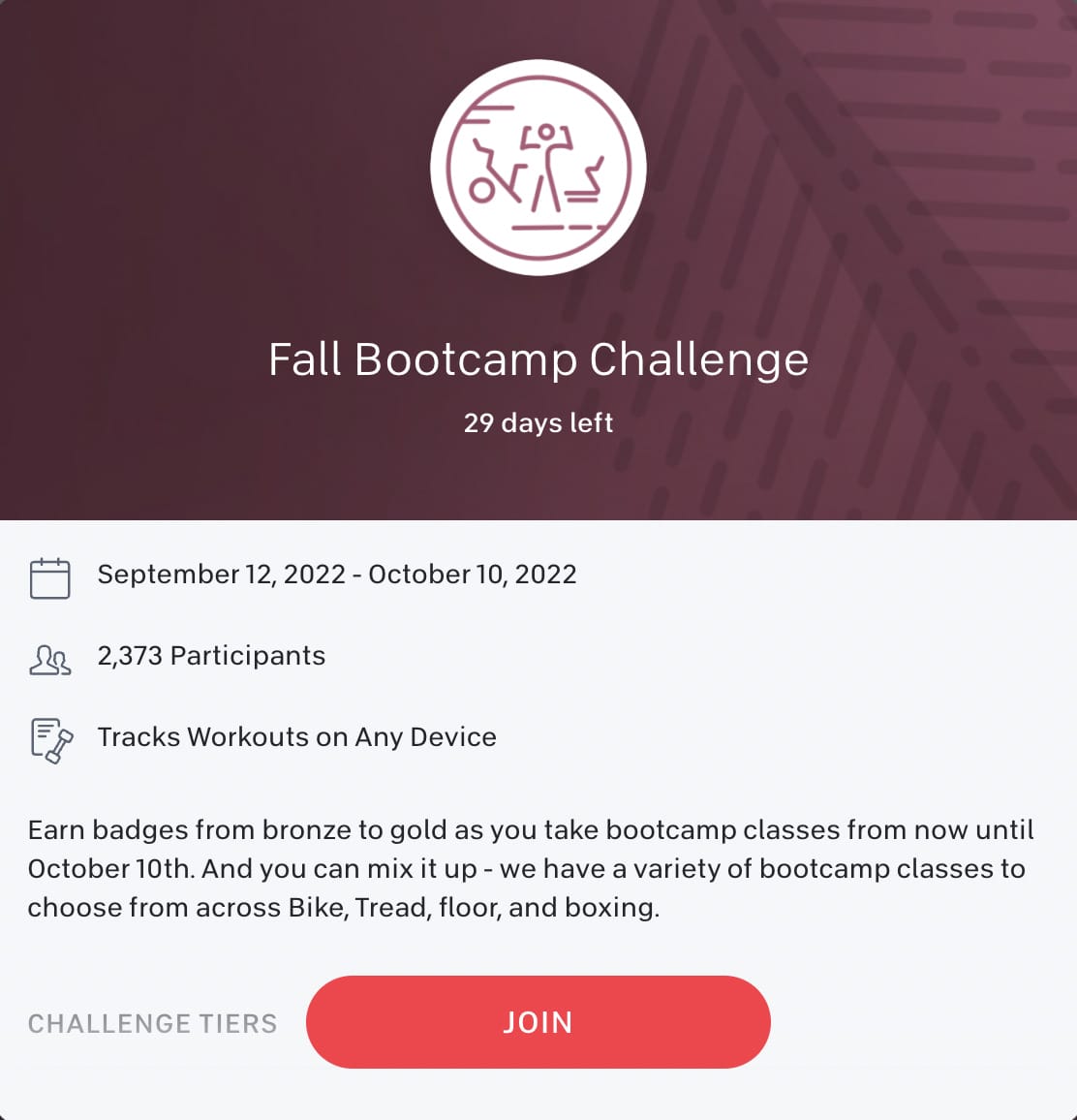 Members can take any class from any of the bootcamp varieties: Tread, Bike, boxing, or floor. As a reminder, Bike Bootcamp has recently moved to mostly on-demand classes as part of the new Triple Threat Collection. New Bike Bootcamps are released every Sunday evening. Boxing Bootcamps periodically appear on the live schedule, but there are currently none upcoming.
Badges will be available for each earned tier of the challenge. If you're looking to collect other badges this year, be sure to check out our complete guide.
Peloton has launched other instructor-specific Tread Bootcamp styles throughout the past few months. Rebecca Kennedy launched Hiking Bootcamps back in March, and Selena Samuela debuted a Rock Bootcamp series in April. In addition, the first-ever Boxing Bootcamps launched in January, and a new Floor Bootcamp Program with Selena and Jess Sims became available earlier this year as well.
Previous flash challenges have included:
Will you be trying out Andy's new HIIT Bootcamp classes and opting into the Fall Bootcamp Challenge?
---
Want to be sure to never miss any Peloton news? Sign up for our newsletter and get all the latest Peloton updates & Peloton rumors sent directly to your inbox.