Update – Peloton is teasing more boxing classes & coaches in the future in a new blog post, saying "The Program is just the start! In the coming months, you can expect more of your favorite instructors to join the boxing lineup, plus even more classes and some surprises along the way."
After months of speculation and anticipation, Peloton has finally launched Peloton Boxing! The "Get Hooked: Peloton Boxing" program is live as of 10:00 a.m. ET.
If you would like to see every class available, and go ahead and skip ahead to other weeks, we have the full list of classes and links to each one in the Get Hooked Peloton boxing program available here.
The program includes 14 classes and is 2 weeks long. The instructors for the program are Rad Lopez, Selena Samuela, and Kendall Toole. Classes range in length from 5 to 30 minutes. Week 1 has 5 days of classes, while Week 2 has 3 days of classes. The description reads: "Learn the fundamentals of boxing in Week 1 before getting into fight mode in Week 2 with three 30 minute Shadowboxing classes." The only equipment requirement is a workout mat – the classes do not use dumbbells or any other equipment.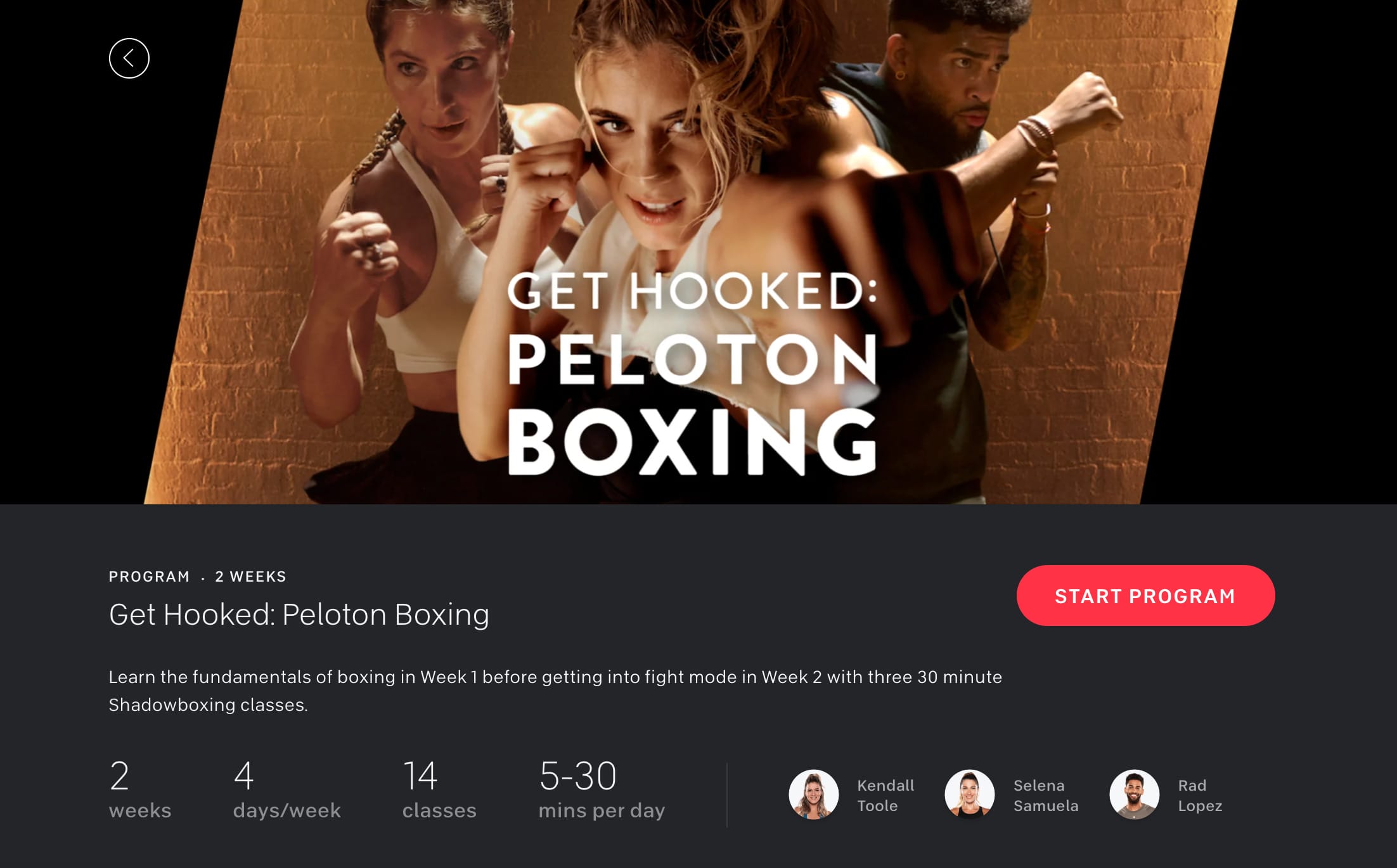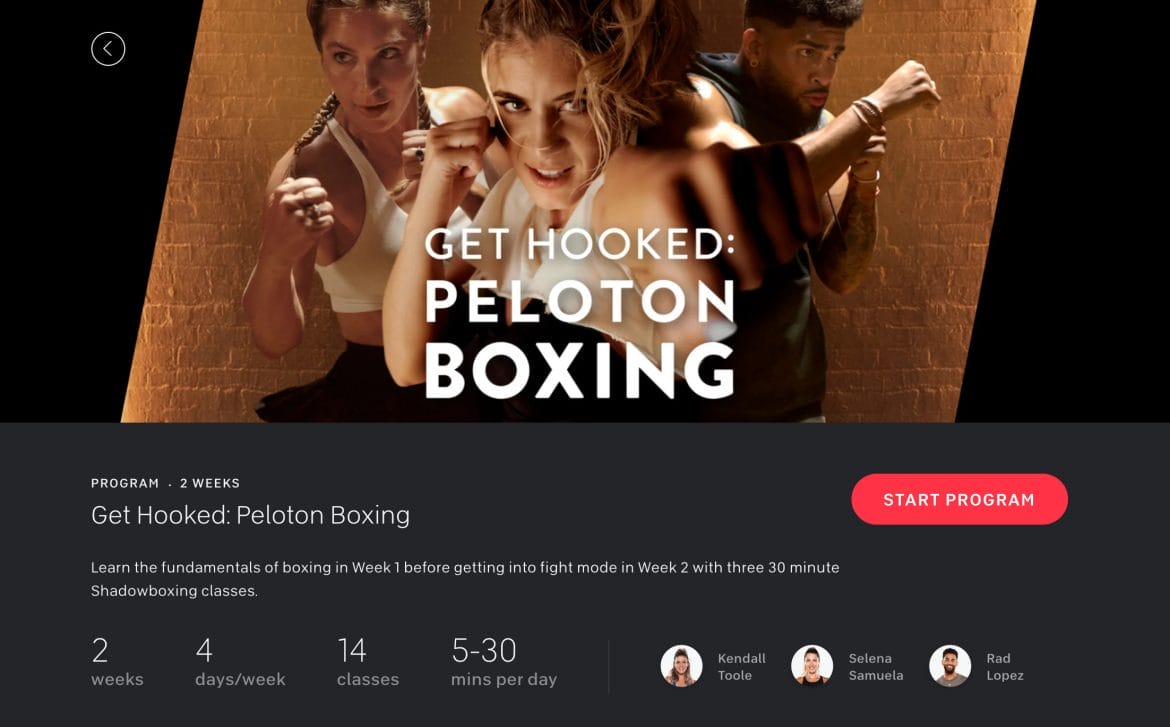 Peloton teased the release of boxing yesterday with a video on Instagram.
Unlike other new modality launches such as Dance Cardio, Barre, or Pilates, Peloton Boxing is available as a program. This means that members must "start the program" and follow the recommended class schedule in order to access the content. Classes will not be viewable in the general class list. You can read more about programs and find our complete list of programs here.. However, using our lists, you can jump around the program as you wish and unlock the classes. The program page for Peloton Boxing: Get Hooked is here.
Numerous Peloton instructors have been hinting at the development of Peloton Boxing this year. Most recently, Kendall Toole posted a Spotify playlist in October alluding to its arrival. Bradley Rose and Selena Samuela have also hinted at boxing classes this year.
Boxing has been one of the most requested modalities from members in the past, and it became noticeable that numerous of the new instructors announced in 2021 have backgrounds in boxing. Callie Gullickson, Rad Lopez, and Bradley Rose all joined Peloton this year and have previous boxing experience. Kendall Toole and Selena Samuela also have boxing backgrounds and often incorporate shadowboxing in their classes. It is unclear whether additional instructors will teach boxing in the future; but note that the second series of pilates, which launched in April 0f 2021, featured 5 new instructors who had not been included in the initial launch.
Peloton did previously have a few short shadowboxing classes in the on demand library taught by former instructor Jennifer Jacobs, but unfortunately those classes were purged after her departure.
You can view all of the new boxing classes in the "Get Hooked: Peloton Boxing" program on the Peloton App, web browser, or your hardware device (Bike/Tread). Reminder that our programs page also has the Get Hooked program, along with direct links for those who want to take classes without doing the full program. View the program here.
If you try out any of the new boxing content, be sure to let us know what you think!
---
Want to be sure to never miss any Peloton news? Sign up for our newsletter and get all the latest Peloton updates & Peloton rumors sent directly to your inbox.