Tis the season for gift giving. Perhaps you have a friend with a Peloton, and you are hoping to get them the perfect gift. Or if you have a friend who doesn't have a Peloton, you can quit reading this and just go ahead and purchase them a Peloton bike or Peloton tread – it will make their year! But assuming you aren't feeling that generous, or your friend already has the Peloton Bike or Tread, we have you covered. Below, you'll find our Peloton Holiday Gift Guide – a Top 10 list of some of the best accessories and Peloton related items you can get this holiday season. Some of these also work perfectly for last minute gift ideas as well! Note that some links may be affiliate links – so by purchasing through the links on this page (for the same price you would otherwise), you support our site. We only list products that we, or members we know, have tried out and recommend! You can scroll to the bottom to find all the recommended items listed by price category. This is our updated 2022 Peloton Gift Guide for any occasion: birthday, holiday, just because!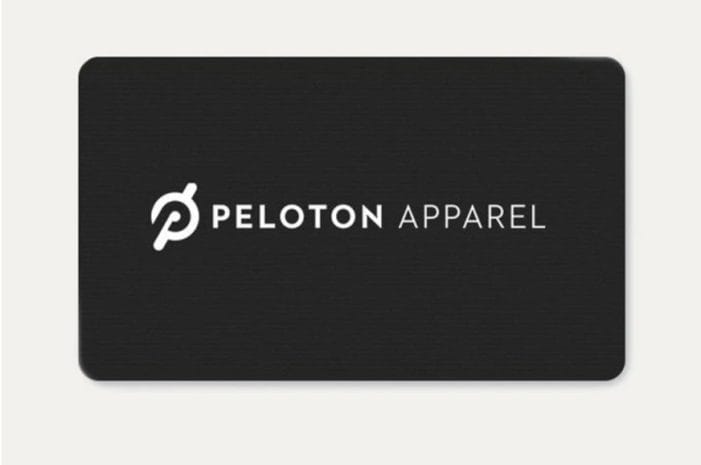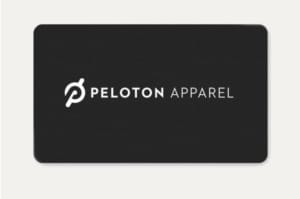 In addition to selling the bike, tread, (and rower eventually), Peloton also has full collections of different workout and leisure-wear for any Peloton lover in their online store (and at local showrooms). Now, one thing to be careful of – if your friend is always talking about their Peloton and talking their friends into buying it, they might have gotten some referral codes – which are good for free gear in the apparel store – so they could have a lot of Peloton apparel store credit already!!!  If you don't know exactly what to get them, you are able to purchase a Peloton Apparel gift card in varying amounts.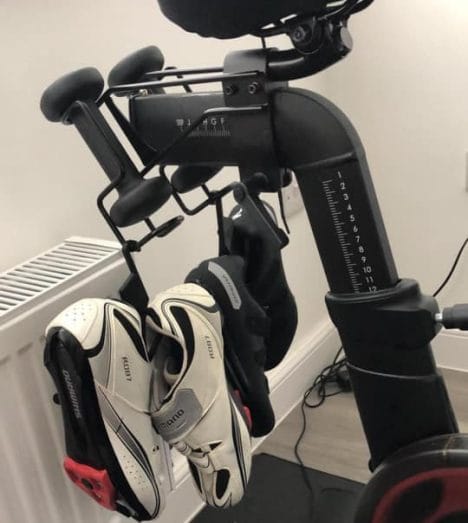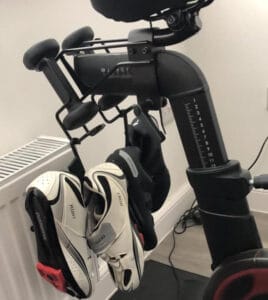 Here's a pro tip for  you: did you know that you can hang cycling shoes on your Peloton bike using the weight cage underneath the seat?   Many cycling shoes have loops on the back of them, and these fit perfectly over the cages that are for weights.   This solution only works for one set of shoes unfortunately.  In order to hang multiple pairs of shoes on the bike, you can pick up a 3D printed cycling shoe hanger – they also hang off the weight cage, but allows for one set of shoe per cage.  So if you need to hang two pairs of shoes, you will need two of these Peloton spin bike shoe hangers. There are a few different styles of these, so pick one to yours, or your recipients, taste.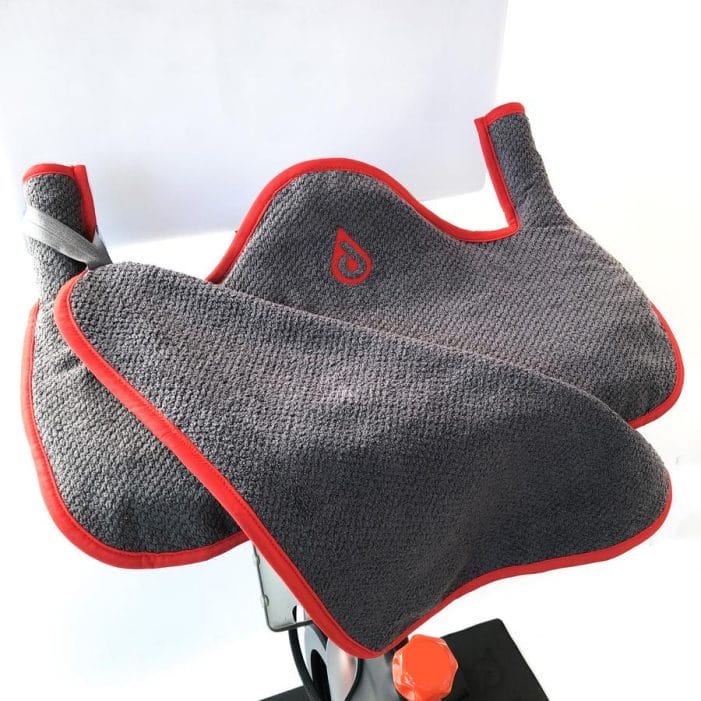 Most people find they work up a fairly good sweat when doing a workout on the Peloton.  Luckily for us, several third parties have recently come out with products to help people protect their expensive exercise bikes!    You have a variety of choices, depending on which part of the bike you want to protect, what your budget is, etc.   If you are only going to buy one sweat protection item, we would recommend the spintowel – this goes over the handlebars of your bike, and also comes with a medium sized towel for wiping your face off!   Another product designed just for the Peloton is the VeloTowel – (you can see our review here) – this goes over the downtube of your bike, protecting that area directly underneath you.   Both of these products have Bike and Bike+ versions available. You could also pick up a Sweat Net instead – it's not a Peloton specific product, instead working for all indoor trainer type bikes, but is 75% cheaper than the PeloTowel and would mostly protect the same area. Both Drip Accessory (maker of spinTowel) and VeloTowel have also recently come out with custom floor mats, designed to catch sweat under your bike.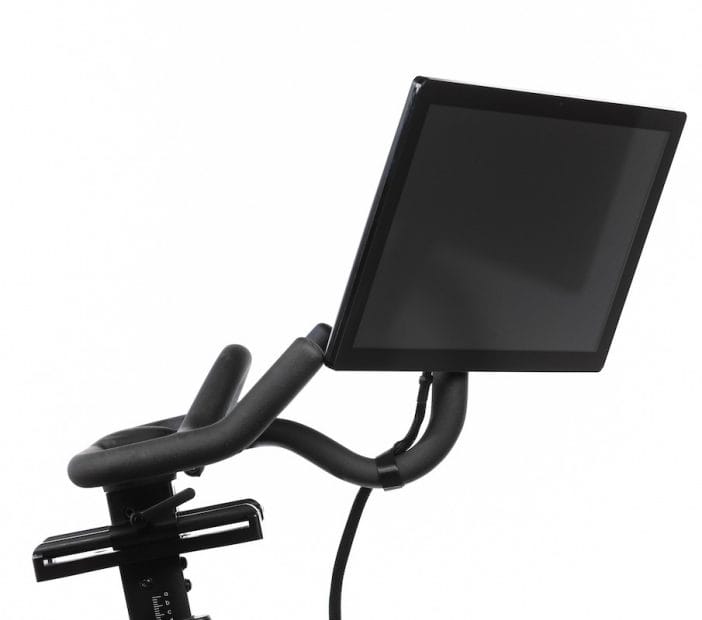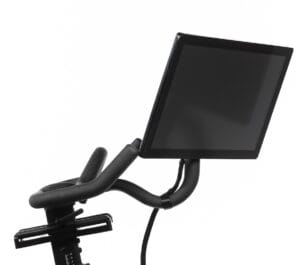 Peloton has released the new Bike+, but not everyone is rushing out to buy one, which is fine. One of the big new features of the new Peloton Bike+ is the fact the screen is able to rotate in any direction, making it easier to do bike bootcamps & floor workouts. A new accessory by Top Form Design called "The Pivot" brings this same feature to the original Peloton bike. With The Pivot installed, you are able to swivel and angle your monitor every direction you'd want. You can read our full in-depth hands-on review here. At time of publishing it is $60, and at that price is one of the most impactful upgrades you can make to your bike for the money. Even better, you can save an extra 10% using our discount code for The Pivot: PeloBuddy.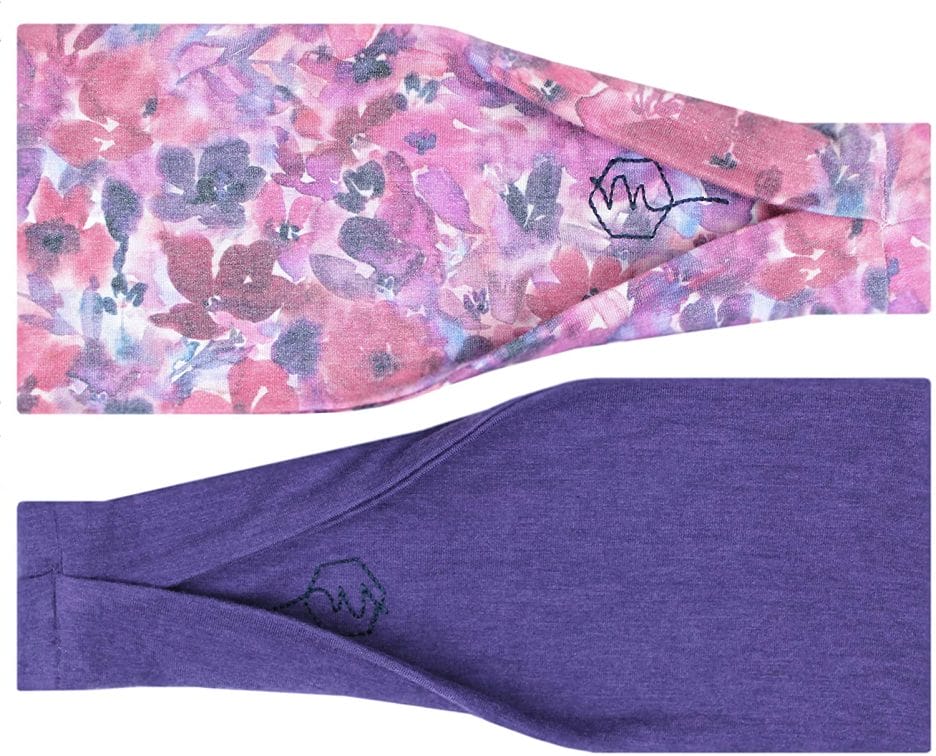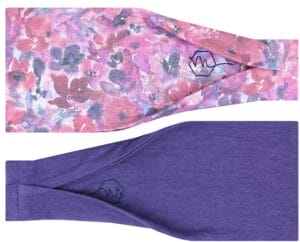 Riders and runners also find that a headband or sweatband can be a useful addition – helping to keep sweat under control. There's a number out there that can work, it's mostly a matter of style & taste. For women, the KEREITH sweatband, as well as the maven thread both seem to be popular. The poshei sweatband is popular with men, but as we said, pick one according to your taste. Pairing a sweatband with a good fan (Vornado is a commonly recommended brand), and you'll have one much cooler, happier rider or runner!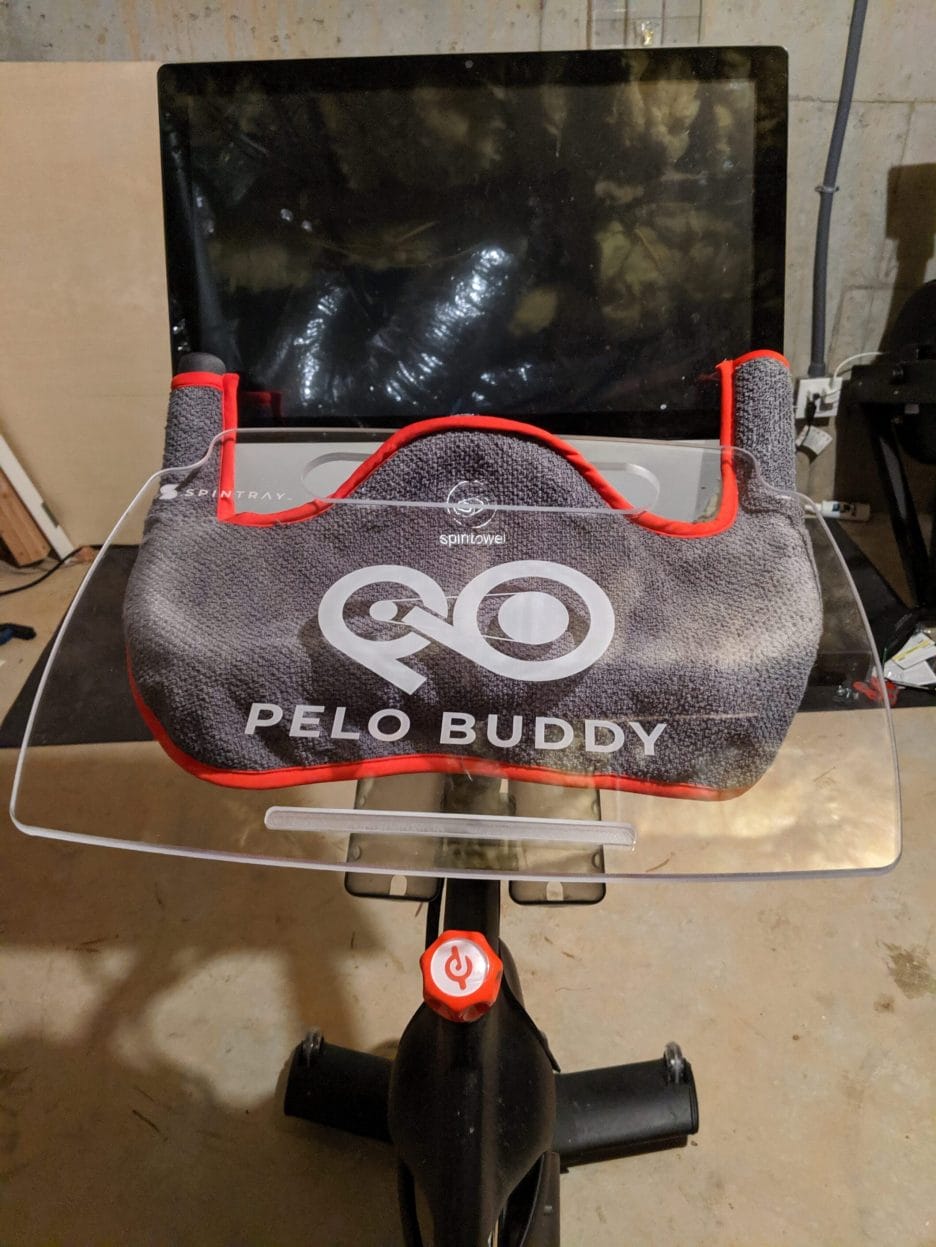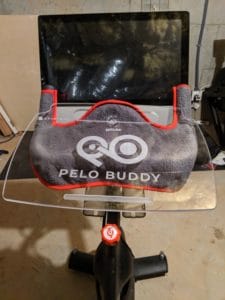 We know, this might sound counter intuitive.   But for many people, one thing missing with the Peloton is the ability to have a laptop in front of them while they ride.   If a person is doing an intense workout, the SpinTray will definitely come off the bike.  But for a low intensity ride, or just trying to get some sort of light activity in, the SpinTray works great – throw it on the Peloton bike, then have a book, papers, laptop, or something right in front of you.  They can even make custom versions with people's leaderboard names on them or custom logos and images.   Check out our review of the SpinTray here (and save 10% off with our code "PeloBuddy" by purchasing it on TopFormDesign.com), or if you don't want/need any customizations, you can pick one up directly on Amazon here. Bike and Bike+ models are now available.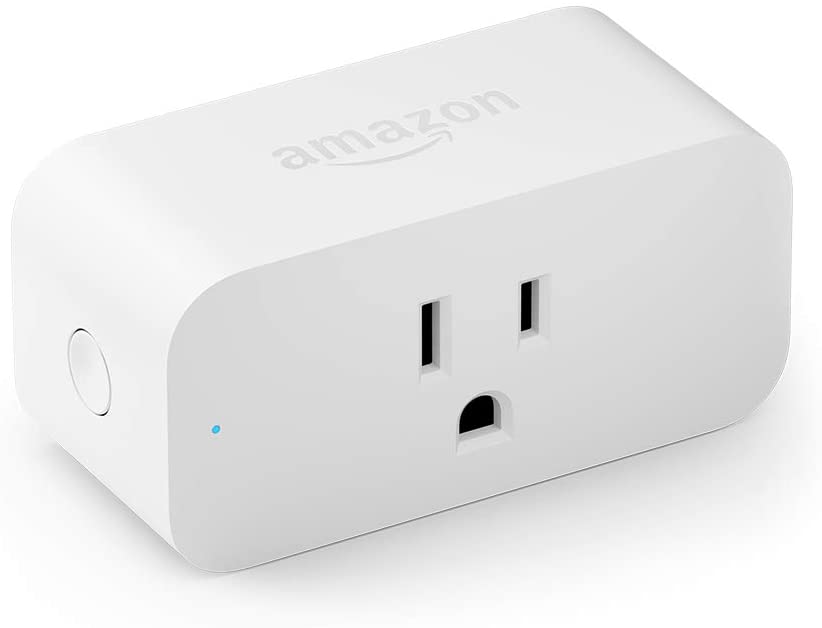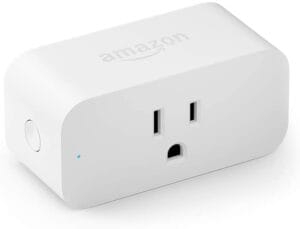 If we're being honest, this might be more for you than it is whoever you give it to, if you live in the same house. Too often, we've hopped on the bike, worked up a sweat, and then panicked, realizing we forgot to turn our fan on. At this point, you have three options: 1) Hop off the bike, turn the fan on, and then pedal harder to catch up on the leaderboard 2) Suffer through the ride or run with no fan 3) Yell or text whoever is home and beg them to come help you. If you've ever been the "phone a friend" in situation 3…..give this to that person! If your home has an Alexa device already, you can simply plug in the fan next to your Peloton into this Amazon Alexa smart plug. Then, you can simply say "Alexa, turn fan on", and save yourself if you forget to before a ride. Also, Amazon will randomly put this on sale a few times a year, dropping it to only $5.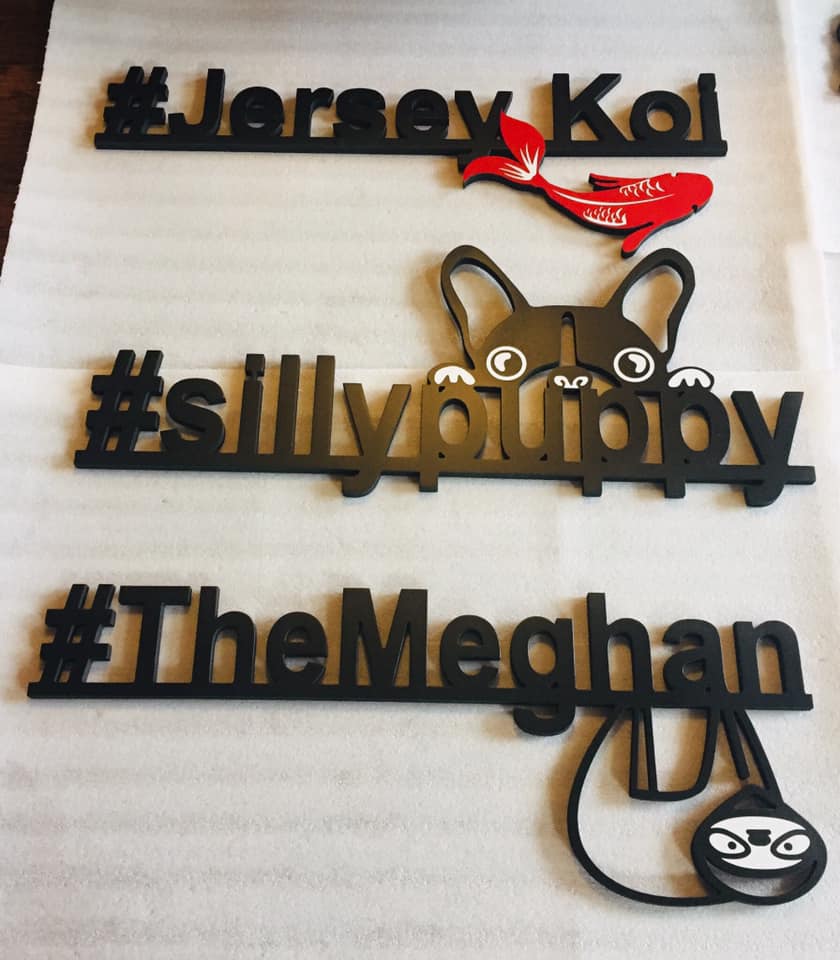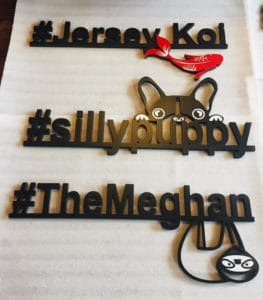 In Peloton lingo, a person's leaderboard name is their username.   Instructors will give "shout outs" in classes to a few riders, recognizing them by their leaderboard name.  Due to this, people are very proud of their leaderboard names, with some choosing to try to show it in their workout rooms and pain caves.   A few companies have started marketing specially made leaderboard signs for the Peloton community.  One of the most popular is from Top This Designs, who can make leaderboard name signs not only with your name, but also with custom images & colors to go along with the theme of your name.   They don't have an online shop, instead only taking orders via Facebook.   There are also several Etsy sellers who make leaderboard name signs.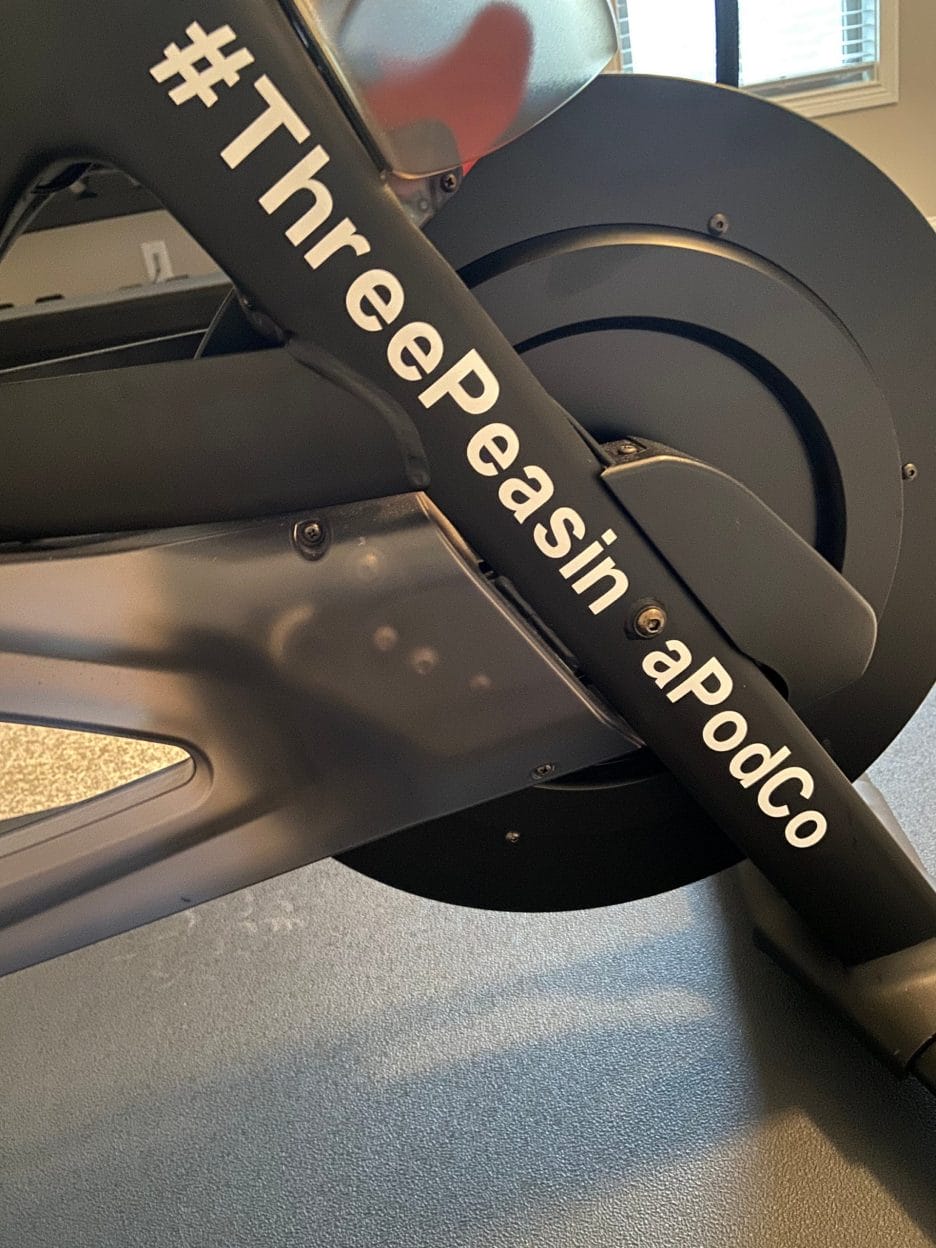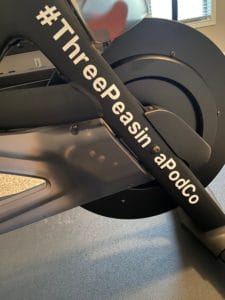 Along the same lines, you can also get stickers made to display your leaderboard name on your bike or treadmill. The most common location to place these is on along the front fork of your bike (the long tube leading down to the flywheel). This works as a great alternative to the leaderboard sign if you don't have a great place to hang something near your bike or tread, or are just looking for something different or a little bit cheaper. The best place to look for these is on Etsy, as there are several sellers making different versions & sizes of these. Depending on your craftiness level and if you have a vinyl cutting machine at home, this might be one you could try to make yourself as well!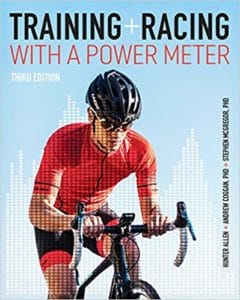 If you've ever heard the person you are shopping for mention "Power Zone Training", "Power Zone Pack", "Matt Wilpers", or "Denis Morton", chances are this book might be a good buy for them! Peloton offers a set of classes known as "Power Zone Training". These workouts are structured classes, tailored to your current fitness level using a popular metholodology used across the entire cycling industry known as power zone training. In these classes, Matt Wilpers & Denis Morton explain at a high level, in byte size pieces, some of the theory of the training. The book "Training and Racing with a Power Meter", by Hunter Allen & Dr. Andrew R. Coggan PhD, provides a detailed look at the science behind it, going into more detail and filling in some of the science behind it. Even if they haven't taken power zone training classes yet, if they seem like they might be interested in more serious training on their Peloton, we'd recommend this book. You should also be sure to tell your friend about the free Power Zone Timer Tool & Library by Home Fitness Buddy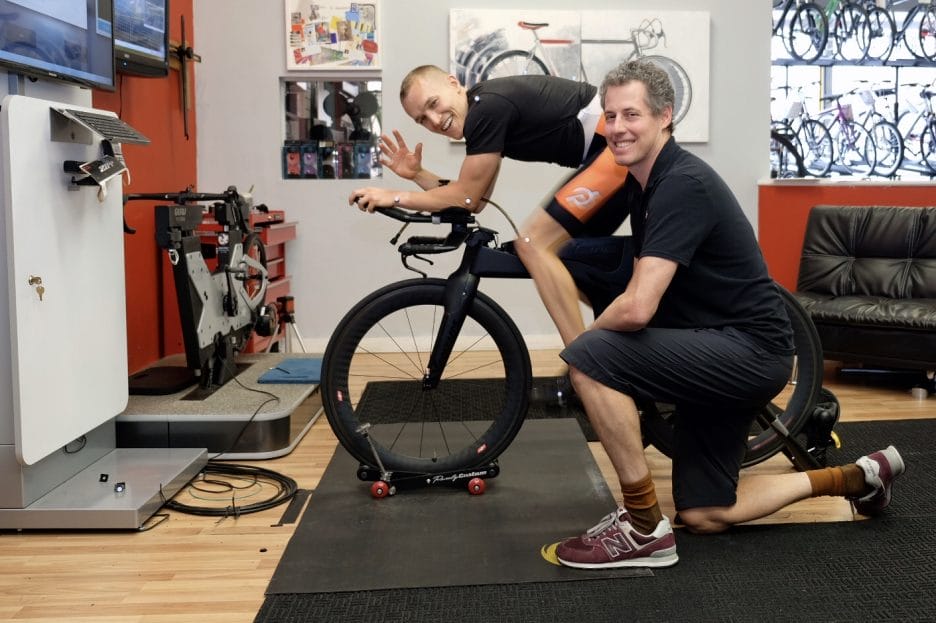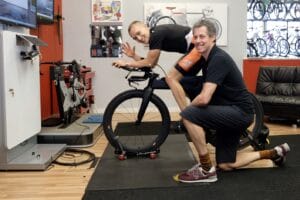 There are now several bike shops & bike professionals that offer "Virtual bike fittings" for your Peloton, designed for those who either want to get the perfect fit on their bike, or who feel like they might be having some pain and discomfort that might be helped by being properly fit. These typically work by you getting on a Zoom or other video call. The bike fitter will start with an interview about your history, have you do some stretches & quick drills to see your flexibility & mobility. They'll then start by adjusting your cleat positioning if needed, then have you hop on the bike. They'll watch and give you feedback, have you tweak your settings, and then do it again. Most people who have had these done end up being thrilled with the changes. There are a number of shops out there that do this – the most commonly known is likely the 'Team Wilpers' Bike fitting service, simply since Matt Wilpers promotes it. Unfortunately, booking with Team Wilpers does not mean Matt will be doing your fitting – it will be one of his team members. Cost will range from $100-$250, and vary in length from 45 minutes – 2 hours, depending on what group you go with.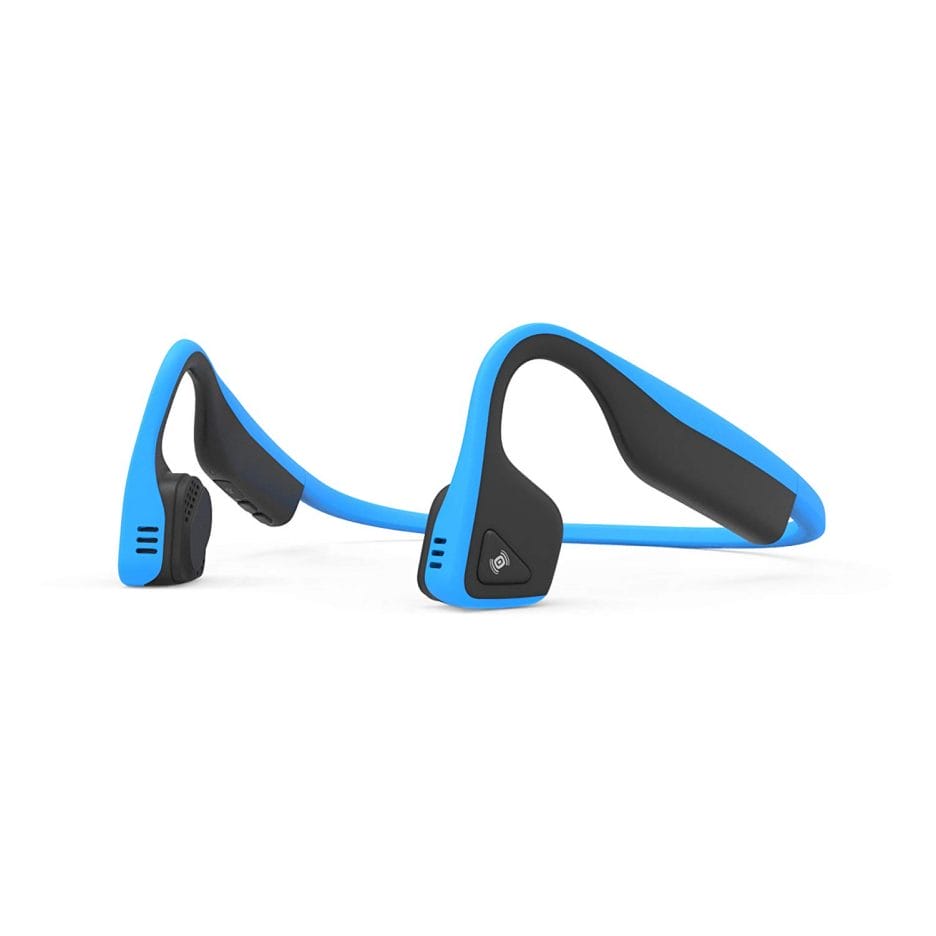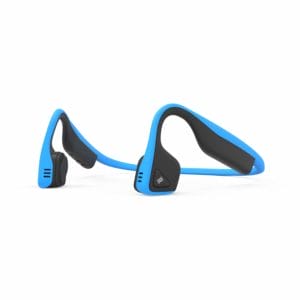 Depending on where the Peloton bike or tread is located in your house (or basement, or shed), having the music blasting at full volume might not be ideal. With that in mind, the Peloton bike & tread both are able to pair and use any set of Bluetooth headphones. However, depending on what sort of bluetooth headphones you or your friend has, a new set might be in order to use with the Peloton. A lot of headphones aren't designed to get wet, so you'll want a set of sport or waterproof headphones. One of the more popular ones, especially if you are an iPhone user, would be the Apple AirPod Pro ear buds (2nd generation). These have noise cancelling features, and can be used for day to day use as well at the office. Another fairly popular alternative are the Shokz OpenRun Pro brand of headphones (they have several different specific models, also formerly known as AfterShokz Titanium). These use a new bone conduction technology, so that the music is sent through your cheekbones. There is nothing over or in your ear, helping you to hear ambient noise, which is perfect if you also use them for outdoor running or cycling.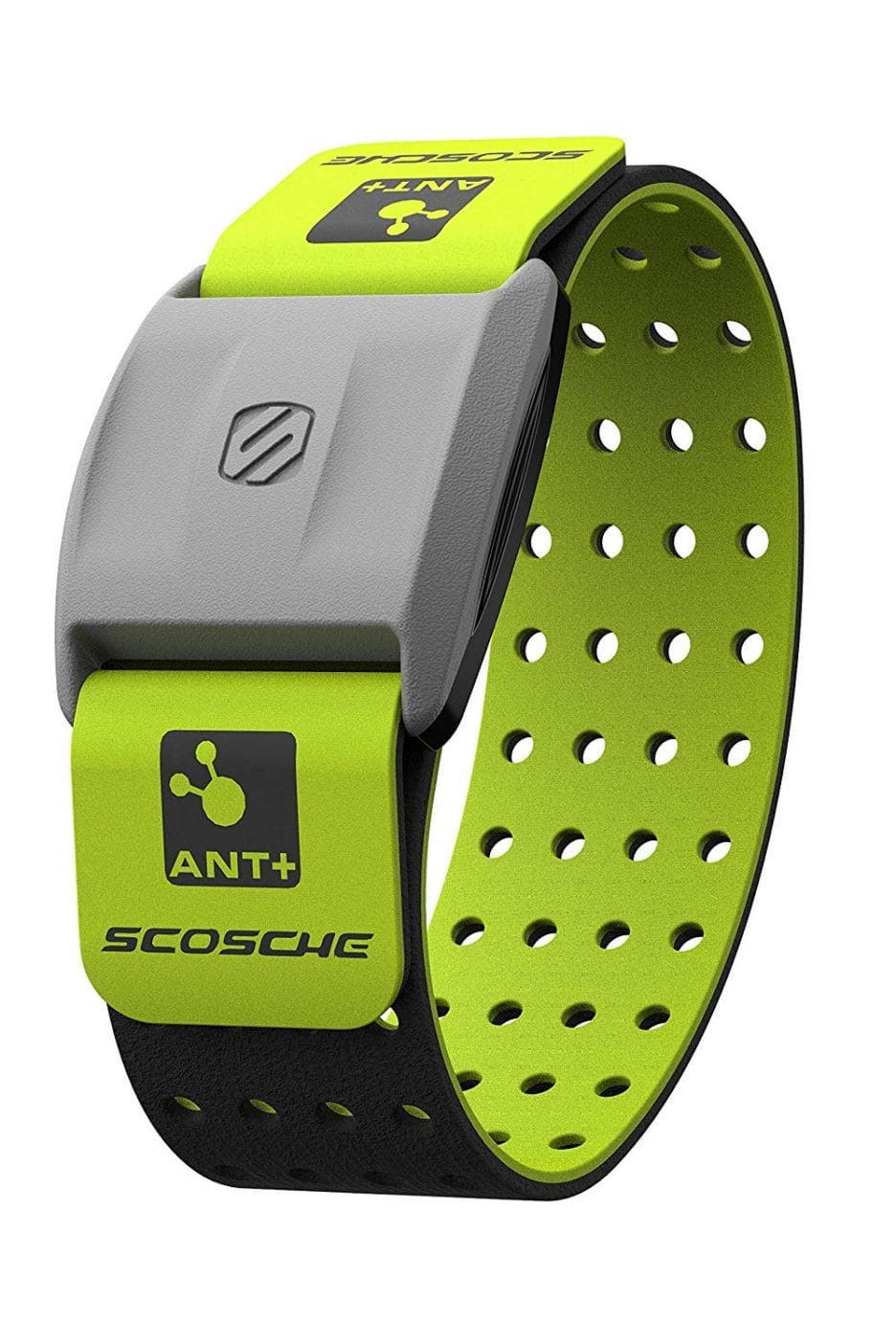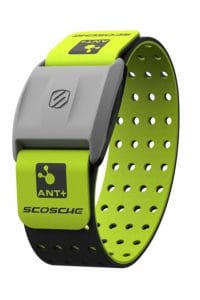 A heart rate monitor is another nice add-on for a Peloton bike or tread as people are getting more serious – and is necessary if you wish to utilize the "Strive Score" feature of Peloton. The bike and tread do not come with a heart rate monitor – but several of the Peloton branded accessory packages that people purchase with the bike have them (including the ones that are offered free every year as part of the Black Friday & Cyber Monday sales). There are two different Peloton-branded heart rate monitors available – a Peloton heart rate chest strap, and Peloton heart rate band (worn on your upper forearm). Our advice: don't bother with the chest-worn strap from Peloton (it's not very accurate). If you're considering a Peloton-branded one – go with the Peloton Heart Rate band, which was introduced in 2022. It's fairly accurate and pairs quickly with Peloton devices. If you're only using it with Peloton equipment, it should work well enough. However, note that it doesn't support Ant+, or multiple Bluetooth connections, so a third party heart rate monitor might be more future proof and widely compatible. For people looking for an alternative, or users who just don't have a heart rate monitor yet, we would highly recommend the Scosche Rhythm+ 2.0 Heart Rate Monitor (which many times is also nearly half the price of the Peloton Heart Rate band). This one is worn on your forearm, rather than your chest, and is known for being highly accurate. In addition, it is able to broadcast a heart rate both using Bluetooth and Ant+, allowing it to connect to almost any modern fitness device or watch out there. Even if someone isn't interested in heart rate training, a heart rate monitor is still good to have as it helps you to detect over-exertion and overtraining. Note that you can either buy it on Amazon or directly through the Scosche.com site, and they regularly have 15%-30% off coupons on their site.
Peloton NYC Studio Ride Credit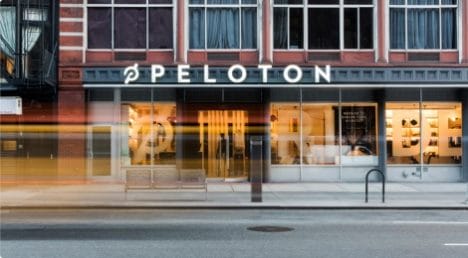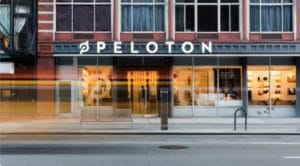 In the past, Peloton allowed you to buy a gift card for studio credits. Although the studio has reopened in 2022, it's not currently possible to buy studio ride gift cards – this could be a great idea if they re-add this as an option though!
Peloton Gift Guide by Price Range
If you were curious on the price ranges of the above items, here they are from cheapest to most expensive
Peloton Gift Ideas Under $10
Peloton Gift Ideas Under $25
Peloton Gift Ideas under $50
Peloton Gift Ideas under $100
Peloton Gift Ideas Over $100


And that rounds out our Top 10 list of best Peloton Gift ideas for the season. Thankfully, most of these ship relatively quickly so you still have plenty of time to get them in for this year. And if not, you have a head start on next season. Because with Peloton having one of the highest retention rates of any fitness equipment out there today, chances are your friend will still be riding next year! And if you still need more ideas, you can check out our full list of recommended Peloton accessories for some additional gift ideas.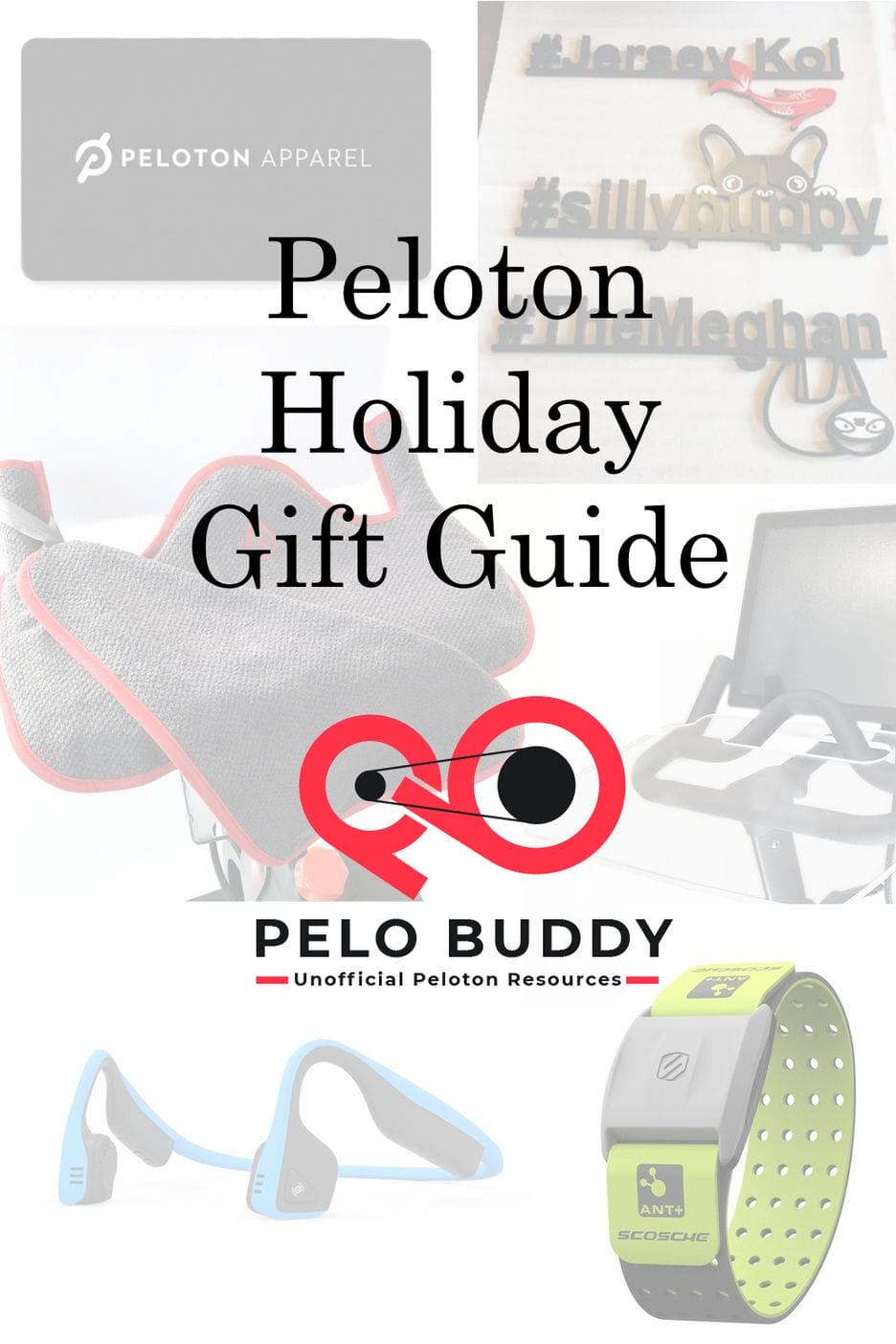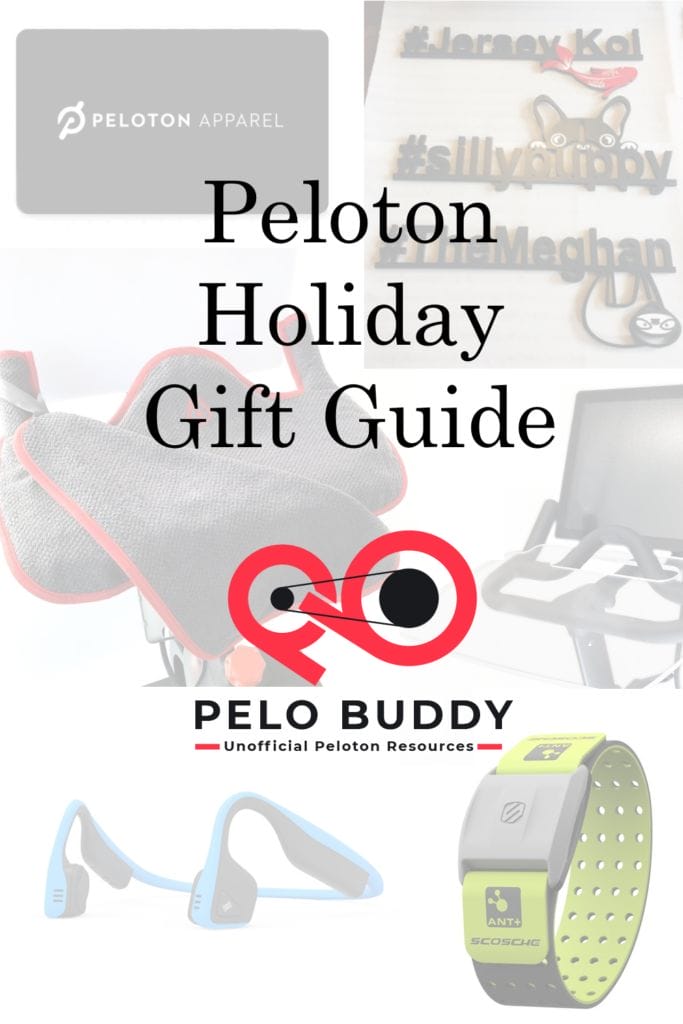 ---
Want to be sure to never miss any Peloton news? Sign up for our newsletter and get all the latest Peloton updates & Peloton rumors sent directly to your inbox.