Complete List of New Peloton Scenic Rides (Scenic Rides 2.0)
The following is a complete list of Peloton's new scenic rides.
At Peloton Homecoming 2021, it was announced that Peloton was completely relaunching their scenic runs & rides. With the relaunch, there are now 3 types of scenic classes – guided, distance-based, and time-based.
The guided Peloton rides feature an instructor cycling with you, on-camera, talking to you through the workout, like you would expect in a normal class. The playlist is also curated and hand-picked by the instructor.
The new distance-based cycling classes have you ride for a certain amount of time. However, what's new with the distanced-based classes is that the video is responsive – and the playback of the class will speed up or slow down and as your speed changes.
Finally, you have the new time-based rides – whereas you ride for a set amount of time. The video is *not* responsive for these. For both the time-based and distance-based classes, the playlist will change every day – so if you take the same class two days in a row, you should not hear the same songs.
Note that unfortunately, at this time the new scenic classes are ONLY available on the Peloton bike or Tread. This means if you are a digital-only user, or wanting to take a class while on the road, you are currently unable to. Peloton has said that this is because the upgraded experience (in particular the responsive video) requires the Peloton hardware. Peloton provided more details about this logic here. If you open any class in the list below on your phone or computer, this means it will say the class is unavailable – however, you should be able to pull it up on your Tread or Bike.
If you know of a class we're missing (or if one of these has been completely removed), just email us and let us know and we can update it! If you're curious about what scenic classes were available under the old system, you can find a full list of old Peloton scenic classes here.
You can also find the new scenic runs listed here.
List of Peloton's Guided Scenic Rides (Instructor Scenic Rides)
Adrian Williams – 20 min Savannah Ride
Denis Morton – 30 min Big Sur Ride [California]
Matt Wilpers – 30 min Hawaii Ride

List of Peloton's Time-Based Scenic Rides
10 minute Peloton Scenic Rides
10 min Abu Dhabi Ride
10 min Antelope Island State Park Ride [Utah]
10 min Bangkok at Night Ride [Thailand]
10 min Coron Ride [Philippines]
10 min Eifel National Park Ride [Germany]
10 min Grant Park Chicago Ride
10 min Melbourne at Night Ride [Australia]
10 min New York City Ride
10 min San Juanico Bridge Ride [Pan-Philippine Hwy Philippines]
10 min Seville Ride [Spain]
10 min Singapore Ride
10 min Sydney Sunrise Ride
10 min Veluwe National Park Ride [Netherlands]

15 minute Peloton Scenic Rides
15 min Avenue of Giants Ride [Redwoods in California]
15 min Crete Ride
15 min Great Falls Ride [Missouri River]
15 min Murcia Ride [Spain]
15 min Red Canyon Ride [Utah]
15 min Santa Monica Beach Ride [California]
15 min Snow Canyon Ride [Utah]
15 min St. Louis Route 66 Ride [Missouri]
15 min Vincentine Coast Ride [Portugal]
15 min Yellowstone Ride [Wyoming]
15 min Zion National Park Ride [Utah]

20 minute Peloton Scenic Rides
20 min Adelaide Ride [Australia]
20 min Andorra Mountains Ride
20 min Avignon Ride [France]
20 min Dolomites Ride [Italy]
20 min Lewis and Clark Ride [Montana]
20 min Marina Green Park Ride [San Francisco California]
20 min Valencia Ride [Spain]

30 minute Peloton Scenic Rides
30 min Brisbane Ride [Australia]
30 min Castile-La Mancha Ride [Spain]
30 min Cuyahoga Valley Ride [Ohio]
30 min French Pyrenees Ride
30 min Joshua Tree Ride [California]
30 min Medoc Ride [France]
30 min Serra De Monchique Algarve Ride [Portugal]

45 minute Peloton Scenic Rides
45 min Andalusia National Park Cabo De Gata Ride [Spain]
45 min Côte d'Or Vineyards Ride [France]
45 min South Island New Zealand Ride

60 minute Peloton Scenic Rides
60 min Andalusia Ride [Spain]
60 min Normandy Ride [France]
60 min Patagonia Ride [Argentina]
60 min Wyndham Australian Outback Ride

List of Peloton's Distance-Based Scenic Rides
5K Savannah Wetlands Ride
5K Pūpūkea Forest Ride
5K Monterey Peninsula Ride
10K Pūpūkea Forest Ride
10K Georgia Longleaf Pines Ride
10K Big Sur Ride
10K Aguirre Spring Ride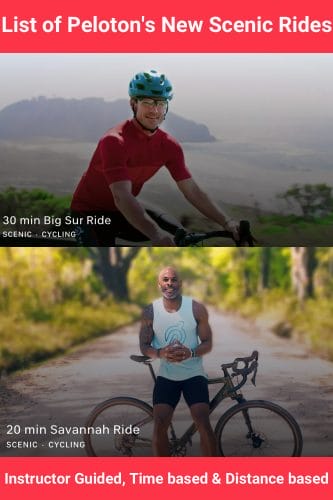 ---
Want to be sure to never miss any Peloton news? Sign up for our newsletter and get all the latest Peloton updates & Peloton rumors sent directly to your inbox.