The following is a list of Peloton's badges & special achievements members can earn by taking special classes (rides, runs, yoga, strength, etc). This list is sorted by the date the badges were created & made available to members. Each badge is linked to jump down to a section where you can then see a mostly-complete list of Peloton classes that are able to earn a specific badge. Note that some classes have been purged, so it is no longer possible to earn some of the badges. We will note which classes have been archived (note that purges happen with no notice so it's possible we don't know a class has been recently purged, but just email us and let us know and we can update it!) Feel free to email us if you know of a class that earns a badge we don't have listed, and we can get that updated as well. If you've earned most of these badges already and are looking for some unique classes to take, be sure to check out our special interest class list, or the instructor signature series list.
Full List of Peloton Badges & Peloton Special Achievement Awards


Special thanks to Joseki Tech for help gathering the data.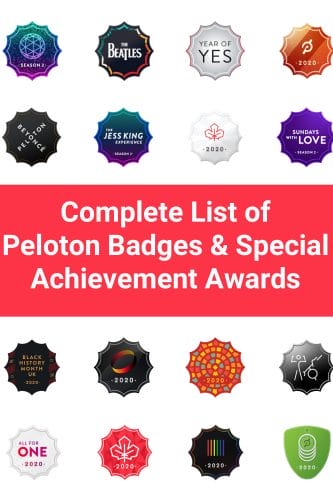 ---
Want to be sure to never miss any Peloton news? Sign up for our newsletter and get all the latest Peloton updates & Peloton rumors sent directly to your inbox.