This morning, Peloton has announced their new 2023 "Peloton on Tour" event – which is serving as a replacement for the traditional Peloton Homecoming event that used to take place each spring in New York City. Earlier this year Peloton teased that Homecoming would be coming to members this year – and "Peloton on Tour" is the result.
Update 3 – You can see full details & schedule about the Peloton on Tour Atlanta here.
Update – Details, info & pricing about the first event in Los Angeles is now available. It has much more info about the format of the Peloton on Tour event & weekend.
Update 2 – You can see an overview about what the Peloton Instructor Experience is here, and more about what the Peloton Outdoor Walk & Talks are here. You can read about the free group workout class here. Finally, you can see full details & photos from the class tapings on Saturday here.
Peloton on Tour will see Peloton bring activities (and instructors) to several cities around the world later this fall & winter. Each Peloton on Tour stop will be a 3 day festivity in each city, with events happening throughout the weekend, a chance to meet Peloton instructors in person, and opportunities for the local communities to get together. In addition, each city will feature a new "Leaderboard Awards", where local members in each community (nominated by other members) will be recognized.
Update – Buried in one of the FAQs about the event is the fact that "Instructor- led classes recorded at each tour stop will be available to take via the Peloton platform or Peloton App One and App+." This would seem to imply that each city will have some sort of make-shift studio set up (or possibly even use a space in the showroom as was created for Cody Rigsby when filming Dancing With the Stars) so that coaches can record some classes for each city. Those would then be available to all members just like regular classes. What isn't clear from the details available currently is whether the studio space would be big enough so that there would be space for members to be taking the class in-person as well (and if those would be one of the events you can purchase).
Peloton describes the event as:
We're hitting the road to bring the Peloton experience to you! Get ready to connect with your favorite instructors on a on a new level—through social media moments, workouts, panels, on-site class tapings, and more. Join us for a 3-day community celebration where all are welcome.
The description mentions "Class tapings" as one of the activities but doesn't go into detail with what this means.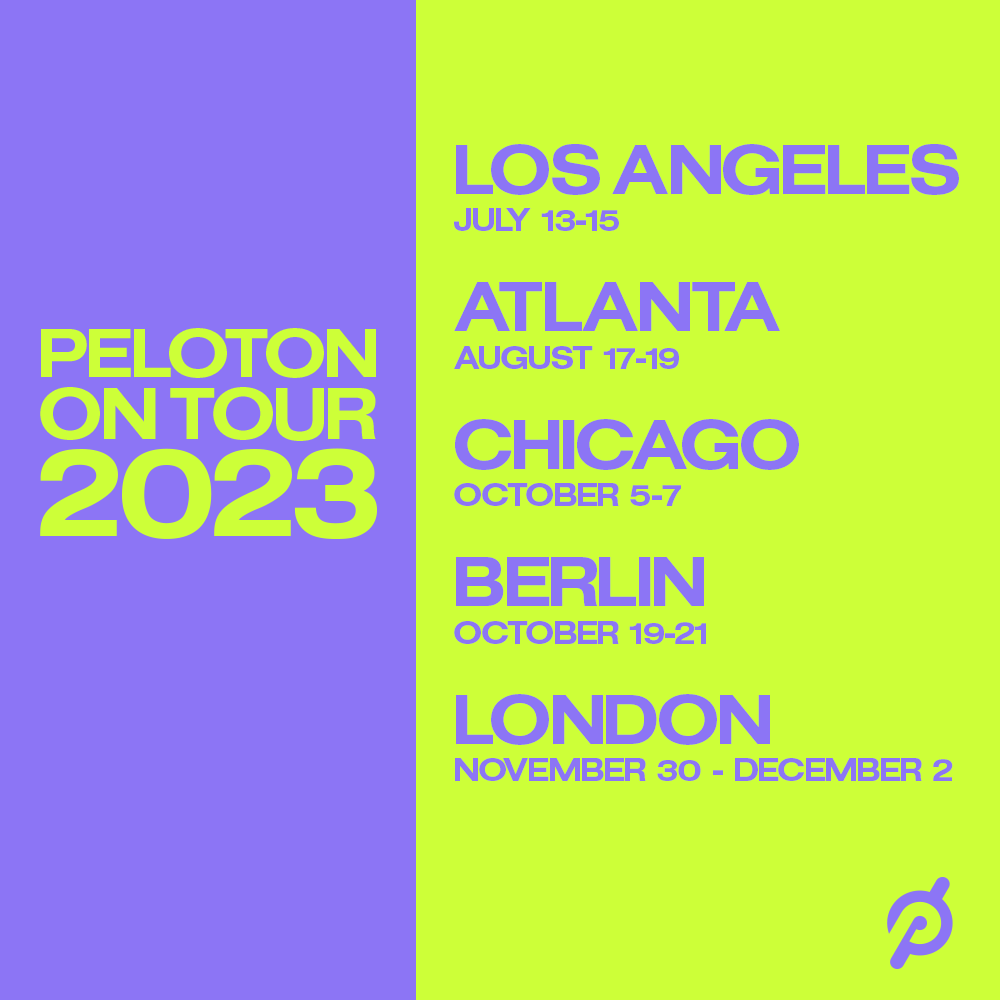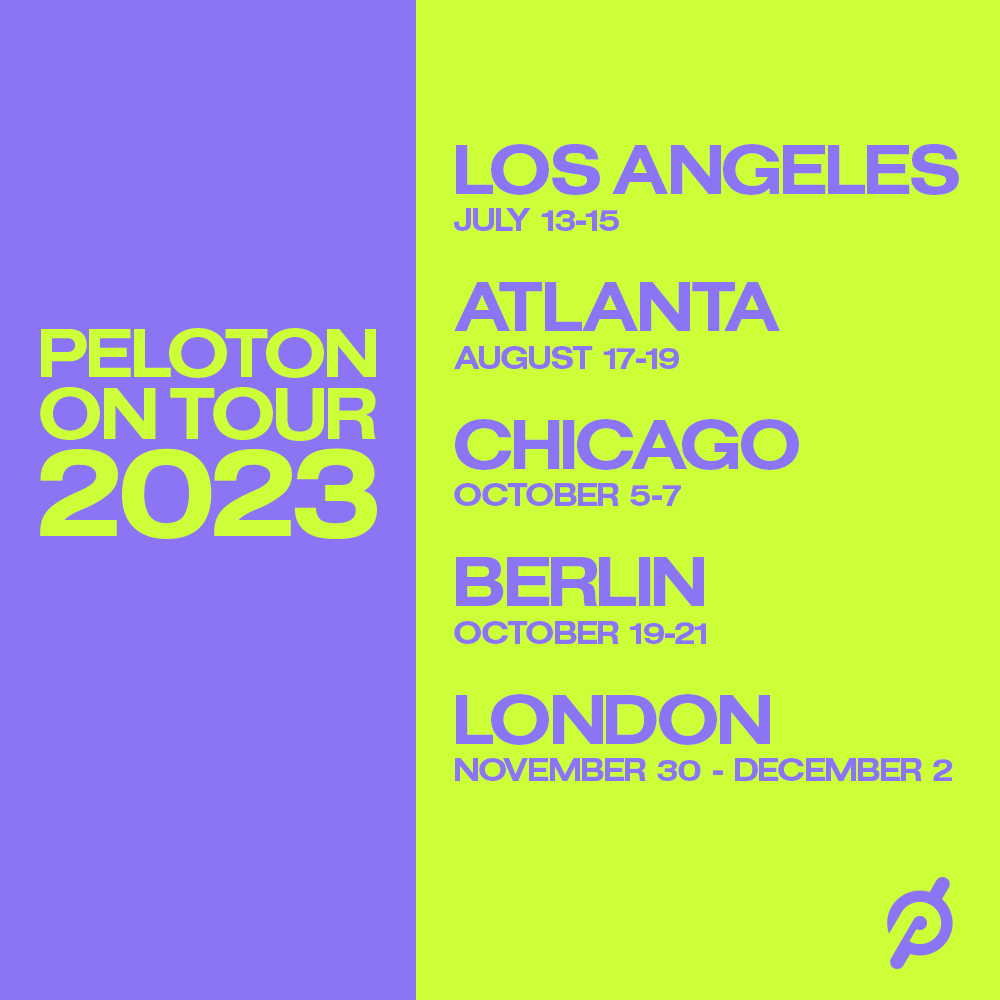 Peloton's last in-person Homecoming event took place in 2019 – which was where the Peloton community came together for one big weekend in New York City. The in-person event in 2020 was cancelled, and subsequent years have been virtual. Peloton's community has grown to nearly 7 million members since then, so demand for events like these can be overwhelming – plus, not everyone wants to or can travel to New York City. Peloton's goal with Peloton on Tour is to let members around the world experience some of the magic of Peloton – whether it's in person interaction with instructors, events and experiences with other Peloton community members, and more.
Today's announce of Peloton on Tour gives us the dates, and general overview of the event. We had a chance to talk to Peloton to get a little more information about what to expect – however, more details & specifics about what will take place at each tour stop will be announced a month before each event.
Below, you'll find a list of where Peloton on Tour is going in 2023.
Dates & Locations for the Peloton On Tour 2023 Events
Los Angeles, California – July 13-15, 2023
Atlanta, Georgia – August 17-19, 2023
Chicago, Illinois – October 5-7, 2023
Berlin, Germany – October 19-21, 2023
London, UK – November 30 – December 2, 2023
The "Peloton on Tour" is intended to bring Peloton out from your screens, or the studio at PSNY, and let people around the world see what Peloton is about. While existing Peloton members will be able to meet other members of the community and some instructors in person – it is not being limited to just Peloton members. Peloton on Tour will also be a way to showcase and market Peloton to people who might not be familiar with Peloton, or those who haven't signed up yet.
Peloton will also be working with local partners in each city. For example, in Chicago, they will work with The Christopher & Dana Reeve Foundation for some events. Peloton has previously collaborated with the foundation to create Logan's Seated Adaptive Strength program, as well as taking part in a virtual event with Logan.
Expect a lot of the activities to take place at showrooms in each city. However, certain special events might still take place at other venues outside of showrooms (the specifics are still being locked down).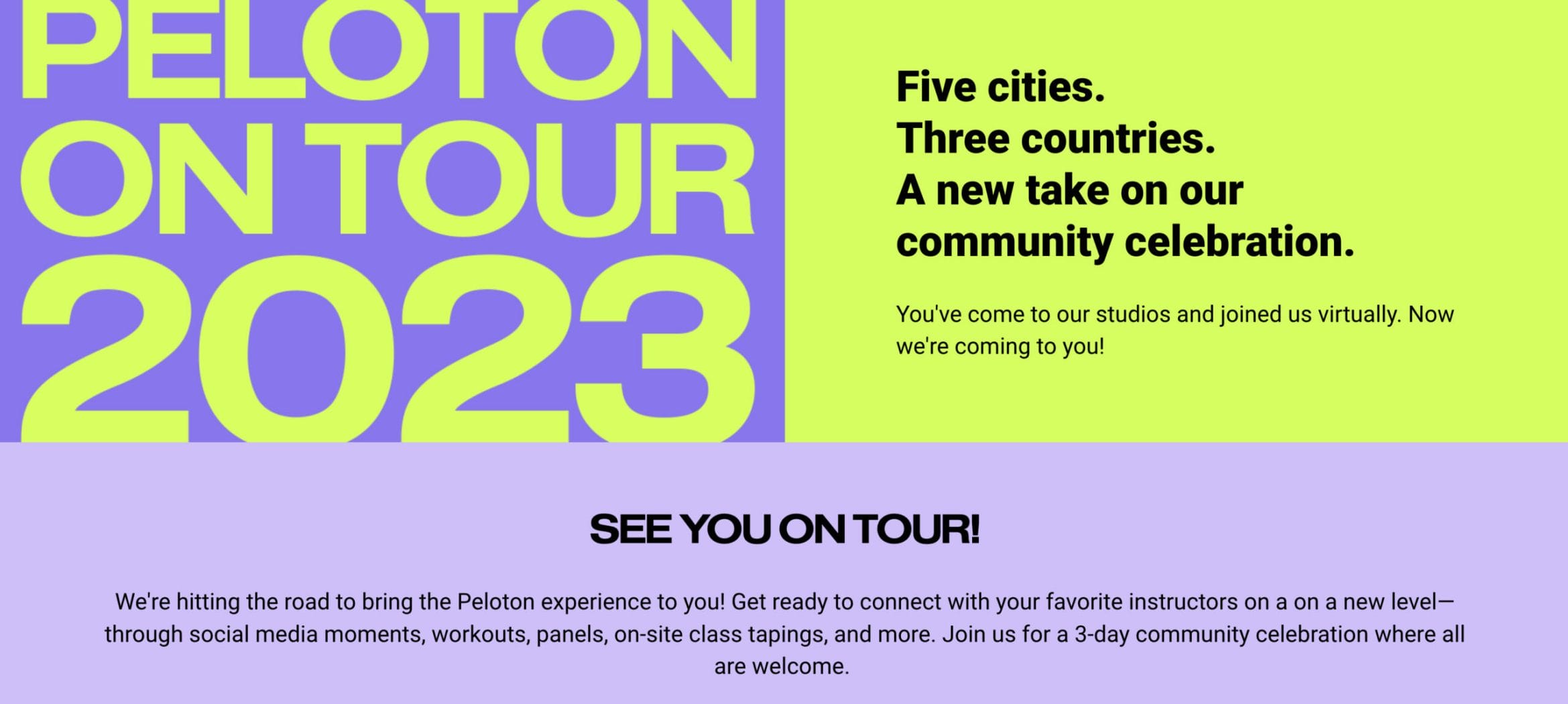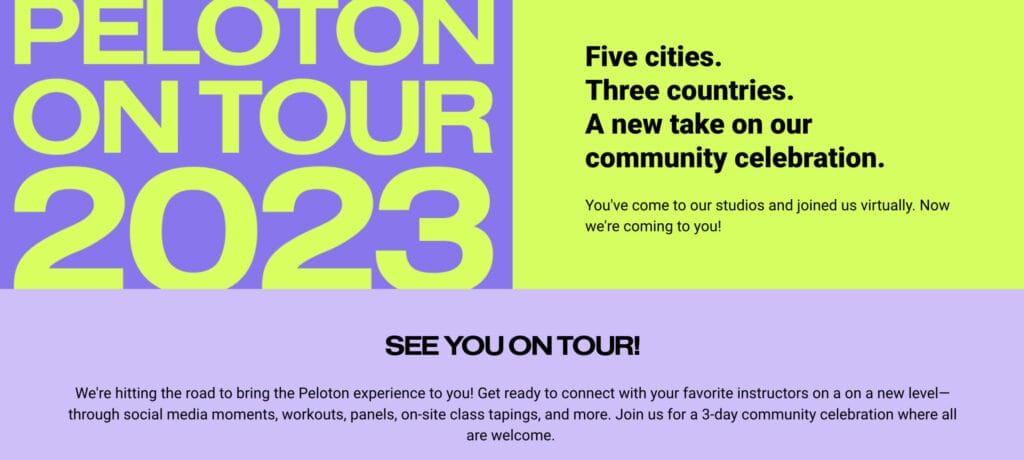 Classes will still be taking place as normal at PSNY and PSL while each tour stop is taking place, so the entire instructor team won't be traveling to every city – you should probably expect a handful of instructors on each tour stop (which instructors will be announced one month ahead of time). However, with Peloton seeming to have figured out some work visa situations (with Bradley Rose recently teaching in the US, and Emma Lovewell teaching from the UK), there's no reason that instructors from the UK couldn't be included in the US stops, and the US instructors visit the UK & Germany stops.
Since there are (usually) a few weeks in between each stop on the tour, this should allow Peloton to make small tweaks to each future stop, based on what they learn as the tour goes on. Member feedback and suggestions will likely play a role in this as well.
As mentioned above, Peloton is also creating the "Leaderboard Awards" as part of the Peloton On Tour. Other members in each local community will be able to nominate members to be recognized by Peloton & the instructors. There will be 5 different categories in each city – and nominations for these will open at the same time tickets go for sale (30 days ahead of each event). One of the events in each city will be the award ceremony. You won't be able to buy a ticket for this – winners will be given tickets by Peloton to attend, where they'll be presented with their award and given a special gift package.
We're going on tour to celebrate YOU. With every high five, tag, meet-up, and in-Studio class, you make our community even stronger and more special. Nominate yourself or a fellow outstanding Member for a Community Leaderboard Award. Tell us why your nominee should be honored by submitting a minute-long video or a 250-word paragraph.

One thing you might see is that New York City is not included in the tour. It was noted that Peloton already holds lots of special events at PSNY throughout the course of the year – and those will continue. In addition, they also have bigger events like the All For One Music Fest (which last year took place in August, but we haven't heard any info about for this year yet). Peloton on Tour is intended give people who might not be able to travel to the studio a chance to experience what Peloton has to offer. On the other hand, London is included as the final tour stop as the UK is still a newer market for Peloton, and having a stop at a studio with more space and a fixed location might allow for some special surprises as the last stop on the tour.
Peloton will share a full schedule of events in each city, as well as which instructors will be attending, 31 days before each tour stop takes place. The tickets to each weekend will be listed for sale at 12:00pm ET the next day – 30 days before. So you will have one day to look at the different events and decide. Tickets for the Los Angeles, California stop will be made available on June 13th.
Wondering when tickets go on sale for Peloton on Tour? You can buy tickets on:
June 13 – Los Angeles
July 18 – Atlanta
September 5 – Chicago
September 18 – Berlin
October 31 – London
The schedule and list of instructors attending will be released one day before each of those dates.
Peloton was not able to share right now what the ticket prices for each event might look like. They did confirm that if you want to attend multiple events in one weekend, you could buy tickets for more than one event taking place. However, you will be limited to buying 2 tickets per each specific event. It is still being decided if all events will be ticketed (as there is limited space in each showroom or other venue) or if they will be able to have any events as part of the weekend that are totally free. Expect to find out that information 31 days ahead of each event when the schedule is released for each city.
There will not be a virtual tour stop as part of Peloton On Tour – as the tour is about getting the community together in person. However, they noted that like events at PSNY, they will continue to hold other virtual events throughout the year, they just won't be part of the Peloton Homecoming on the Road (Peloton On Tour) event series.
We know that prior to the Peloton 2020 Homecoming event being cancelled, people had bought tickets to it (which were later refunded). However, since Peloton sent free gift packages to everyone who had bought a 2020 homecoming ticket (in addition to the refunds), there is not expected to be any first priority given to ticket-holders from the cancelled 2020 event.
Could Peloton Homecoming be back in 2024, either as a virtual event or a giant event in New York City? It's not clear yet – and it likely depends on the success of Peloton On Tour. However, with nearly 7 million members, Peloton on Tour will clearly let a lot more people have the chance to be part of a big event than Homecoming was able to – so it's hard to picture a return to that in-person format.
With Peloton's recent rebrand relaunch, you've probably seen marketing (as well as instructors themselves) posting with messages along the lines of Anyone, Anytime, Anywhere. Peloton on Tour seems to be one attempt at the "Anyone" (by anyone being able to buy a ticket to Peloton on Tour) and "Anywhere" (by Peloton bringing their instructors and experience to other cities around the world).
We'll be sure to provide updates on Peloton On Tour as more information becomes available, and you can find official details here: https://event.onepeloton.com/pelotonontour.
---
Want to be sure to never miss any Peloton news? Sign up for our newsletter and get all the latest Peloton updates & Peloton rumors sent directly to your inbox.