Peloton's first ever "Peloton on Tour" is kicking off this weekend in Los Angeles, California. There are several different activities taking place over the weekend, and the first is the "Peloton Instructor Experience", which took place on Thursday, July 13, 2023.
Update – You can also see an overview of Friday's Peloton Outdoor Walk & Talk events here, and info about the free group workout at UCLA on Friday here. You can see details about the Peloton on Tour class tapings from Saturday here.
This took place at the Santa Monica, California Peloton showroom.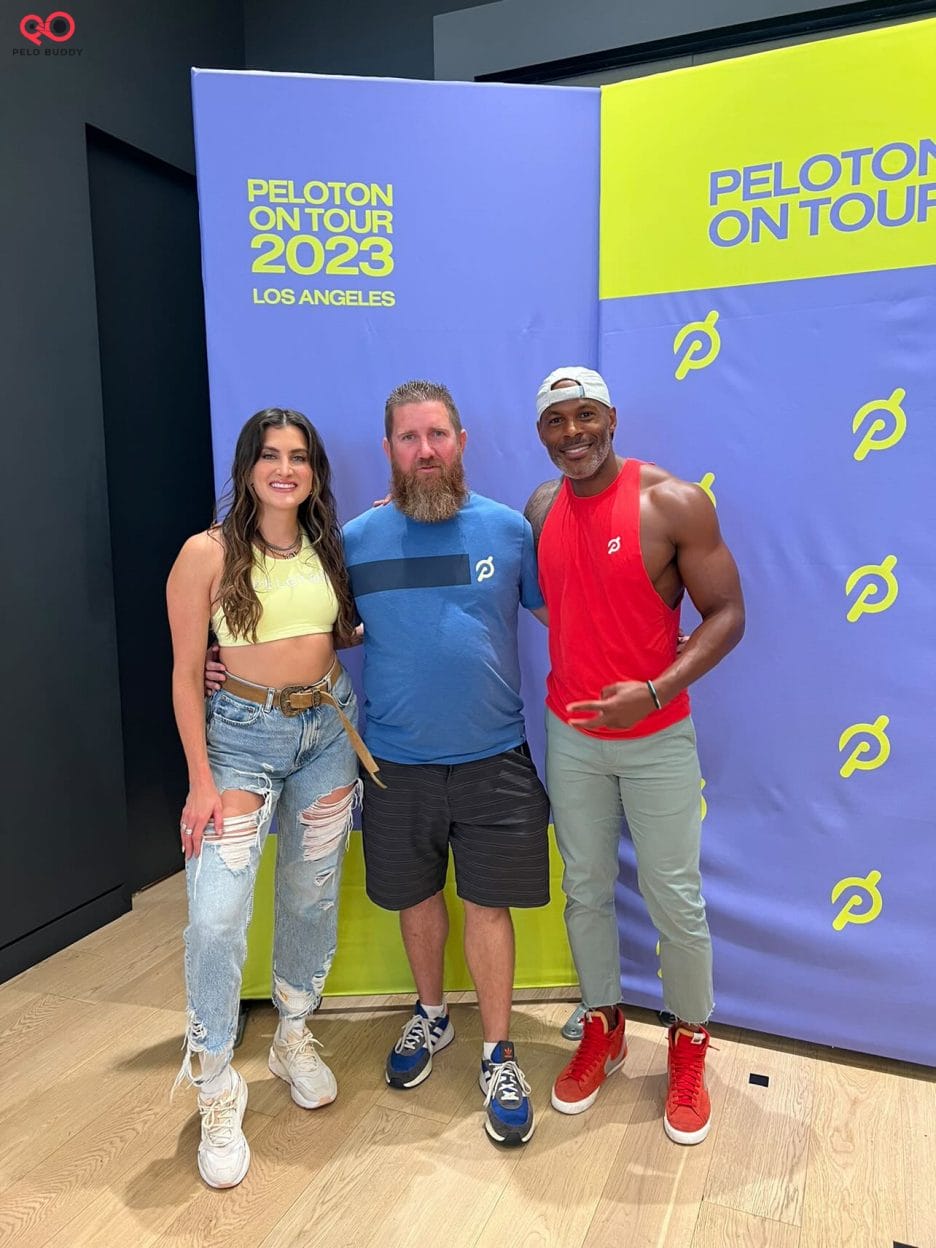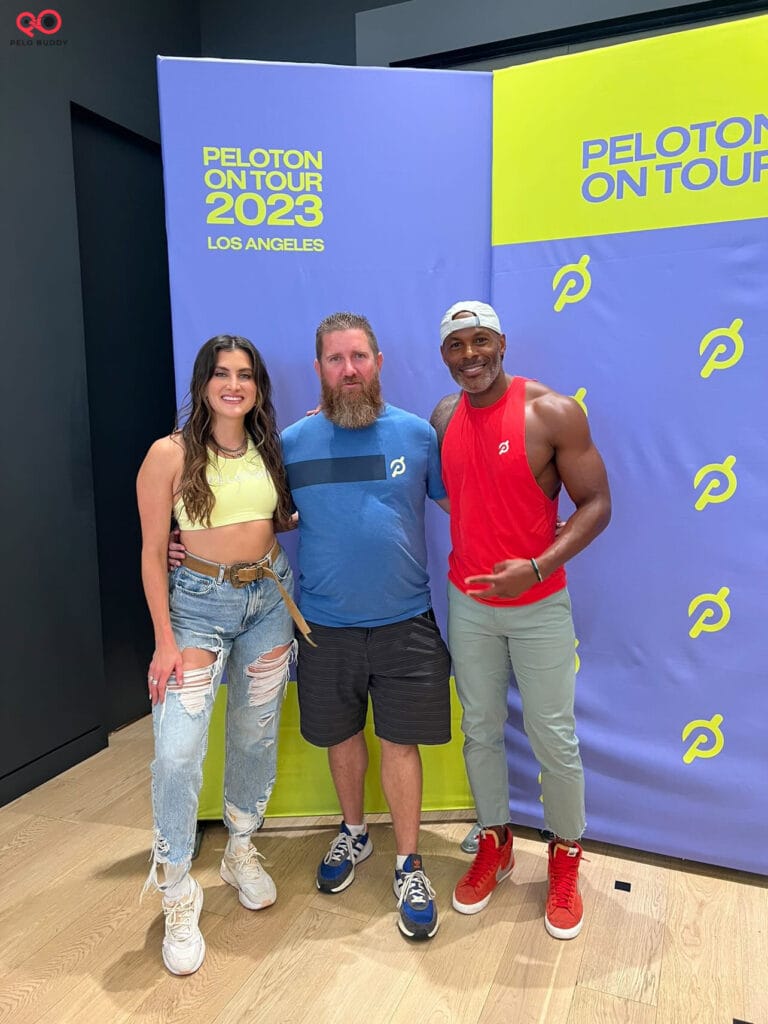 If you're not familiar with the overall event, you can read all the information about the Los Angeles stop of the Peloton on Tour here.
Peloton's official description of the Peloton Instructor Experience was as follows:
Take your Peloton experience to the next level with three unique opportunities to interact with multiple instructors—a custom photo booth activation, a space to capture an unforgettable social video, and an intention-setting station to fuel your wellness journey. You'll make the most of every moment while connecting with your community and creating memories that will last a lifetime!
We've gotten several questions about "What is the Peloton Instructor Experience" or "What can I expect at the Peloton instructor experience during the Peloton on Tour?". With the first event having now taken place, we can share what to expect at future cities. Note that there might be slight variations from city to city as the showrooms are each different and the process might evolve.
Special thanks to members #MelSpin, @hans_short_for_hansome, #PaigeNicole0828, #JustinTraas, #Celestine_, #NeverKnockedOutCrew, and Joe for sharing the information and photos seen in this article.
Note that tickets to each event were $60. For the Peloton Instructor Experience, members had the option to sign up in 30 minute timeslots from 12:00pm PT until 5:00pm PT. There were 20 tickets per time slot, meaning that there were 200 total tickets sold for the Peloton Instructor Experience. Your ticket to the specific time slot got you into all 3 experiences, or stations, inside the showroom.
For the Los Angeles stop, members have the opportunity for activities with Peloton instructors Kendall Toole, Adrian Williams, Katie Wang, Camila Ramon, and Ben Alldis.
When you arrive at the store, you line up outside the store until a Peloton team member comes to check you in. For this activity, IDs were not being checked, they just verified the name they gave you agains their list. Once that was completed, you were given a wristband and a number. You were then free to wander and check out a merchandise booth that was set up outside. You are also asked to provide your email address, so that they can email you digital copies of photos, videos, and media later.
Once your number is called, you go inside the store. 5 people were called inside at a time. Everyone proceeds through the store in the same order.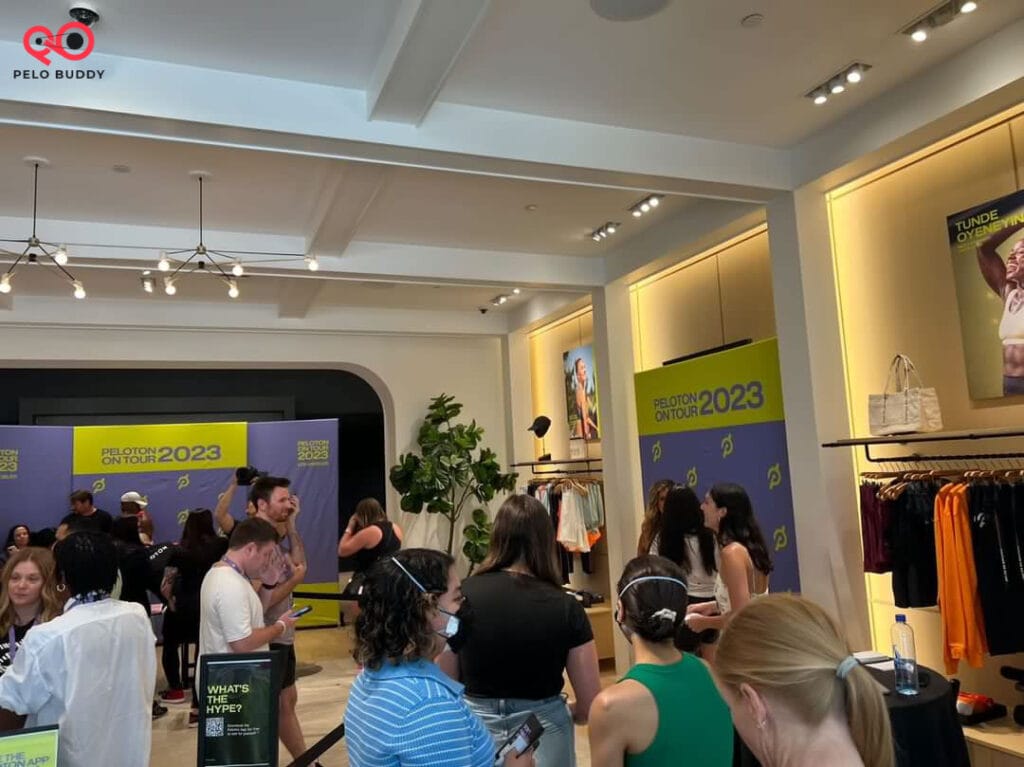 As described above, there are 3 different interactions you will have with instructors. However, the instructors will be rotating through each of them throughout the day, so you don't know which instructor will be there. Also, one instructor will be on break, so you will be meeting four of the five instructors. The instructors are at each station, and one on break, for around 30 minutes – and then they all rotate. It continues this way throughout the day.
You will have official photos taken at each station, however, they will also take pictures with your phone for you so you have immediate access to a version of the photos.
The first experience is the "Social Media Station". There will be one instructor stationed here. You have a moment to chat with them, and you have a choice of what you want the experience to be. The first choice is you and the instructor take 3 pictures together, which will be turned into a GIF that is emailed to you later. The second option is the instructor will film a personalized shoutout video for you (think similar to Cameo).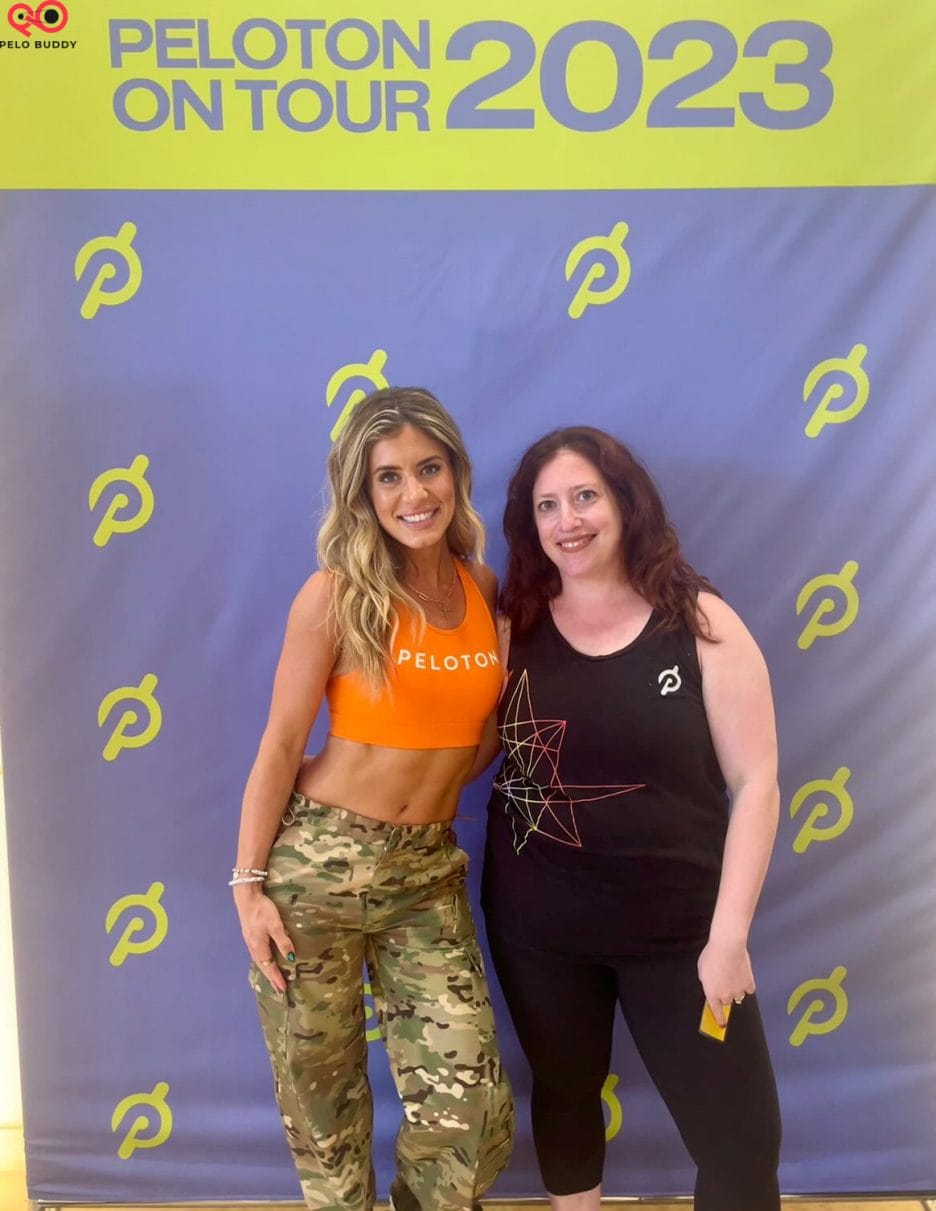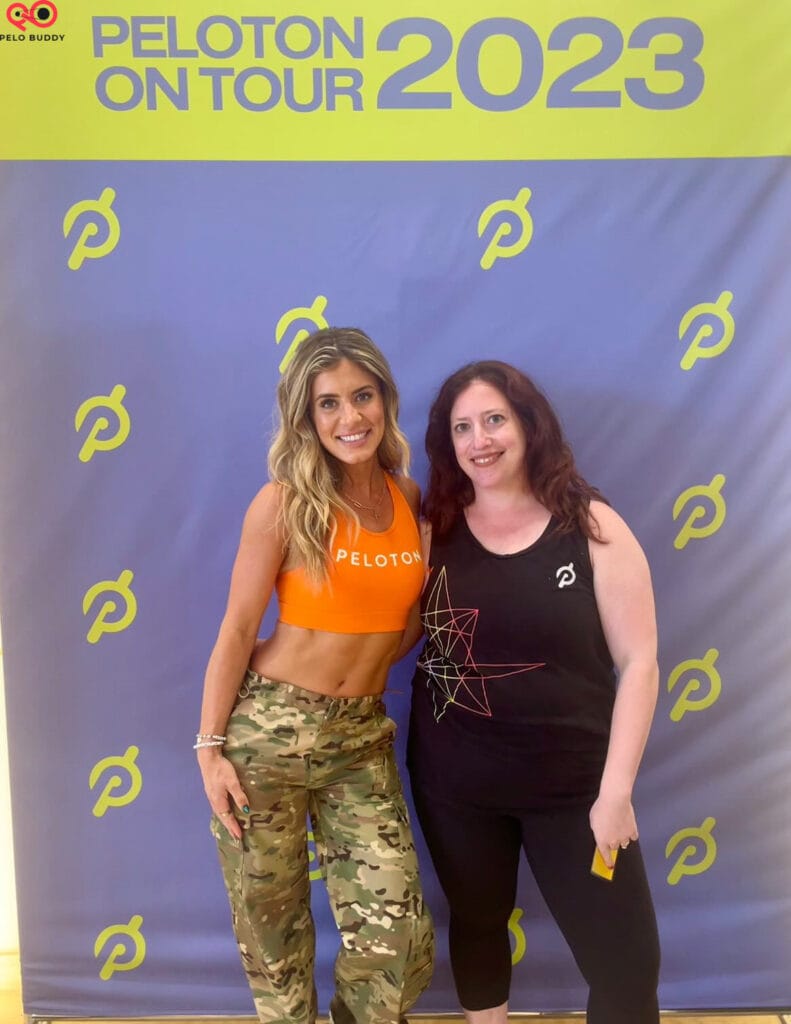 If you opt for the video, it is unlikely you'll also be able to grab a picture with the instructor due to time constraints.
The second experience is a photo booth style setup. Note that all 3 stations have very similar backdrops – it's just a matter of who you are meeting and what you are doing at each station. There will be usually two different instructors together in this booth. You'll take a few different pictures together with both instructors. However, depending on when the instructors are rotating or going on break, there is a chance you might only have one instructor here. If that is the case, you'll only end up meeting & interacting with 3 of the 5 instructors attending.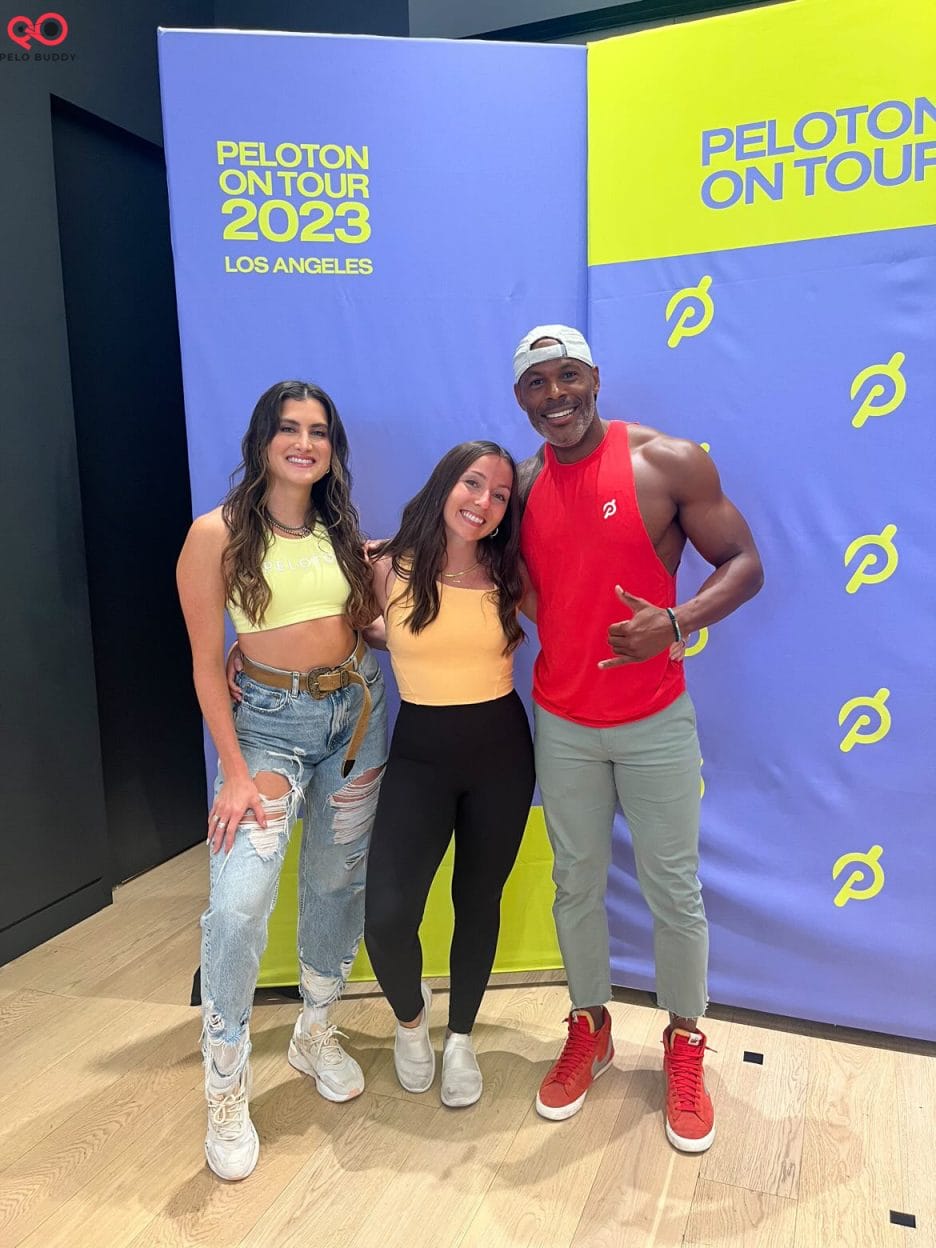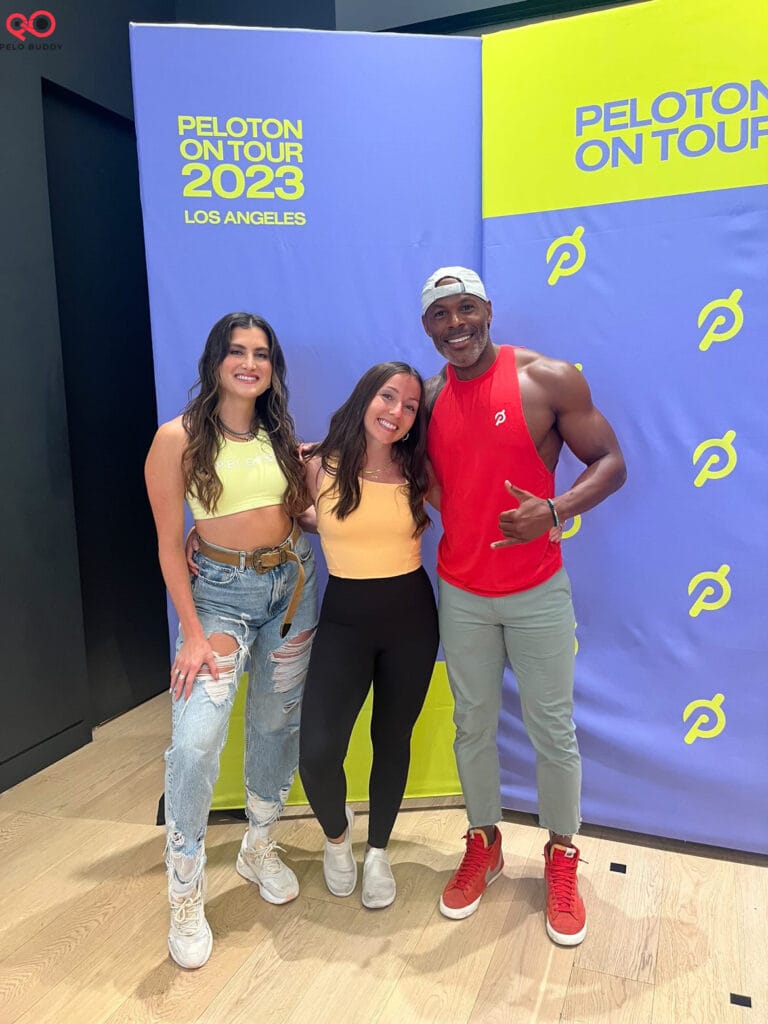 After the official photo is taken, you will be given a printed Polaroid copy of this photo in a custom Peloton on Tour photo frame as you are leaving.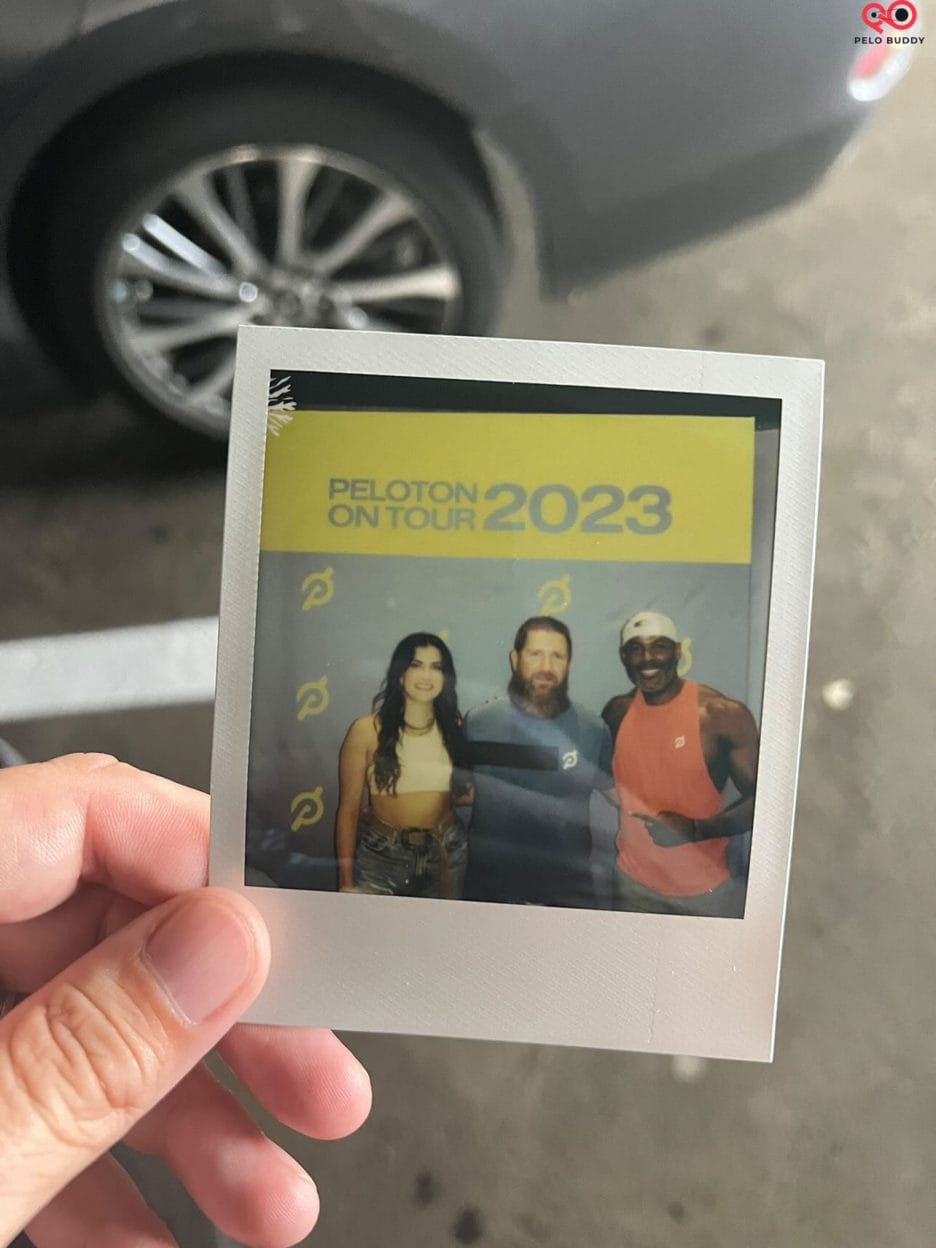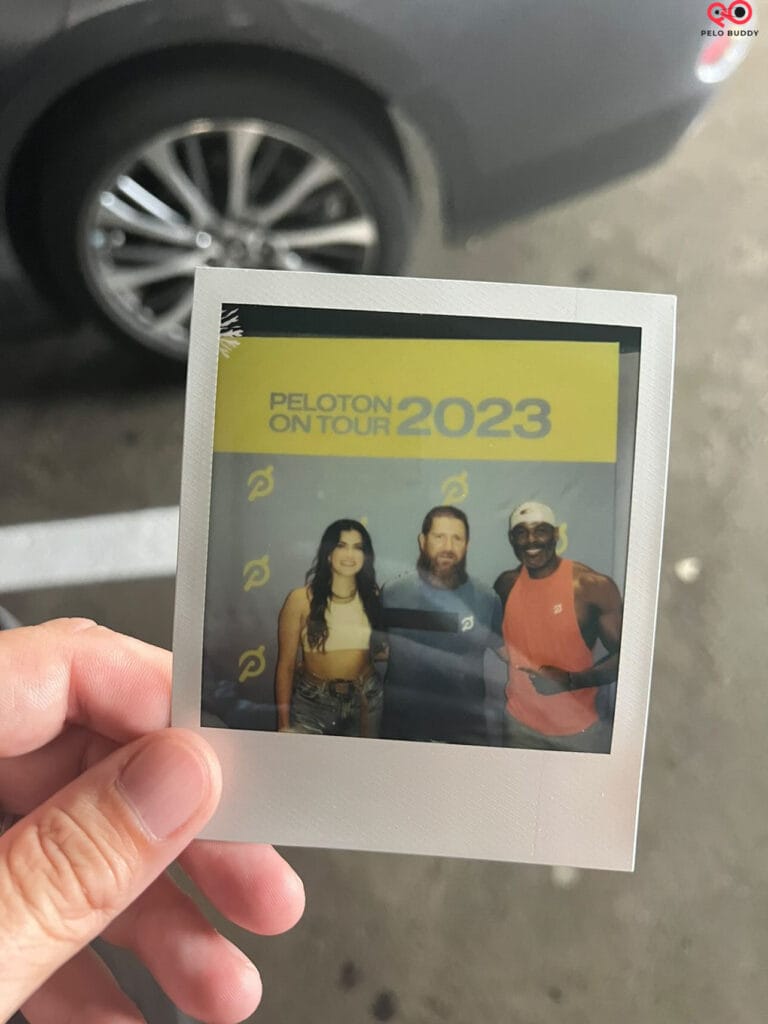 For this station, you have a choice of props if you wish to use them for your photo with the two instructors.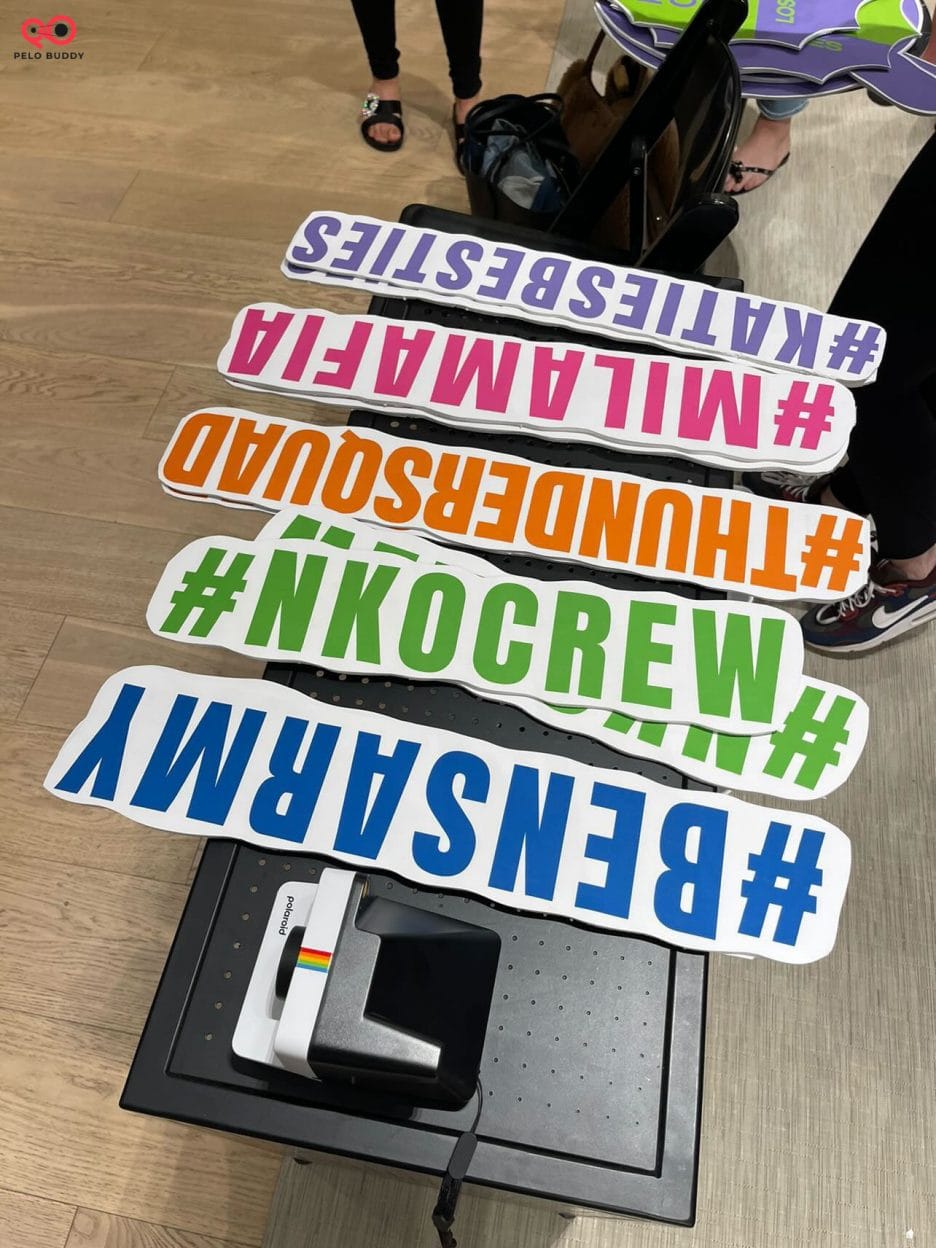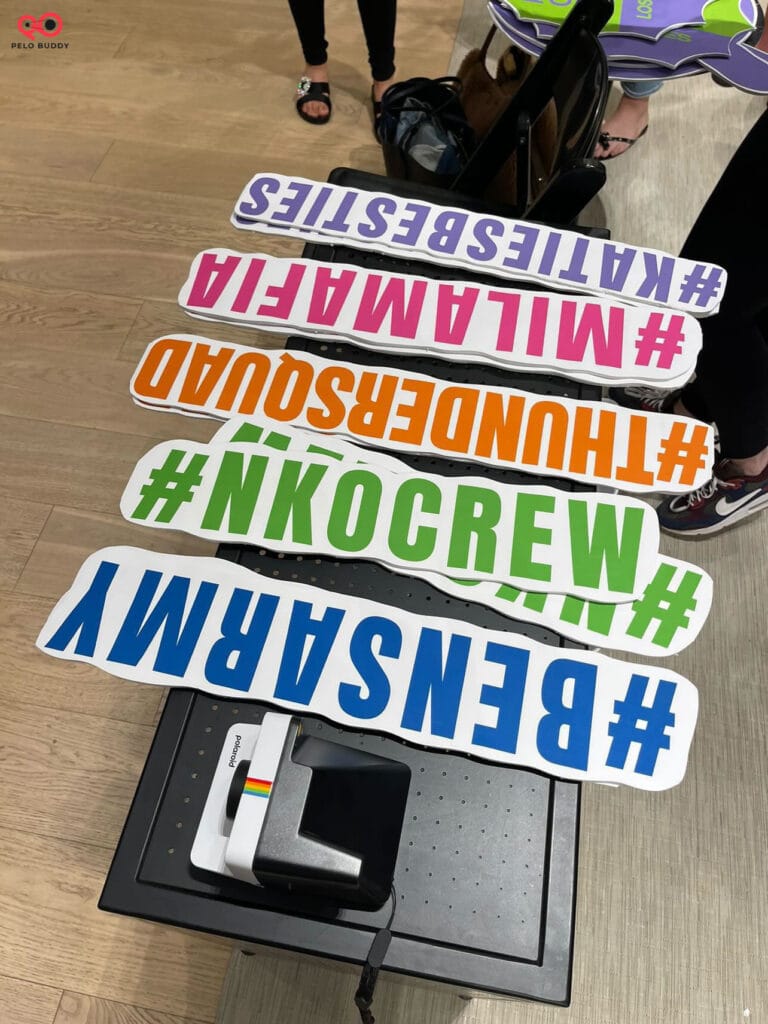 As mentioned, the instructors rotate. So above, one member had their photo at the second polaroid station with Camila and Adrian, but a short time later, it was Katie and Camila at the station.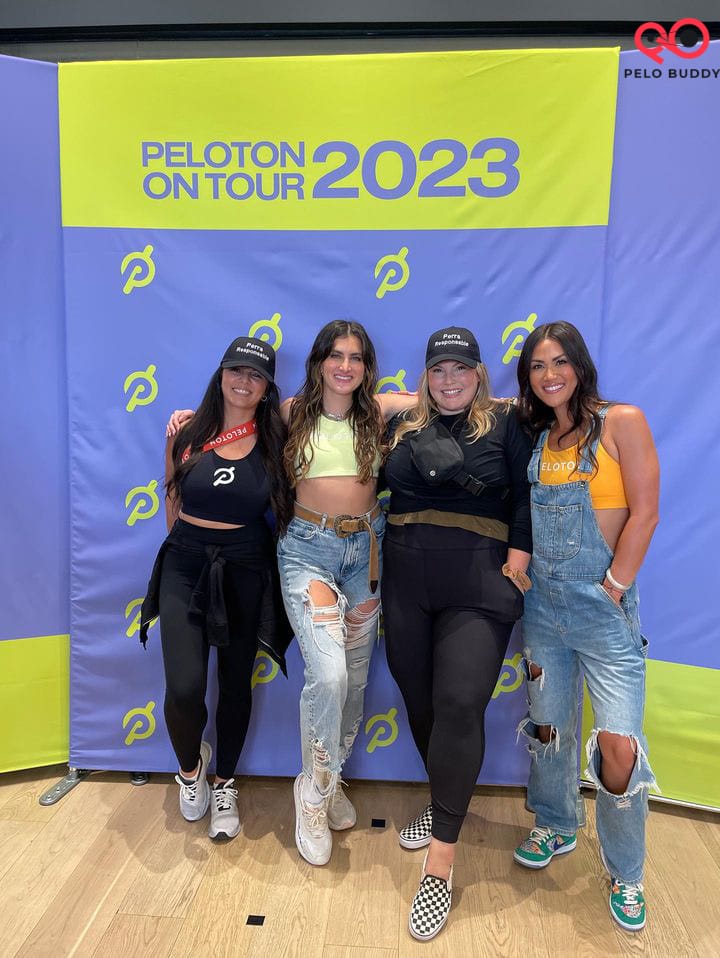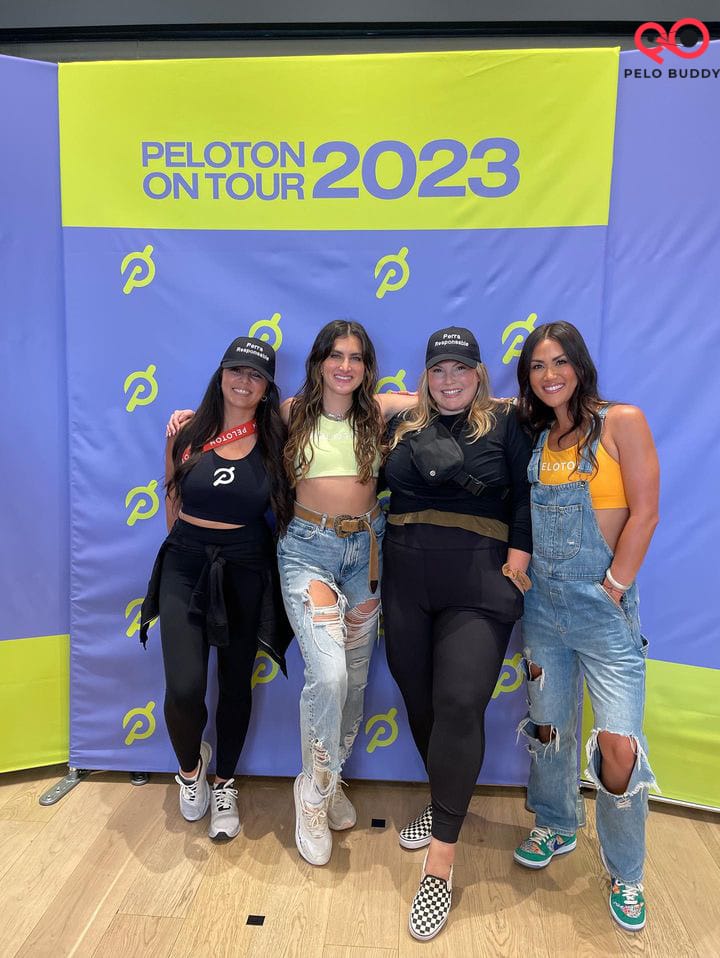 The final experience is a "Set Your Intention" station – and there will be one instructor at this station with you. You are asked to write down a goal that you are working to accomplish. The instructor will then copy this goal down and sign their name for you to keep.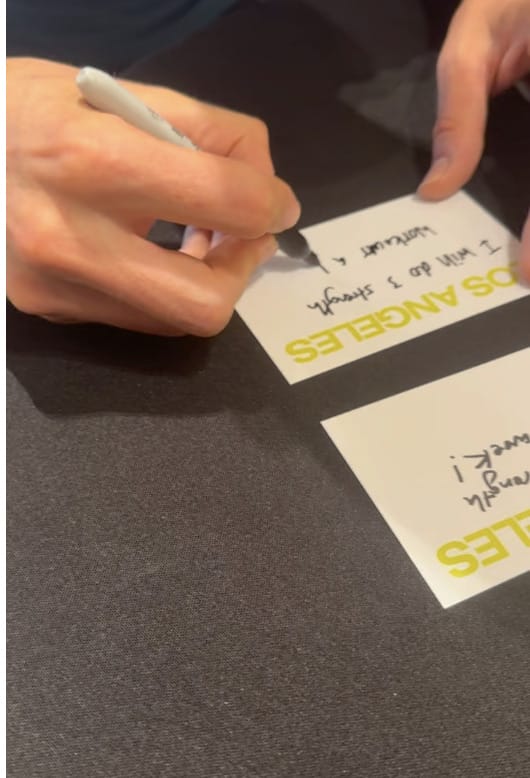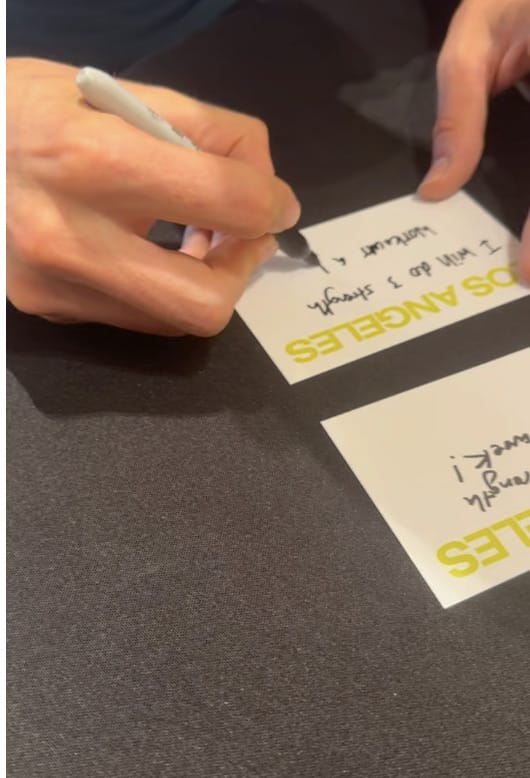 The copy that you wrote you can hang up on a board at the front of the store along with everyone else's goals.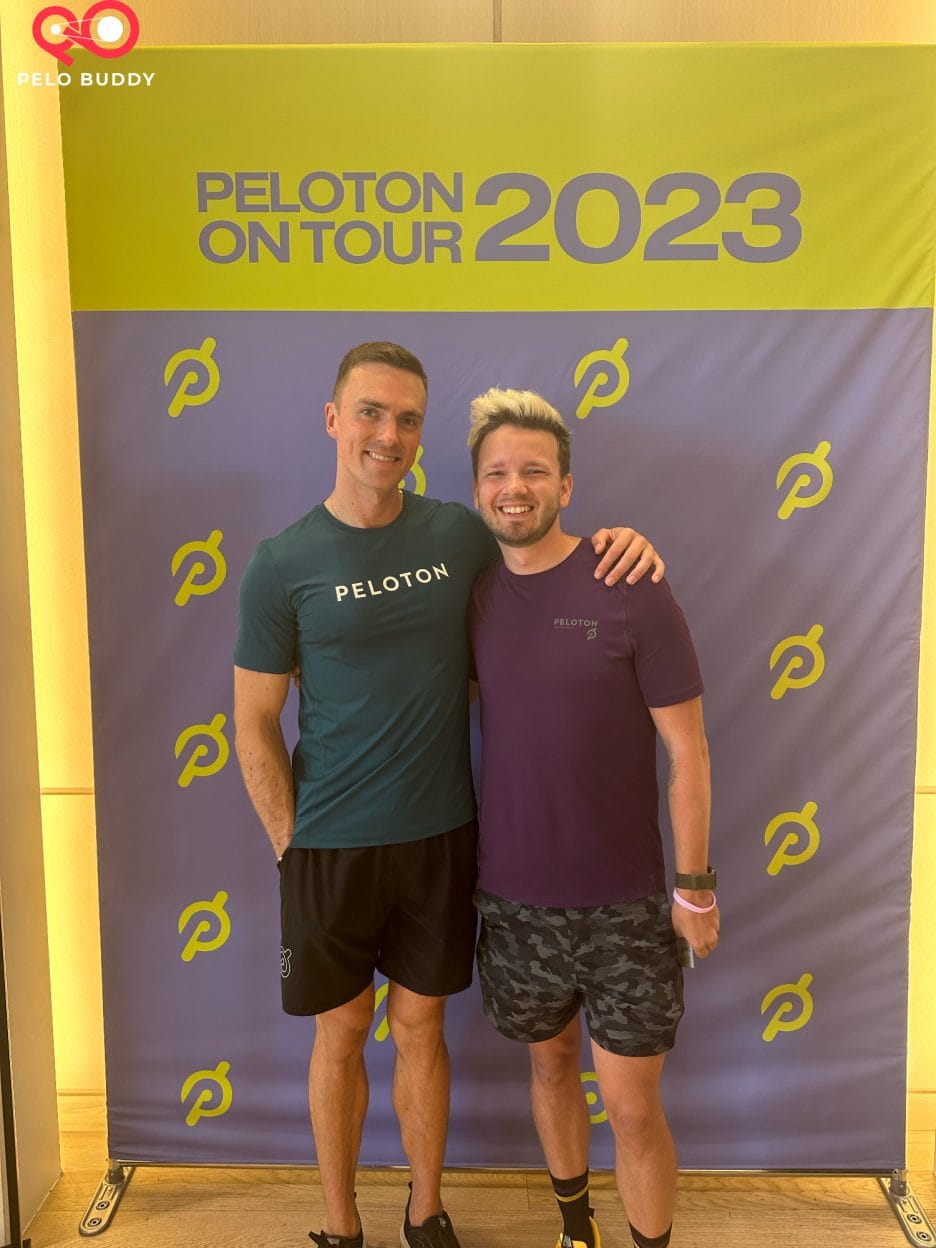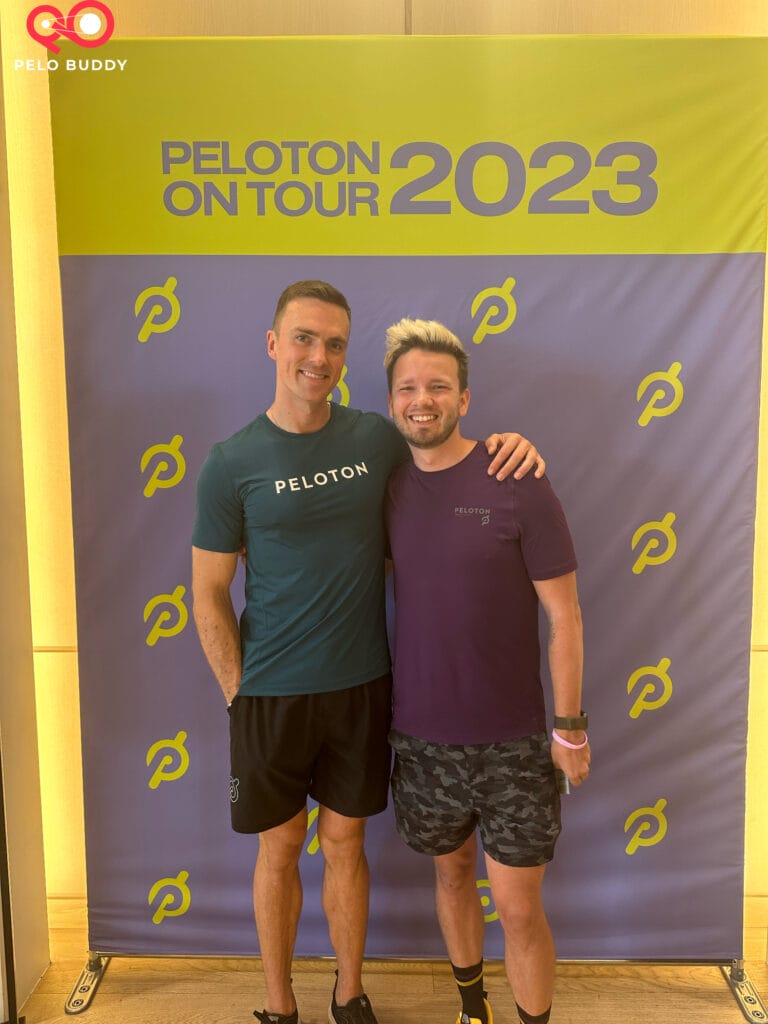 As you are leaving, you are given a swag bag with all your items. In addition to your Polaraid picture in a frame, you are given a Peloton on Tour sticker as well as a small tote bag – and you'll have your goal written down & signed by an instructor as well.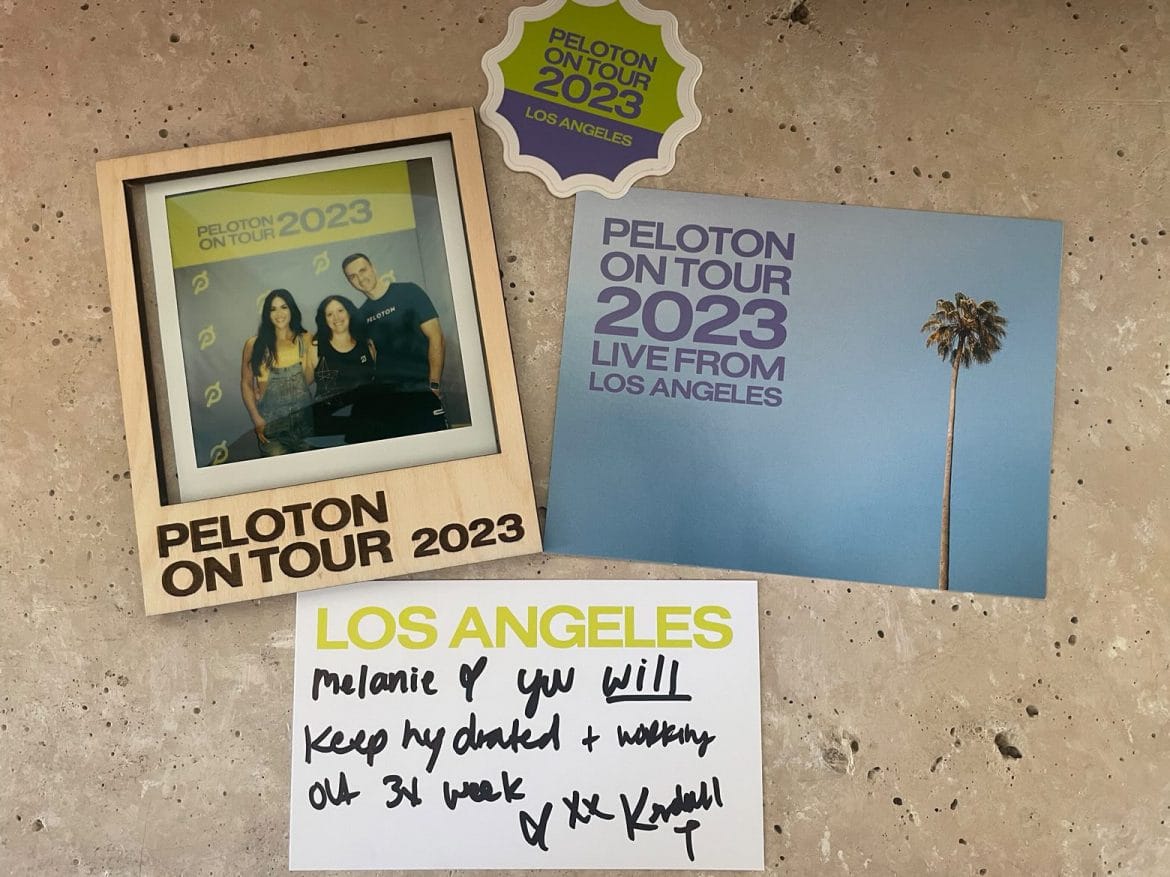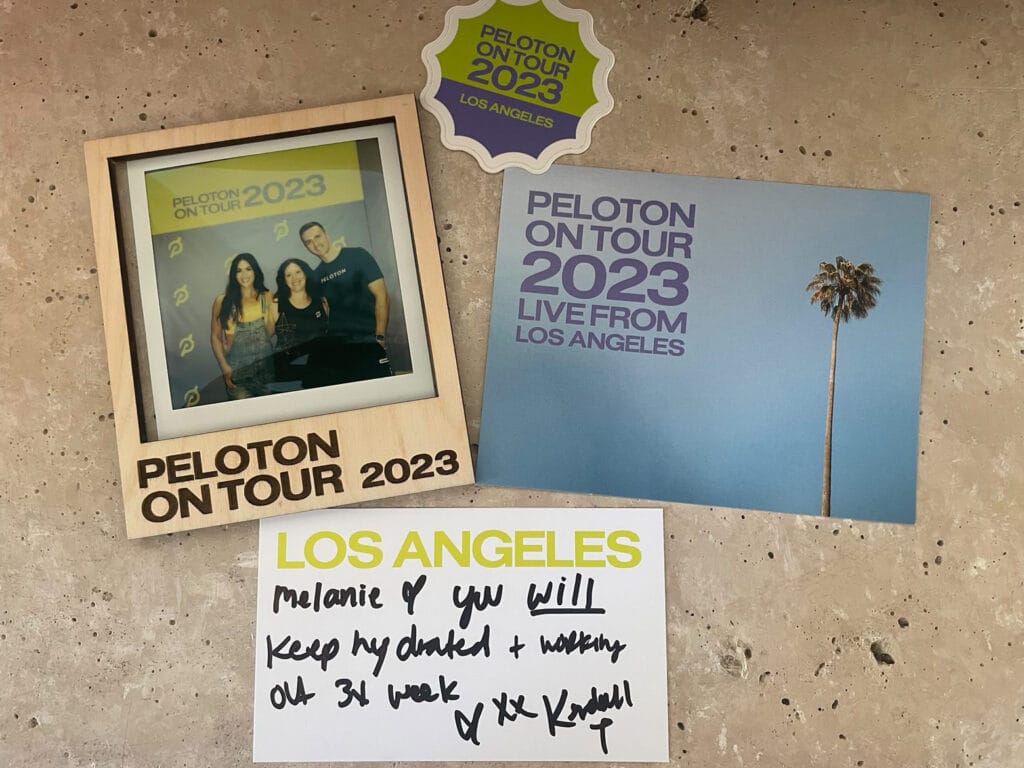 The items are given to you in a small black swag bag.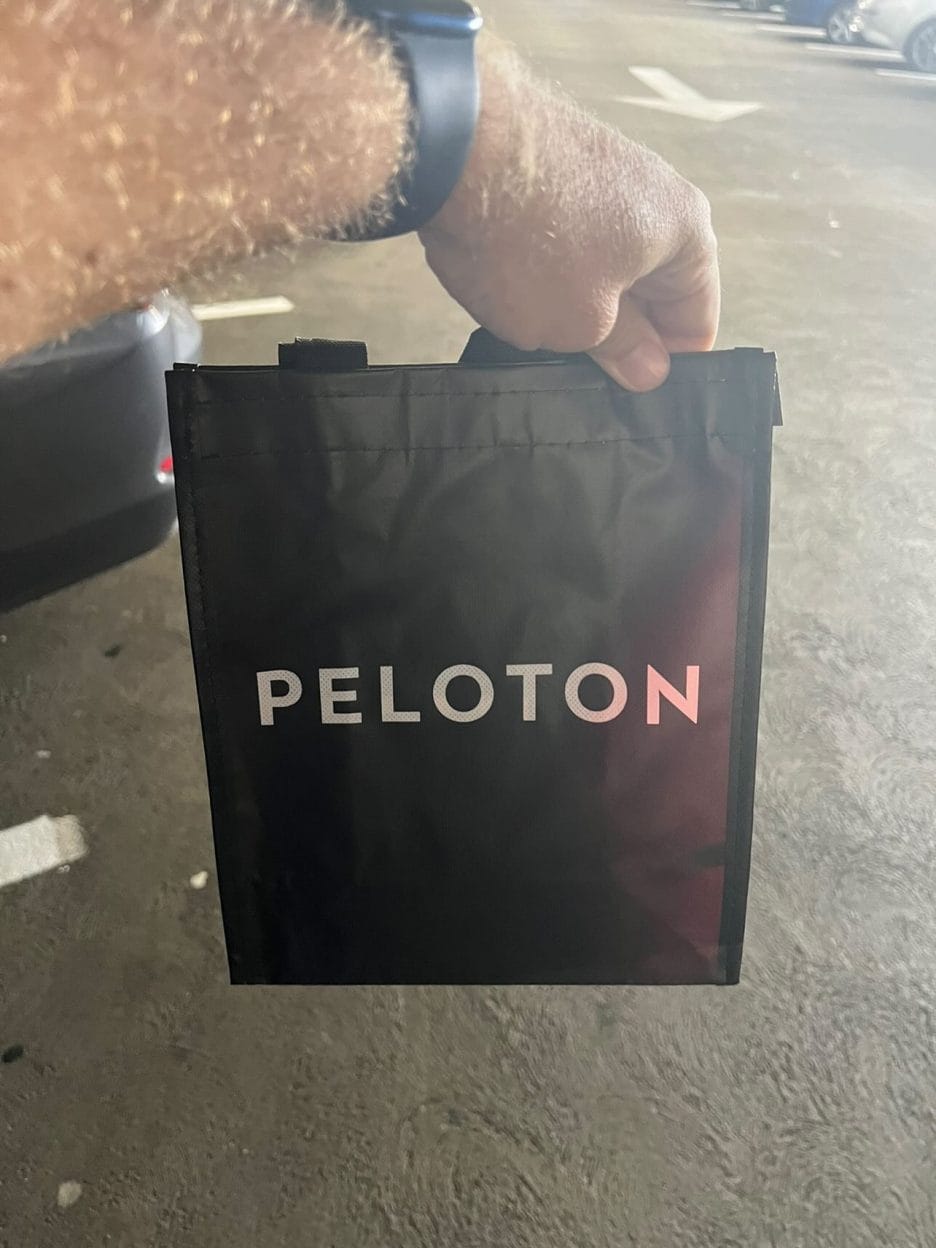 Afterwards, if you didn't have a chance beforehand, you have the ability to check out the merchandise that is avalable for sale outside.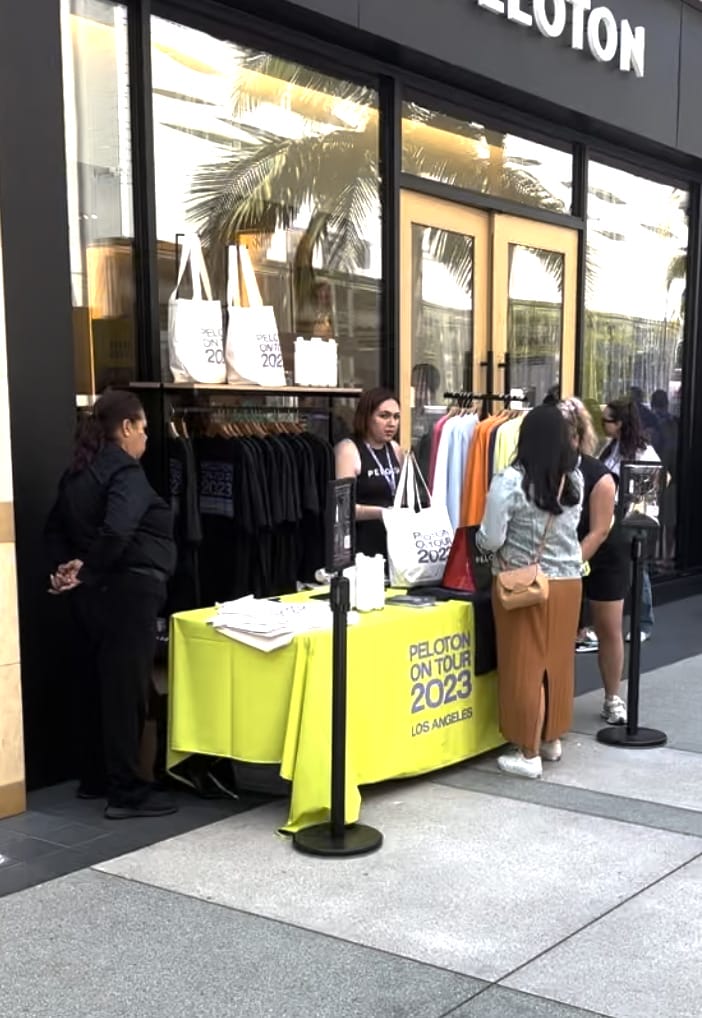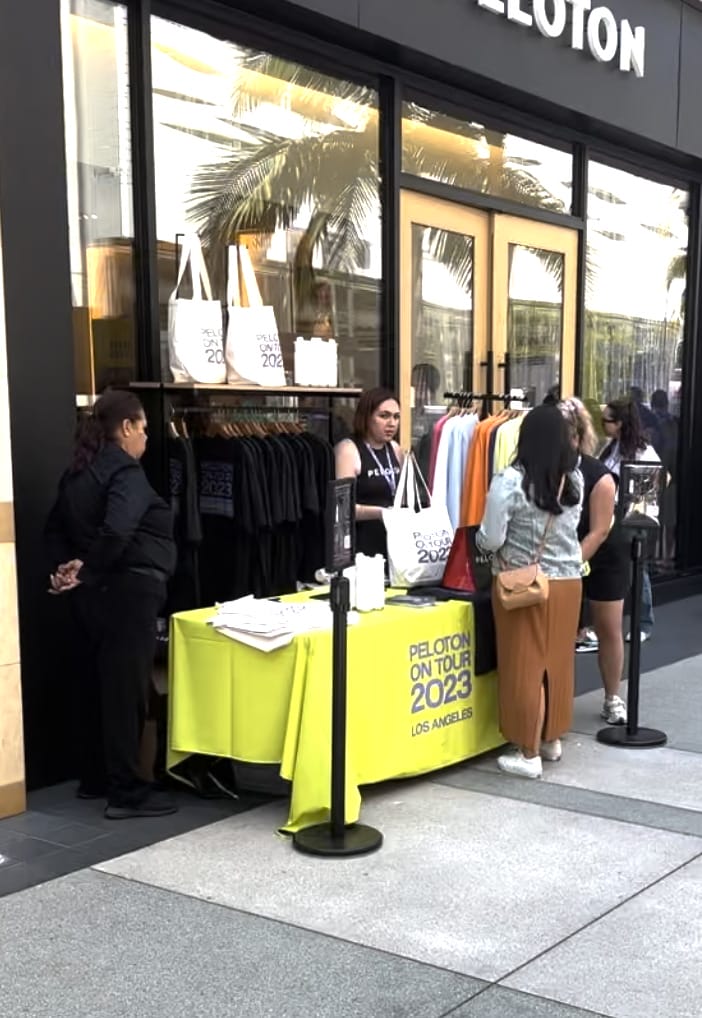 Peloton has custom merchandise for each tour stop. The price for the custom Peloton on Tour merchandise is as follows
Water Bottle – $35
Bracelet – $30
T-Shirt – $48
Large Tote Bag – $32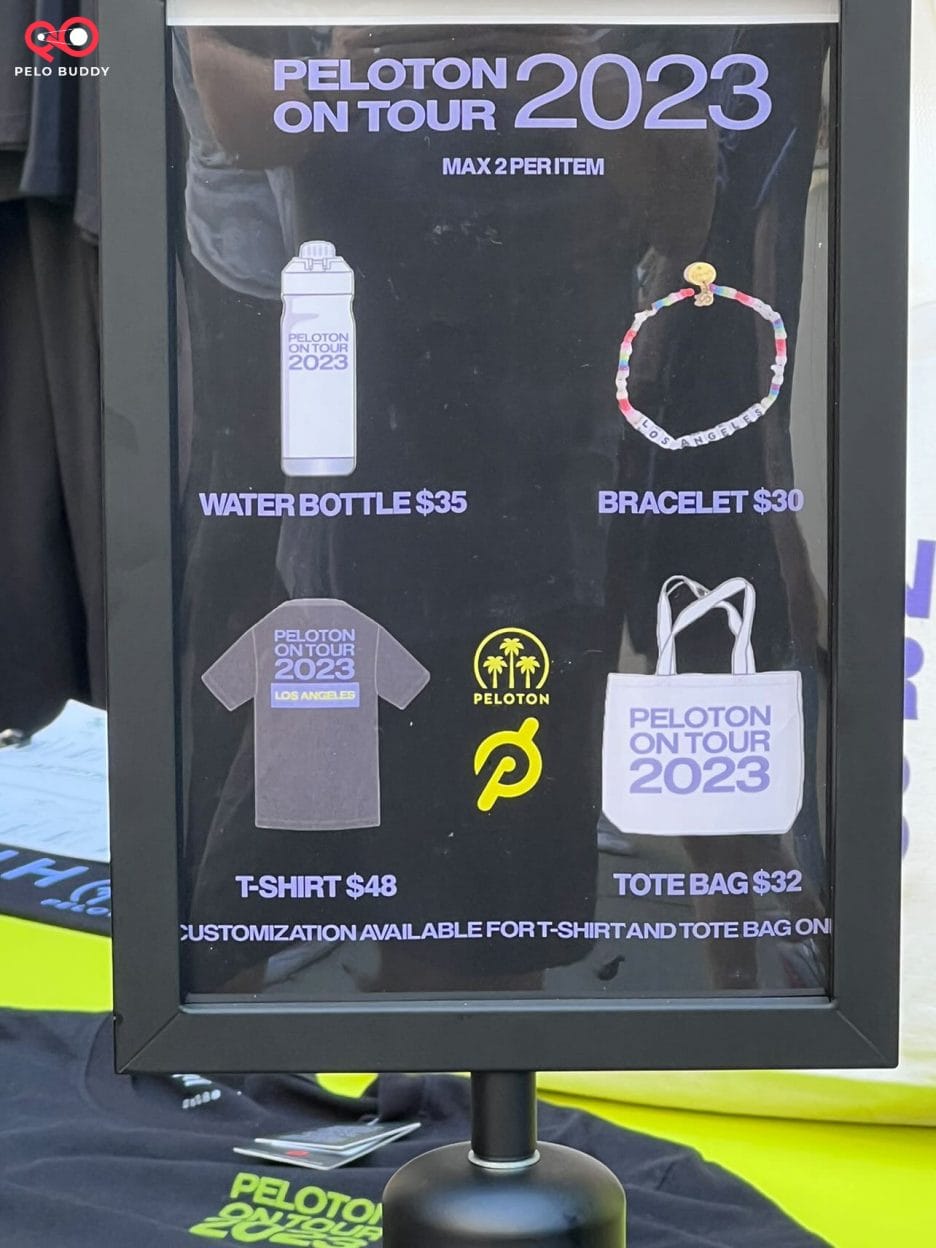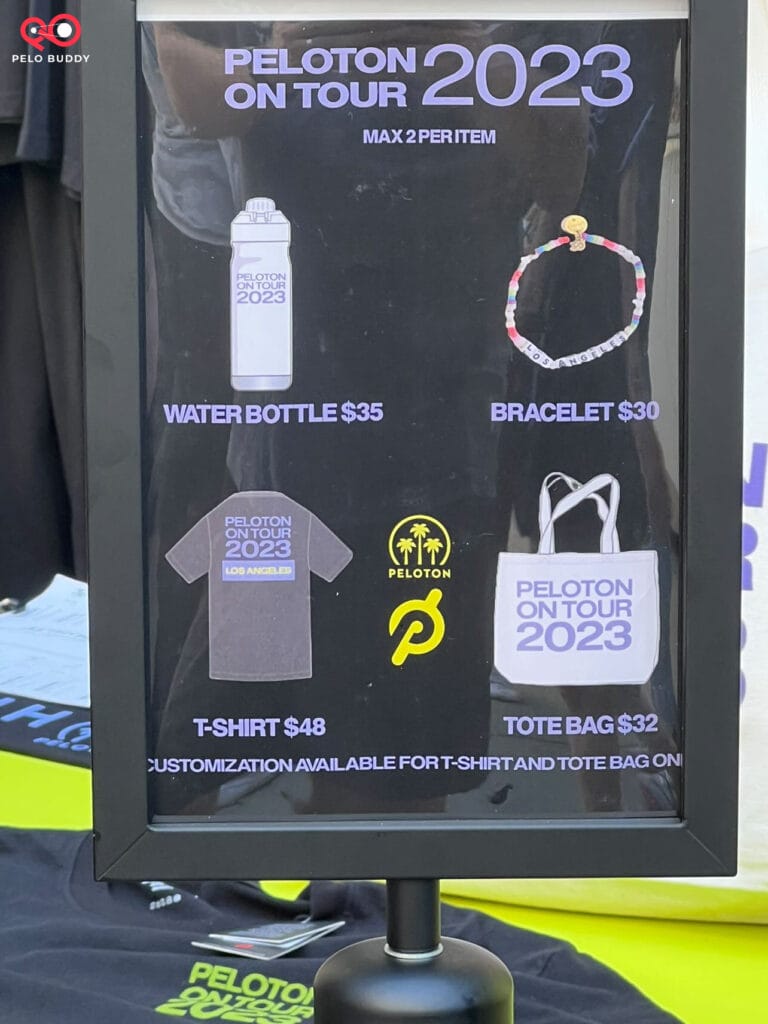 Note that the tote bag you can buy is different than the small tote bag included in your swag bag.
For both the T-shirt and tote bag, you have the option to have a custom personalization on it for no extra cost. You have the choice of the Peloton P logo, the palm trees that say Peloton underneath it, or your initials. If you buy it before you go in for your time slot, it will likely be personalized and done for you by the time you exit the showroom.
Peloton apparel shared an image of the items for Los Angeles in their instagram stories.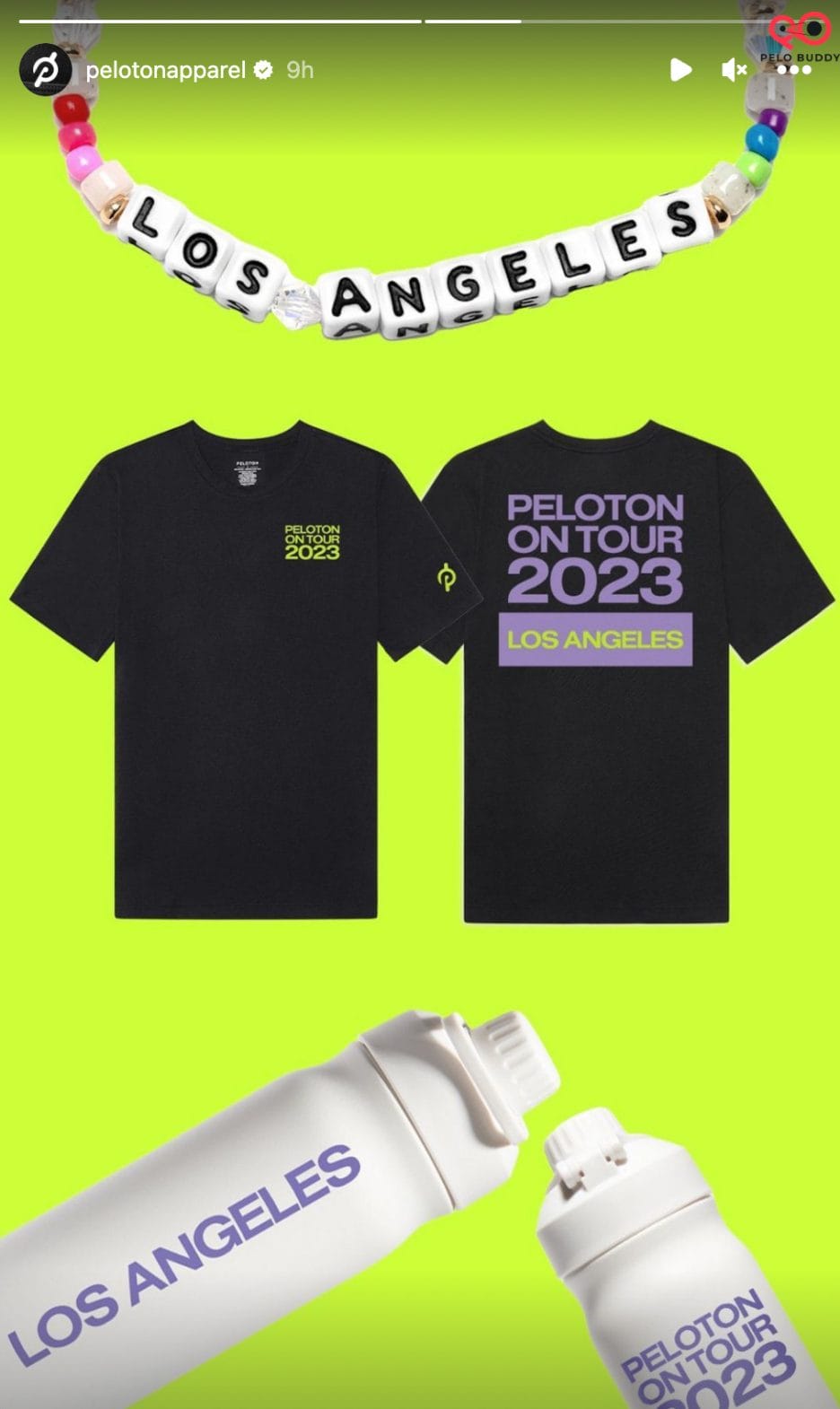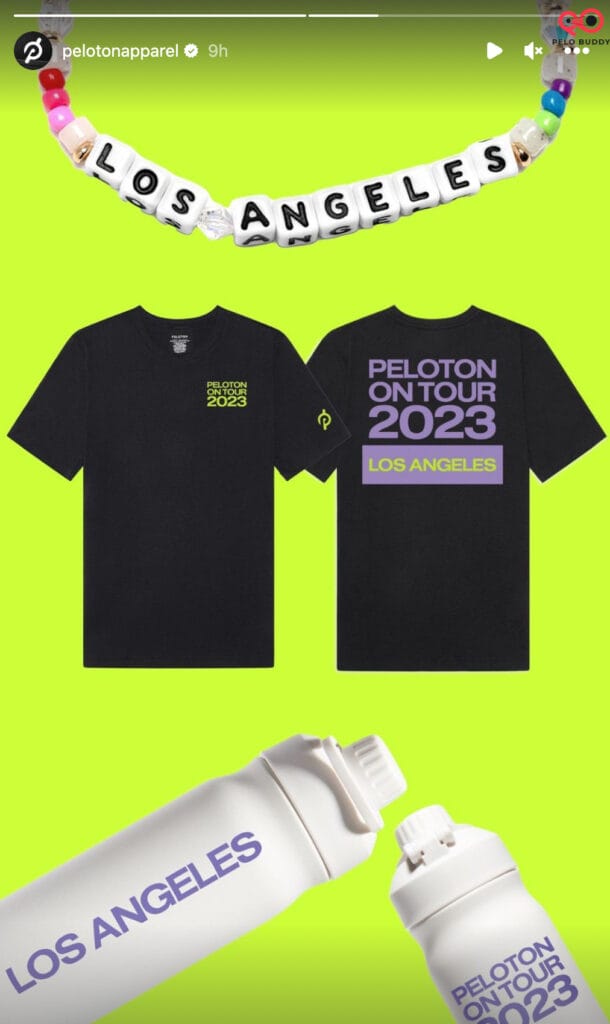 Some instructors might be slightly chattier than others, but there are Peloton staff at each station to help ensure the line is moving, but without rushing you too much. Some people were at stations for around 3-5 minutes each. You should expect to be inside the showroom for around 20-30 minutes as you work your way through all 3 experiences.
The only downside that people reported from this event was that since one instructor was on break, you might not be able to meet your favorite instructor since who is at which station, and who is on break, is totally random. However, overall, most reports said that the event was very enjoyable and worth the $60, especially if you don't think you'll have a chance to make it to Peloton Studios New York or London to have the studio experience there. However, if you've been to the studio there, this might seem slightly overpriced, since a studio class at PSNY is only $35.
We will be sure to have similar reports on the rest of the activities throughout the weekend, so be sure to check back for more information. You can read more about the Peloton Outdoor Walk & Talk that took place on Friday here, as well as the class tapings from Saturday here.
You can see all the cities and dates for the Peloton on Tour 2023 here. And if you're planning to try to book to one of the other cities, be sure to check out our tips & what to expect when booking Peloton On Tour guide here.
Would you try to attend the Peloton Instructor Experience if it came to a city near you?
---
Want to be sure to never miss any Peloton news? Sign up for our newsletter and get all the latest Peloton updates & Peloton rumors sent directly to your inbox.