Peloton is rolling out a large-scale beta test of a feature that some members have been requesting for years: the ability to officially stream videos through a Peloton hardware device. At this time it appears to only be available to US members.
Update 3 – Some members have Netflix added to Peloton Entertainment, although Amazon Prime TV has yet to show back up for anyone.
Update 2 – Amazon Prime TV has been temporarily removed from the streaming beta.
Update – Peloton appears to already be quietly testing more streaming services to be included as part of Peloton Entertainment
Over the next few days some members will see a new option on the "More" screen of their device (where Scenic and Just Work Out content are located) called "Entertainment." This will allow members to stream entertainment content via their tablet while they exercise.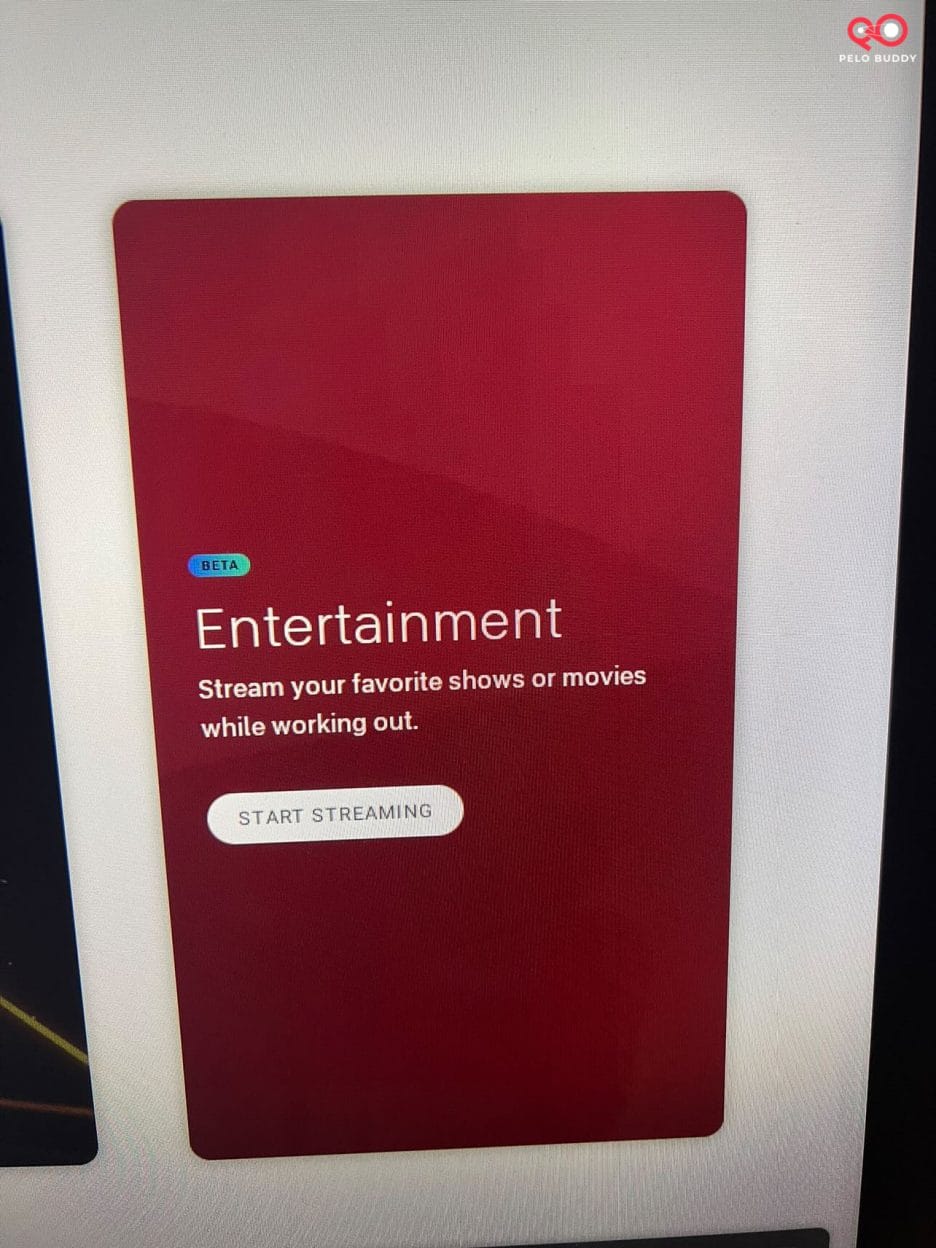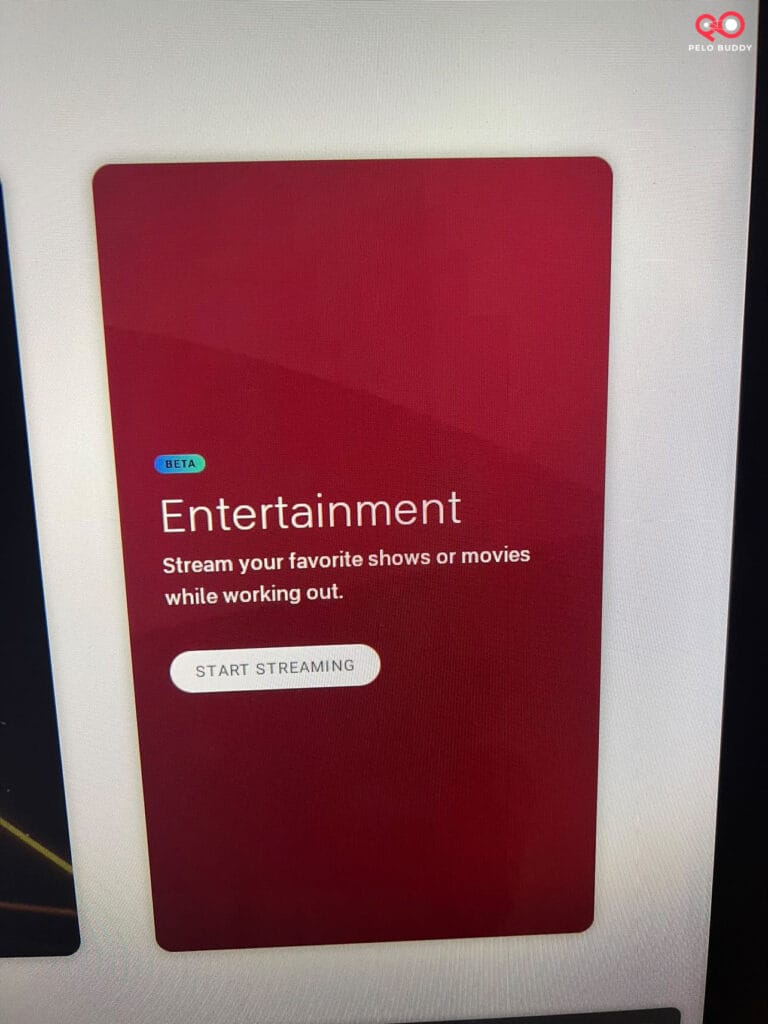 Note that the feature is being tested on the original Bike, Bike+, Tread, Tread+, and Row – this feature is not currently being tested with the Guide. Thanks to #HighXpectations for sharing the pictures in this article.
Amazon Prime Video and YouTube TV are currently available to those with the new Entertainment option, at this time additional platforms such as Netflix, Disney+, Hulu, and are not available.
Peloton has also started showing a popup to some users notifying them of the test. It states: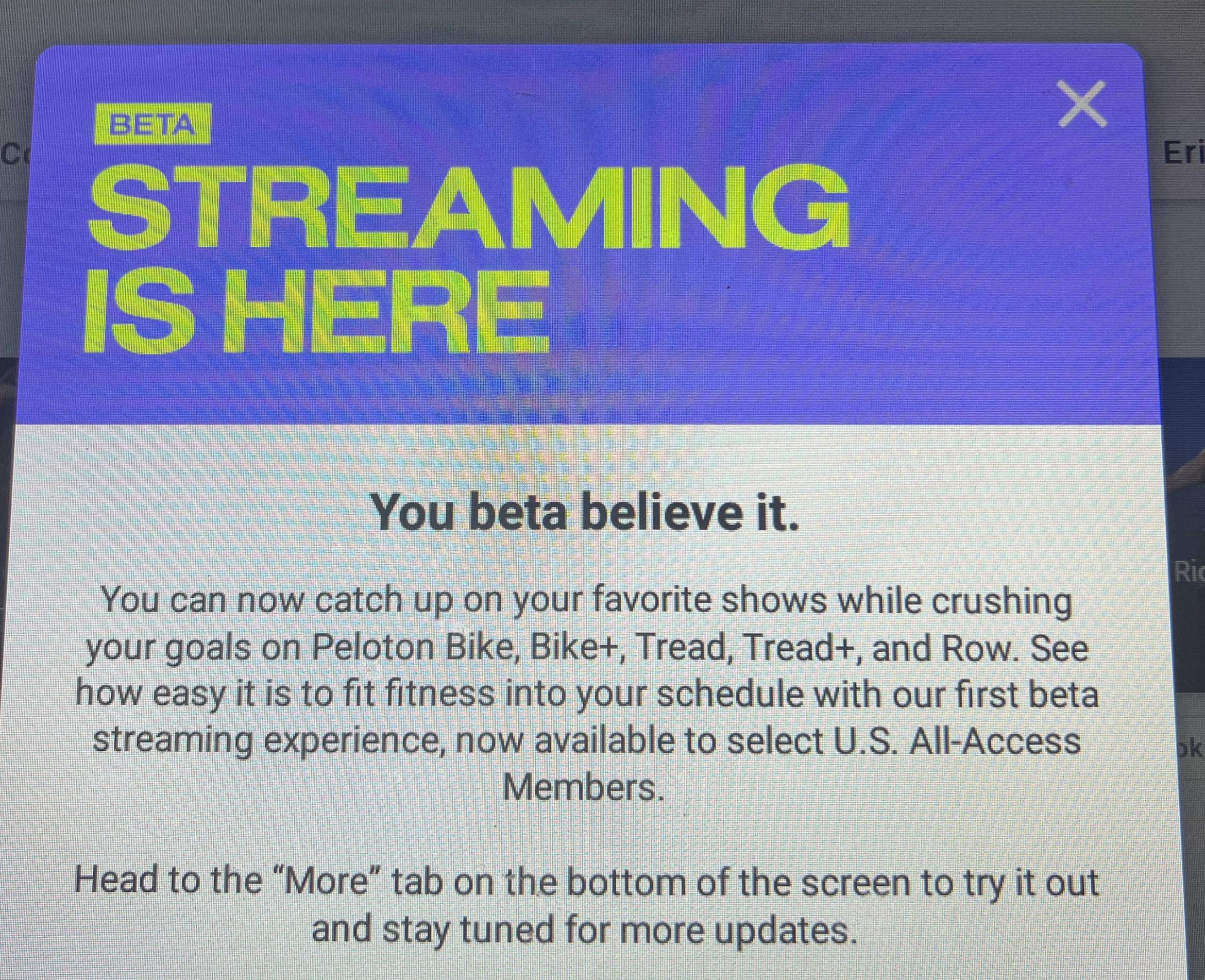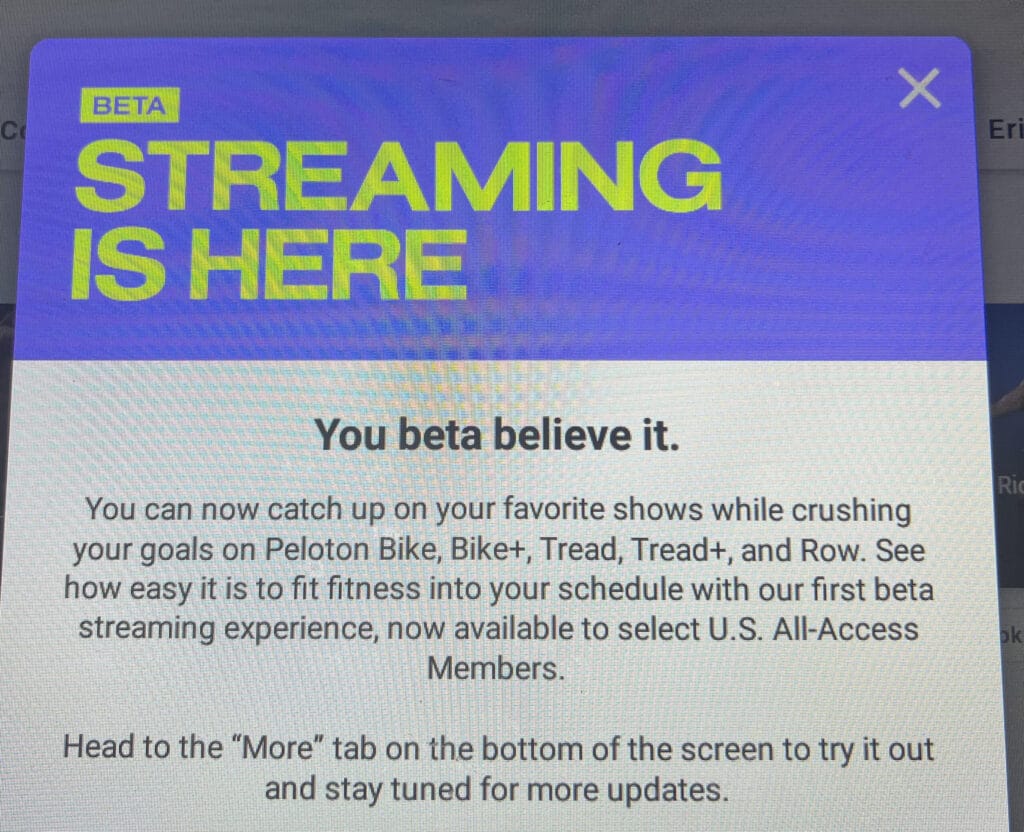 "You can now catch up on your favorite shows while crushing your goals on Peloton Bike, Bike+, Tread, Tread+, and Row. See how easy it is to fit fitness into your schedule with our first beta streaming experience, now available to select U.S. All-Access Members."
There are sure to be many questions about how exactly this will work, as up until now, solely Peloton content has been officially available through Peloton hardware devices, without jumping through some hoops.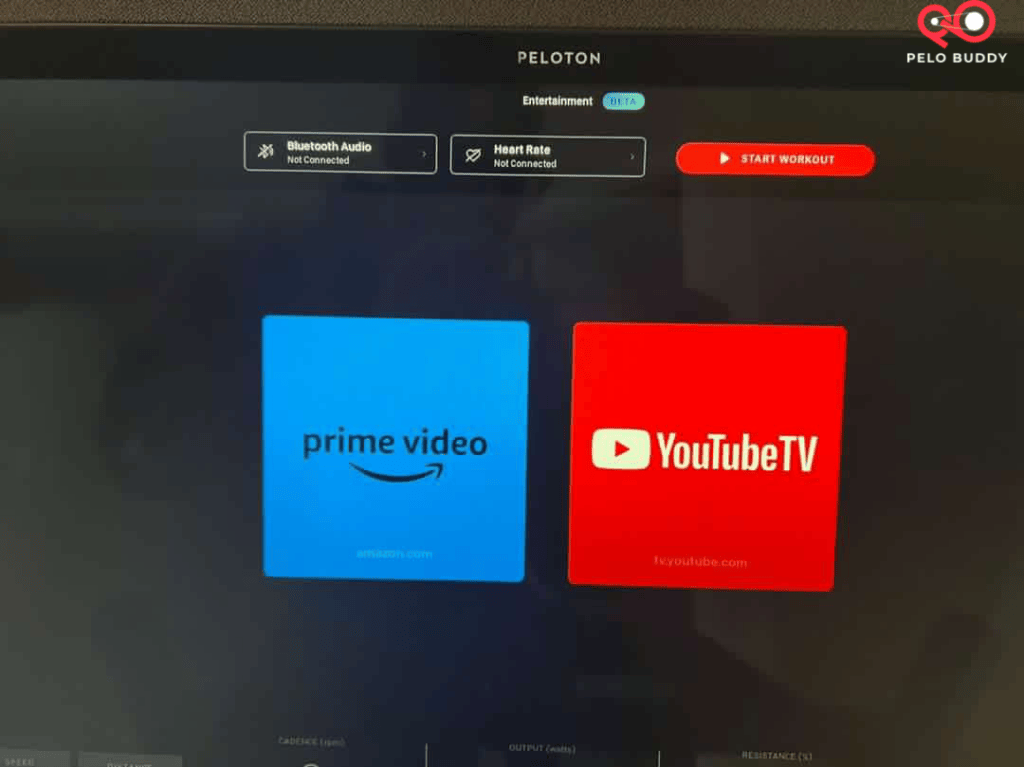 Members will be able to log into their accounts with Amazon and YouTube through their Peloton device, and access all of the content that they would anywhere else. Note that you can only stream content while working out independently – in other words, you can't take a regular cycling class with a Peloton instructor and also have a window open of your favorite TV show (there is no picture in picture capability).
The user experience of using YouTube TV and Amazon Prime Video on a Peloton device feels like an embedded web browser.
The metrics you are accustomed to seeing on your device in a regular Peloton class – such as cadence and resistance on the Bike – will be displayed on screen along with the streaming content. If you've ever done "Just Ride" on the Bike or "Just Walk/Run" on the Tread, this is basically the same thing; except instead of the blank Peloton screen, you'll be viewing content from a streaming service.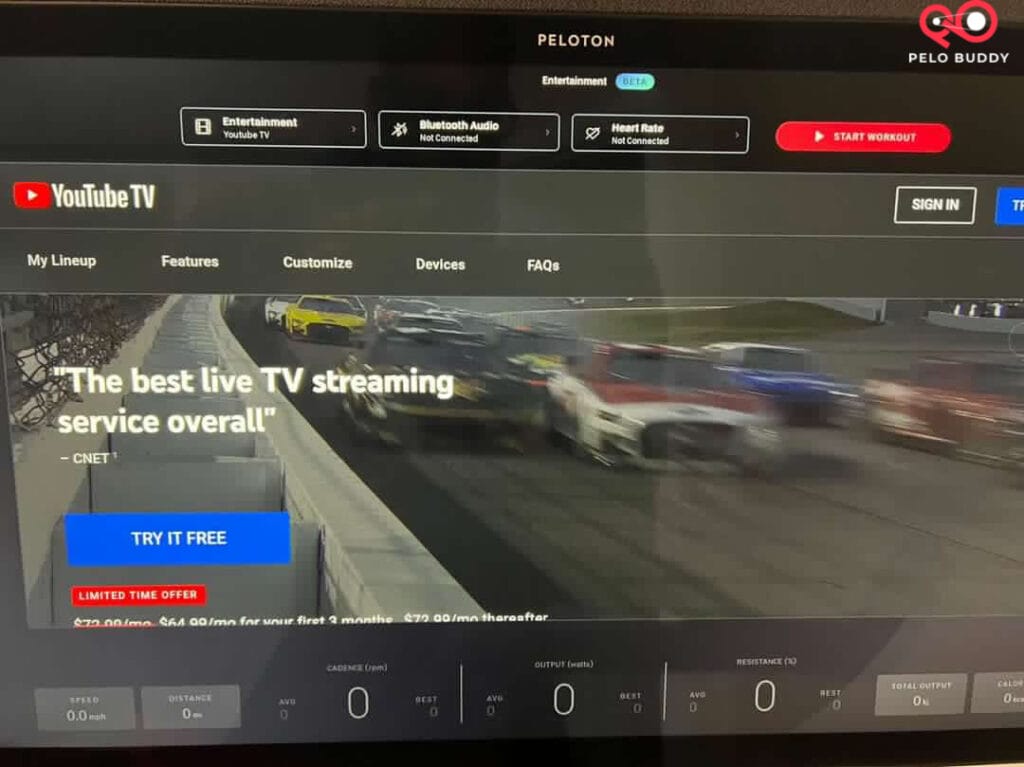 There is also a new bar at the top of the screen, allowing you to configure your bluetooth and heart rate, as well as to actually start and stop the workout (since the center of the window, which is where you would click start during a normal Peloton class, is interacting with YouTube TV or Amazon Prime Video).
On the Tread, this also gives you the option of deciding whether you want to record your workout as a Walk or a Run.
The workout will be recorded to your Peloton profile as an "Entertainment" workout. Any distance covered – such as miles cycled, run, walked, or rowed – will be added to your monthly total. An "Entertainment" workout will also count as a class in that particular modality (ride, run, walk, or row), meaning that it will count toward milestones and challenges, and maintain your overall activity streak.
Note that the Entertainment feature has not fully launched – it is currently only beta testing with a randomized group of members (and the beta will be rolling out over the next day or two). If you do not see the feature on your hardware device over the next few days, it likely won't be added to your device until the full public release of the feature. We currently cannot provide a time estimate for the full rollout, as it depends on how many bugs and issues are identified within the test group.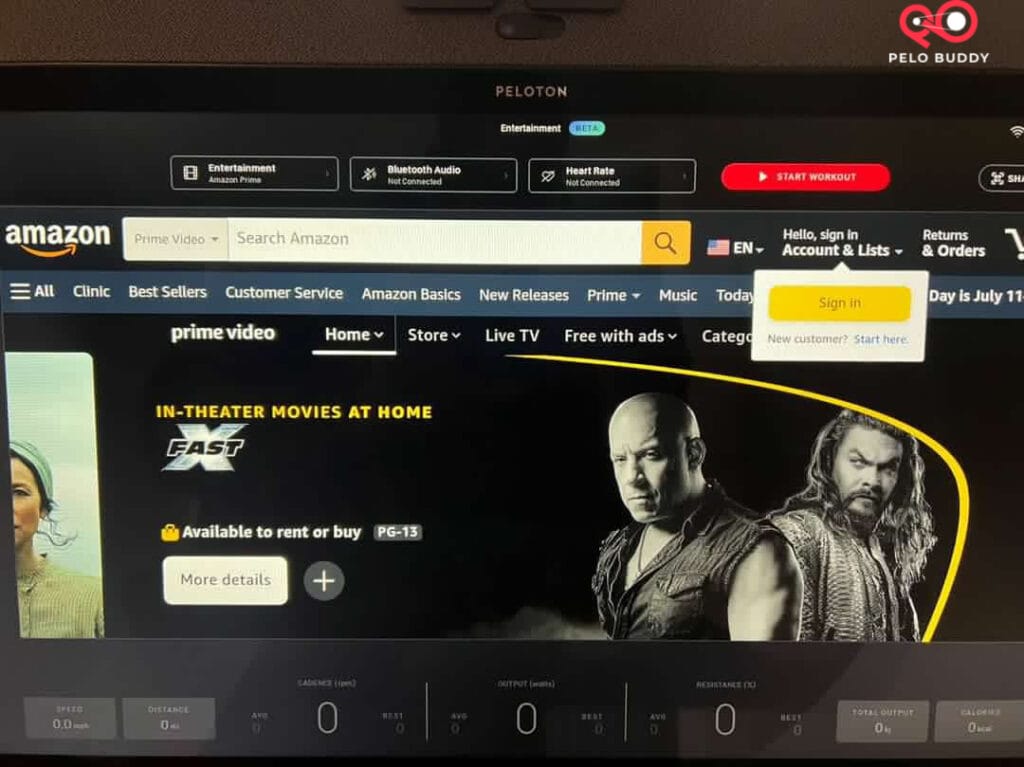 When you start one of the services for the first time, Peloton is sure to point out that it is a third party site, and you must have a subscription to that service to use it.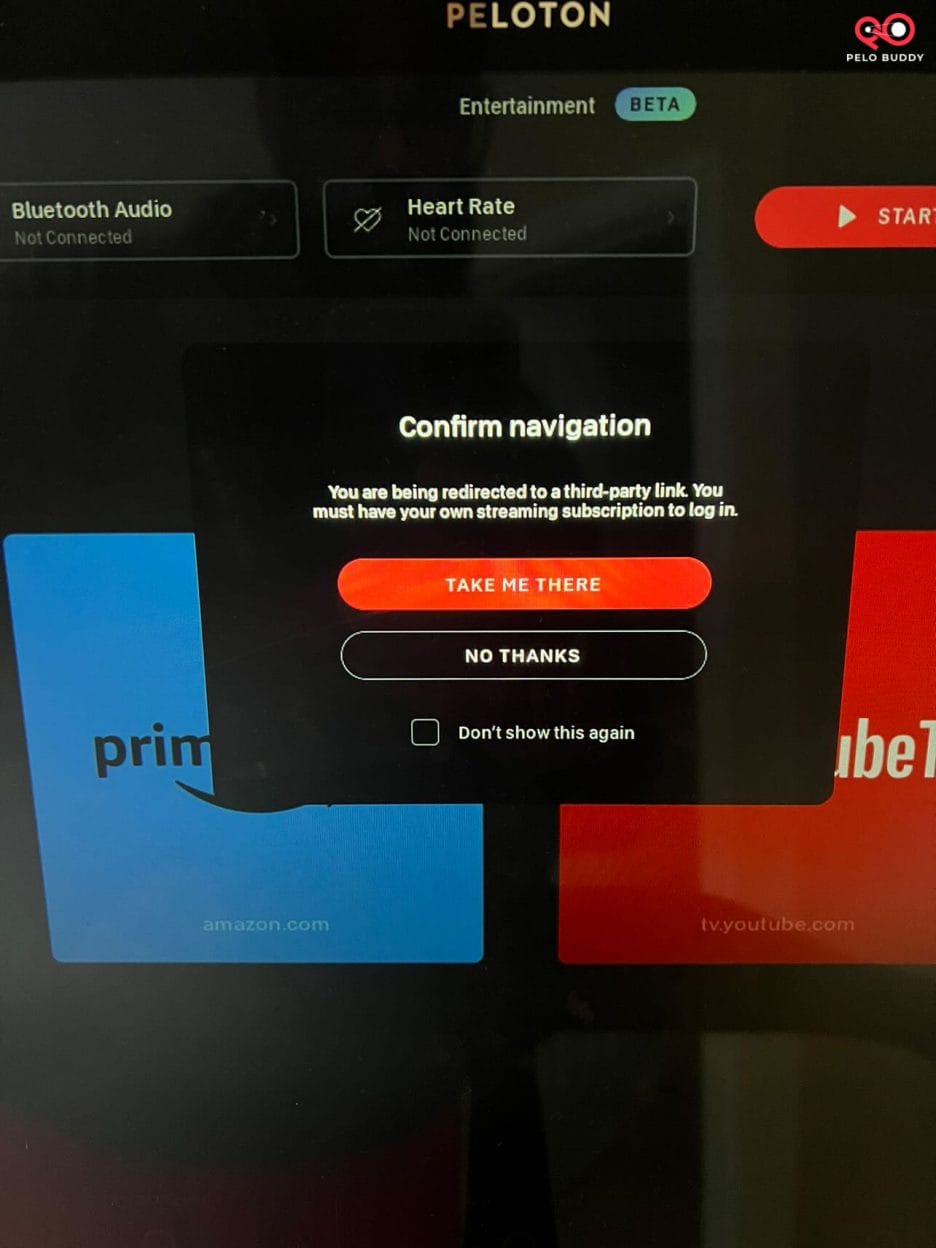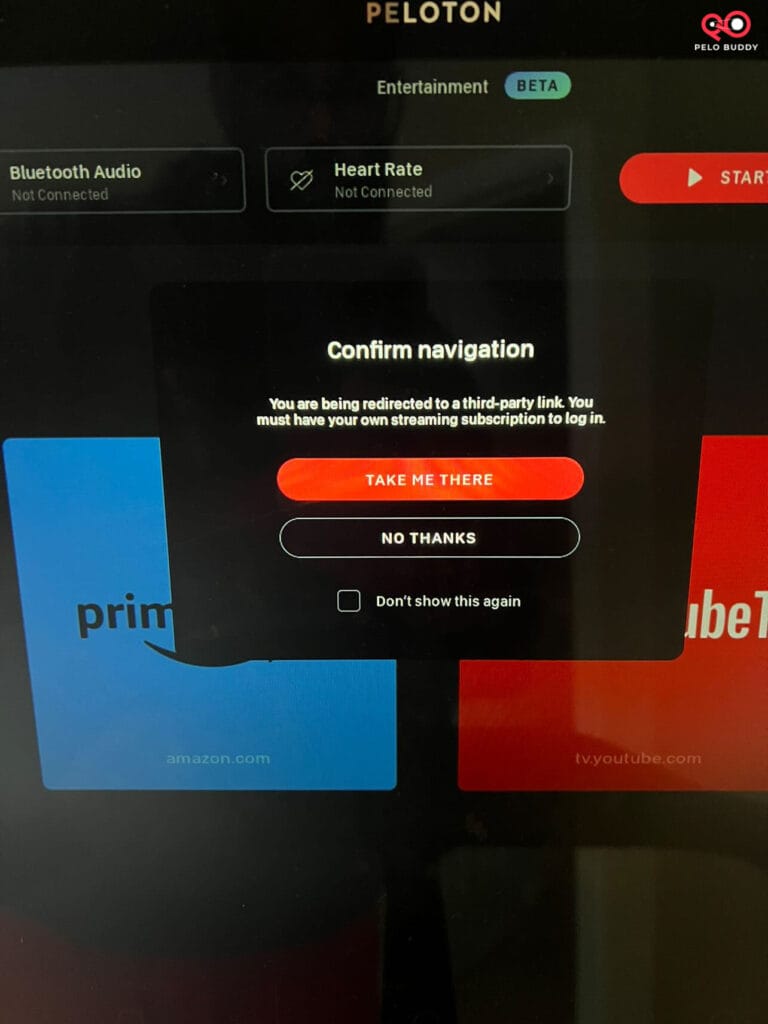 We will continue to share information about the testing and rollout of Peloton's new Entertainment feature as details emerge.
What do you think of the new Entertainment feature? Have you been hoping for the ability to stream content on your Peloton hardware device, or will you be saving that for the couch? Let us know your thoughts in the comments!
---
Want to be sure to never miss any Peloton news? Sign up for our newsletter and get all the latest Peloton updates & Peloton rumors sent directly to your inbox.