Peloton is announcing some changes to in-person classes at the Peloton Studios today. These include opening the Peloton studios to members for more days of the week, as well as placing new limits on how many in-person classes people can attend in one day or weekend. There will also be some new class types offered in person that previously were not available.
The goal of these changes seems to be to allow more people to get the chance to take in-person classes at either Peloton Studios New York or London. Demand has remained high for classes, with entire weekends' worth of classes being sold out within minutes of them being made available — even with the addition of an online queue. The net impact of the changes being rolled out today will in theory allow more people to take more in-person classes.
The first change being announced today is an expansion of when the Peloton Studios are open to members in person. The PSNY & PSL studios first soft opened last June with only Fridays available for members to take in-studio classes. Then, in August, the studio officially reopened with in-person classes available from Friday – Sunday, which is how it remained until today.
However, starting in February – the Peloton Studios will be open to members in-person from Thursday through Monday. Both the Peloton Studios New York and Peloton Studios London will have the same expanded days with members being able to take classes in the studios.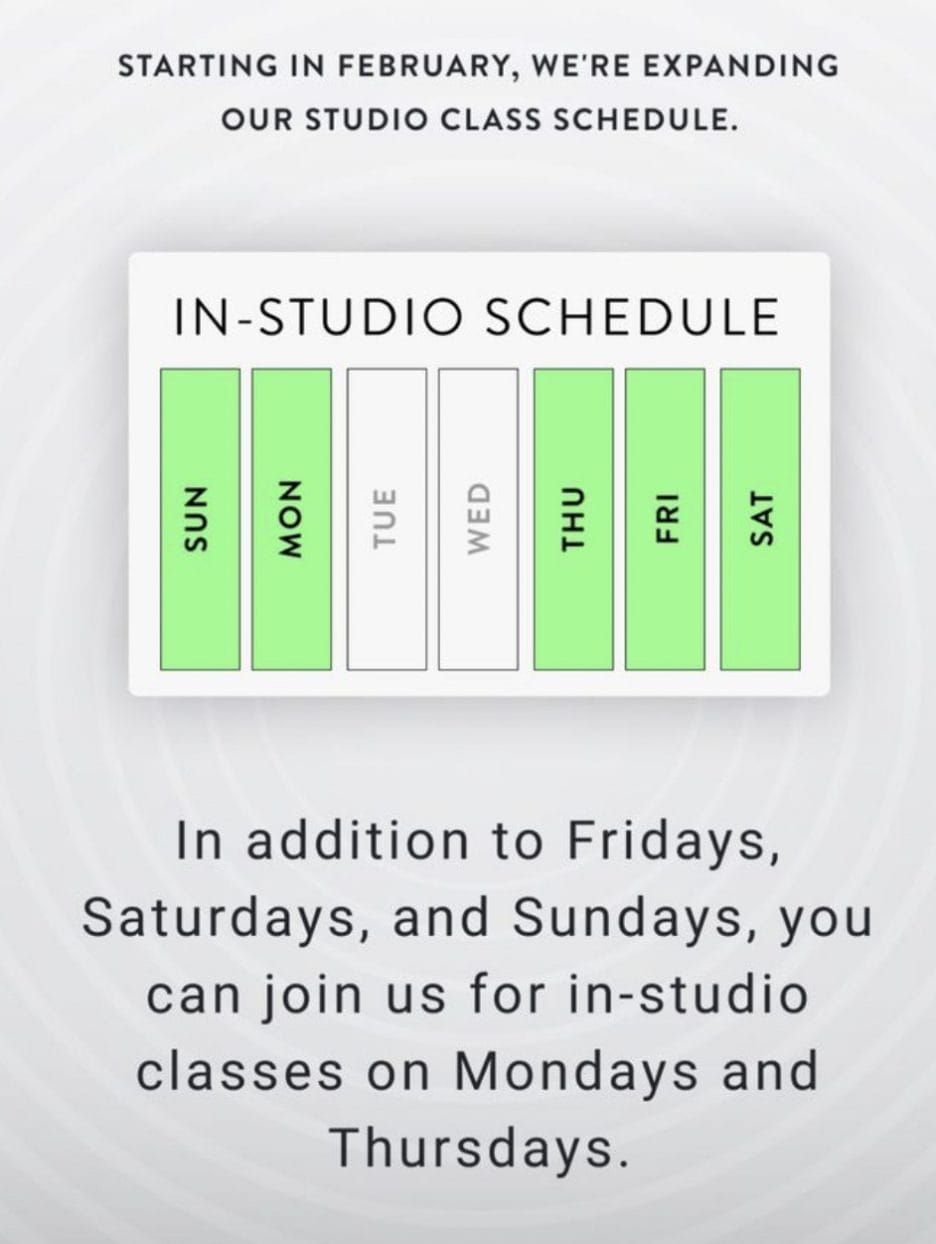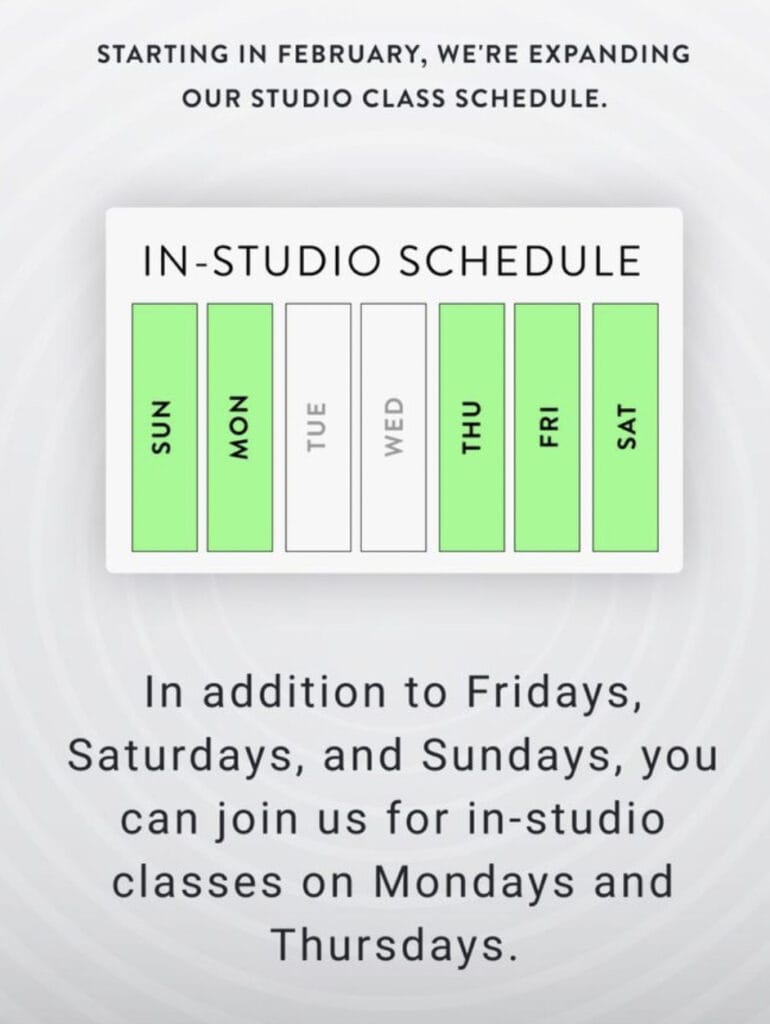 Along with the expansion of the days the studio is open to the public is a slight change in when members are able to book the classes. Typically, new classes have been made available for booking at 12:00pm ET each Monday (both London & New York classes are added at the same time). However, moving forward, expect to see new classes open up for in-person bookings on Thursdays at 12:00pm ET instead. This means that rather than the next set of in-person classes being added on Monday, January 16th @ 12:00pm ET, they will instead be added on Thursday, January 19th @ 12:00pm ET.
Classes should still be made available on a rolling basis for 6 weeks out as they have been until now – the change is that they will just be added on Thursdays instead of Mondays.
Another change being made today is the addition of new limits on how many classes can be booked by members. The new rules being added will limit members to only being able to sign up for two in-person classes in one day – as well as a second rule limiting people to only being able to book four classes over one weekend (with the weekend being defined as the Thursday – Monday time period).
While the Thursdays & Monday classes don't start until February, the new booking limits & rules go into place today, January 12th.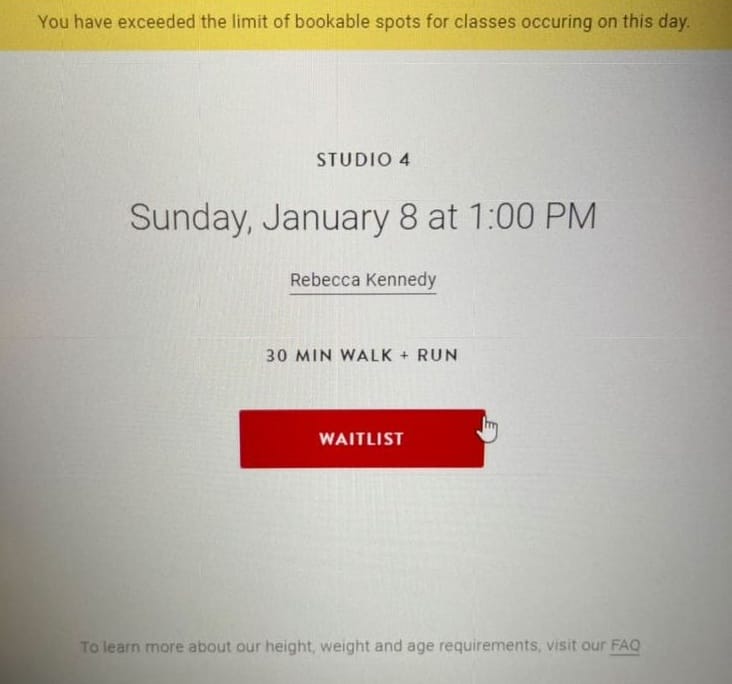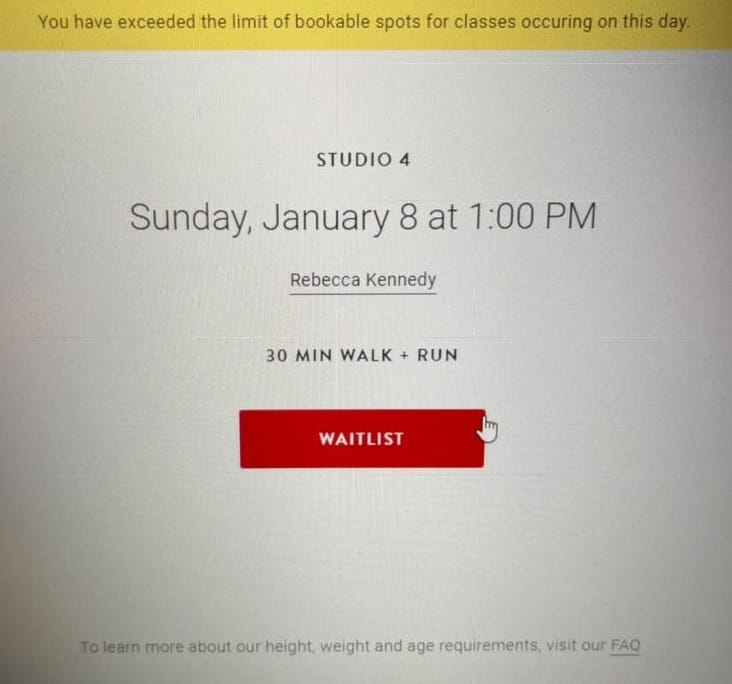 When the new rules were first announced in January, waitlist spots counted towards your daily & weekly limits. However, Peloton updated the rules in February and waitlist spots no longer count towards the limits. This means it is possible for you to be booked into 4 classes in a weekend, and you can then add a 5th waitlist spot.
Note that standby spots at the studio are also not included in the limits. Even if you have your 4 classes booked, it will probably be possible to get on the in-person standby list at PSNY or PSL an hour before the class starts. However, the standby process seems to evolve every few weeks, so this could change as people see what impact the new rules & system have on the process.
Note that if you already have made bookings, they will not be impacted by these new rules & policies. It only applies to new booking made moving forward.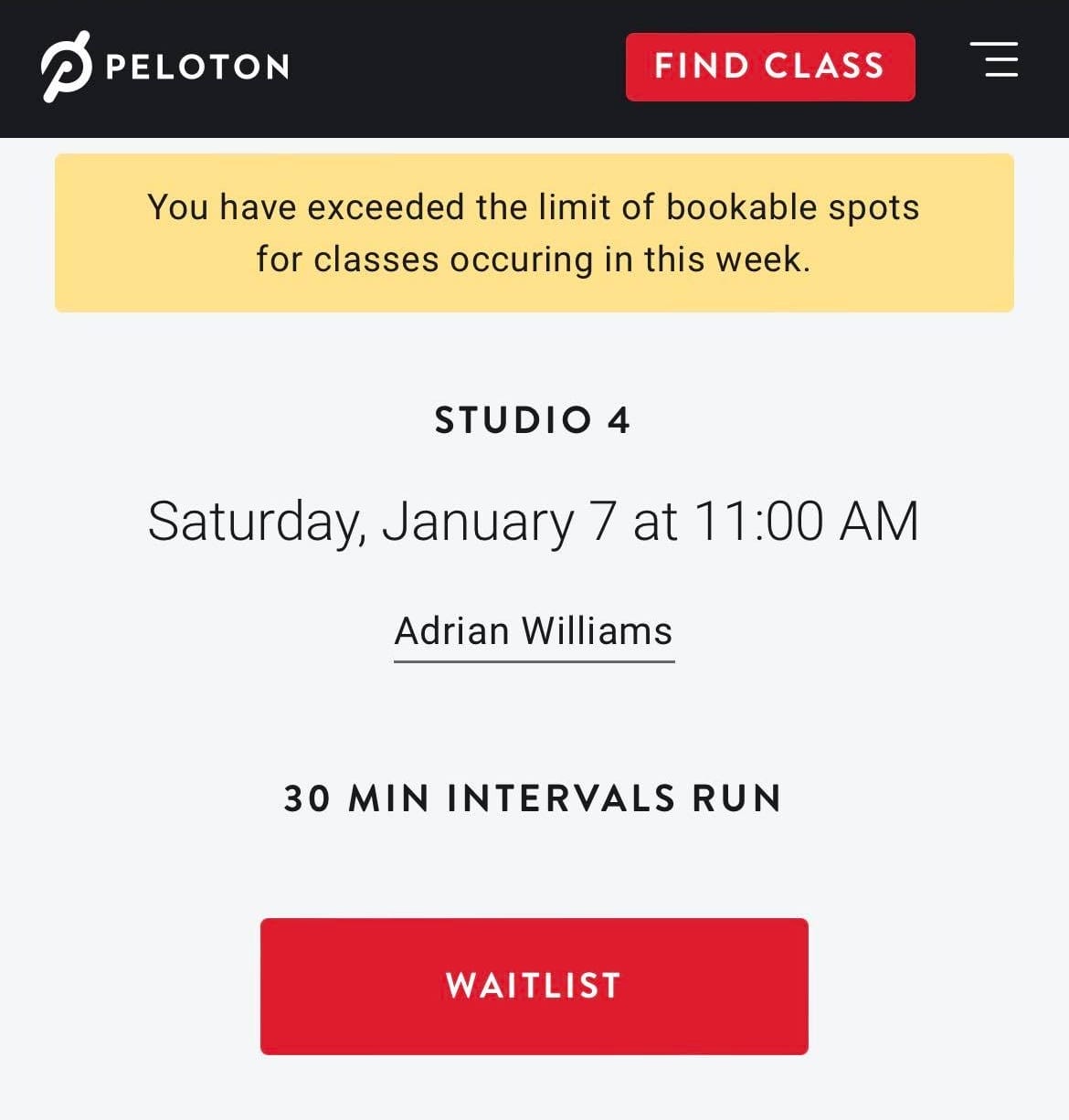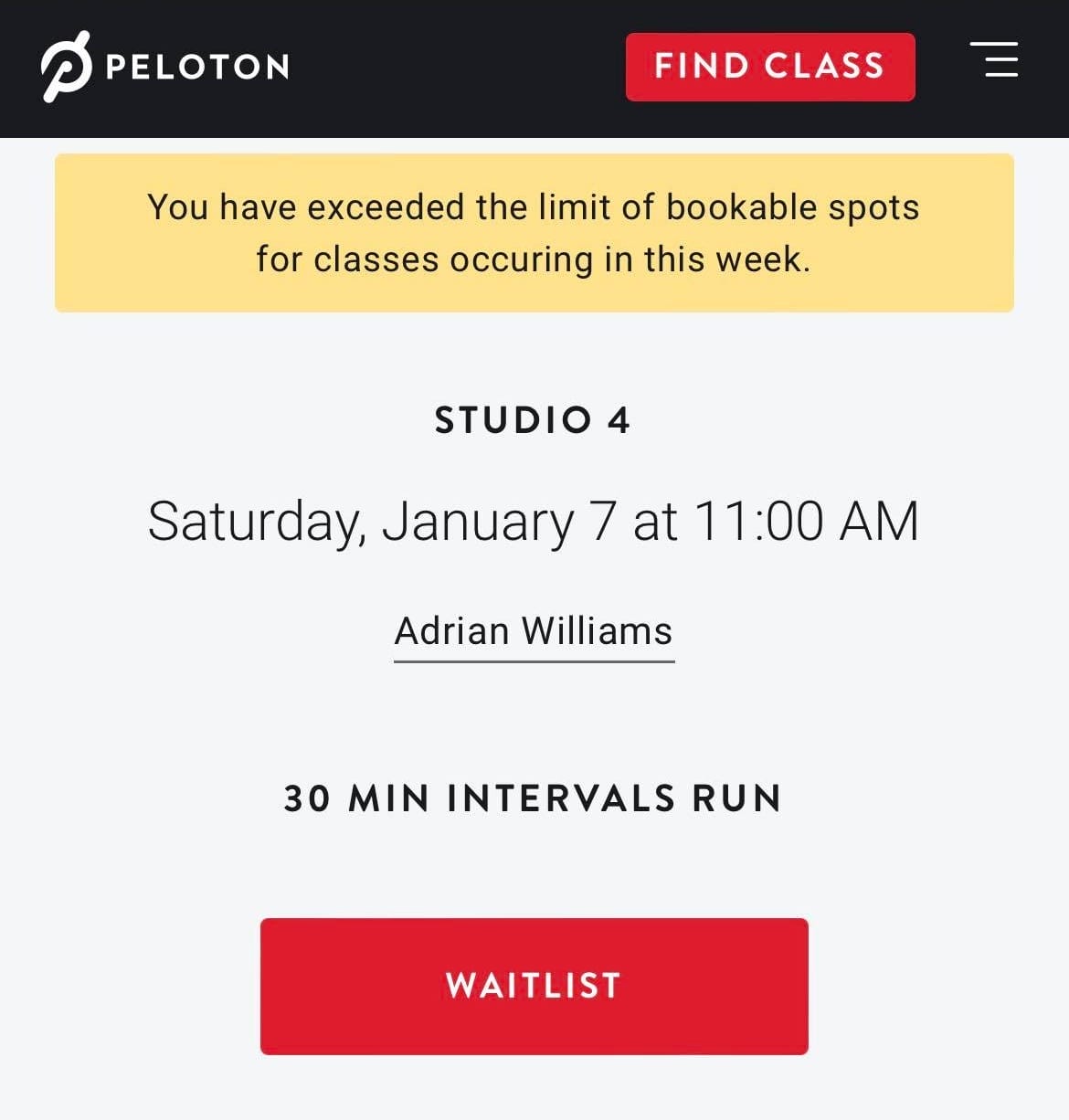 These changes will be automatically enforced by the Peloton Studios booking website. Members reported briefly seeing some of the limits appear in the booking system last week, but they didn't stay in place for long – those were likely briefly added to test the new rules & systems going into place today. Expect to see error messages, like the ones seen above, if you hit the limits on the booking website.
Besides expanding the number of days members can take classes in person, Peloton is also expanding on some of the class types that members will be able to take live at the Peloton Studios. Starting soon, Peloton members will be able to take in-person Tread Bootcamp classes, as well as in-person Pilates classes.
The Tread Bootcamp classes will be offered on Thursdays, Saturdays, and Mondays with members. The Pilates classes will take place at 9:00am ET on Fridays with members.
Peloton also recently updated the studio cancellation policy from 12 to 24 hours, meaning that members must cancel at least 24 hours before their scheduled class in order to receive their credit back. This change is likely to allow more time to notify waitlisted members that a spot has opened up in the class.
If you're interested in booking a class at PSNY or PSL, be sure to check out our comprehensive guide on how to book classes at Peloton Studios New York & London containing everything you need to know.
What do you think of these changes going into place today?
---
Want to be sure to never miss any Peloton news? Sign up for our newsletter and get all the latest Peloton updates & Peloton rumors sent directly to your inbox.