Peloton is adding to their adaptive training content with a new program with Logan Aldridge called "Seated Adaptive Strength" and a new collection especially curated for caregivers. Peloton collaborated with the Christopher & Dana Reeve Foundation, a charitable organization dedicated to curing spinal cord injury. Peloton shared the news in a press release:
Peloton and the Christopher & Dana Reeve Foundation announced today the launch of a special adaptive fitness collaboration designed to bring immersive and challenging workouts into people's lives in an accessible, efficient, community-driven way.
Logan also shared a video via Twitter, announcing that this is Peloton's first-ever adaptive strength program.
Following the release of this program, a standing adaptive strength program was also created.
Peloton Seated Adaptive Strength Training Program with Logan Aldridge
The new program is called "Seated Adaptive Strength" and contains ten classes with Logan, designed to be taken over the course of one week. The official description reads:
In collaboration with the Christopher & Dana Reeve Foundation, Logan invites you to discover your physical & mental strength in this program for wheelchair users living with spinal cord injury or other causes of paralysis.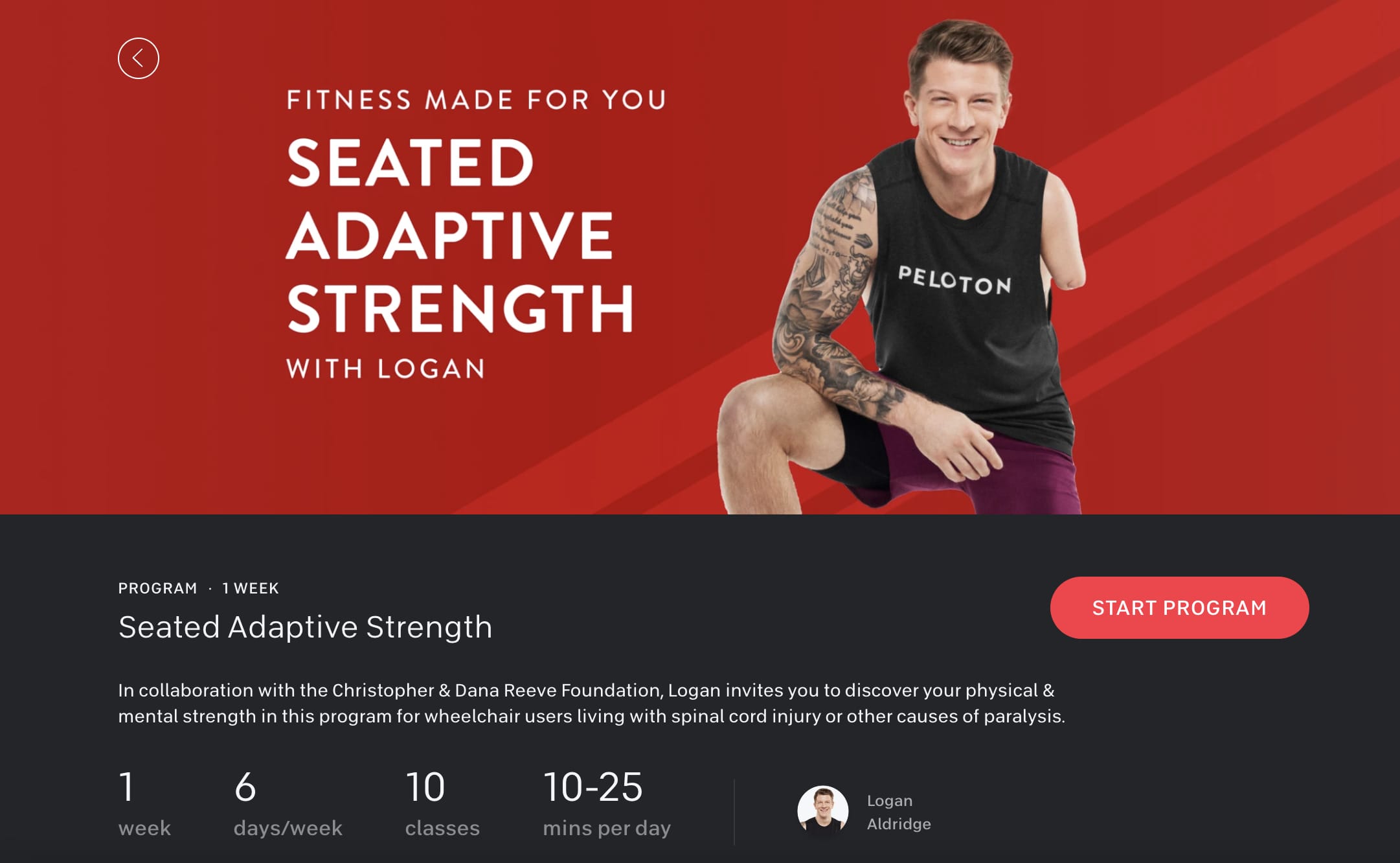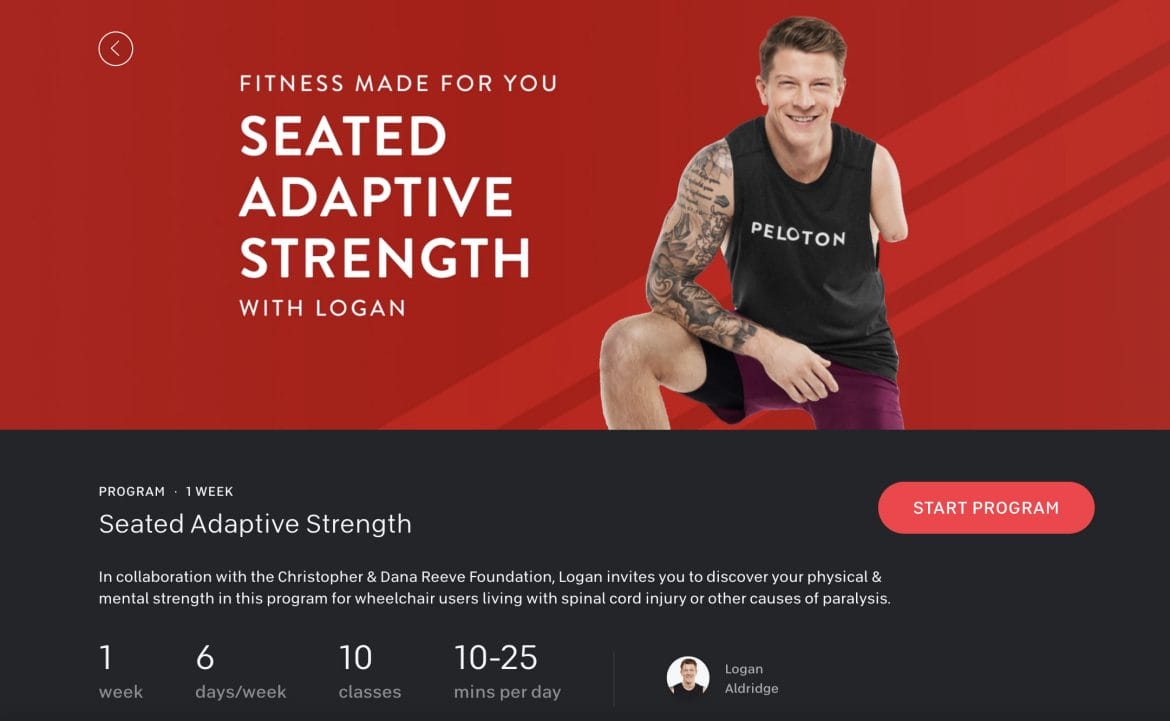 Because this is a program, the classes will not show up in the on demand library and you must take the program consecutively in order to earn the badge. You will earn a badge for taking 5 classes, silver for 7 classes, or a gold badge for 9 classes. However, if you'd like to take the classes a la carte, the complete class list with links is below:
List of classes in the Peloton "Seated Adaptive Strength" Training Program with Logan Aldrdige
The class range in length from 5 to 20 minutes and include warm-ups, push/pull workouts, bodyweight exercises, arms & shoulders focus, and meditation. The classes utilize dumbbells as well as resistance bands. In addition, two of the classes in the program are co-led by yoga and meditation instructor Ross Rayburn. The press release provides additional context:
The "Seated Adaptive Strength" program is designed by Peloton Instructor Logan Aldridge with expertise contributed by Reeve Foundation community members and ambassadors especially for wheelchair users living with a spinal cord injury (SCI) or other causes of paralysis. The eight-class program, available on the platform beginning today, is geared primarily toward seated athletes with some hand and arm function. The series also includes a special meditation class led by Peloton Instructor Ross Rayburn that provides breathing techniques and other nuanced instruction designed specifically to accommodate the needs of those living with quadriplegia.
You can find a list and details on all of Peloton's other training programs here.
Peloton Seated Adaptive Strength Collection
In addition to the program, there is also a new collection available that is specifically geared towards caregivers. The collection is called "Caregivers Spotlight" and currently contains 28 classes in strength, yoga, meditation, cardio, and stretching. The official collection description reads:
This collection has been curated by Peloton and the Christopher & Dana Reeve Foundation with caregivers in mind. Featuring classes to build and maintain both the physical and mental strength needed to fulfill a caregiver role.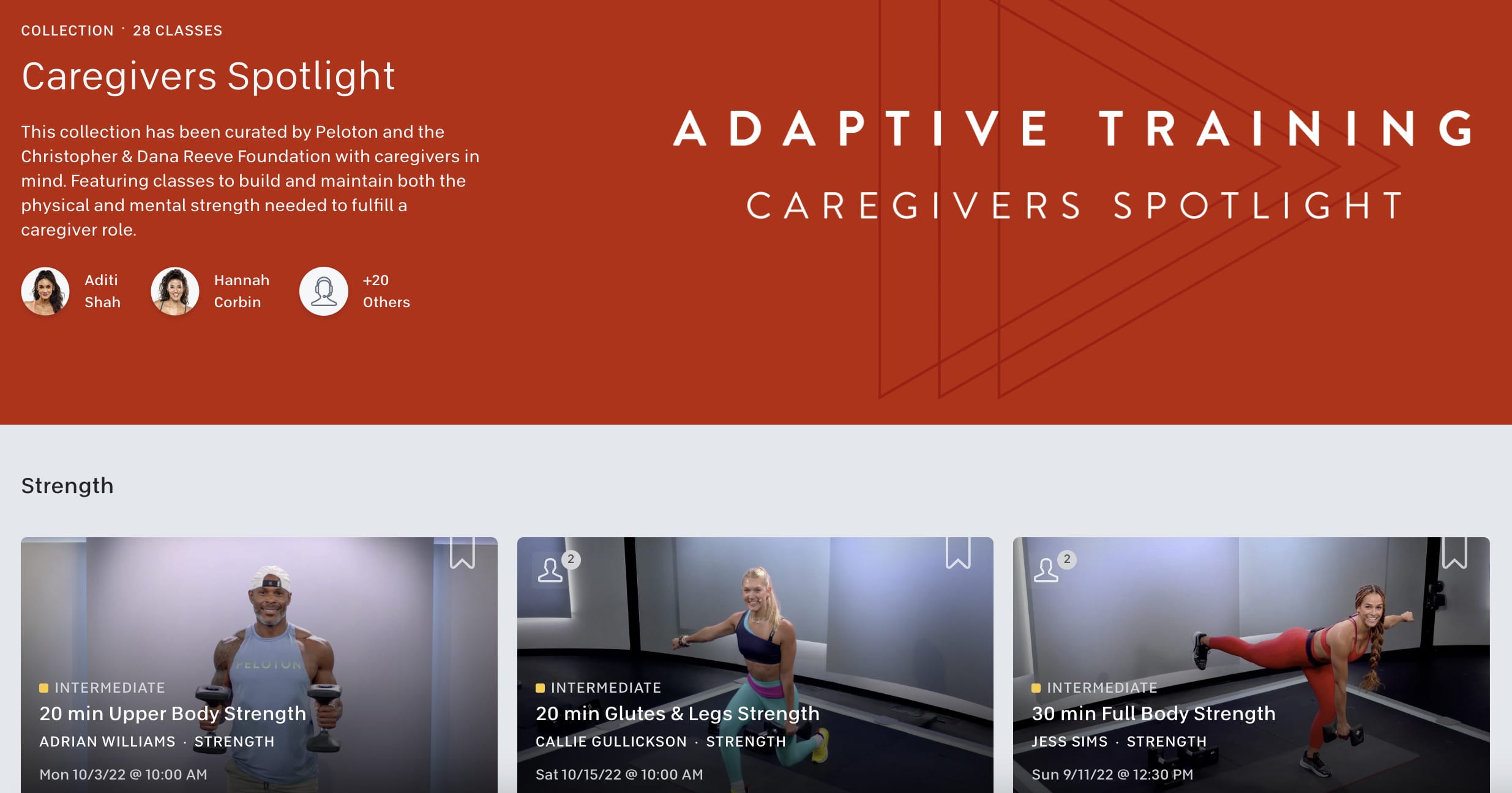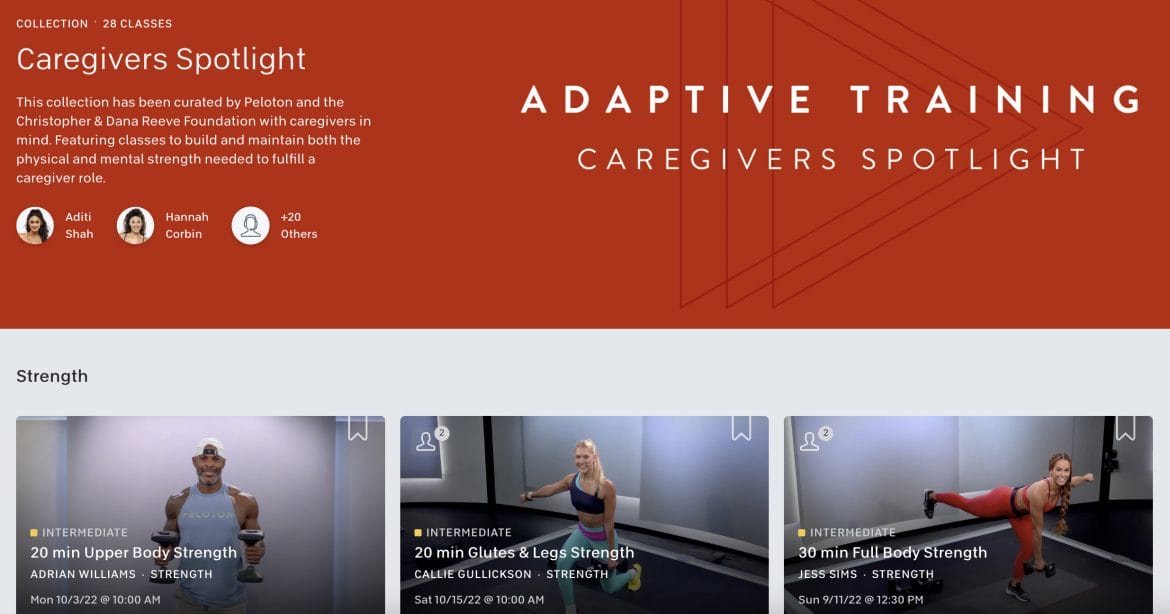 Peloton has released this collection in observance of National Family Caregivers Month, which takes place throughout November. According to the press release:
These classes have been handpicked from Peloton's content library to support caregivers' mental, emotional and physical health – both as self-care and for the oftentimes strenuous work that is essential to caregiving, such as wheelchair transfers. The collection focuses on breathwork, upper body stretches, lower body strength, healthy back yoga flows, and strength warm-ups.
There will be a virtual panel at the end of this month featuring Logan and members of the foundation to discuss the collaboration. Logan will also celebrate International Day of Persons with Disabilities on December 3 with an "in-class moment" – the day also marks Logan's one year anniversary with Peloton.
You can learn more about the Christopher & Dana Reeve Foundation via their website, and you can read more about their collaboration with Peloton via the Peloton press release.
---
Want to be sure to never miss any Peloton news? Sign up for our newsletter and get all the latest Peloton updates & Peloton rumors sent directly to your inbox.