Peloton has officially announced the details for the first stop of Peloton on Tour. The tour will debut in Los Angeles, California, and tickets will go on sale tomorrow, June 13 at 12:00 p.m. ET. All of the details can be found via: https://event.onepeloton.com/livefromlosangeles (which is where you'll also buy your tickets tomorrow).
Update 2 – Here's a first look at what the Peloton Instructor Experience is actually like at the Peloton On Tour, with pictures and an overview from Los Angeles. And we also have details & photos about the Peloton Outdoor Walk & Talks from Friday here. We also have photos & information about the free group class & workout at UCLA here. You can also see photos and details about the class tapings that took place Saturday here.
Update – Peloton ended up adding a second event on Friday, that is free and open to everyone – a large group workout on the campus of UCLA. Since so many members weren't able to buy tickets, this should let some people get to experience at least part of the Peloton on Tour.
Peloton shared the news via the @PelotonStudios Instagram account, featuring a teaser video of the instructors who will be in attendance:
Dropping the Instructor cast headed to Los Angeles, we can't wait to meet up IRL! 🌴 Go to our Live from LA event link-in-bio to check out our detailed 3-day itinerary and more ticket info! Tickets go on sale Tuesday, June 13 @ 12 PM ET 👀 Tag a friend who you want to see there!
LA Instructor Cast: @katiewongspelledwang @kendalltoole @adrianwilliamsnyc @benjaminalldis @milamariana
In case you missed it, Peloton on Tour was announced last week and is serving as a replacement for the traditional Peloton Homecoming event that historically took place every springtime in New York City. Earlier this year Peloton teased that Homecoming would be formatted differently and accessible to more members, and Peloton on Tour is the new concept that will launch next month.
The inaugural stop will be Los Angeles on July 13-15. Five instructors will be in attendance:
Adrian Williams
Ben Alldis
Camila Ramón
Katie Wang
Kendall Toole


Peloton has also released the itinerary for the Los Angeles stop of the tour. Note that available ticket quantities are based on the capacity of the retail showroom/store. The Los Angeles stop will be based out of the Santa Monica store, which is reportedly the smallest of the five stops. The website contains the following message:
We can't wait to see you on the road as we launch this BRAND NEW tour concept! Ticket quantities are dependent on store capacity and will vary by city.
We're excited to come to our scenic Santa Monica store first, but due to the store's capacity, we are limited in the number of tickets we can offer at this location.
In other words, there will be less tickets available for the Los Angeles tour stops, so members interested in attending should be prepared to purchase tickets as they are released on June 13 at 12:00 p.m. ET – and should understand that they may sell out quickly. There are expected to be 200 total tickets for the "Instructor Experiences", 140 tickets for the outdoor walks, and a TBD number for the class tapings.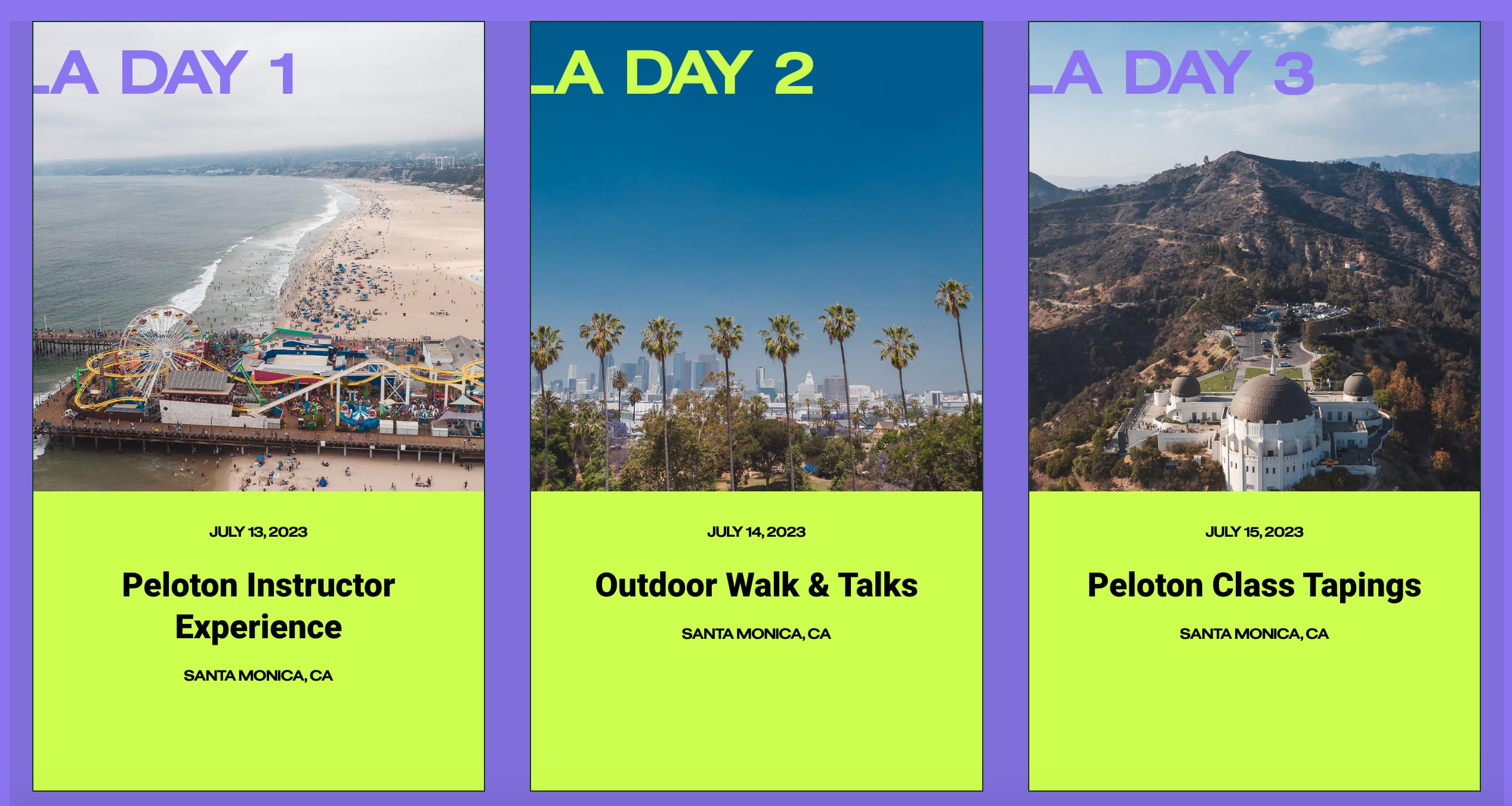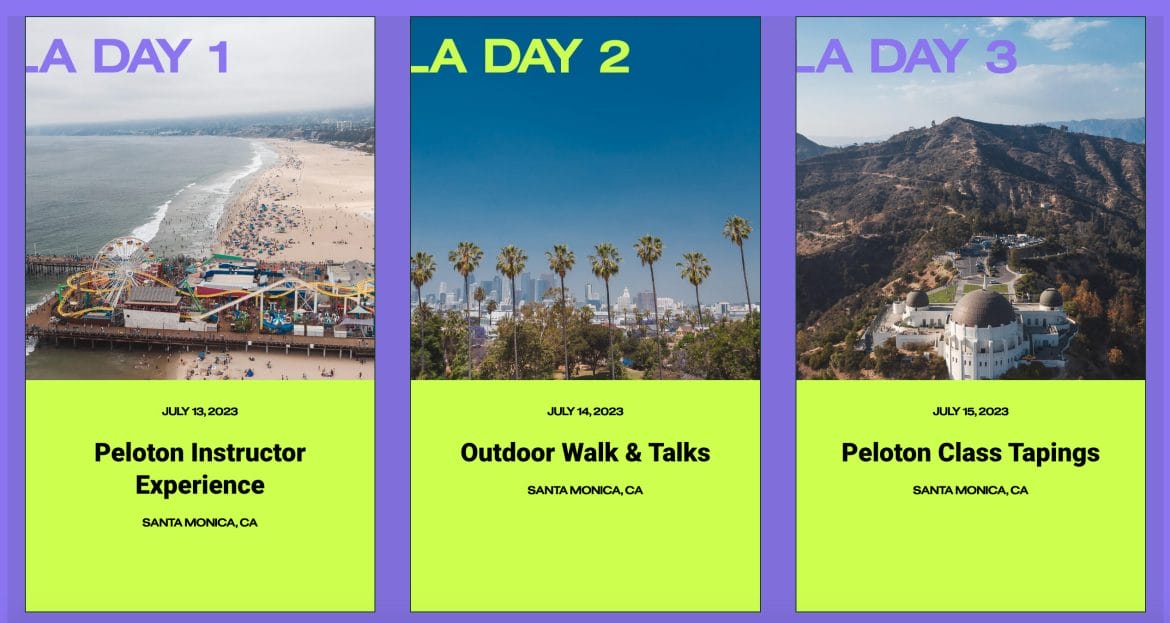 The itinerary includes three events, each of which has a separate ticket. The price for each Peloton on Tour Los Angeles event is $60. There is not one ticket for the three-day event – but rather, tickets to events must be purchased a la carte. This is so that Peloton can include as many members as possible in individual events rather than selling out the entire weekend all at once.
Each individual can purchase up to two tickets – one for yourself and one for a guest. Note that any event that includes multiple time slots (as explained below) is restricted so that you can only purchase one window and not attend multiple time slots within the same event. Peloton will cancel any duplicate bookings within the same event. Again, this is so they can accommodate as many people as possible throughout the tour stop.
The first event will take place on Thursday, July 13 at 12:00 – 5:00 p.m. and is called the Peloton Instructor Experience. The description reads:
Take your Peloton experience to the next level with three unique opportunities to interact with multiple instructors—a custom photo booth activation, a space to capture an unforgettable social video, and an intention-setting station to fuel your wellness journey. You'll make the most of every moment while connecting with your community and creating memories that will last a lifetime!
Tickets will be offered in 30 minute increments between the event window of 12:00 – 5:00 p.m. Each ticket includes a visit to each station within the experience.
The second event will take place on Friday, July 14 from 7:00 – 11:00 a.m. and is called Outdoor Walk & Talks. The description reads:
Start your day off right with Peloton. You've taken an Outdoor Walk on the app, now join us live and in person for a scenic walk led by your favorite instructors. Each experience will begin with a 15-minute warm-up followed by a mile-long walk. You'll come away refreshed, inspired, and connected.
There are four different walks included in the event, with each walk lasting approximately one hour and led by two instructors. Tickets will be available for each walk.
There is also a note that the instructors will be "out and about" in Los Angeles for the rest of the day, with a directive to keep an eye on their social media accounts because "You never know where we'll pop up!"
The final event of the tour will take place on Saturday, July 15 from 9:00 a.m. – 4:30 p.m. These are the Peloton Class Tapings that were previously teased in the initial announcement of Peloton on Tour. There are two ways to participate in the class tapings:
Option 1: Backstage Pass: Your exclusive insider access for a special viewing of what it takes to make a Peloton class. Come be a part of the crew for the day with us in LA. You'll get a behind the scenes view that includes everything from set up to breakdown alongside staff, crew, and your favorite instructor! Each time slot includes one class with one instructor and lasts 60-90 minutes. Please note: Due to space and capacity limitations, this experience does not include a workout component.
Option 2: High Five Crew – FREE!: Couldn't secure a backstage pass? We got you, and bonus… this experience is free! Join us outside of the store to watch the class tapings and take part in a pep rally/viewing party, with some special instructor cameos! This is your chance to potentially appear in a class, as we'll be taping the party to be integrated into our on-demand classes. Make a sign to cheer on your favorite instructor and bring the energy—make sure to RSVP to come by and see what we're all about.
To reemphasize – neither option includes the actual workout, but rather, ways to participate and support the instructor team. Unlike the other events throughout the weekend which each cost $60, the high five crew event at the class tapings is completely free, but note that space is still limited due to capacity limitations.
The class schedule for the delay is below:
9:00 a.m. – 10 min. Row with Katie Wang
10:30 a.m. – 10 min. Strength with Ben Alldis
12:00 p.m. – 20 min. Run or Walk with Adrian Williams
1:30 p.m. – 15 min. Ride with Camila Ramón (Spanish)
3:00 p.m. – 20 min. Ride with Kendall Toole
If you're wondering what a class from a Peloton store may look like, Cody Rigsby filmed classes from the Pasadena store back in 2021 while he was competing on Dancing with the Stars. However, the Peloton on Tour website suggests that there will be shots of members gathered outside the studio, so the angles and filming will likely be a bit different.
In addition to each daily event, Peloton will also be promoting an online apparel warehouse sale. Members who purchase a ticket to any event at Peloton on Tour Los Angeles will receive a 50% discount code to use at the Peloton Apparel online store. All ticket holders will receive the code on July 10, and will need to use the code between July 17-19.
Lastly, Peloton will hold an invite-only Leaderboard Awards Ceremony. The Leaderboard Awards were teased in the initial announcement of Peloton on Tour and are an opportunity for local Peloton members to be recognized by Peloton and the instructor team.
Any Peloton user may nominate a Peloton member who lives in the Los Angeles metro area and is 18 years of age or older. Nominations must be in the form of a 60 second video or a 250 word paragraph, and should be submitted by June 26 at 5:00 p.m. ET via the provided Peloton Qualtrics form.
There are five categories listed to guide nominations and indicate criteria:
Community Superstar – nominate a Member who has had an impact in creating a Peloton community within their community (i.e. your favorite group admin)
Social Media Star – nominate a Member who consistently and positively engages with our Peloton community via social
Friend of Fitness – nominate a Member who has brought a friend or several friends into the Peloton family with positive results
Champ of the Comeback – nominate a Member who has overcome a difficult time or experienced dip in engagement who has successfully made a comeback
Wild Card – know someone who is a Peloton star, but doesn't quite fit in these categories? Nominate them anyway!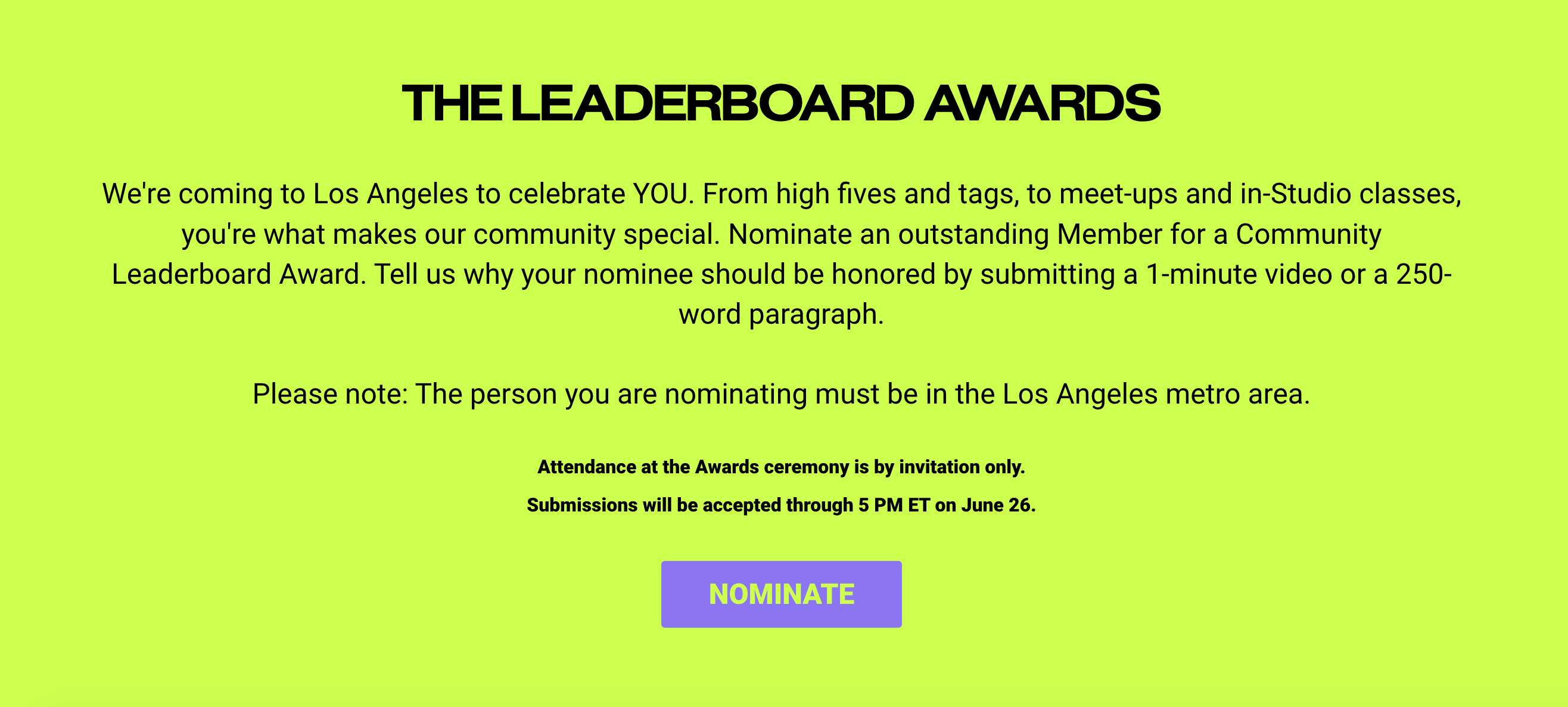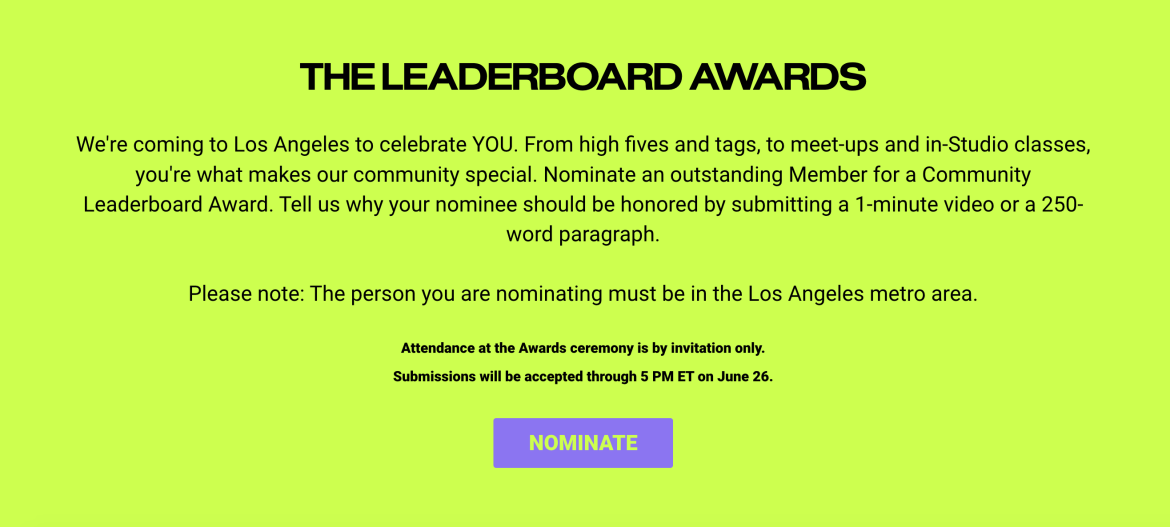 There are four stops in addition to Los Angeles: Atlanta (August 17-19), Chicago (October 5-7), Berlin (October 19-21), and London (November 30-December 2). We will share additional details about each tour stop as they are announced. We've previously reported that Peloton plans to share a full schedule of events in each city, as well as which instructors will be attending, 31 days before each tour stop takes place.
If you missed the initial announcement regarding Peloton on Tour and want more general details about the event, check out our overview article.
If you're interested in attending Peloton on Tour in Los Angeles, be ready to purchase tickets on June 13 at 12:00 p.m. ET. Tickets will be released via the Peloton on Tour website. Note that the page also includes a robust FAQ section with additional details.
Any members planning on purchasing tickets to the Los Angeles Peloton on Tour stop?
---
Want to be sure to never miss any Peloton news? Sign up for our newsletter and get all the latest Peloton updates & Peloton rumors sent directly to your inbox.