This afternoon, Peloton sent an email to all homecoming attendees announcing the cancellation of Peloton Homecoming 2020 due to coronavirus COVID-19 concerns. Technically, Peloton is cancelling "all in person homecoming events". However, the plan is for them to stream special talks and classes to members around the world. The full cancellation note is embedded below: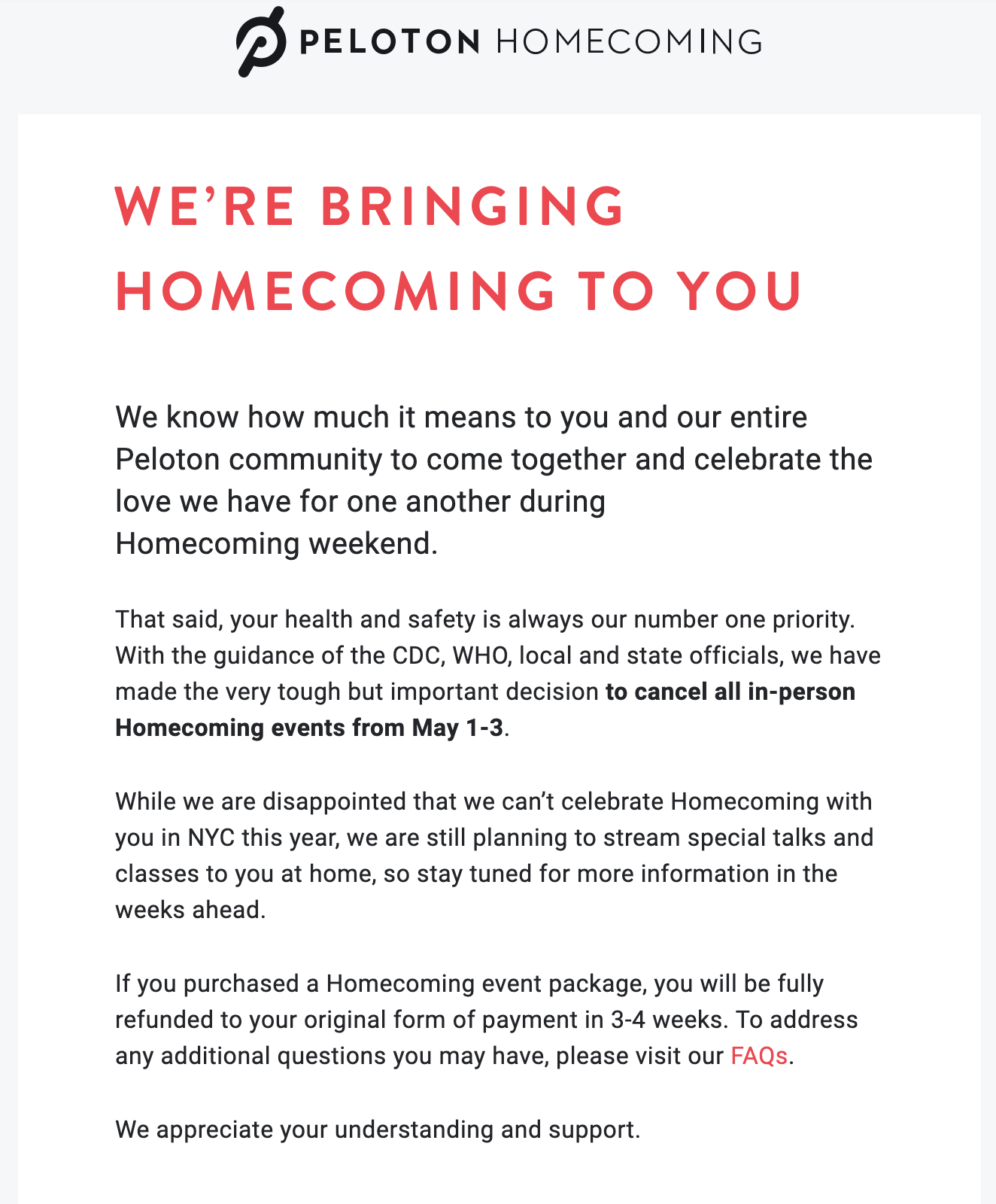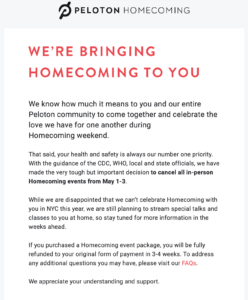 We know how much it means to you and our entire Peloton community to come together and celebrate the love we have for one another during Homecoming weekend.


That said, your health and safety is always our number one priority. With the guidance of the CDC, WHO, local and state officials, we have made the very tough but important decision to cancel all in-person Homecoming events from May 1-3.


While we are disappointed that we can't celebrate Homecoming with you in NYC this year, we are still planning to stream special talks and classes to you at home, so stay tuned for more information in the weeks ahead.


If you purchased a Homecoming event package, you will be fully refunded to your original form of payment in 3-4 weeks. To address any additional questions you may have, please visit our FAQs.


We appreciate your understanding and support.
It remains to be seen what the special talks and classes that will take place over Homecoming weekend will entail. However, all members should now have access to them. The activities and classes that get live stream should not be restricted just to those members who had purchased Homecoming tickets.
With the new Hudson Yard studios opening next week, Homecoming was going to be a chance for a lot of members to see the new studio with their own eyes. That opportunity will have to wait.
One of the FAQs on Peloton's website addresses the question of Will Peloton Homecoming 2002 be rescheduled? Unfortunately, Peloton has no plans at this time to do so, and will instead take all the planned sessions digital.
The big open question now becomes if Peloton will still unveil the new Peloton Rower over that same weekend. Since Peloton did not announce the rower at CES this year, the expectation was becoming that Peloton would take a page out of Apple's playbook and announce the newest product on their own turf during Homecoming, and possibly allow members to be the first to get eyeballs on it. The currently unused Studio 3 in the new Hudson Yard studio is expected to be the Peloton Rower studio. Now that Homecoming will be digital, Peloton might choose to either move the announcement forward or delay it a few weeks or months, given they won't have the large gathering of members in person.
---
Want to be sure to never miss any Peloton news? Sign up for our newsletter and get all the latest Peloton updates & Peloton rumors sent directly to your inbox.