On the heels of the first stop of Peloton on Tour in Los Angeles this past weekend, Peloton has announced the itinerary for the next stop in Atlanta, which will take place from August 17-19.
Update – Peloton has added an extra free event – Club Hosky Party with Jon Hosking
Tickets will go on sale tomorrow, July 20 at 12:00 p.m. ET. All of the details can be found via: https://event.onepeloton.com/livefromatlanta.


The schedule was originally supposed to be revealed this past Monday, July 17 – but Peloton delayed the announcement by a couple of days.
Peloton shared the news via the @PelotonStudios Instagram account, featuring a teaser video of the instructors who will be in attendance:
Dropping the Instructor cast headed to Atlanta, we can't wait to meet up IRL! 🔥 Each itinerary is different so make sure to check our Live from Atlanta event link-in-bio for a detailed 3-day itinerary and more ticket info 🚨Tickets go on sale Thursday, July 20 @ 12 PM ET 👀 Tag a friend who you want to see there!
Atlanta Instructor Cast: @alextoussaint25 @officialmarcelfit @iamkirstenferguson @chelsealovesyoga @jon_hosking @mattwilpers
Peloton on Tour was announced last month and is serving as a replacement for the traditional Peloton Homecoming event that historically took place every springtime in New York City. The debut stop was in Los Angeles on July 13-15. If you're interested in reading about the experiences of members who attended, we have comprehensive articles for each event throughout the itinerary: the Peloton Instructor Experience, Outdoor Walk & Talks, the free group workout at UCLA, and the Class Tapings. However – note that the events for Atlanta are somewhat different, as explained below.
There will be six instructors in attendance at the Atlanta stop:
Kirsten Ferguson
Marcel Dinkins
Jon Hosking
Chelsea Jackson Roberts
Alex Toussaint
Matt Wilpers


Although the itinerary for Atlanta has some similarities with the itinerary from Los Angeles, Peloton has altered and added additional events amounting to notable differences. There will be five signature events: the Peloton Instructor Experience, Peloton Field Day, Activate Your Greatness Panel, Live Group Classes, and a Leaderboard Awards Party. Note that Peloton could potentially announce additional free events later, as they did in Los Angeles.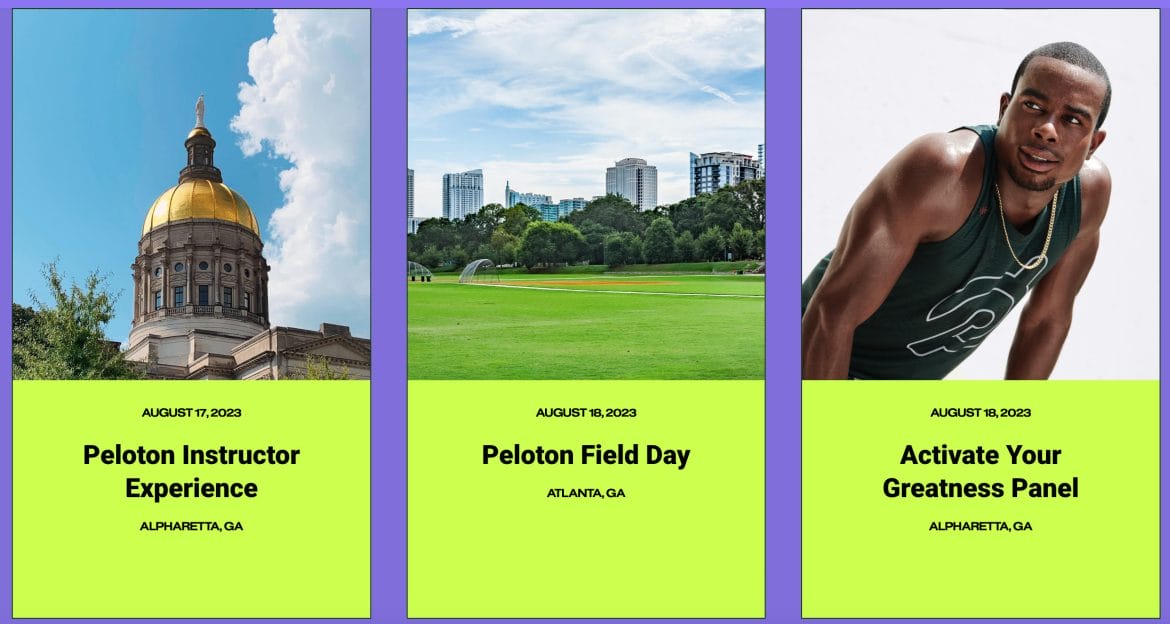 Peloton has previously said that available ticket quantities are based on the capacity of the retail showroom/store. Santa Monica – the headquarters for the Los Angeles stop – was reportedly the smallest store of the tour, so we anticipate a higher number of tickets will be available in Atlanta at the Alpharetta store. However, we still expect the events to sell out extremely quickly and recommend checking out our Peloton on Tour booking tips if you're hoping to secure tickets.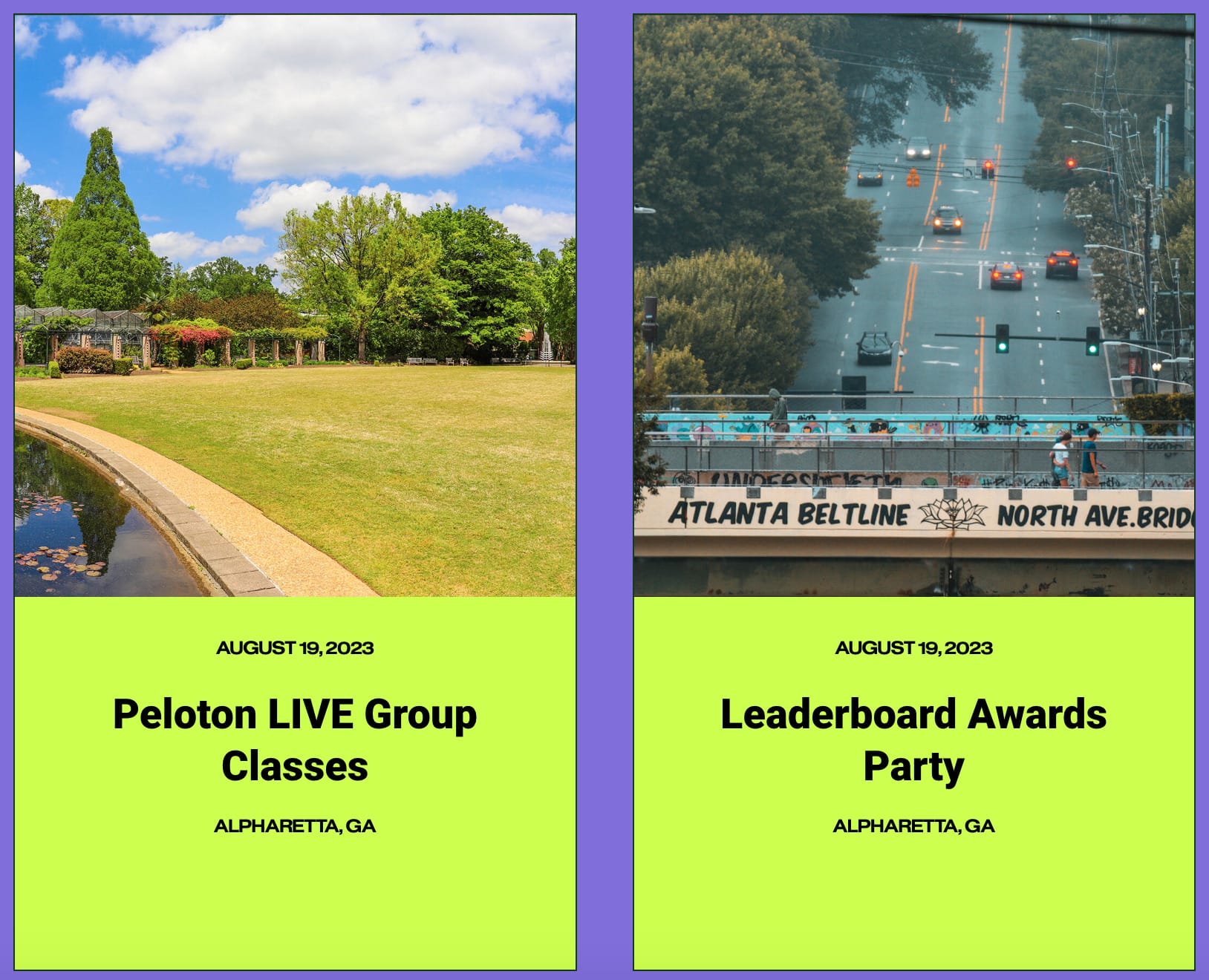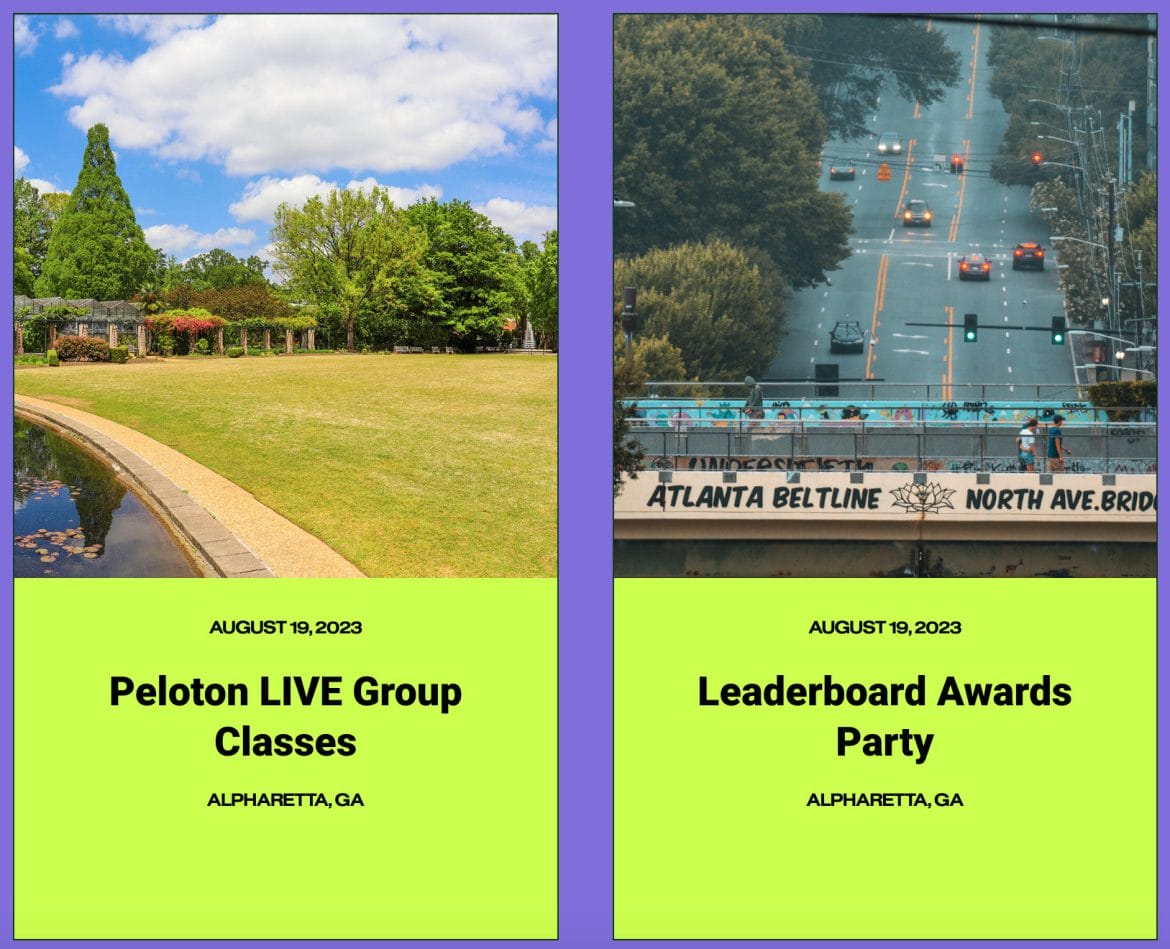 The Atlanta itinerary includes five events, each of which has a separate ticket that costs $60 plus applicable state and local sales tax. As was the case with the Los Angeles stop, there is not one ticket for the three-day event – but rather, tickets to events must be purchased a la carte. The goal for Peloton is to include as many members as possible in individual events rather than selling out the entire weekend all at once.
Each individual can purchase up to two tickets – one for yourself and one for a guest. Any event that includes multiple time slots (as explained below) is restricted so that you can only purchase one window and not attend multiple time slots within the same event. Peloton has said they will cancel any duplicate bookings within the same event. Again, this is so they can include as many people as possible throughout the tour stop.
The first event will take place on Thursday, August 17 at 12:00 – 5:00 p.m. and is the Peloton Instructor Experience. The description reads:
Take your Peloton experience to the next level with three unique opportunities to interact with multiple Instructors—a custom photo booth activation, a space to capture an unforgettable social video, and an intention-setting station to fuel your wellness journey. You'll make the most of every moment while connecting with your community and creating memories that will last a lifetime!
Tickets will be offered in 30 minute increments between the event window of 12:00 – 5:00 p.m. Each ticket includes a visit to each station within the experience. This event occurred in Los Angeles as well, and you can read details and see photos from members who attended via our overview article.
The second event will take place on Friday, August 18 from 8:00 a.m. – 12:00 p.m. and is the Peloton Field Day. This is a new event that seems to be replacing the Outdoor Walk & Talk event from Los Angeles. The description reads:
Join us for Peloton's first ever Field Day! You will be assigned to a team led by an Instructor Team Captain and compete in 4 fun, fitness focused games for the mind & body. We can't wait to see you at this fun and friendly team competition! Come ready to sweat!
Each ticket includes one 90 minute event, and attendees can choose either the 8:00 a.m. or 12:00 p.m. timeslot. The FAQs on the website indicate that there is a limit of 72 tickets for each timeslot. In addition, the Field Day event will take place near downtown Atlanta, unlike the rest of the events which will be held at the Alpharetta store. There is also a note that this event was inspired by the 2023 Global Instructor Summit.
There is an additional event on Friday, which will take place between 2:00 p.m. – 3:00 p.m. on August 18 and is called the Activate Your Greatness Panel. The description reads:
Come learn how to 'Activate your Greatness' at a panel conversation with Alex Toussaint.
Alex knows what it's like to not expect the best from yourself and he wants everyone to activate their own greatness in every aspect of their lives. In this Atlanta event, Alex will discuss his mental and physical practices, on and off the bike, that have influenced his daily habits, fueled his motivation, and that have ultimately contributed to his success and shows you how you can do the same.
The event includes a 30 minute panel followed by a meet & greet with Alex – indicating that Alex will likely be the only instructor in attendance for this event.
The next event of the tour will take place on Saturday, August 19 from 8:00 – 11:00 a.m. and is called Peloton LIVE Group Classes. These appear to be replacing the Class Tapings that took place in Los Angeles. The event description reads:
We are excited to offer three outdoor group classes to the lineup for Peloton on Tour: Live from Atlanta! There will be three 30-minute classes to choose from: a yoga flow and 2 full body workouts!
Unlike the Peloton Class Tapings in Los Angeles, these will be in-person, outdoor workouts that will not be filmed for the on-demand library for others to take. Instead, the focus is on providing members an opportunity to work out with the instructor.
Each class will have a limit of 100 attendees, with multiple instructors teaching and participating within each class. Mats will be provided, and there will also be a meet & greet and photo opportunity following each class. The schedule for the day is below, but note that Peloton has not yet revealed the instructors for each one:
Class Schedule
8:00AM – 30 minute Yoga Flow
9:15AM – 30 minute Full Body Workout
10:30AM – 30 minute Full Body Workout
Peloton states that this event will be similar to the free group workout at UCLA that took place in Los Angeles.
The final event in Atlanta will take place on Saturday, August 19 and is the Leaderboard Awards Party. Note that the time of the event is not currently included in the schedule. The event description reads:
Help us end the weekend on a high note and join us for a party to celebrate our incredible Atlanta community at The Leaderboard Awards.
This event will feature our awards ceremony, light bites, refreshments, and red carpet fun with our Instructors. We can't wait to see you to honor our Atlanta community!
In Los Angeles the Leaderboard Awards were an invite-only event, but Peloton appears to be opening the event up to everyone in Atlanta.
The Leaderboard Awards are an opportunity for local Peloton members to be recognized by Peloton and the instructor team. Any Peloton user may nominate a Peloton member who lives in the Atlanta metro area and is 18 years of age or older. Nominations must be in the form of a 60 second video or a 250 word paragraph, and should be submitted by July 28 at 5:00 p.m. ET via the provided Peloton Qualtrics form.
As a reminder, the five categories listed to guide nominations and indicate criteria are described below:
Community Superstar – nominate a Member who has had an impact in creating a Peloton community within their community (i.e. your favorite group admin)
Social Media Star – nominate a Member who consistently and positively engages with our Peloton community via social
Friend of Fitness – nominate a Member who has brought a friend or several friends into the Peloton family with positive results
Champ of the Comeback – nominate a Member who has overcome a difficult time or experienced dip in engagement who has successfully made a comeback
Wild Card – know someone who is a Peloton star, but doesn't quite fit in these categories? Nominate them anyway!
Not sure who to nominate? #PeloBuddy is in Atlanta 😉
It is worth noting that Peloton has added an additional section to the FAQs regarding ticketing, clarifying that they cannot guarantee the validity of tickets sold second-hand:
Please Note: tickets are only available for sale through this webpage. We cannot guarantee the validity of tickets purchased through other methods. If you are offered tickets for sale not via this webpage, please email our Tour Team for guidance.
For example, if you know someone who had originally purchased a ticket but can no longer attend and wants to sell their ticket to you, you should contact Peloton to ensure there will not be issues with you accessing the events.
For now, there is no mention of an apparel sale available to Peloton on Tour attendees as there was in Los Angeles.
Note that Peloton has said they will incorporate member feedback and potentially make adjustments throughout the five cities – and this is demonstrated with the new events and adjustments for the Atlanta itinerary. We will share details throughout the Atlanta stop of Peloton on Tour as we receive tips, photos, and feedback.
There are three stops scheduled following Atlanta: Chicago (October 5-7), Berlin (October 19-21), and London (November 30-December 2). We will share additional details about each tour stop as they are announced. We've previously reported that Peloton plans to share a full schedule of events in each city, as well as which instructors will be attending, roughly one month before each tour stop takes place.
If you missed the initial announcement regarding Peloton on Tour and want more general details about the five-city event, check out our overview article.
If you're interested in attending Peloton on Tour in Atlanta, be ready to purchase tickets on July 20 at 12:00 p.m. ET. Tickets will be released via the Peloton on Tour website. Note that the page also includes a robust FAQ section with additional details, and you can also check out our Peloton on Tour booking tips to ensure you're fully prepared when tickets become available.
Any members planning on purchasing tickets to the Atlanta Peloton on Tour stop?
---
Want to be sure to never miss any Peloton news? Sign up for our newsletter and get all the latest Peloton updates & Peloton rumors sent directly to your inbox.