When the Peloton on Tour went on sale for the first stop in Los Angeles, California, it sold out. Very quickly. In fact, all tickets (which were $60 per activity) were sold out in less than 10 minutes. This meant that there were many Peloton members who wanted to attend some of the activities who could not.
However, the week of the event, Peloton made a last minute surprise announcement – that they were adding a free group workout, that didn't require a RSVP, which would take place on the campus at UCLA. Peloton said anyone and everyone was invited – all you had to do was just show up – there was no RSVP required.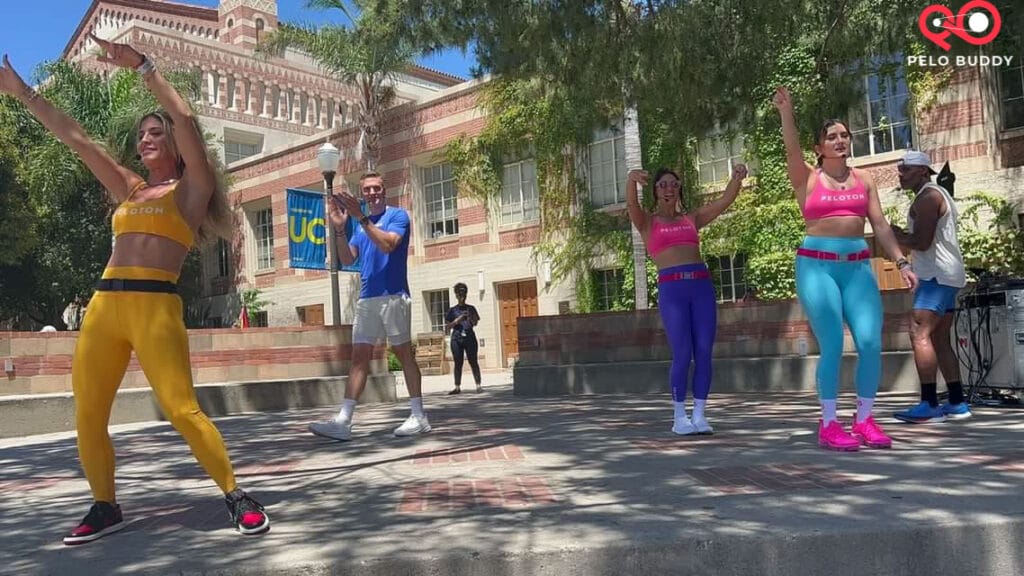 Note that we have reviews & photos for all the different events that took place at Peloton on Tour. You can read about the Thursday Peloton Instructor Experience here , as well as the Friday Outdoor Walk & Talk events here. We also have info on the class tapings that took place Saturday as well.
Thanks to members @joanna116, @hans_short_for_hansome, @beautyandthebenchpress, @sugibear, @cosmicdivinelove and others who shared their experience and photos of the group workout event, which you'll see in this article.
The Peloton on Tour group workout was scheduled to start at 2:00pm PT, at Bruin Plaza on the campus of UCLA.
Upon arrival, members were able to claim a spot in the plaza wherever they wanted. While the event was scheduled to start at 2:00pm PT, it didn't get going until around 2:10 or 2:15pm PT.
The instructors walked out into the plaza from one of the nearby buildings. They waved hello to all the members who were gathered there waiting, and then walked over to the raised platform in the plaza – which is where they would be teaching from.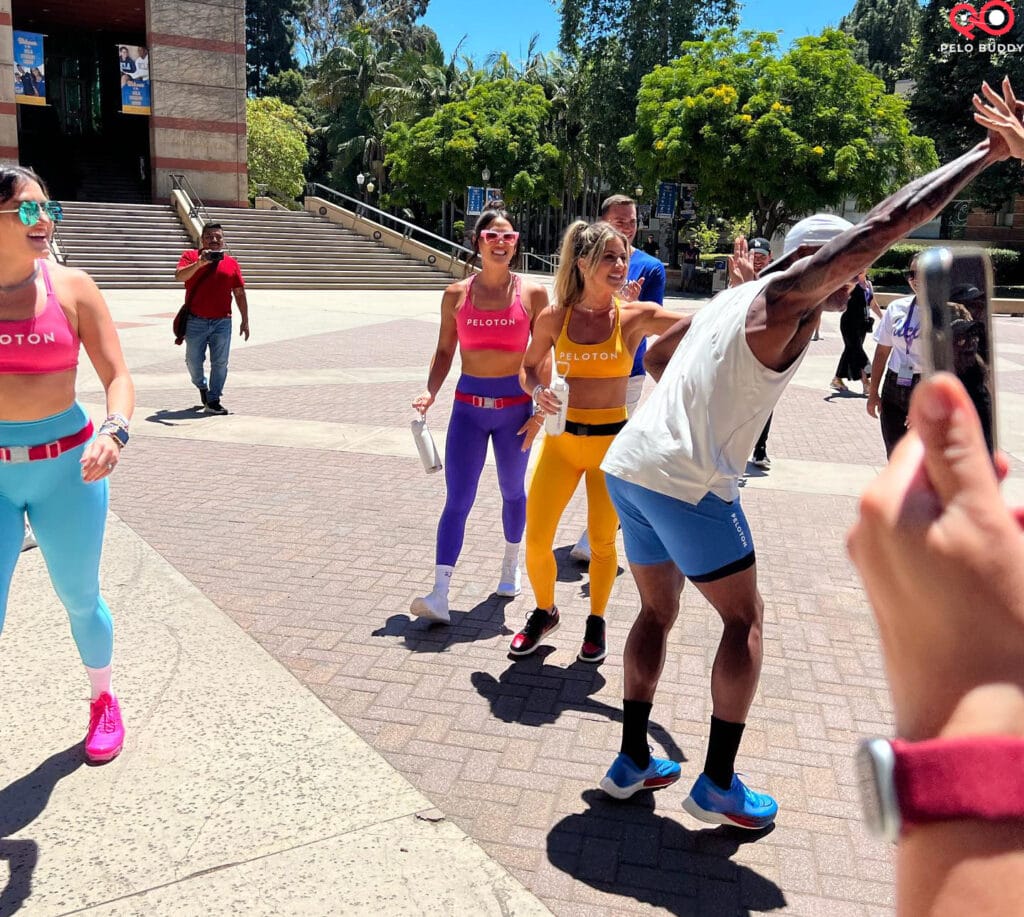 All 5 Peloton instructors who were part of the LA weekend were there – this included Adrian Williams, Katie Wang, Kendall Toole, Ben Alldis, and Camila Ramon.
Once all the instructors were on the platform, the workout began. The workout lasted approximately 30 minutes – which is exactly how long they said it was supposed to take when they announced this extra activity. Each instructor took turns leading the group through parts of the workout. The workout was fairly evenly split up between each coach – who got around 5-6 minutes worth of the class before another instructor took over.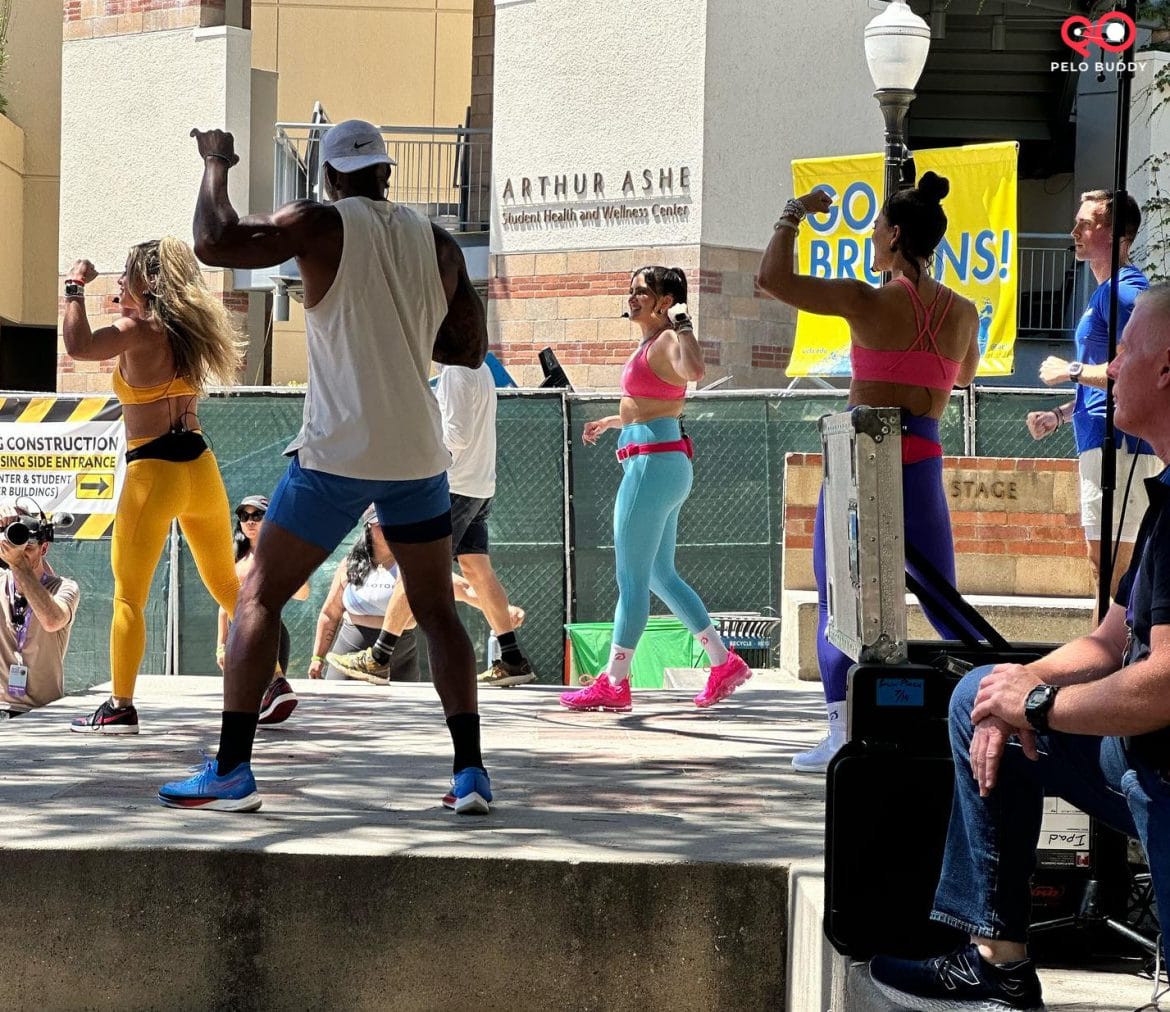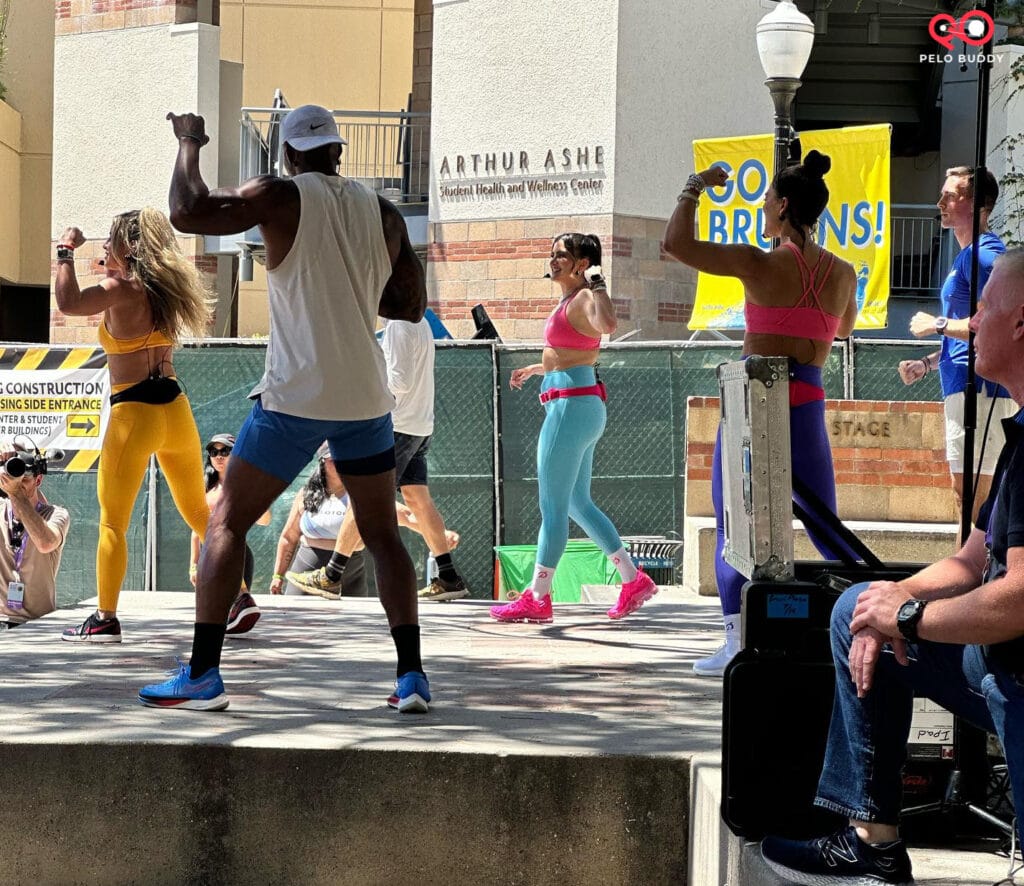 The workout started with Adrian Williams leading everyone through a warm up. This was then followed by Ben Alldis teaching a few minutes worth of strength. Next was Kendall Toole with a few minutes of shadowboxing. Camila Ramon then led everyone through some cardio work. Finally, Katie Wang walked everyone through a cooldown stretch – and then the workout was over.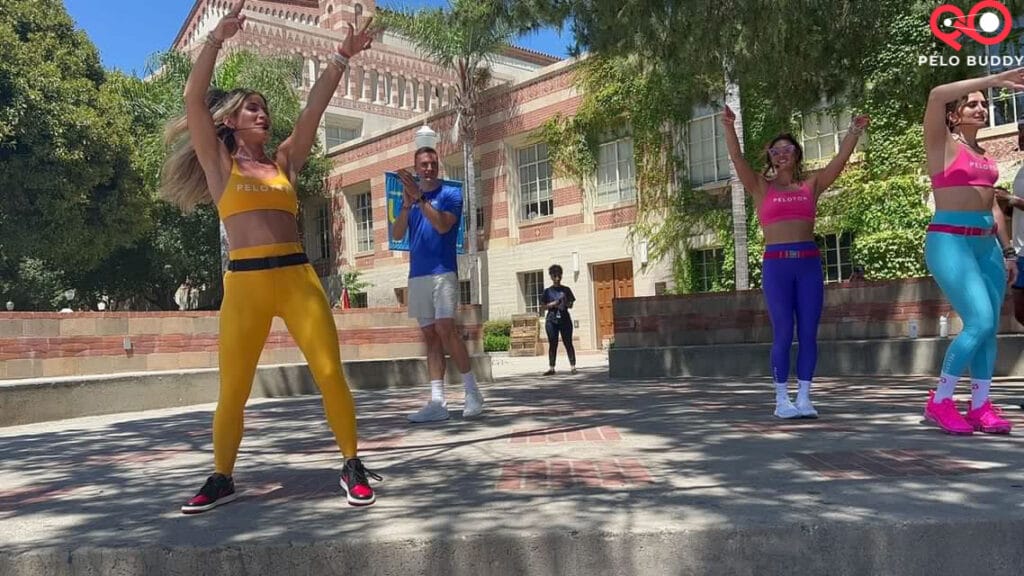 While the workout was taking place, some of the other instructors who were not leading the particular segment were doing modified versions of the moves, to help make the workout accessible to all skill levels. At various points some of the other instructors took a few moments to walk through the crowd as well.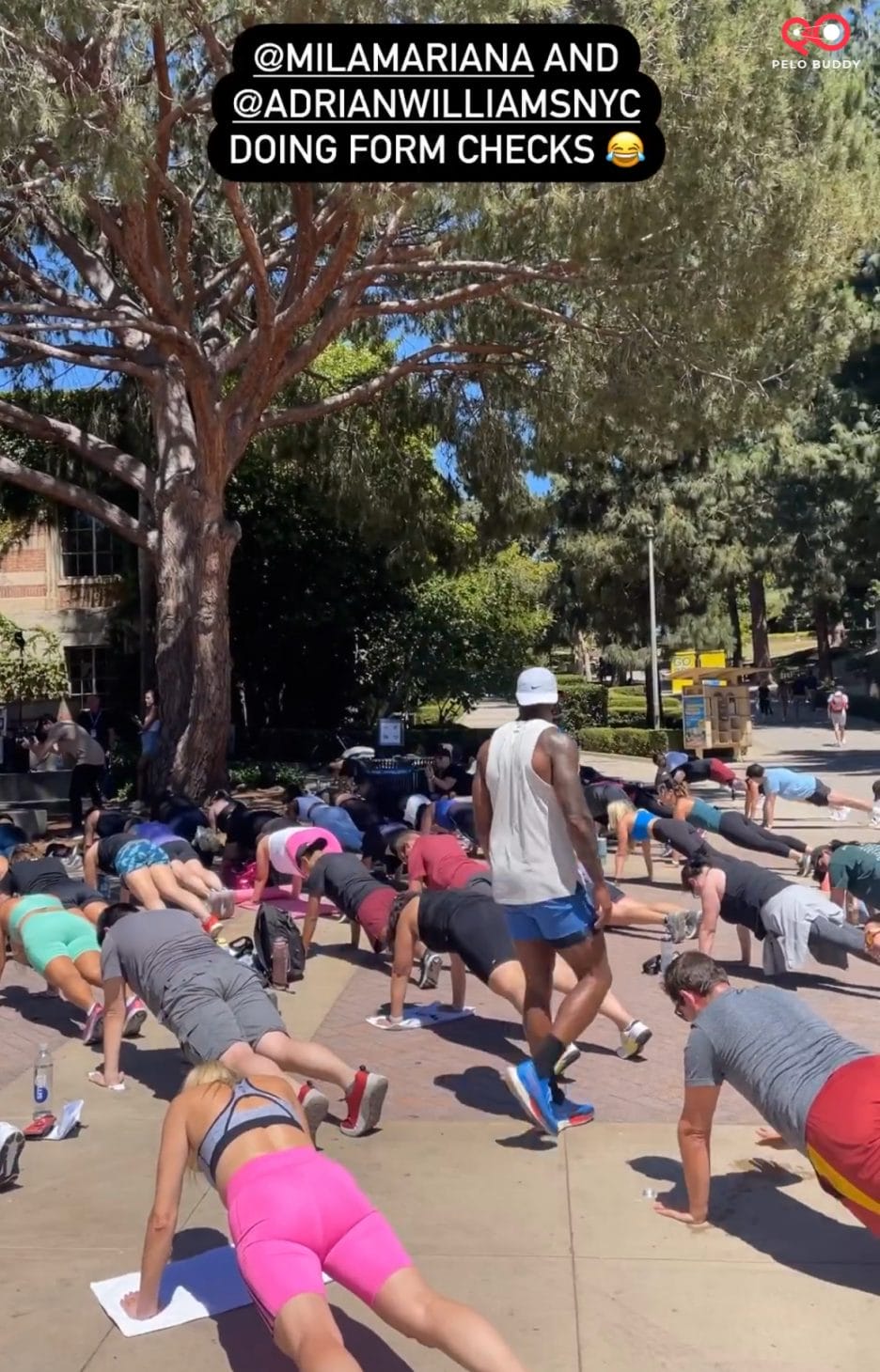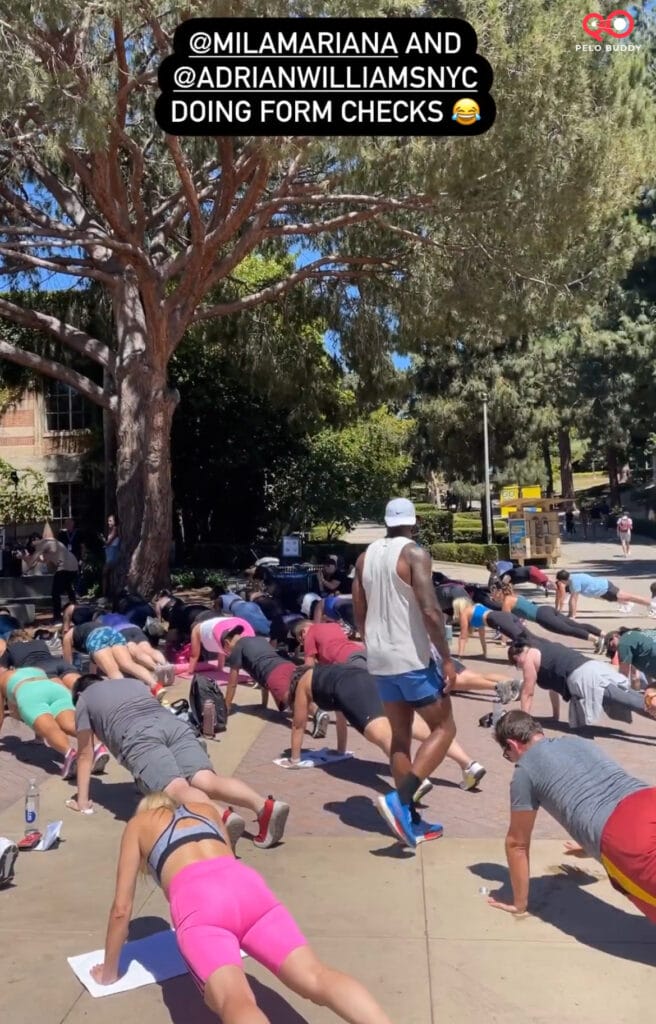 Once the workout was complete, there were a few moments available to get a quick selfie with some of the instructors. There was also a group shot of everyone who attended.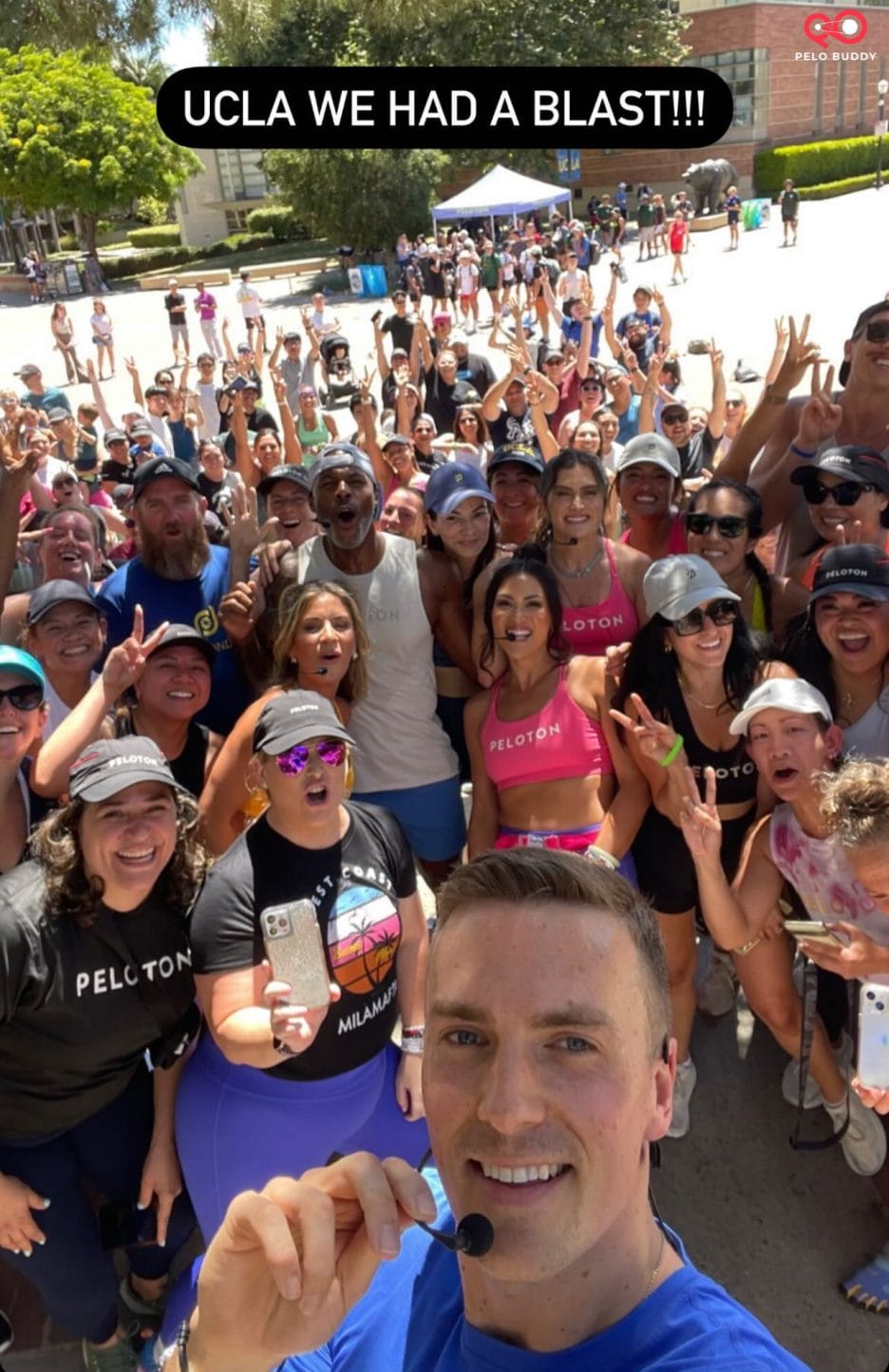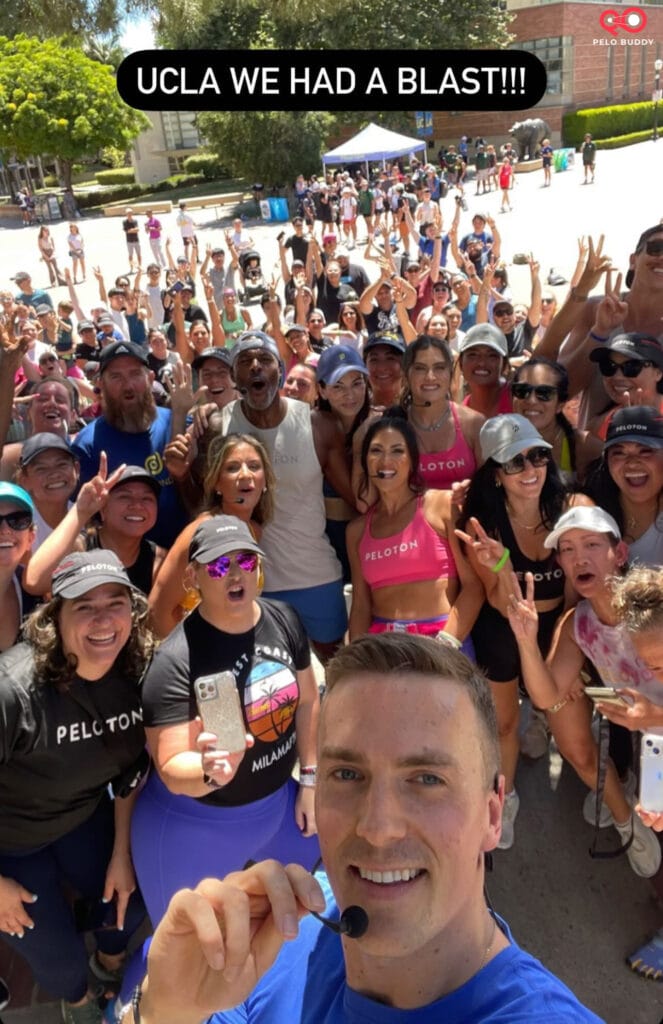 Unfortunately, there wasn't enough time for everyone to get a photo. The instructors were able to stay 5-10 or so minutes after the class, before security was leading them on to their next engagement. From what people said, it sounded like the instructors would have been willing to stay a bit longer to take more photos, but security was trying to get them to leave.
As previously mentioned, there was no cost to sign up for this event, or even an online RSVP. However, due to it taking place on the campus at UCLA, many people did have to pay for parking for the event.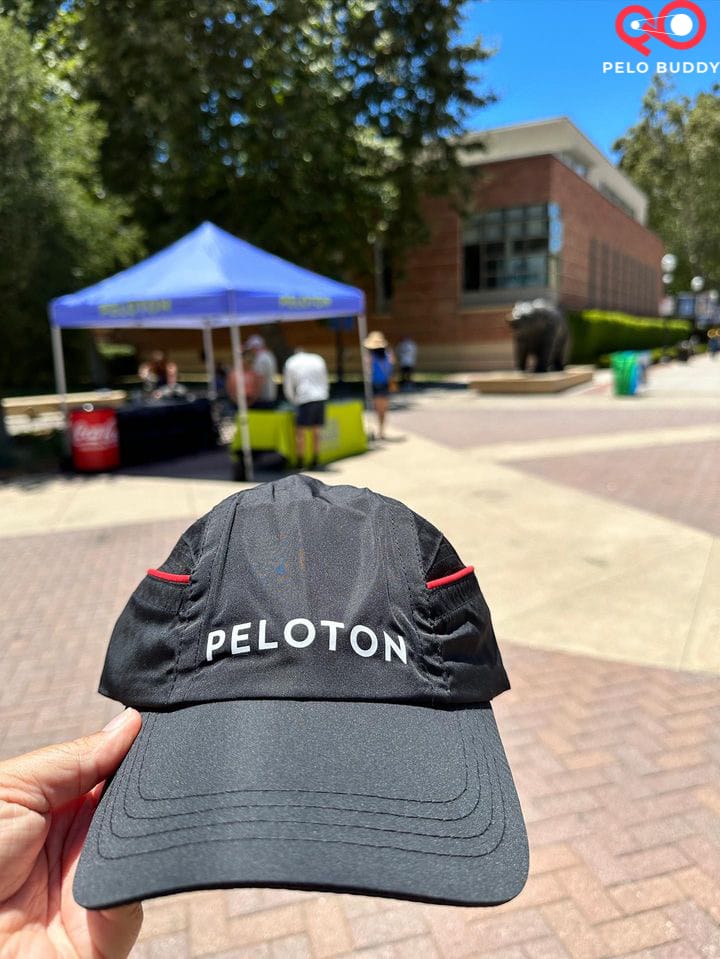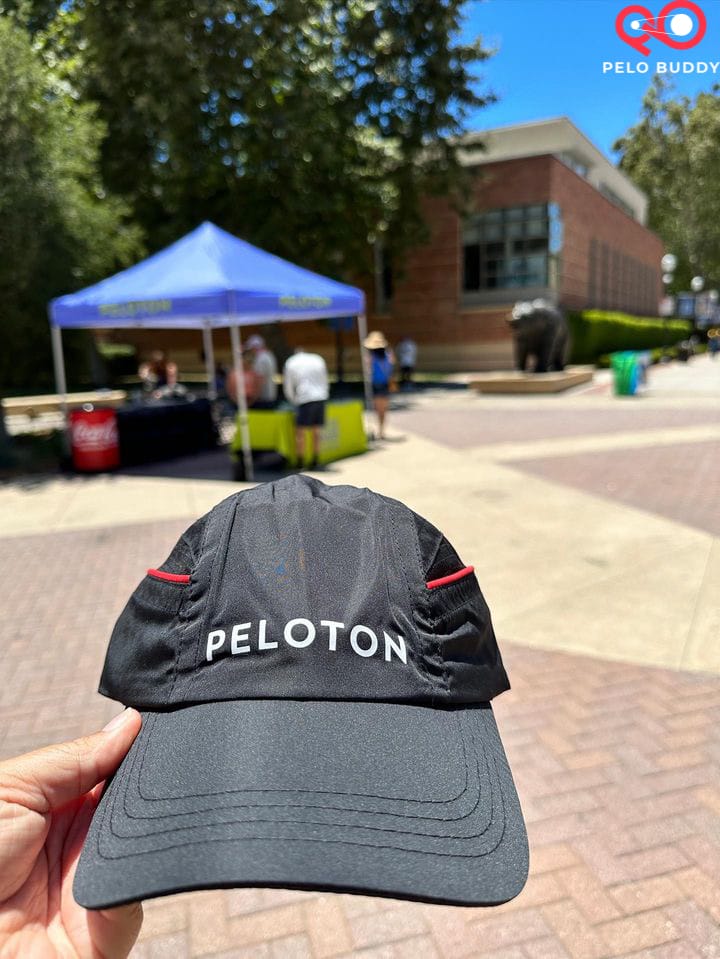 Even though it was a free event, Peloton was still giving out some free items to those who attended. Some members got Peloton hats, and others got resistance bands as well as stickers.
From pictures and members who attended, it seemed like there were around 75 – 100 members who took part in this free workout. However, keep in mind that this took place in the middle of the work day (2:00pm PT), and was only announced via the @PelotonStudios Instagram stories less than 2 days before the event – so that might have impacted turn out for this session.
It is not clear yet if Peloton will have this free group workout session at every stop on the Peloton Tour – but we'll be sure to include details for it if they do in our coverage about future events.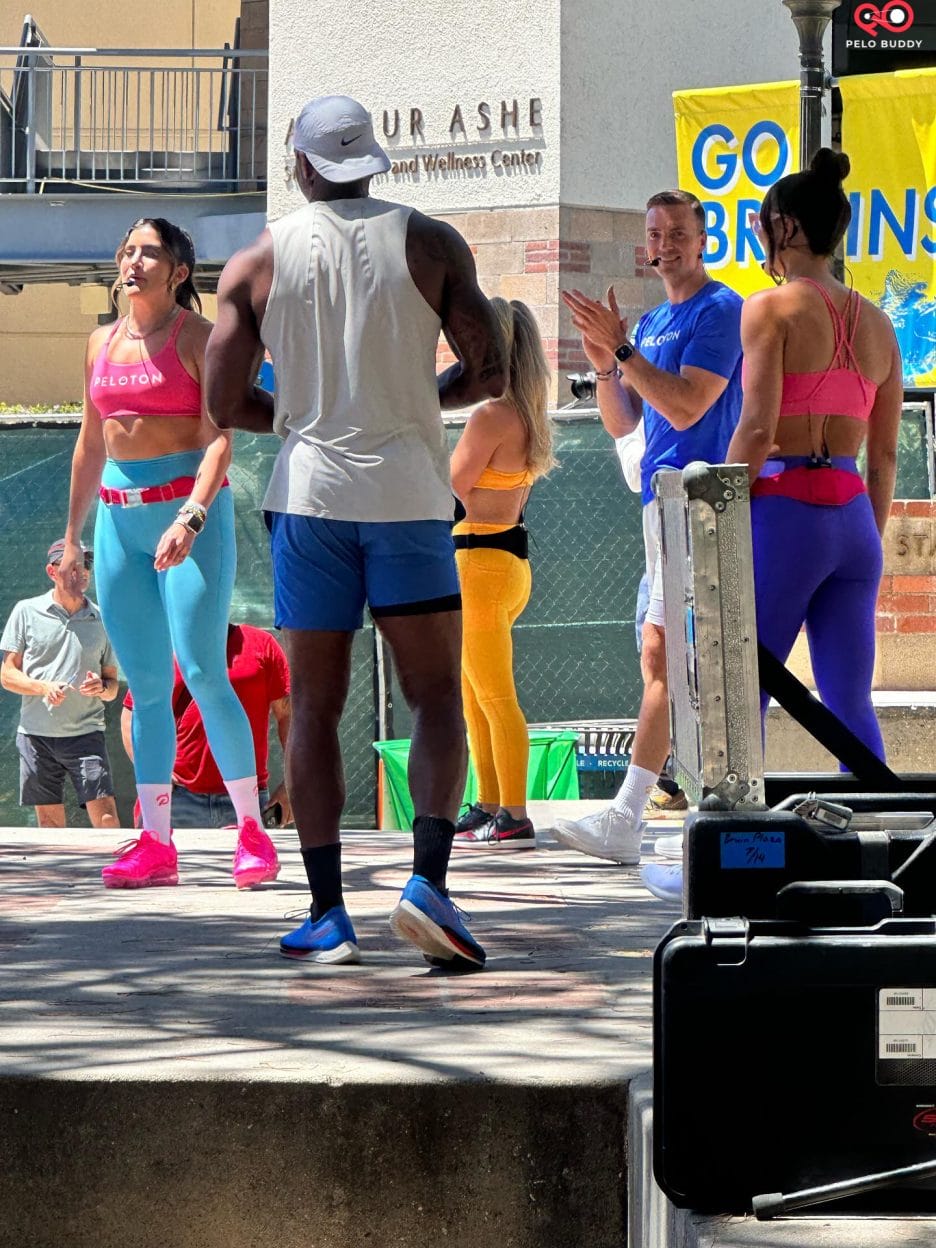 You can find out what the other cities and dates are in our initial overview article about the Peloton on Tour here.
Some members were able to attend both the Walk & Talk event earlier in the day, as well as this free workout. Surprisingly, some of them said they felt like this free event was a better experience than the paid walk & talk event. This is because at the walk & talk, with each group having around 35 people, it was sometimes hard to hear and not everyone had a chance to say hello to the instructors. However, the one difference was that for the Walk & Talk event (which was a $60 ticket), you were guaranteed to get a photo with the two instructors afterwards, whereas at the free group workout, you might have had a chance for a selfie, although not everyone was able to get one.
Will you go to a free group Peloton workout if it takes place in your city?
---
Want to be sure to never miss any Peloton news? Sign up for our newsletter and get all the latest Peloton updates & Peloton rumors sent directly to your inbox.