Peloton has officially announced the instructor line up and itinerary for the upcoming Peloton On Tour stop in Chicago October 5-7. Tickets go on sale tomorrow, September 7 at 12:00 p.m. ET for $60 each. All of the details can be found here: https://event.onepeloton.com/livefromchicago. While the Skokie showroom (4999 Old Orchard Shopping Center, N22, Skokie IL 60077) will be home base for the events, the activations will be taking place in multiple locations.
Update – 4 other instructors will be attending, and 4 more events have been announced.
As we previously shared, Logan Aldridge and Mariana Fernández will be running the Chicago Marathon on October 8, both on behalf of the Christopher and Dana Reeve Foundation. You can donate towards Logan here and towards Mariana here.
The Peloton Instructors who will be attending Peloton on Tour in Chicago 2023 are:
Cody Rigsby
Tunde Oyeneyin
Logan Aldridge
Mariana Fernandez
Susie Chan
Peloton announced the lineup afternoon via their @PelotonStudios instagram account with a video of the line up:
Chicago meet your Instructor cast ✨ Each itinerary is different so make sure to check out our Live from Chicago event link-in-bio for a detailed itinerary and more ticket info 🎟️ Tickets go on sale Thursday, Sept 7 @ 12 PM ET | 11 AM CT 👀 Who's coming?!

Atlanta Instructor Cast: @codyrigsby @tune2tunde @aldridgelogan @la_tiamariana @susie_chan_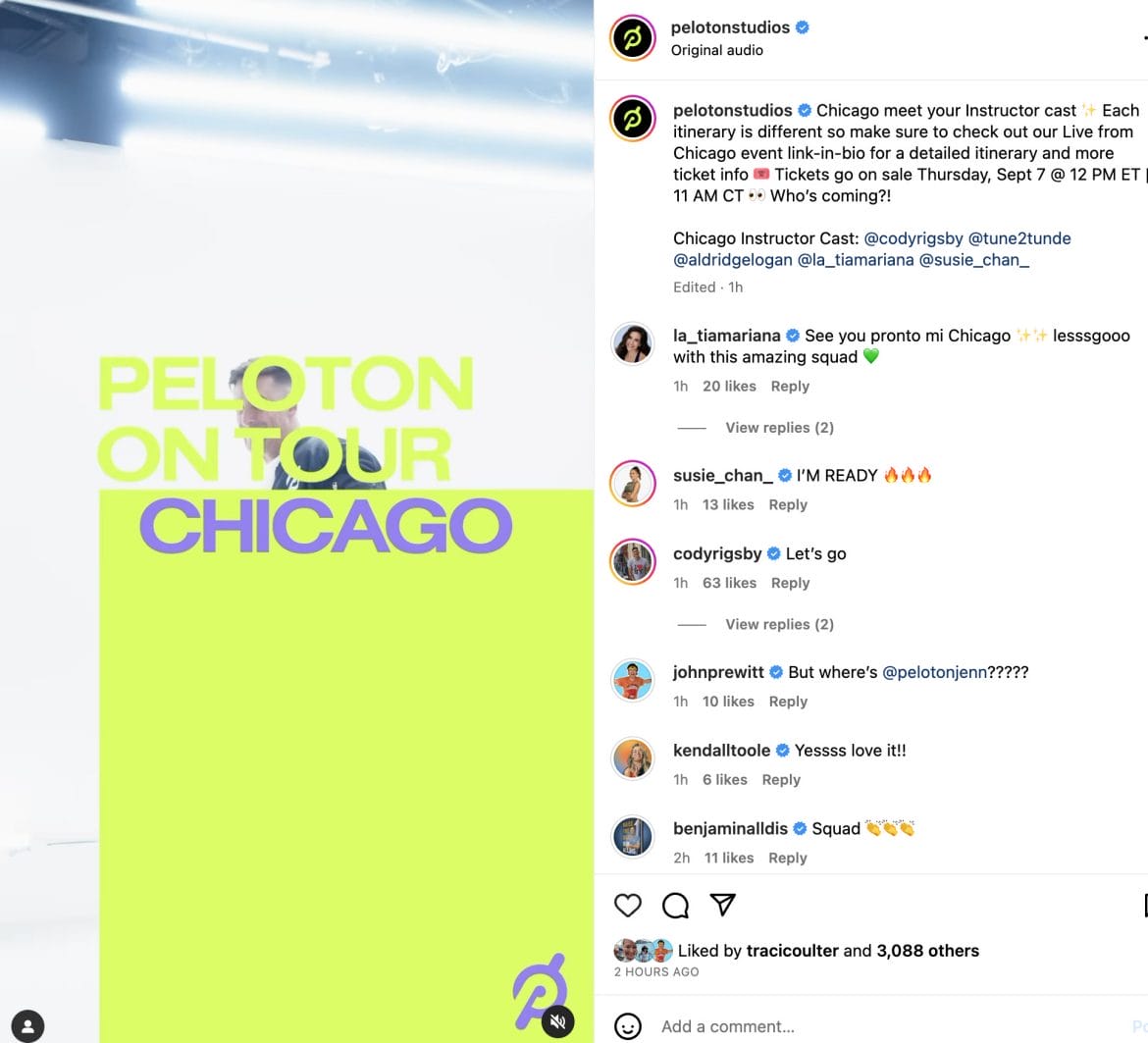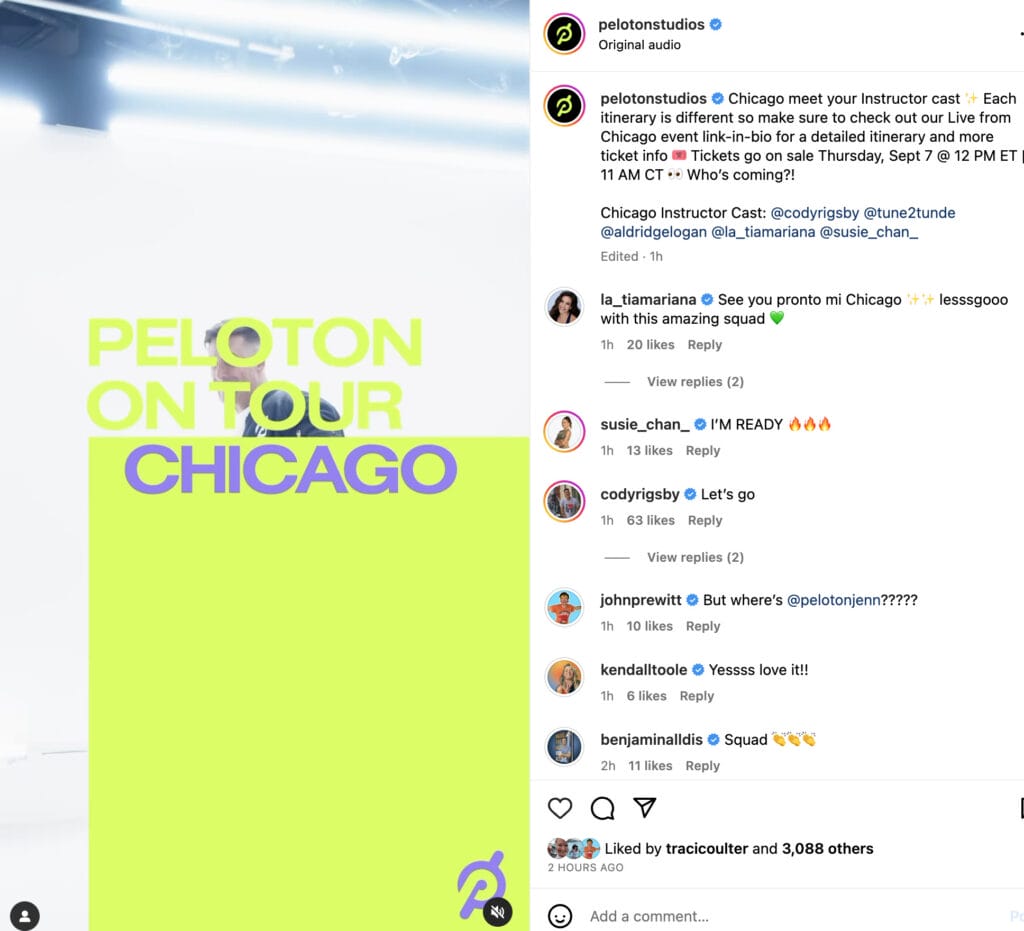 As noted with the itinerary, ticket quantities are dependent on the itinerary and will vary by city. The itinerary is similar to Los Angeles and Atlanta and will have five signature events. Instead of Field Day that was seen in Atlanta, there will be a new indoor game night on Friday October 6 from 6:00 – 8:00 pm.
You can see the list of events below:
Peloton Instructor Experience- 12:00PM to 5:00PM Thursday
Cody x Tunde LIVE – 2:00 PM to 3:00 PM Friday
Peloton Game Night – 6:00 PM to 8:00 PM Friday
Peloton LIVE Group Classes – 10:00AM to 2:00PM Saturday
Leaderboard Awards Party – 6:00 PM to 8:00 PM Saturday
Stay Tuned… Something is Coming! TBA
The first event will take place on Thursday, October 5 from 12:00 – 5:00 pm and is called The Peloton Instructor Experience. The description reads:
Take your Peloton experience to the next level with three unique opportunities to interact with multiple Instructors—a custom photo booth activation, meet & greets, and an intention-setting station to fuel your wellness journey. You'll make the most of every moment while connecting with your community and creating memories that will last a lifetime!
Tickets will be offered in 30 minute increments during the 12:00 – 5:00 pm window. Both Atlanta and LA were essentially the same for this activity, so we would assume Chicago will be as well. You can see details about instructor experience in Atlanta and instructor experience in Los Angeles in our previous posts.
The next events, happening Friday, October 6 will be a fireside chat with Cody and Tunde from 2:00 – 3:00 pm. From the site:
Cody & Tunde take you on the behind the scenes of Peloton Studios. Get all the insider stories on the the instructor team, the studios, the community & more; you don't want to miss this one! This event will be approximately 45 minutes with a meet & greet to follow.

While this is a new event, in Atlanta there was a panel with Alex discussing his book, which was moderated by Marcel.
There will also be a Peloton Game night from 6:00 – 8:00 pm on Friday – which is a brand new activity. This appears to be a replacement for the outdoor field day activity from Atlanta. What is Peloton Game night? They describe it as:
We believe rest (and fun!) is key to refuel the mind & body. Test your Peloton knowledge while you bond with your community and instructors at our Peloton game night! You will be assigned to a team led by an Instructor Team Captain and compete in classic indoor games with Peloton twist. Please Note: There is no workout element to this event.
On Saturday, October 7 there will be Peloton LIVE Group classes from 10:00 am – 2:00 pm. These appear to be similar to the Atlanta classes, but with the addition of a dance cardio session as one of the classes.
We are excited to offer three live group classes to the lineup for Peloton on Tour: Live from Chicago! There will be three 30-minute classes to choose from: a yoga flow, a strength class, and LIVE dance cardio! This will be our first ever dance cardio class with our Members IRL! Mats will be provided and multiple Instructors will lead/participate in each class from our stage. There will be a meet and greet + photo with Instructors to follow each class.

The time slot for classes are:
10:00AM – 30 minute Yoga for Runners
11:15AM – 30 minute Strength Workout
12:30PM – 30 minute Dance Cardio
Curious what to expect from the group classes? You can see a recap of the live outdoor Peloton classes in Atlanta here. Note that like in Atlanta, these likely won't be taped for the on-demand library, instead, it is just a class for the members there. (Peloton appears to have moved away from the true class tapings that took place in LA).
Finally, the event will wrap with the leaderboard awards. Like Atlanta, this is an event you can buy tickets to if you want, and the winners will be given free tickets.
Help us end the weekend on a high note and join us for a party to celebrate our incredible Chicago community at The Leaderboard Awards.
This event will feature our awards ceremony, light bites, refreshments, and red carpet fun with our Instructors. We can't wait to see you to honor our Chicago community!

Nominations for the leaderboard awards open today, and will be open through September 15th. You can nominate a member of the Peloton community who lives in Chicago with the form here: https://pelotoncx.qualtrics.com/jfe/form/SV_0jpoLbAHjotCZD0.
Peloton has teased that there will be surprises and points visitors to the site to check this event page and the @PelotonStudios Instagram for announcements there. Each previous city has had one "free" event people can go to if they didn't get tickets – so presumably one will be announced for Chicago as well. In Los Angeles this was a group workout at UCLA, and in Atlanta it was a Club Hosky party at the Peloton showroom.
Tickets will be $60 for each experience, per person. You can buy two tickets for each experience and tickets are available for members and non-members. If you missed the announcement on the entire Peloton On Tour program, check out our overview article.
To attend Peloton on Tour in Chicago, be ready to purchase your tickets on September 7 at 12:00 pm ET. The tickets will be available on the Peloton On Tour website. Scroll down the website and there will be a grid of images for each of the events – a link to buy tickets will go active underneath each image right at noon. There is a robust FAQ section and check out our Peloton on Tour booking tips
---
Want to be sure to never miss any Peloton news? Sign up for our newsletter and get all the latest Peloton updates & Peloton rumors sent directly to your inbox.