When the Peloton on Tour series was first launched, it was shared that details for each city would be announced one month ahead of each city. This would allow Peloton to tweak events, and add new events, based on feedback & experiences from prior tour stops.
A brand new event for Peloton on Tour in Atlanta was a panel discussion with Alex Toussaint called "Activate Your Greatness Panel". This took place in the Peloton Alpharetta showroom from 2:00pm – 3:00pm on Friday, August 18th.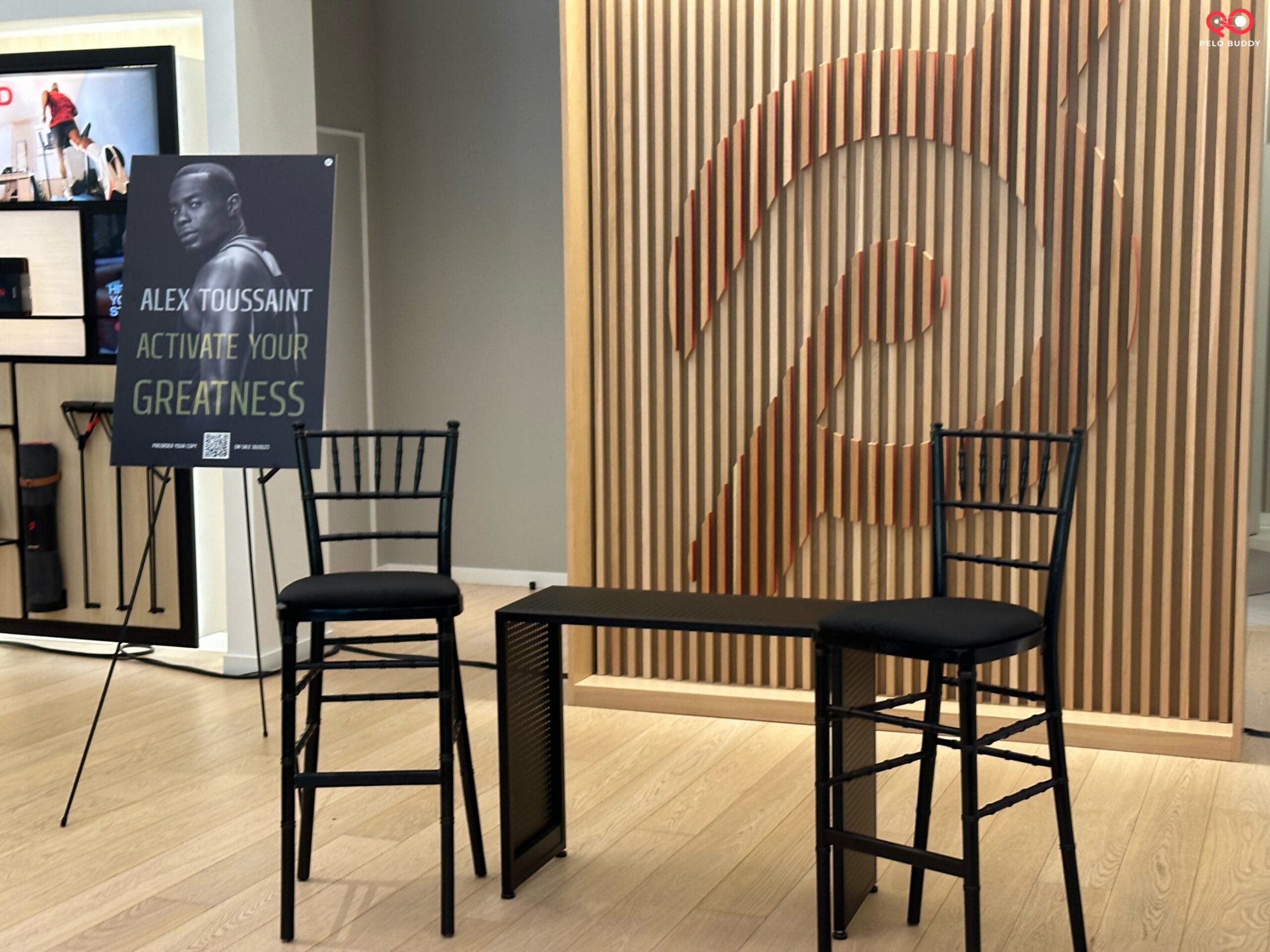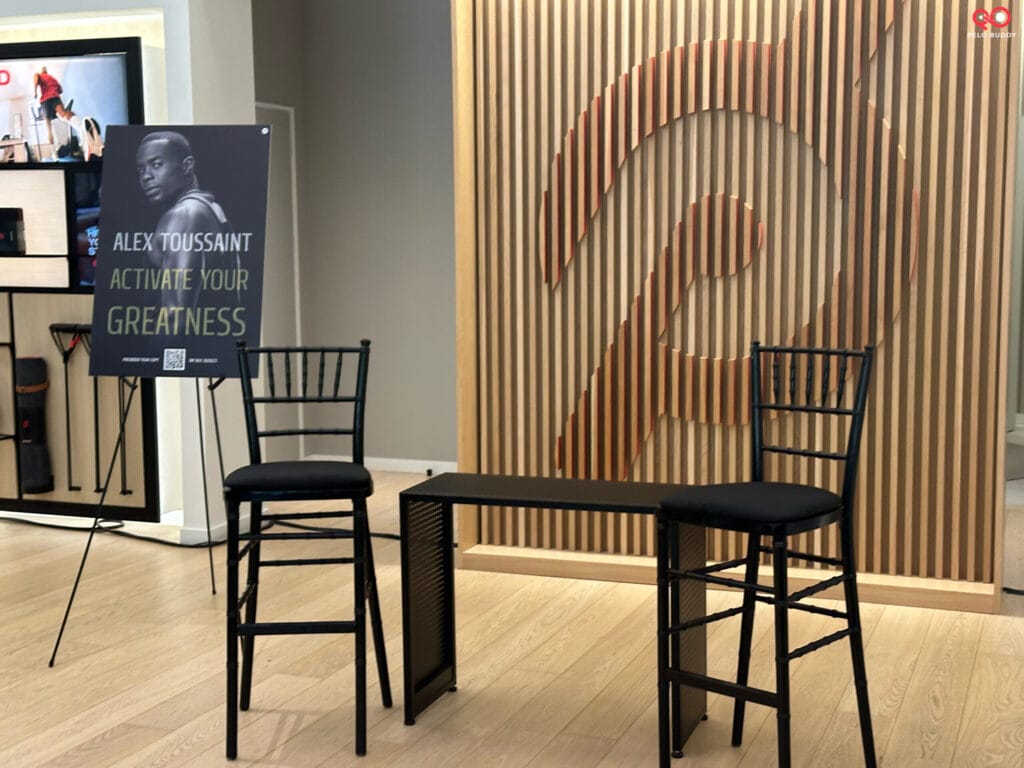 The official event description for Alex's panel at Peloton on Tour in Atlanta was:
Alex knows what it's like to not expect the best from yourself and he wants everyone to activate their own greatness in every aspect of their lives. In this Atlanta event, Alex will discuss his mental and physical practices, on and off the bike, that have influenced his daily habits, fueled his motivation, and that have ultimately contributed to his success and shows you how you can do the same.
Like other events for Peloton on Tour, attendees lined up outside and were checked off against a list of those who purchased ticket – and once their name was verified people got a wristband for entry into the event. With the event starting at 2:00pm, the doors to the showroom were opened around 1:15pm or so to allow people to get out of the heat and into the air conditioning. Chairs (~75-100) were set up in the room so that everyone who had a ticket could sit during the panel.
The panel started right at 2:00pm with Marcel Dinkins coming out to moderate the panel. Marcel gave a quick introduction and then brought Alex Toussaint out to a huge round of applause.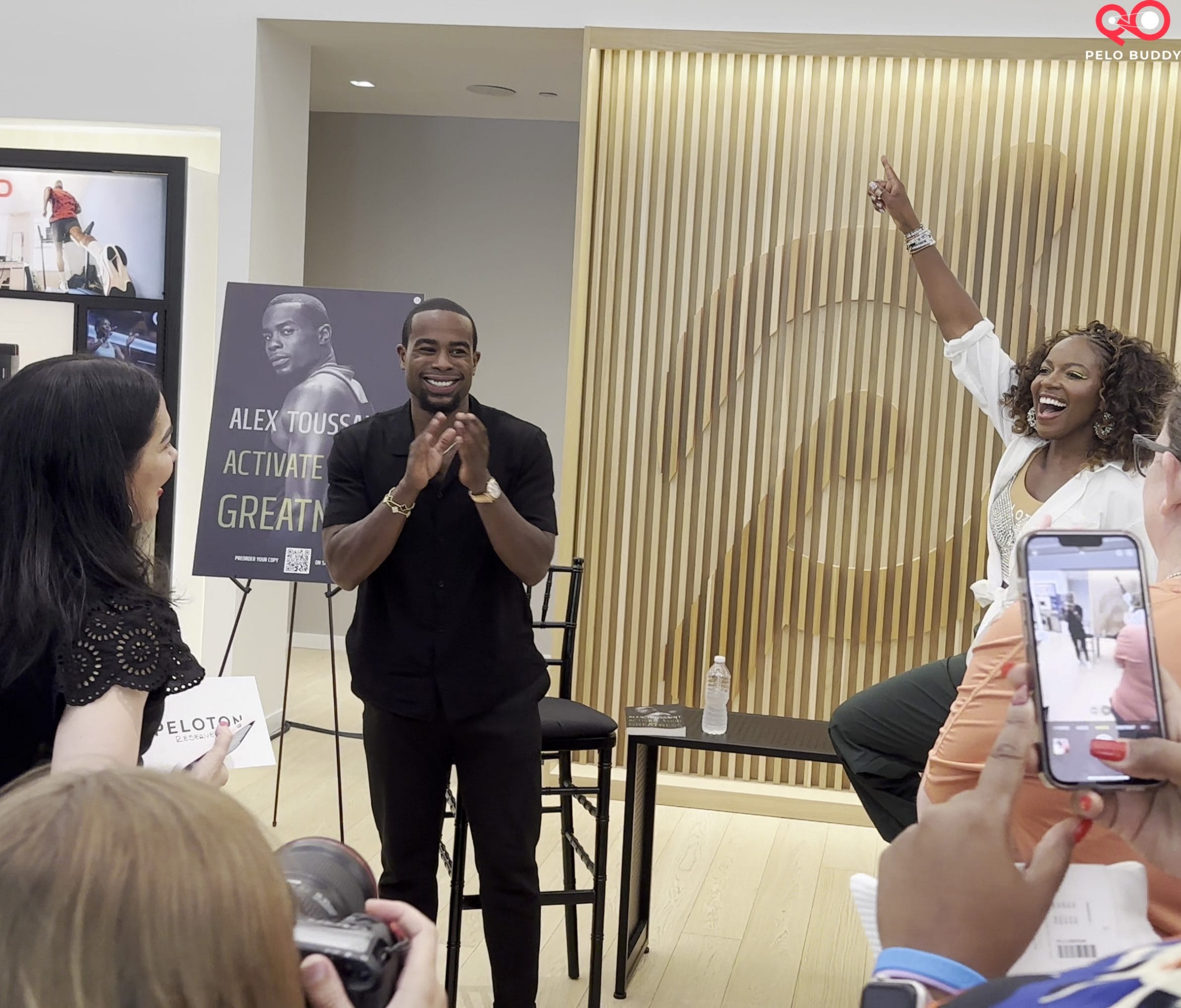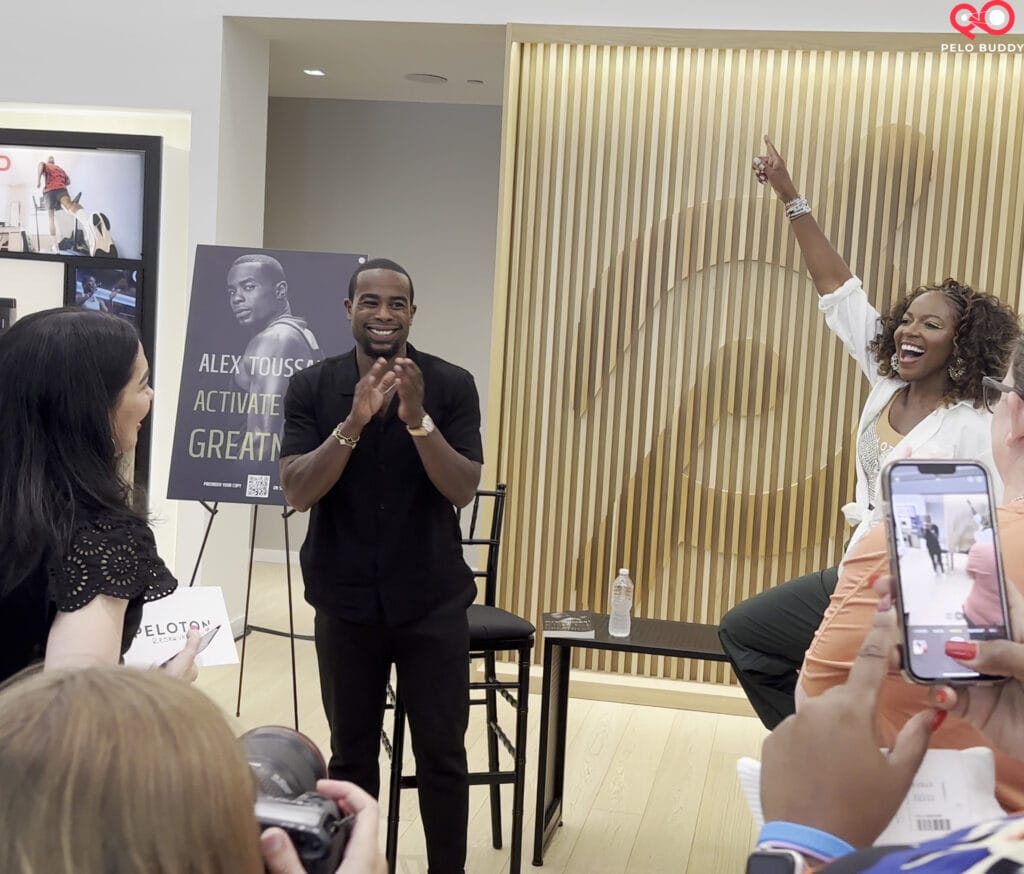 Over the next hour (the event was supposed to be a 30 minute discussion, but it ran nearly a full hour), Alex shared stories and answered questions about a variety of topics. This included telling stories about how to came to work at Peloton, who some of his influences are, talking about his upbringing in military school, his relationship with both of his parents, where his phrases "Activate Your Greatness" and "Validate Your Greatness" came from, some technical behind the scenes talk of Peloton classes, what his favorite classes he taught were, and much more.
Alex answered several questions that Marcel had prepared ahead of time. In addition, Peloton had pre-selected a few questions from members that had been submitted ahead of time. When those were finished, they took a few live questions from members in the crowd that hadn't been pre-selected.
One of the questions was asking about his non-profit that Alex started. Called The Do Better Foundation, Alex's non-profit has a mission to "democratize wellness by increasing access to wellness resources."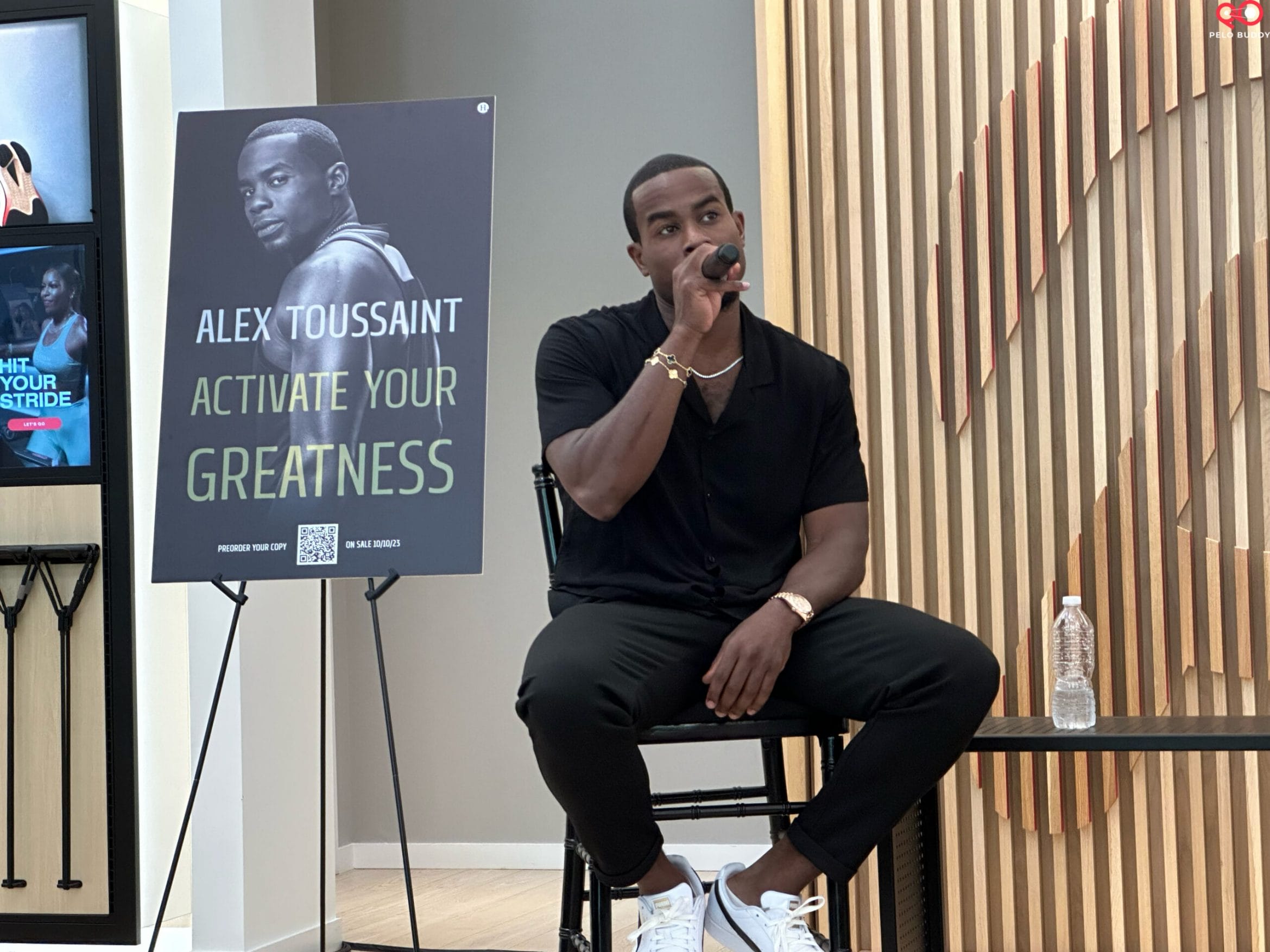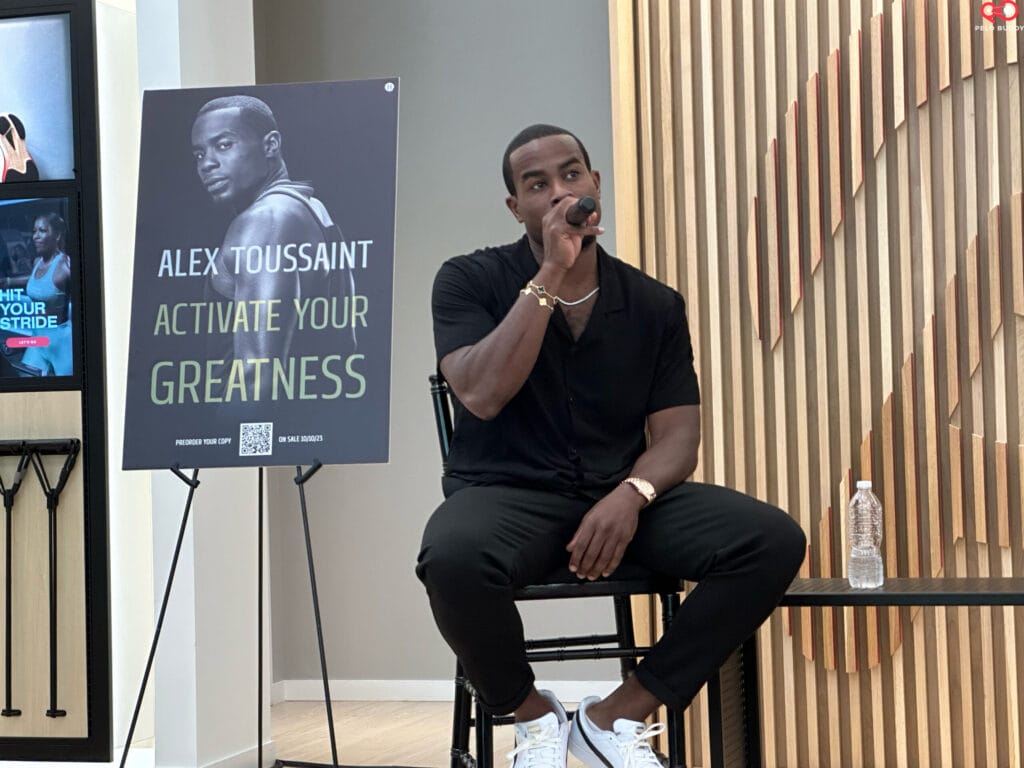 Alex also shared during the panel that his PUMA cycling shoes, which he teased earlier this month, are expected to be released sometime in September.
As the event ended, Alex said he had a surprise – and gifted an advance copy of his book to one member in the crowd. Everyone in the crowd also received a QR code with a discounted link to buy his book – called "Activate Your Greatness" – which he announced earlier this year and is being released on October 10th. You can pre-order his book on Amazon here (affiliate link)
During the panel, Marcel asked Alex what people could expect from his book. You can see his response here or below:
Once the panel ended, Alex stayed to take pictures and briefly chatted with everyone who had a ticket to the event.
This was the third official event for Peloton on Tour in Atlanta. Thursday saw the Peloton Instructor Experience, and then Friday morning was the Peloton Field Day events.
---
Want to be sure to never miss any Peloton news? Sign up for our newsletter and get all the latest Peloton updates & Peloton rumors sent directly to your inbox.