Fans of Peloton's split strength training programs are in for some good news: two new programs will launch at the end of this month! U.K.-based instructors Ben Alldis and Jermaine Johnson will each launch their second split strength programs on July 31, 2023.
Update – As teased, both new programs dropped on July 31. You can find the 3 day intermediate split strength program with Ben Alldis here, as well as the 5 day intermediate split strength program with Jermaine Johnson here.
Peloton highlighted the news via the monthly "July Workouts to Watch" email, writing:
Increase strength and build muscle by using heavier weights and targeting specific areas of the body in 2 new Split Training programs, led by instructors Ben Alldis and Jermaine Johnson. Classes available 7/31.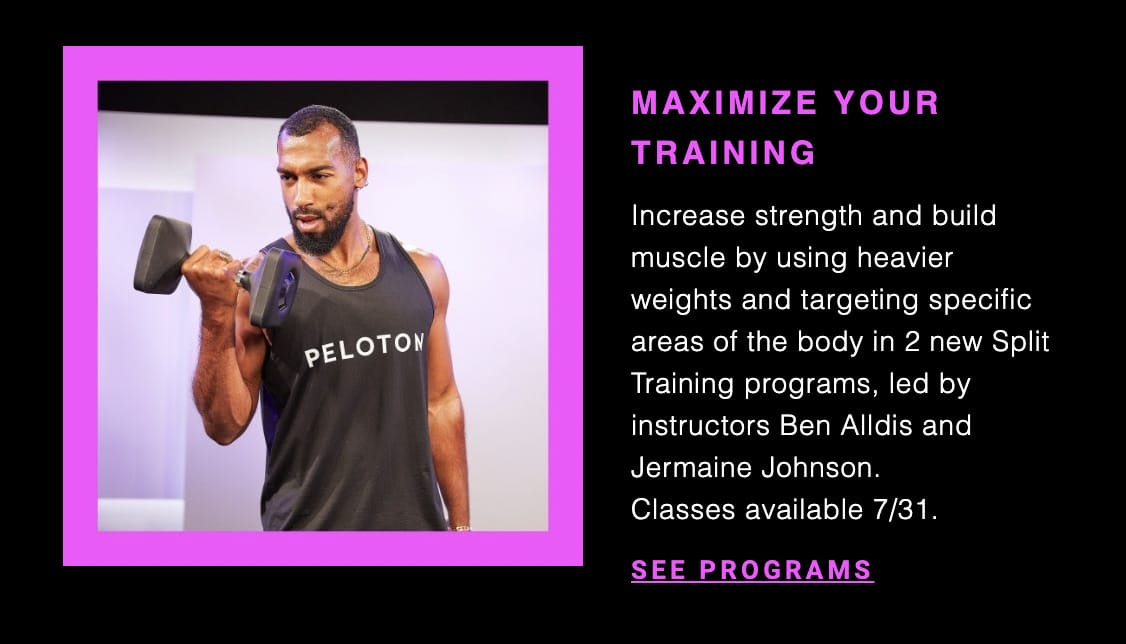 For those unfamiliar, Peloton's split strength training programs are different from their traditional strength workouts in that instead of the class focus being on an entire region of the body (such as full body, lower body, upper body, and core), the split strength classes target specific muscle groups that are identified within the class title (such as chest, triceps, legs, back, etc.). The classes contained within the program are also typically a longer duration and are designed to be taken over one week and repeated to build strength.
It's possible that the new split strength training programs from Ben and Jermaine will be released to the Peloton Guide first, and will remain exclusive for approximately seven weeks.
Both Ben and Jermaine launched their first split strength training programs last October. You can find information for each of these programs via the links below:
Note that there are also four split strength programs available with Robin Arzón, Callie Gullickson, Matty Maggiacomo, and Adrian Williams. These were Peloton's debut split strength training programs, which launched in early 2022. You can check out the pages – complete will class lists and links – for each specific program below:
We will share the full details about the new split strength programs with Ben and Jermaine once the programs officially launch. If you're looking for another program to take in the meantime, be sure to check out our programs page, which contains a list and overview of all available Peloton training programs.
---
Want to be sure to never miss any Peloton news? Sign up for our newsletter and get all the latest Peloton updates & Peloton rumors sent directly to your inbox.