Update 2 – The Homecoming 2022 page went live again.
Update – Shortly after we published this article Peloton removed the page. Some people are seeing the new homecoming page, some are being redirected to the 2021 blog. Look for it to relaunch soon – but the details should remain the same.
Peloton has released a save the date for Homecoming 2022! The annual celebration will be held on May 13-14, and will be completely virtual for the second year in a row.
The landing page description reads:
It's here, Peloton! And this year's Homecoming is all-virtual so our entire global community—all 6+ million of you—can join the celebration.

We've got two days of epic live classes planned on our platform plus inspiring panel discussions and exciting announcements we'll be hosting here at homecoming.onepeloton.com. Stay tuned for the lineup reveal.
Members can already sign up to attend and share what they'd like to experience during this year's Homecoming. Note that you must consent to receiving emails (and texts, if you choose to provide your phone number) about the event in order to submit your RSVP. There is no cost to sign up.
Peloton plans to release the schedule of events (programming and panels) around mid-April, and the list of special 2022 Peloton Homecoming classes at the beginning of May.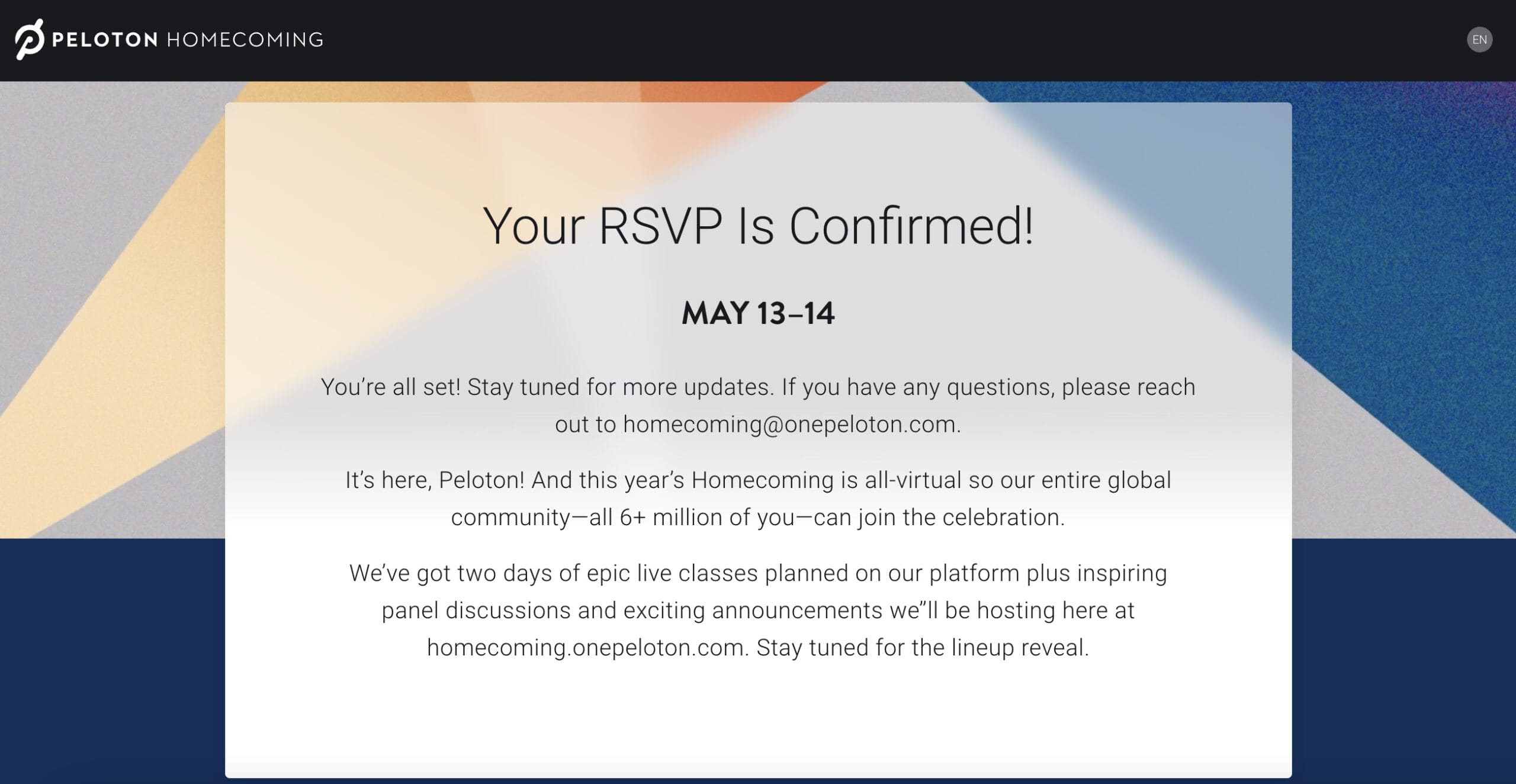 If you're new to Peloton or are unfamiliar with Homecoming, it is an annual weekend celebration for the Peloton community that includes special classes, events, and – pre-pandemic – instructor meet-ups and a big party in New York City. 2021 Homecoming was held virtually as well, but featured a line-up more similar to previous years. 2020 Homecoming was canceled and replaced by a virtual "Together We Go Far" weekend. Before being rebranded as Homecoming in 2019, this celebration was previously known as "Home Rider Invasion." The first official Home Rider Invasion (HRI) was held in 2016.
2021 Homecoming was free to attend for all members, and the weekend included 88 special classes and 13 panel events. Of particular note was former CEO and founder John Foley's keynote address, which included numerous announcements of new features and products. We could expect a similar keynote to be held this year by new CEO Barry McCarthy; however, Peloton has not yet announced any details about 2022 Homecoming beyond the date. This will typically happen closer to the event, and we will be keeping our eyes peeled for any information about what this year's celebration may include.
The Financial Times first revealed this year's Homecoming dates this morning, with a host of other newsworthy items from their reporting and interviewing. Their sources indicate that the Peloton Rower could be announced at Homecoming this year, if not beforehand.
You can revisit the 2021 Homecoming class collection in Peloton's Homecoming 2021 Collection, or check out our complete Homecoming class list that includes classes from previous Peloton Homecomings as well.
Be sure to check out our dedicated Peloton Homecoming page to see details about previous year's events, and to find additional details about this year's Homecoming celebration as they are announced!
---
Want to be sure to never miss any Peloton news? Sign up for our newsletter and get all the latest Peloton updates & Peloton rumors sent directly to your inbox.