Update – After our original post on this in January, Peloton officially updated their Homecoming page. This confirmed our original report: an all-virtual event from April 30 – May 2nd. You can RSVP there now.
An annual tradition for Peloton is the Peloton Homecoming event (formerly called "Peloton Home Rider Invasion", or HRI). It's typically a time where Peloton gathers as many members as they can in New York City for a special weekend of classes, panels, apparel sales, and talks to celebrate the Peloton community. Saturday evening featured a party with a keynote talk from Peloton CEO John Foley and one of the instructors – in 2019, Beck also performed a show at the party. The 2020 event was scheduled to be in person originally before being cancelled. It was replaced by a virtual event known as the "Together We Go Far" weekend.
This year's Peloton Homecoming is being planned as an all virtual event from the start for 2021. We've received some information about the tentative plans for the event – note there is always a slight chance this could change before it's officially announced, but we don't think that is the case.
The dates for Peloton Homecoming 2021 are scheduled for April 30 through May 2, 2021. The event has historically been the first weekend in May, so this matches up to what we had been expecting.
Normally, the in-person Peloton Homecoming event has $99 tickets that go VERY quickly. The ticket gets you in to the Saturday night party, the apparel sale, and one in-person class in the New York City studio. With it being a virtual event, every member will be able to attend if they want, and there will be no cost for members – simply login with your Peloton account. Peloton is requesting people sign up & RSVP to Homecoming on their site (which again, is free).
The full list of events & schedule for Peloton Homecoming Virtual 2021 won't be announced right away (which is how it works with a normal Peloton Homecoming as well). Look for a more detailed schedule closer to the event – maybe the middle of April.
What can you expect for a virtual Peloton Homecoming in 2021? With it being planned as virtual from the start, it is likely to be a bit more involved than the last year's "Together We Go Far" weekend and events. Of course there will be dozens of special Peloton Homecoming Classes, across every class type on the platform. There will also likely be more panel discussions, and other videos & activities released – we'll have to wait for the full schedule to find out details on these.
Is there any chance there could be riders in the studio taking live classes for any of the Peloton Homecoming classes? Right now, we'd say the best bet is to assume there will not be any studio live classes. The studio remains closed to the public, with no word on when it might reopen.
The Peloton Homecoming weekend normally features a big apparel sale, and there was a virtual one in 2020 to go with the Together We Go Far weekend. We haven't heard any details about it yet for 2021, but if Peloton keeps with tradition, this is something that might be announced closer to the event.
Be sure to check out our dedicated Peloton Homecoming page to see details about previous years events, and to find more information about the 2021 Peloton HRI / 2021 Virtual Peloton Homecoming event as they become available.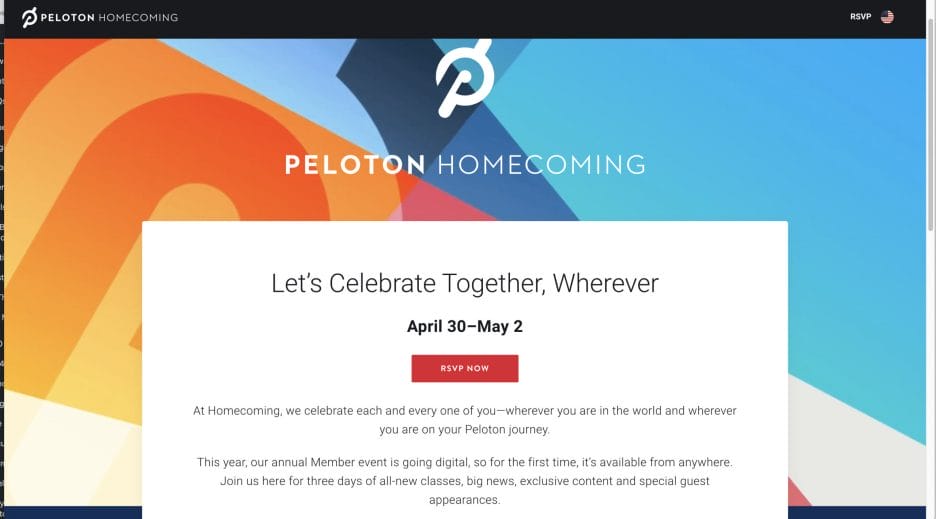 ---
Want to be sure to never miss any Peloton news? Sign up for our newsletter and get all the latest Peloton updates & Peloton rumors sent directly to your inbox.