If you've been eager to visit Peloton studios in New York or London and take a class in person, you may have a chance this summer before Peloton's official reopening. Peloton has shared that they will begin a soft opening process on Friday, June 10. They are being called "Preview Days" and will take place on Fridays in June and July.
Peloton sent an email to some members with additional information:
We're excited to announce that, starting on June 10, we'll be hosting a select few Members in our New York studios leading up to our grand opening. Please fill out this interest form for a chance to work out in the studio this summer. By filling out the form, you are not guaranteed a spot. If selected, you will receive a separate confirmation email from one of our Team Members.
The email links to a Google Form that allows members to express interest in "previewing" both Peloton Studios New York (PSNY) and Peloton Studios London (PSL). Note that completing the form is not a confirmation and is only an opportunity to express interest. Spots will be granted on a first come, first served basis, and the Peloton Concierge & Events Team will reach out to confirm availability.
Wondering how Peloton decided who to email and who to invite to their soft opening days? On social media, Peloton has indicated that a large number of invites were to people who had been scheduled to visit in March 2020 but whose classes had been cancelled.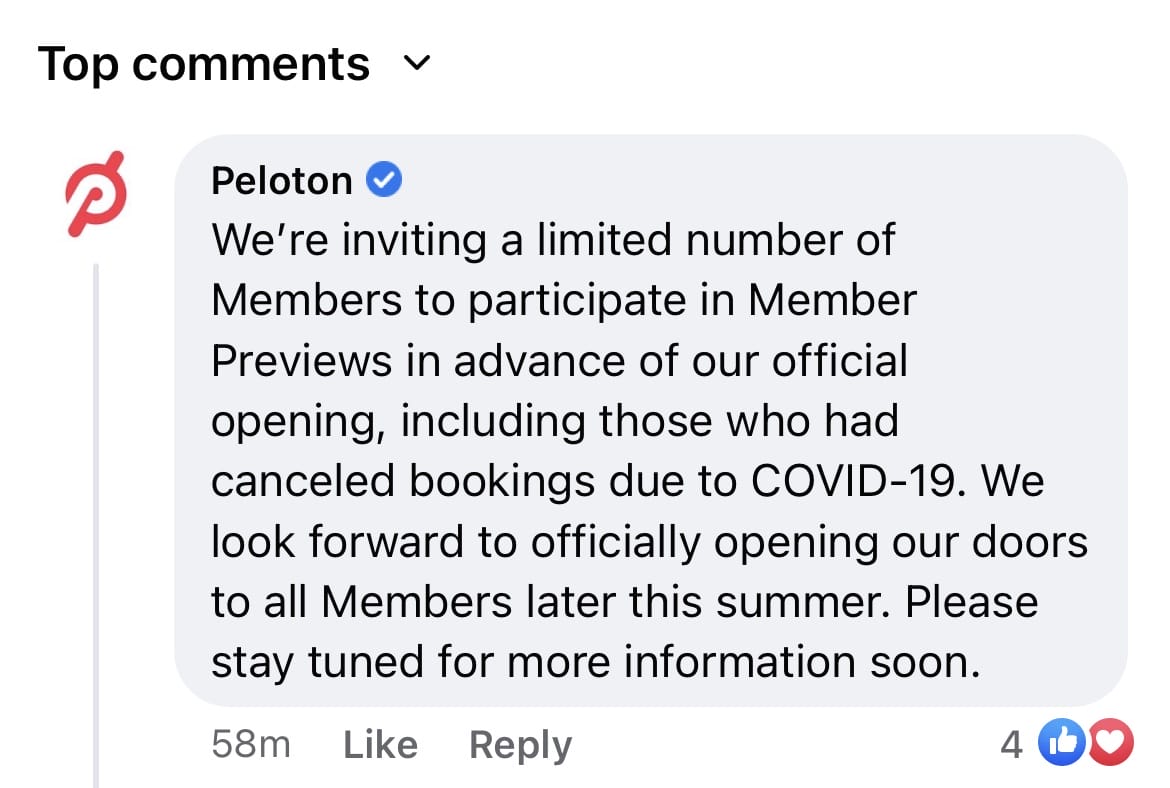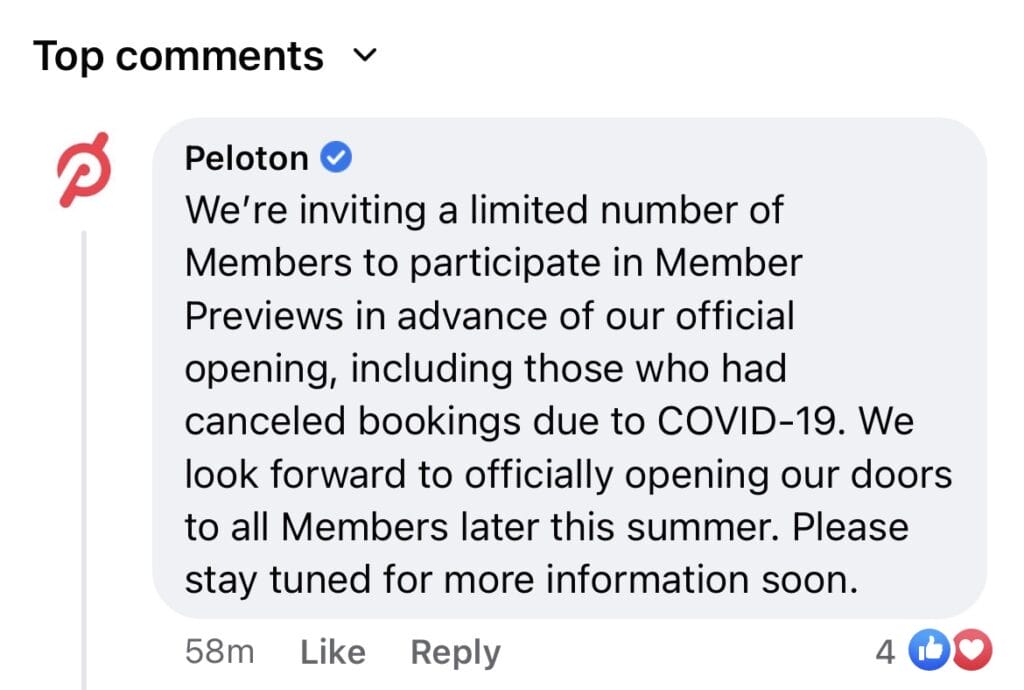 Once the studios fully reopen, members will be able to sign up for themselves using the Peloton Studio website.
The form requests that members use the email associated with the Peloton account to express interest. Members have the option to select either PSNY or PSL, and express interest in cycling and tread (available at both PSNY and PSL), and yoga and strength (available at PSNY only). The below dates are listed as options:
Friday, June 17
Friday, June 24
Friday, July 1
Friday, July 8
Friday, July 15
Friday, July 22
Friday, July 29
Members also have the opportunity to select from three preferred class times:
6am-10am
10:30am-3:30pm
4pm-9pm
Members must agree to arrive at the studios 45 minutes before the class start time, and "follow the COVID-19 protocol as outlined by Peloton."
The form also asks about any allergies or dietary restrictions, as well as special accommodations. For those joining from out of town, Peloton makes clear that members will be responsible for all personal travel costs. Lastly, members are asked to share their social media handle and indicate whether they're interested in sharing their story on Peloton's social media accounts.
Peloton has not opened their studios to the public since March of 2020 at the start of the COVID-19 pandemic. We've previously reported on rumors of this June soft opening, as well as the anticipated – but not yet officially announced – full reopening in August. Peloton is also holding a press preview this Friday, June 10.
If you want to express interest in participating in the soft reopening, be sure to fill out Peloton's form as soon as possible. Will you be hoping to join?
---
Want to be sure to never miss any Peloton news? Sign up for our newsletter and get all the latest Peloton updates & Peloton rumors sent directly to your inbox.