Peloton instructor Jess King shared today that she and her longtime partner Sophia Urista quietly got married two years ago in March 2021. Although they married nearly two years ago, this is the first time they are revealing the news. Jess shared the news on Instagram:
Here's a very special moment I've been wanting to share with you all for a very long time.
Sophia and I got married back in March 2021, almost 2 years ago, surrounded by some of our incredible chosen family. Originally, we had dreams of a big wedding celebration but quickly realized that our priorities were buying a house and having a baby. It was just after we closed on our home that we had this little ceremony. ♥️
We didn't want to make it a big deal. In fact, we thought that we would have a big wedding after the COVID cloud lifted but the truth is, we feel so fulfilled in our love story as it is. Maybe one day we will. Love you forever @sophiaurista!
Special shout out to @murrayhill for officiating and making this day so memorable.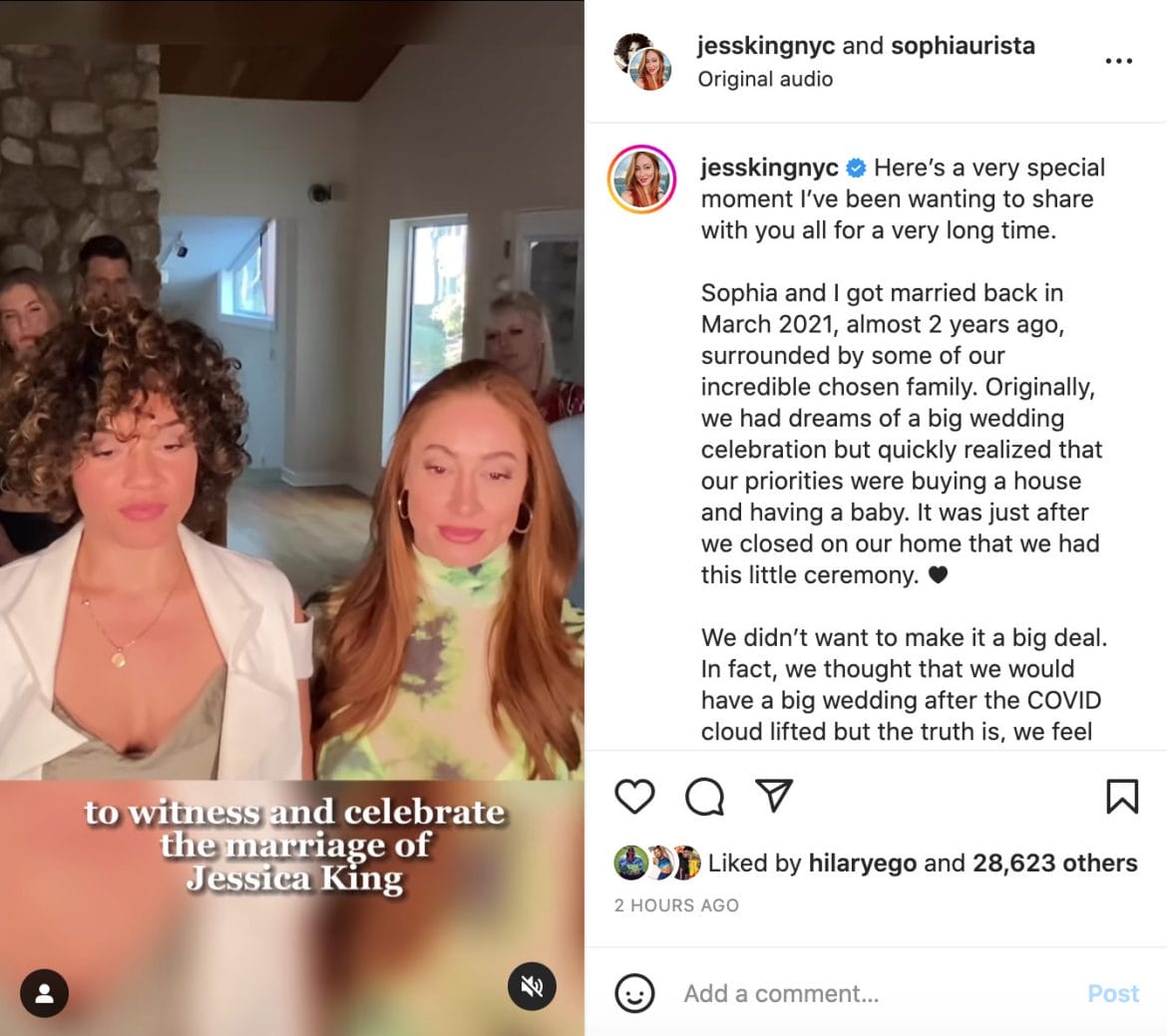 Jess posted a video with moments from the ceremony, which appears to have been held in their new home. Jess has been documenting the renovation process of their new home over the past few months on social media. As Jess states, they may choose to have a larger celebration in the future. Their anniversary is March 13th, and they had been together for six years when they got married.
Jess and Sophia also recently welcomed their son Lucien (Luz) back in November. Jess initially announced her pregnancy during a live Peloton ride this past May.
Tremendous congratulations to Jess and Sophia on their nuptials!
---
Want to be sure to never miss any Peloton news? Sign up for our newsletter and get all the latest Peloton updates & Peloton rumors sent directly to your inbox.