Update – The online queue for booking Peloton Studios classes has officially rolled out and is in place every week as new bookings become available.
The Peloton Studios booking process is continuing to evolve, and Peloton has made two fairly significant updates to their policies and processes, and is testing a third change.
First, Peloton appears to be testing an online queue system for allowing people onto the website to book studio classes. We received multiple reports today of people who went to the studio website, only to be greeted with a new screen saying they were now in line to enter the Peloton studio website.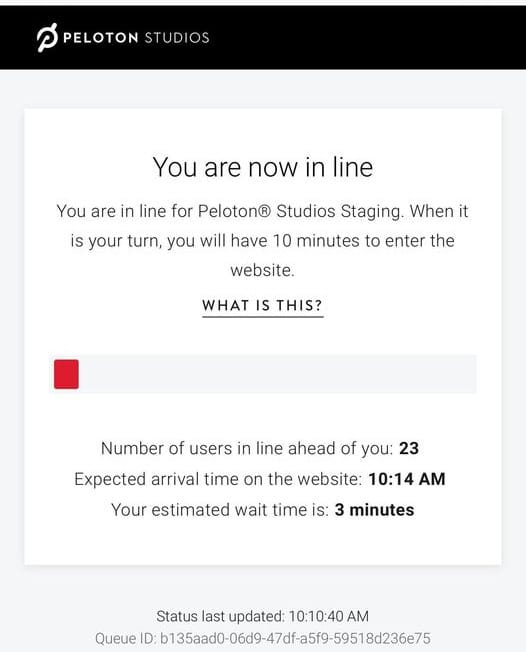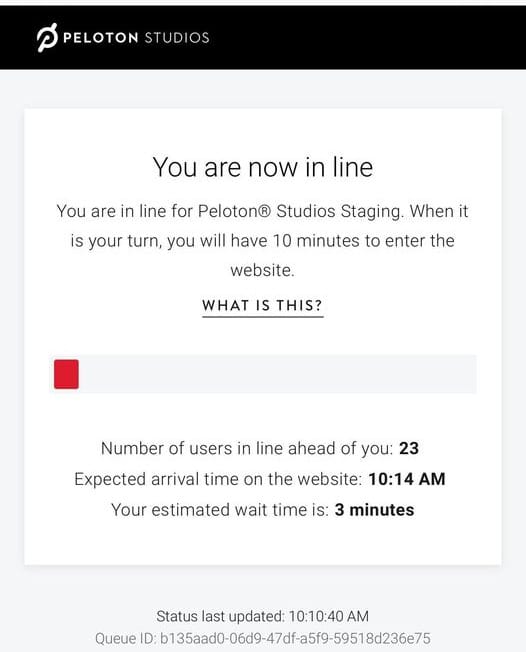 This change was not showing up for everyone, so appears to have been a limited test. If it is rolled out, expect to see it in place on Mondays before the next week worth of classes are added to the schedule.
Once your wait time is finished, you get an updated message saying you'll be redirected to the website, and have 10 minutes to enter the page.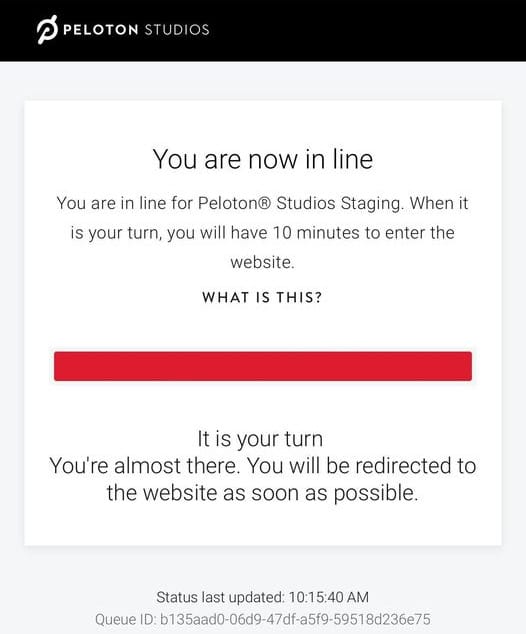 Once you are redirected, the website looks and works the same as normal. This change would just be to limit the people actually checking out at the same time.
Second, studio credits – which must be purchased before reserving a spot in an upcoming class – are now valid for a full 12 months instead of only 60 days. When Peloton first re-launched the studio booking site, credits came with a 60 day expiration date. This meant that if you booked a class but had to cancel, or reserved a waitlist spot but didn't make it off the waitlist, you only had 60 days to use that credit before it expired.
Now, you'll have a full year from the date of purchase. Those who have previously purchased studio credits but have not yet used them should see the updated timeline reflected in their accounts.


This should give members who have been attempting to secure a spot in an in-person class a little bit of breathing room, especially those who may be traveling from out of town. Purchasing the credit before the schedule of classes for the weekend you're looking to book is released will give you a better chance of securing a spot, since you'll be able to skip the credit purchase step.
As a reminder, the schedule is released six weeks in advance. You can purchase in-studio credits via https://studio.onepeloton.com/shop.
Finally, although the support website and previous Peloton social media posts have stated that classes will be released on Mondays at 12pm EST, it appears this may be changing.
On Monday, August 29, the classes for the weekend of October 7-10 were not released until 6:15pm EST, more than six hours after members expected them to go live. In addition, London classes did not appear on the schedule until Tuesday, August 30 because Monday was a bank holiday in the United Kingdom.
This indicates that 1) the exact time of schedule publishing on Mondays could vary week to week and 2) if there is a Monday holiday, Peloton will wait until Tuesday to release the schedule. A recent email from Peloton Support to a member confirms this:
Thank you for contacting Peloton Studios New York!
The terms of our Tickets have been updated, and they now expire 12 months after their purchase date. The unused Ticket in your account has been updated to reflect this.
New classes will be released for booking on Mondays, but the release time is subject to change. We apologize for any inconveniences. Next week, due to the holiday on Monday, new classes will be released on Tuesday.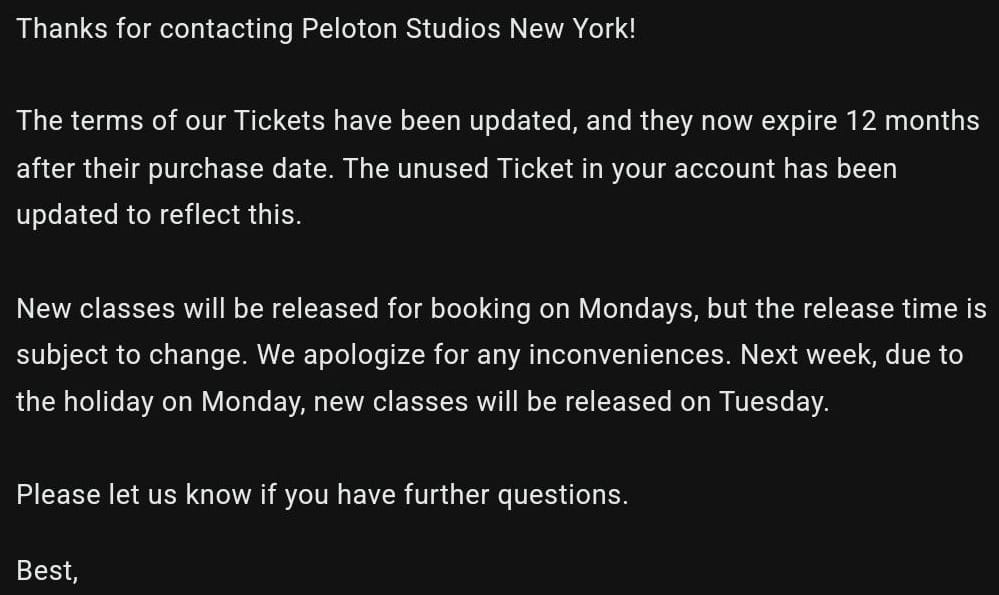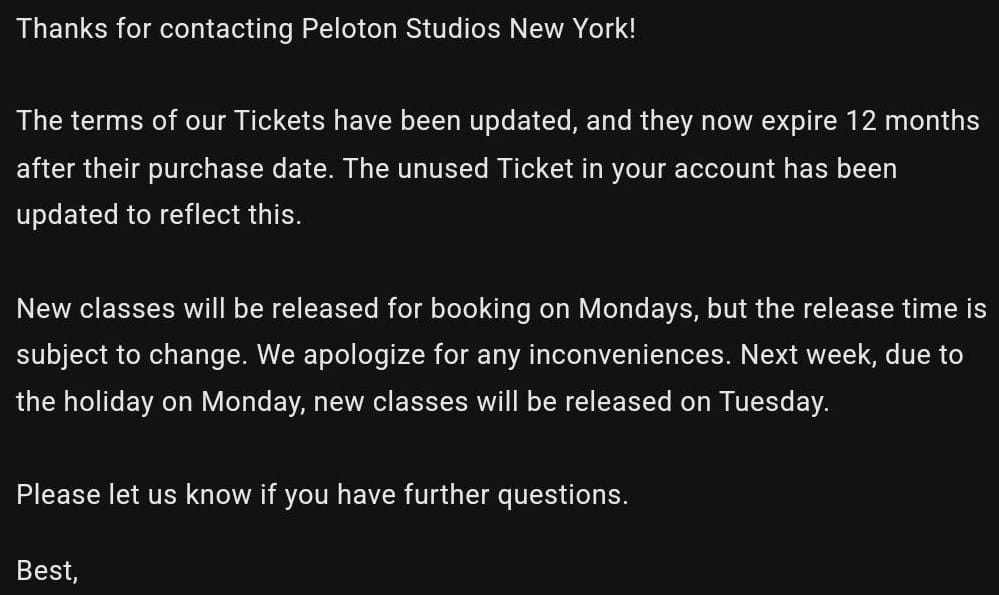 Unfortunately, this means that while it's a safe bet to check the schedule at 12pm EST on Mondays for new studio openings, they won't always be published at that exact time. Follow the Pelo Buddy Instagram account (@pelobuddy) to make sure you're alerted to the latest round of schedule additions.
Peloton celebrated the grand reopening of both Peloton Studios New York (PSNY) and Peloton Studios London (PSL) on August 19, 2022 after a more than two year hiatus. The Peloton Studios are open to members on Fridays through Sundays. Mondays through Thursdays are reserved for coach-to-camera instruction.
If you're interested in booking a class at PSNY or PSL, be sure to check out our comprehensive guide containing everything you need to know!
---
Want to be sure to never miss any Peloton news? Sign up for our newsletter and get all the latest Peloton updates & Peloton rumors sent directly to your inbox.