Update – We have a hands-on look and first impression after trying out the Peloton Guide.
Peloton has made the Peloton Guide available for sale this morning. In addition to now being on the website, there is also a full press release available. It is currently available for sale in US, Canada, UK and Australia – and "will be launching in Germany later this year"
If this is the first you are hearing about the Peloton Guide, it's Peloton's first strength device – and is essentially a 4K camera that looks like a web cam. It plugs into your TV via an HDMI cable, and then allows you to take strength classes, programs, while counting your reps for you and allowing you to see your form on screen. There is a remote control that comes with it to allow you to control the Peloton Guide.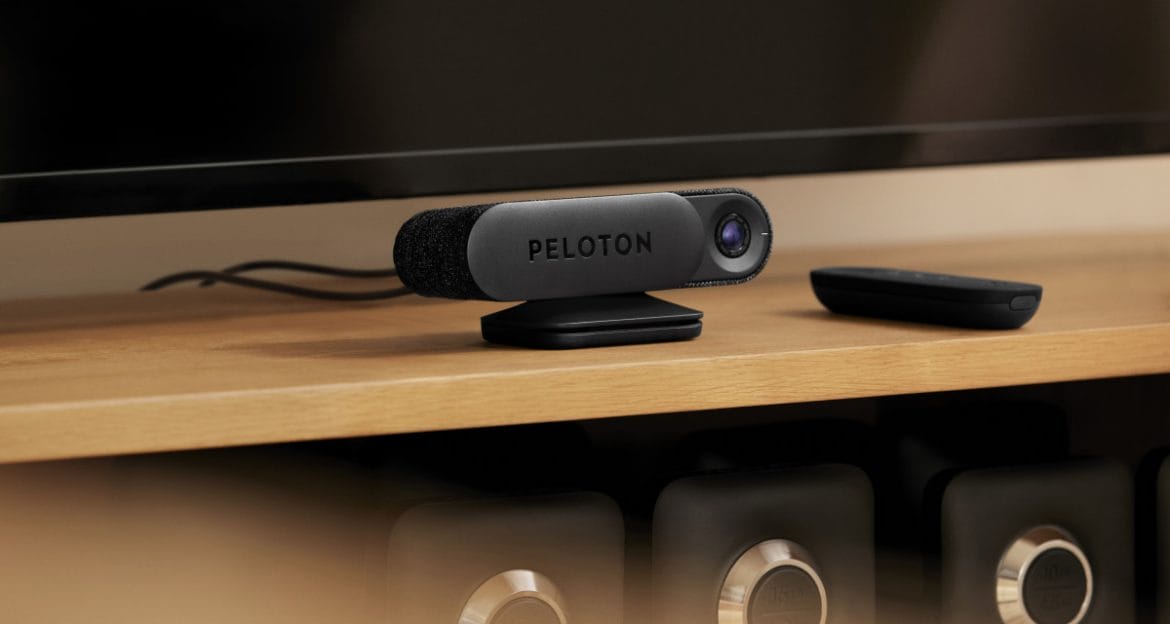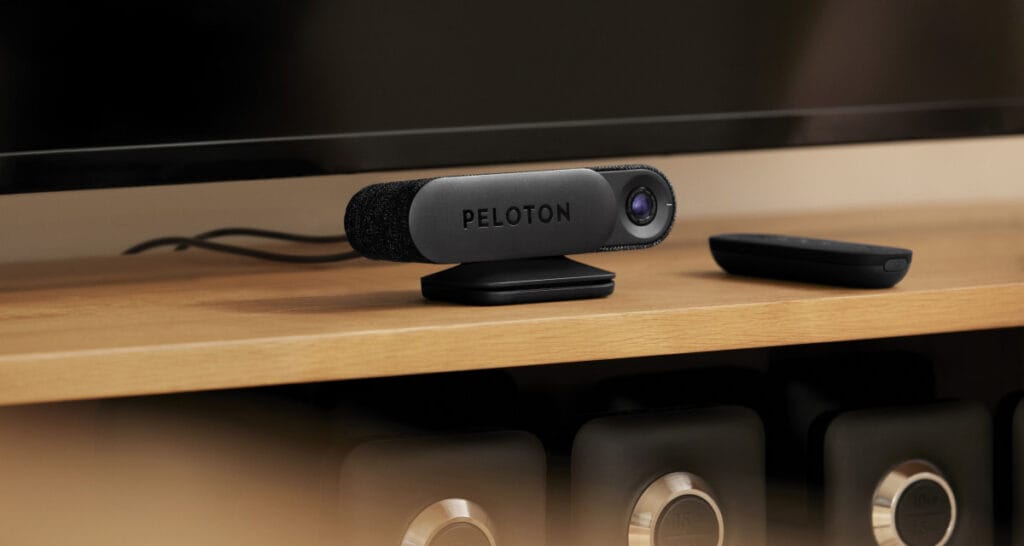 As we shared last week, there are now 3 different packages available for the Peloton Guide. The Peloton Guide has a 12 month limited warranty, with the option for an extended warranty.
Peloton Guide – $295 USD
Guide Strength Starter – $545 USD (w/ mat & 3 weights)
Guide Power – $935 USD (w/ HR band, mat, and 6 weights)
(The base price for the Peloton Guide will be £275 GBP/ $395 CAD / $445 AUD in other countries).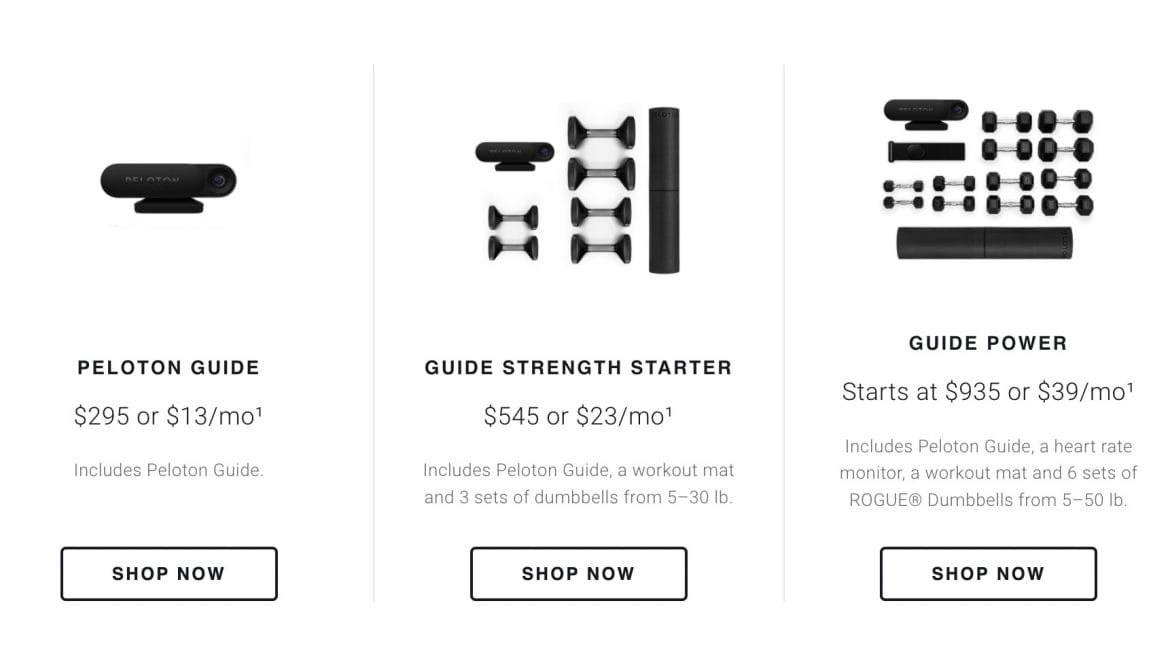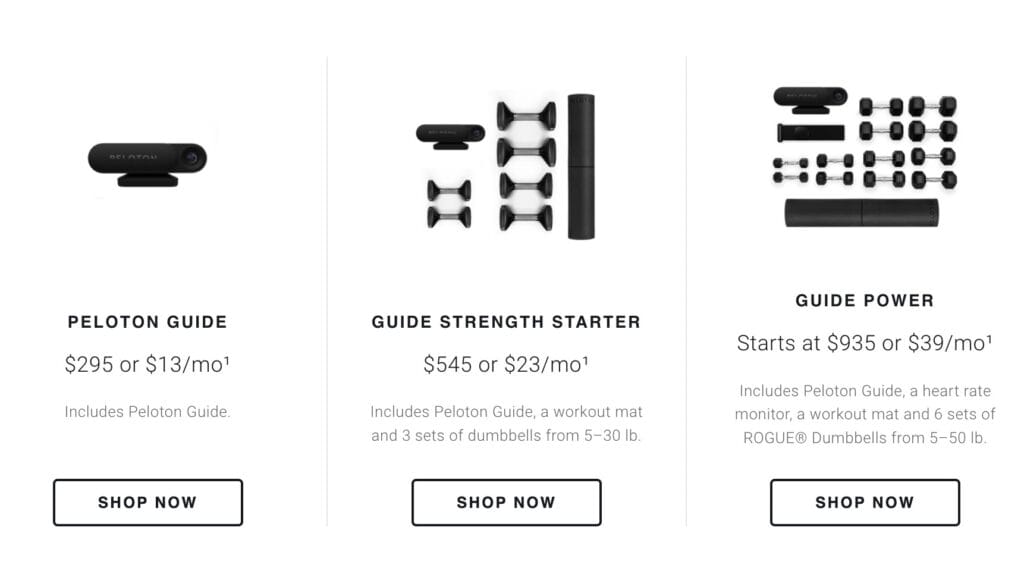 Note that earlier marketing material said every device would come with a Peloton Heart Rate band, but this was quietly updated last month – and now only the Guide Power package has the Heart Rate Band included.
The Peloton Guide is available for a 30 day free home trial, as well as Peloton's financing programs.
As we discovered this week, the Peloton Guide will require Peloton's All-Access membership (which is $39 USD / month). This means if you have a Bike or Tread, you can use the Guide with your existing subscription & no extra monthly cost is required.
However, if you are buying a Guide as your first device, or only currently have the Peloton App, you will have to upgrade from Peloton App pricing to Peloton All-Access. Peloton is offering an introductory "Guide-only All-Access Membership" for $24 USD / month. This will be £24 GBP / $30 CAD / $35 AUD in other countries. However, the terms clearly state that "Peloton Guide-only Members will migrate to $39/mo All-Access Membership in 2023."
*Note – If you have the Peloton app, and don't buy a Peloton Guide, your pricing won't change and you don't have to upgrade anything. The above only applies to Peloton app users who buy the Peloton Guide.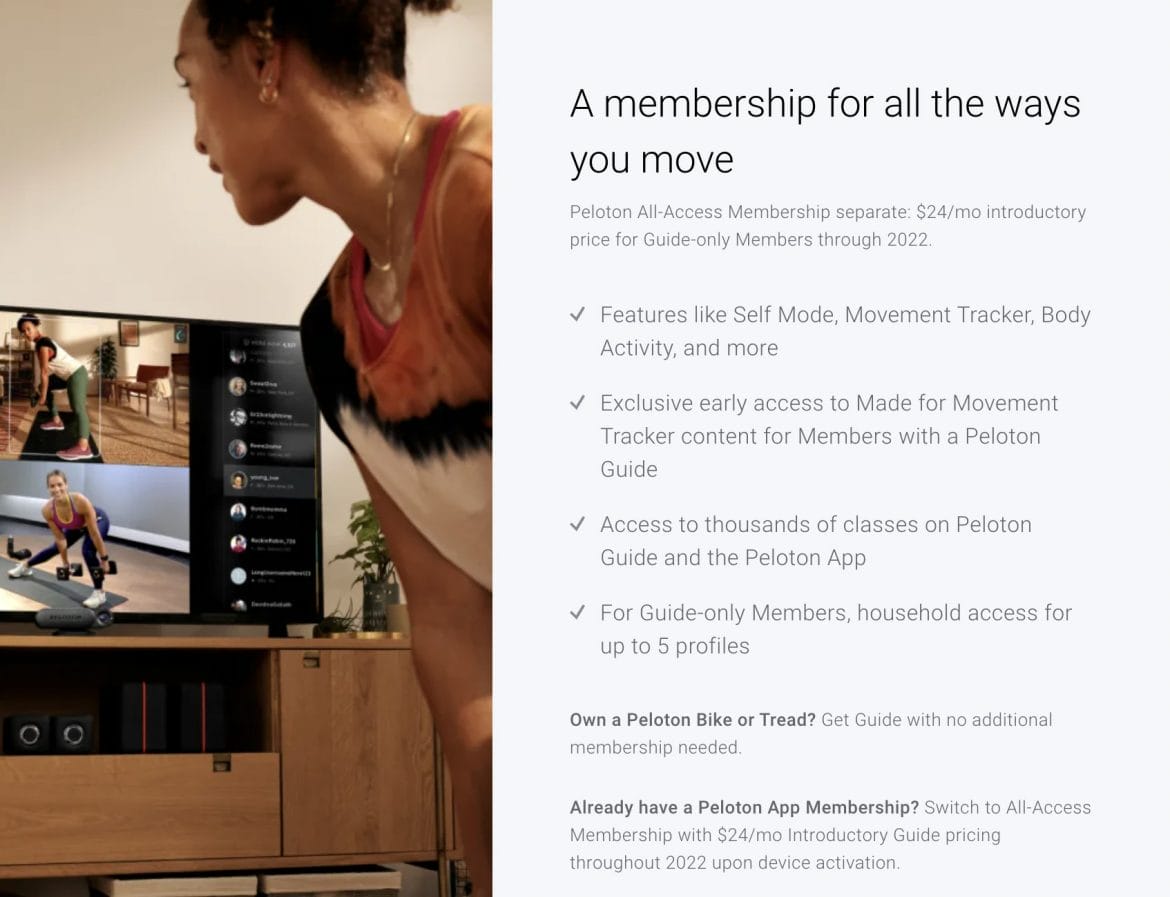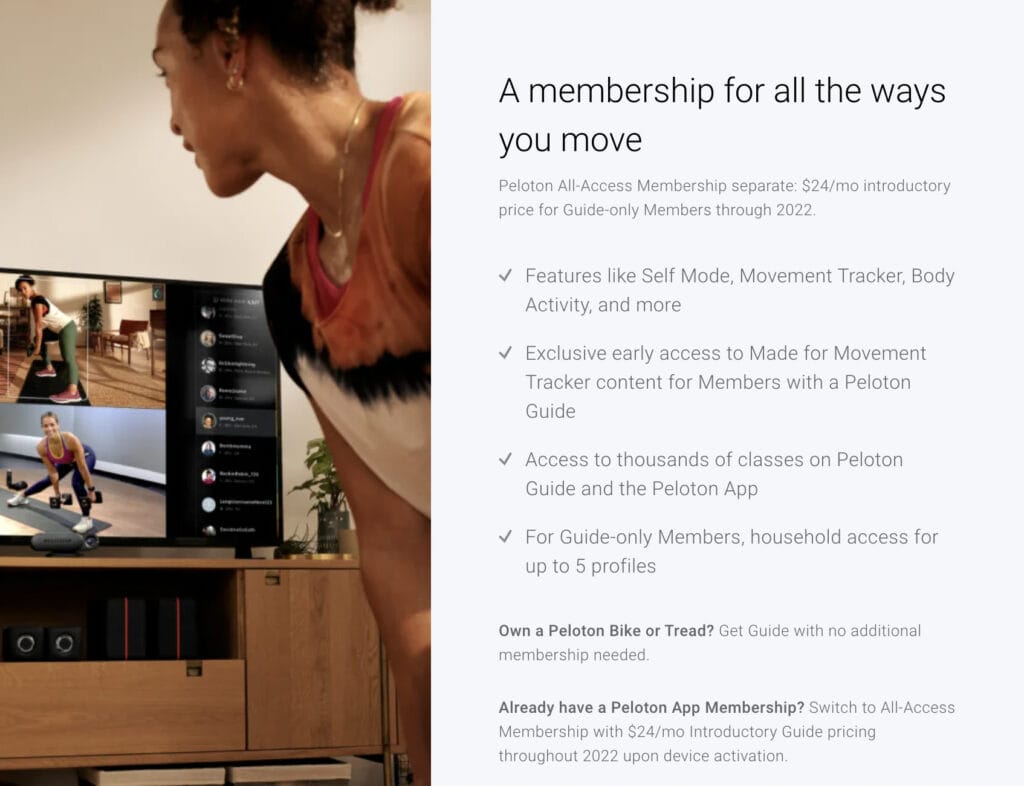 One big thing to note – it appears that the Peloton Guide can not currently count reps. Press images show a Movement Tracker that will fill up as you complete the movement – and the number in the top right is the number of movements in the class (note – an earlier version of this article misidentified that as a rep counter).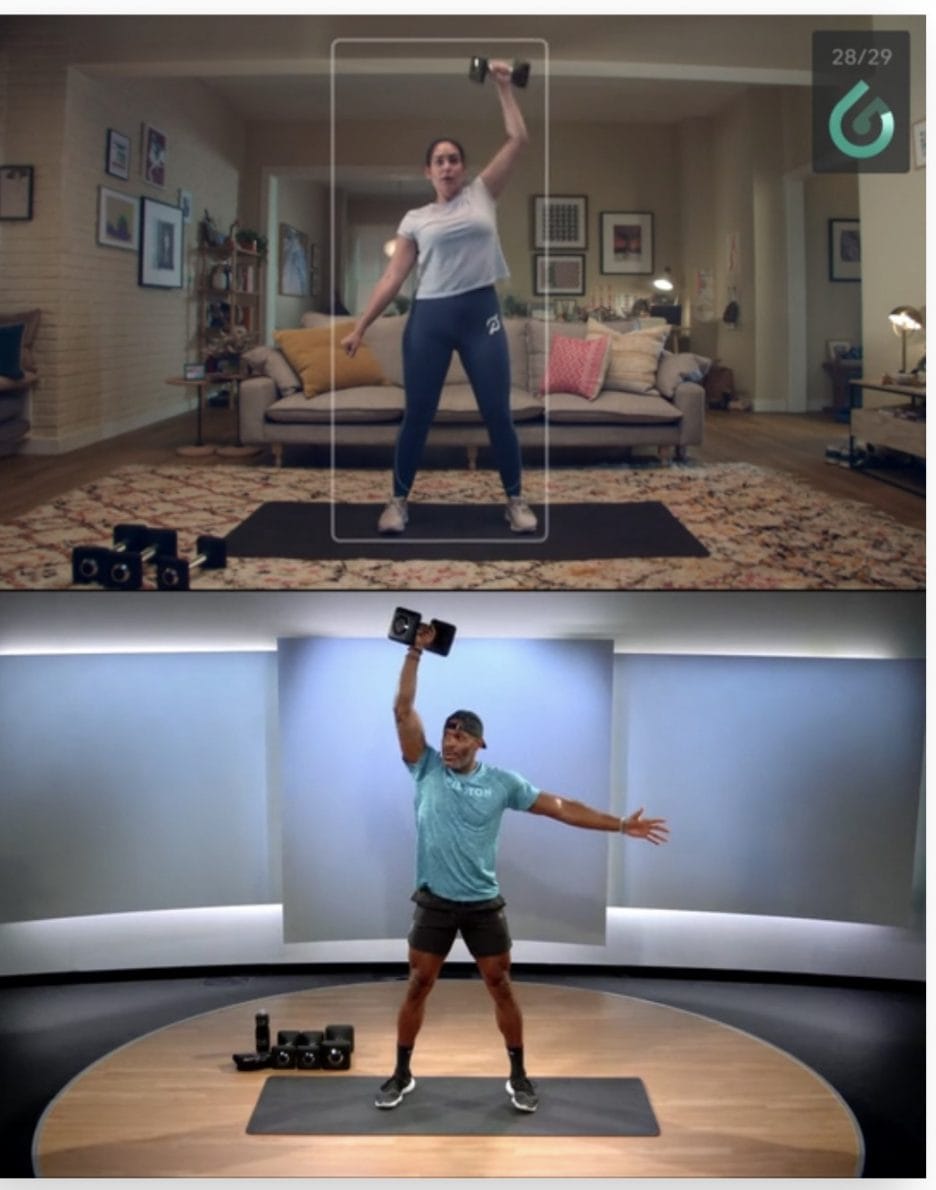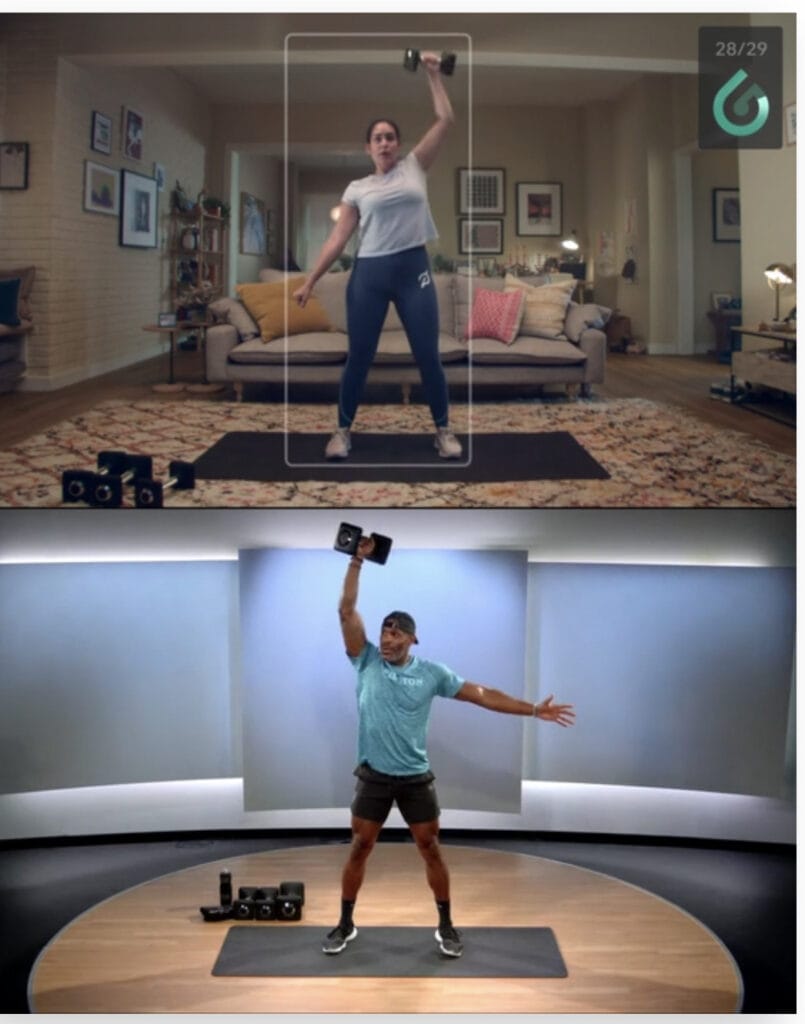 Early reviews are indicating that rep counting isn't actually in place yet. This review from The Verge specifically calls out the lack of rep counting:
Also, if you were hoping the movement tracker would track reps, bad news. You're going to have to keep count yourself. Peloton spokesperson Amelise Lane told The Verge that at launch, the Guide is focusing on helping people with "accountability and guidance." For example, the movement tracker is there as a motivational tool to help you keep moving throughout.
The Wall Street Journal's review also mentions the lack of rep counting:
But frankly I hoped for more form correction and other personalized guidance from something called a "Guide." Unlike the competitors I mention below, Peloton's smart camera doesn't even count reps. It just tracks that you did the movement throughout the allotted time.


Ben Schultz, director of product management at Peloton, said the company has looked at rep counting and form feedback, and intends to expand the product's features in the future.
Peloton describes movement tracker as follows:
That's how we came up with Movement Tracker. This feature is only available on Peloton Guide and is your accountability partner. We all know that when that countdown happens, when the Instructor reaches three, you may slow down or put down those weights. Movement Tracker appears in-class and encourages you to complete the exercises by giving you credit for doing the exercise for the full duration that the Instructor cues. You'll get credit as long as you are moving while they are moving and are doing the correct exercise — no jumping jacks when you're supposed to be squatting, for example. And at the end of each class, you'll be able to see how many of the movements you were able to complete and maybe earn a badge or two!


Today, Movement Tracker understands hundreds of movements and their variations and our library now contains hundreds of classes that are Movement Tracker compatible! As with all Peloton products, we will continue to improve this and all Guide features with ongoing software releases.
Note that there is no form feedback or form correction available on the Peloton Guide today. Peloton expects you to correct it yourself seeing yourself on screen – and through being able to see demos of the movements with "Movement Details"
We can move our bodies in so many different ways, and we want to help everyone move properly and safely. Peloton Guide includes two features that will help you perfect your form: Self Mode and the Movement Details. Additionally, Body Activity will keep track of the muscles you've worked.


With Self Mode, you'll be able to see yourself next to the Instructor and check your form, while Movement Details is a resource to look up a movement. Think about the Movement Details as Peloton protips from our pros – Peloton Instructors! As you preview a class, you may see a movement you're unfamiliar with. You can click on the movement to see the Movement Details, a comprehensive video explanation of the movement before you try it.
Some other features the Peloton Guide has, according to the website:
You can search & find specific strength classes based on muscle groups
You can look at a specific class to see which muscle groups it will work
Class recommendations – supposedly it will be able to recommend classes based on muscle groups you haven't worked in a while
View muscle activity over time through a full body view of your muscle groups worked.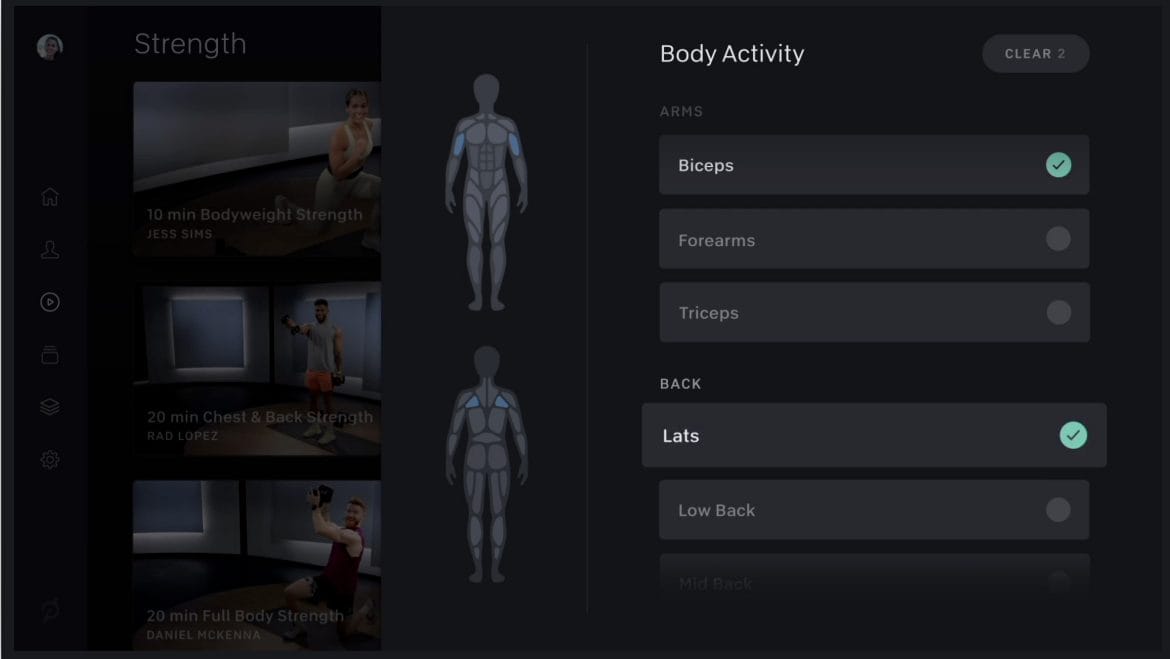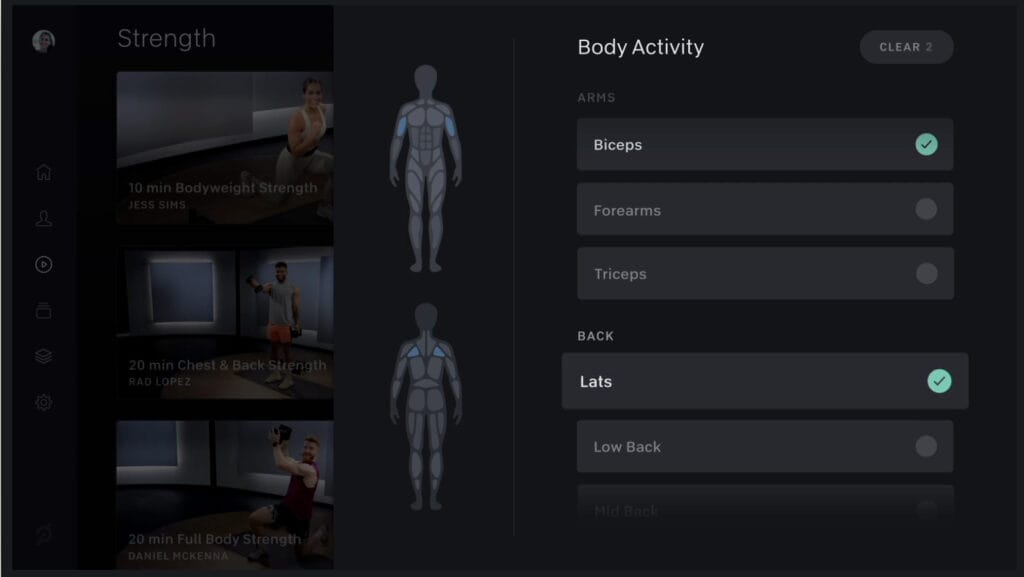 There are brand new programs coming to the Peloton Guide, which we previously reported about.
First is a new floor bootcamp program, with Jess Sims & Selena Samuela. It's a 12 class program which will launch April 11th.
Then there are also new split programs – " A more traditional style of strength training with the option to use heavier weight and the intent to build muscle". These will initially be led by Robin Arzon, Callie Gullickson, Matty Maggiacomo, and Adrian Williams. They are either 3 or 5 day programs – designed for intermediate & advanced users. These launch on April 18th.
Finally, the strength instructors will now have some live classes that are immediately turned into a "Strength Roll Call" program.
Our favorite strength Instructors will teach at the same time every week, Monday to Friday. Everyone who is a Peloton Member can take these classes live and on-demand, but only Members using the Peloton Guide will have access to the Strength Roll Call program! We'll be creating a collection of the weekly Strength Roll Call classes into a program exclusively available on Peloton Guide. Live, Made for Movement Tracker classes will start soon!
Some of the content on the Peloton Guide will have a limited time exclusive period on the Peloton Guide. The membership page breaking down differences in membership states that Peloton Guide owners get "Early access to Made for Movement Tracker programming". It looks like this content will be exclusive for around 7 weeks, as the regular all-access members page states "Access to Made for Movement Tracker programming, which is released to Bike and Tread 7 weeks after classes premiere on Guide"
This would imply that Peloton app-only users might never get this content, making it another All-Access only feature, much like Peloton Lanebreak and Peloton Scenic classes.
The Guide has several different display modes. These include a mode where you are in a small window, a mode where you are split screen (both on top, or side to side), a mode where you are full screen and the coach is in a full window, or just the coach.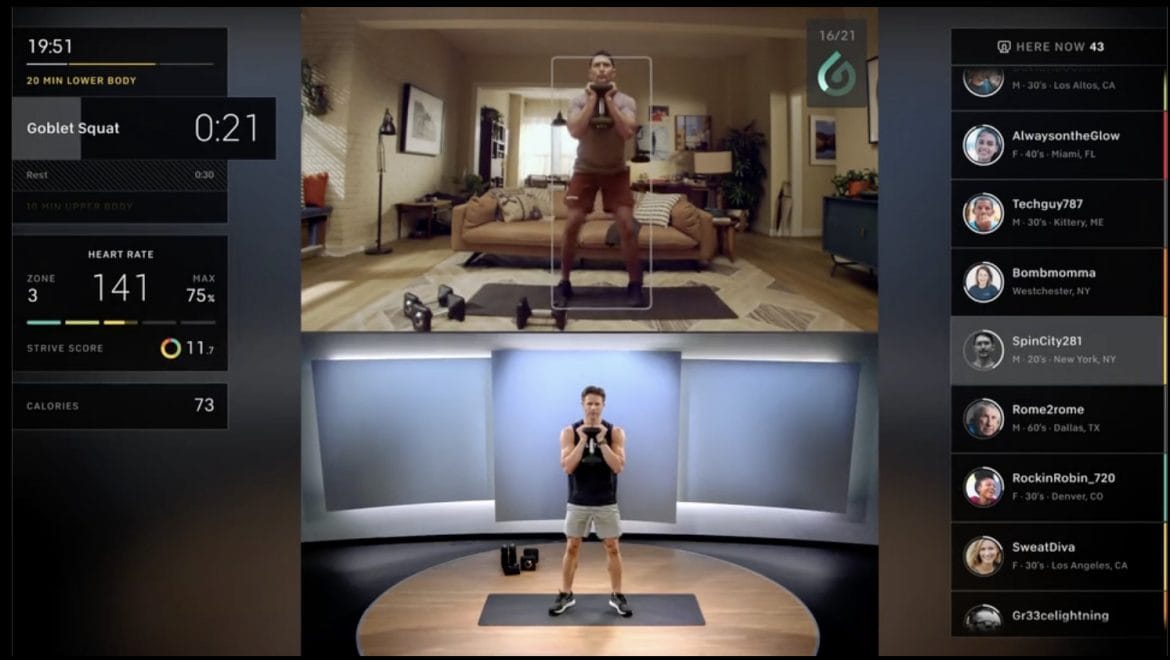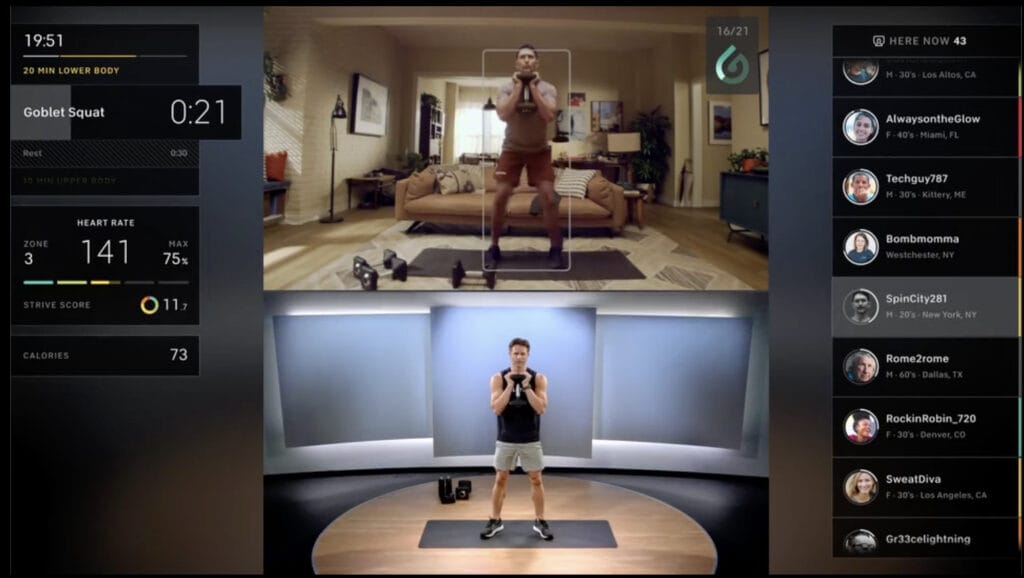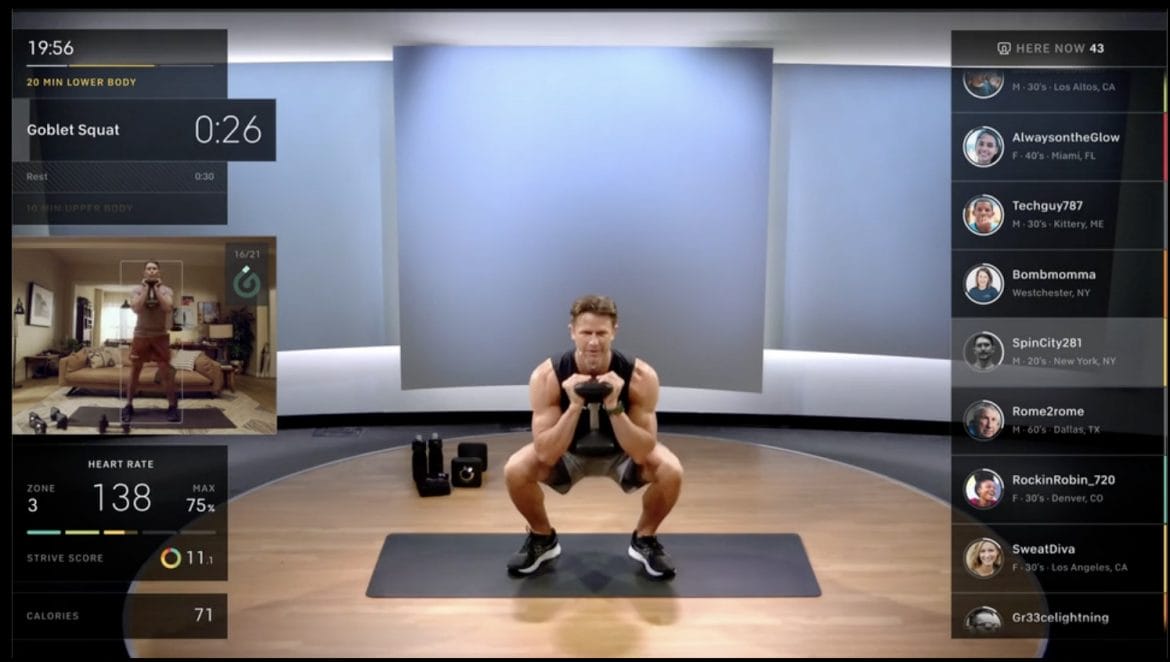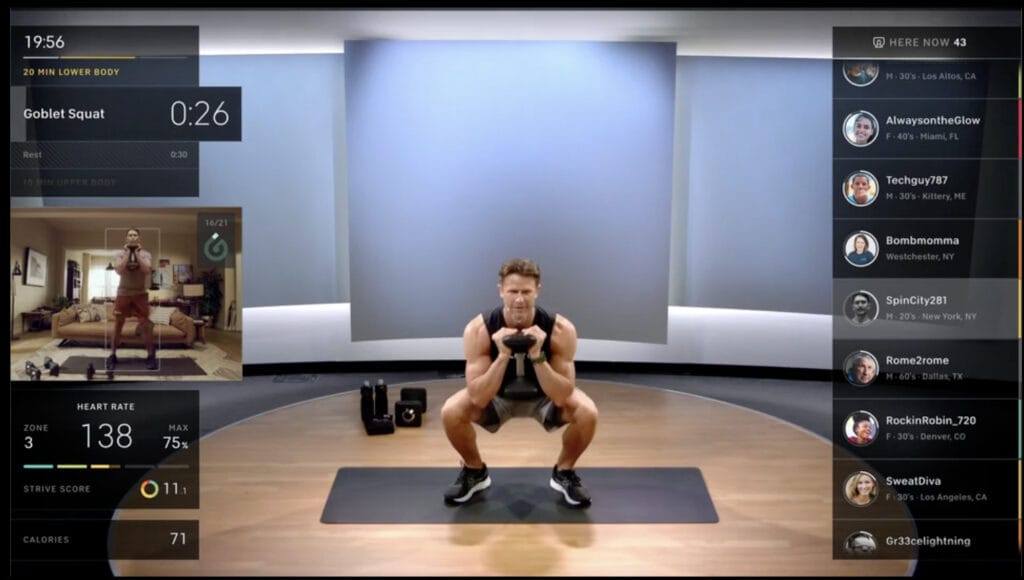 Peloton has a new FAQ page just for the Peloton Guide now as well.
One thing we know a lot of people will be curious about – at launch, the Peloton Guide is not compatible with the Apple Watch for heart rate tracking (but will work with the Peloton Heart Rate band or any other Bluetooth monitor).
What are your thoughts on the Peloton Guide? Do you plan to buy one?
---
Want to be sure to never miss any Peloton news? Sign up for our newsletter and get all the latest Peloton updates & Peloton rumors sent directly to your inbox.