Peloton has reportedly been granted updates to one of their existing patents that hints at numerous potential new software features. Bob Treemore first shared this news on Twitter, noting that the updates relate to: accuracy rating, leaderboard additions, class summary elements, pop-ups, graphical reporting, class averages, metadata, and more.
First, it appears that Peloton could add additional metrics related to how much the member has stayed within the targets called out by instructors during a class. For cycling this would be cadence and resistance; for Tread classes this would be incline and speed. The updated patent shows an accuracy ranking, accuracy rate, and a pop-up widget.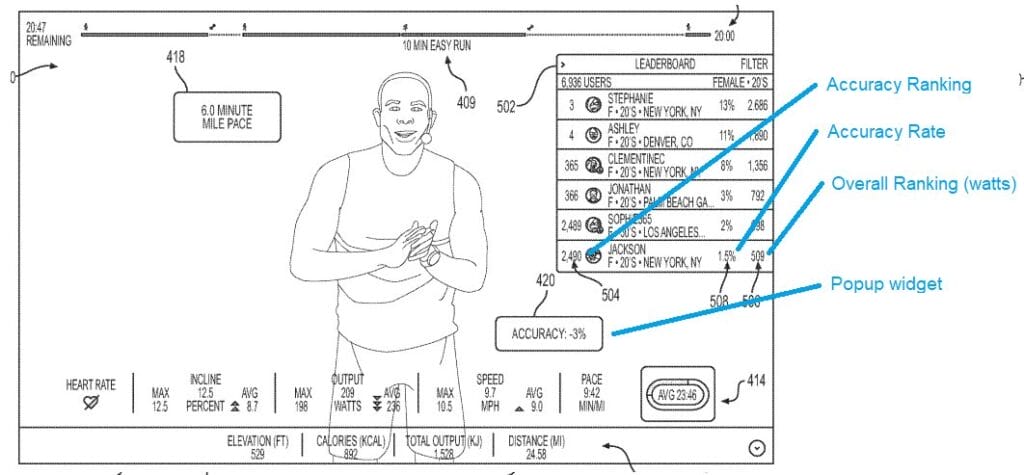 This would be captured in a new "accuracy" metric (out of 100%) which simply calculated the % of time you adhered to the metrics.
Peloton has already started to roll out developments related to accuracy. Just last year Peloton added an update to Bike and Tread devices that allows users to see the total time and percentage of the class during which they achieved the targeted callouts.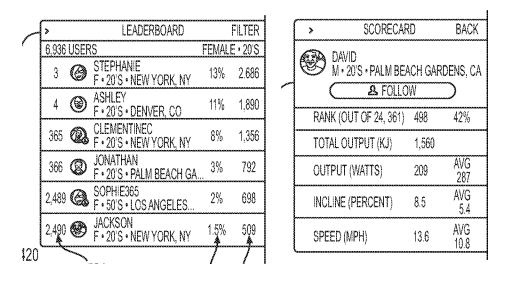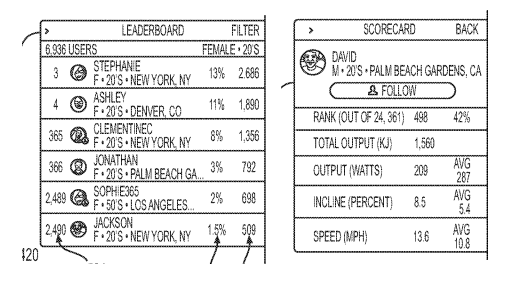 Both of the above images show examples where you can rank the leaderboard by accuracy – rather than simply by total output.
There could also be new items added to the class summaries, such as the average accuracy achieved by members – i.e. how many users were able to stay within the metrics called out by the instructor.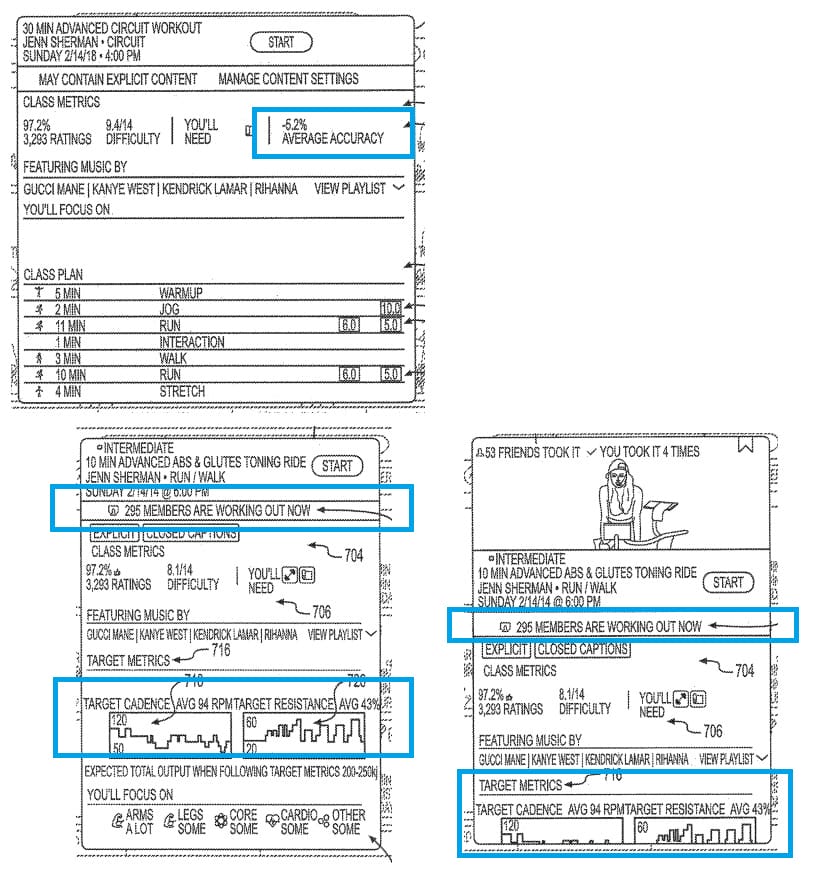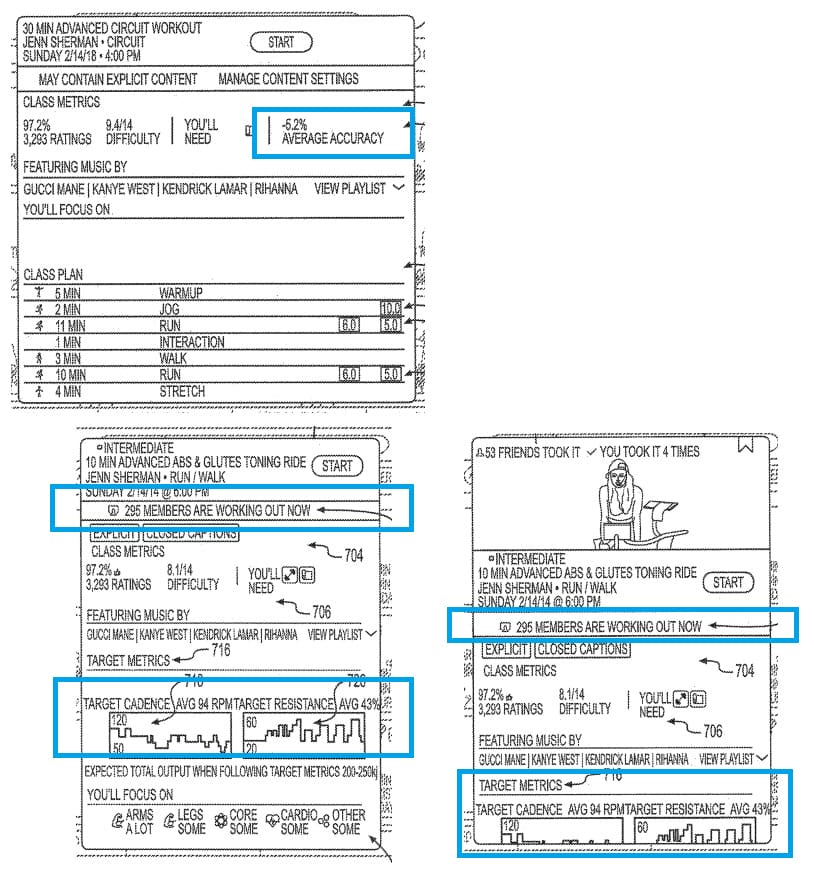 Another completely new element hinted at by the updated patent is pop-up windows during class, such as: "encouraging messages, explanations, comments, questions…notifications, and/or other information provided by the instructor during the exercise class. [EX:] C'mon, let's pick up the pace!"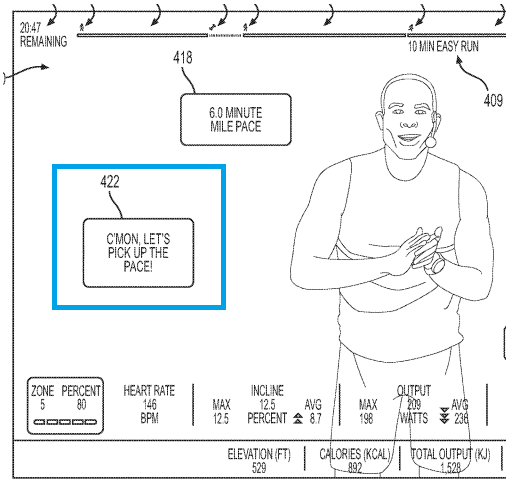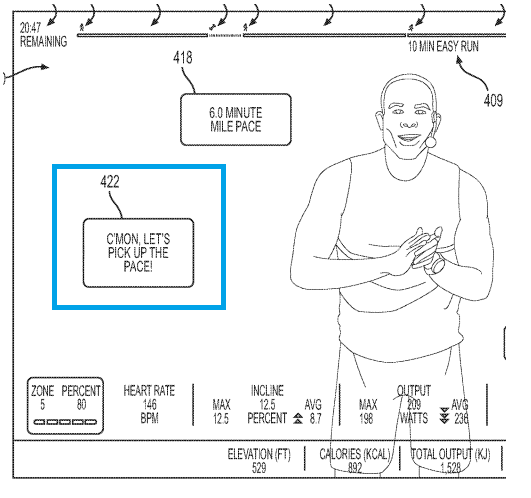 The notifications could also tie into the auto-resistance feature that the Bike+ is known for. For example, if a user is running at a slower pace than the designated call out, they could see a pop-up button that would allow them to automatically adjust their speed.
Other updates include graphical reporting – which could lead to more detailed class activity breakdown images than what is currently available – as well as more in-depth data pertaining to class averages.
Bob found data indicating more average data is being stored for each class on the backend of the Peloton systems – which could eventually be shown to members.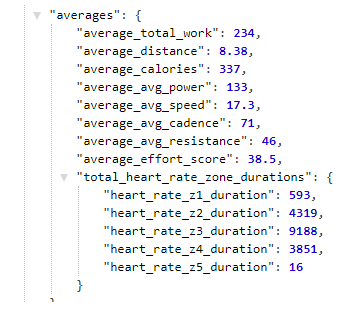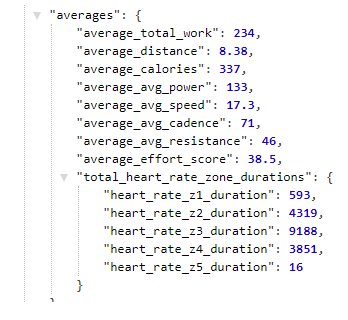 Peloton consistently updates their patents over time. Earlier this year Peloton was granted an updated patent that included the invention of utilizing energy generated by the user. Essentially, this update covers the ability to use the energy generated from a workout on a Peloton device (i.e. the Bike or Tread) to power another device, from anything as small as a phone to something larger like an entire gym. The patent also proposes tracking how much energy is generated to decrease the gym membership cost. You can find additional details in our overview article.
You can read the full patent details here. Thanks again to Bob Treemore for surfacing this latest patent development.
---
Want to be sure to never miss any Peloton news? Sign up for our newsletter and get all the latest Peloton updates & Peloton rumors sent directly to your inbox.