Peloton has made a small update to the metrics available on Bike and Tread devices. You can now view the total time and percentage of the class during which you achieved the target metrics, in addition to the amount of time in heart rate Zone 4 & 5.
Back in 2019 Peloton unveiled a frequently requested new feature: target metrics. This was a software update that populated the target numbers called out by the instructor in class. For the Bike, this means cadence and resistance combinations. For the Tread, this means incline and speed combinations. The metrics are displayed on screen and are illuminated when you are achieving that given metric. This feature is only available in on demand content, and is not shown during live classes.
Upon a recent software update you can now view the total time and percentage of the class during which you fell within the target ranges. By going to your profile on your Peloton device and navigating to a recent run or ride, you will be able to view your class graph. Above a few of the graphs, you you will now see the total time and percentage of the class during which you fell within the ranges called out by the instructor.
For the Bike, this is enabled for both cadence and resistance. For the Tread, it appears to only be enabled on the incline graph and number – it isn't clear why this isn't enabled for speed as well.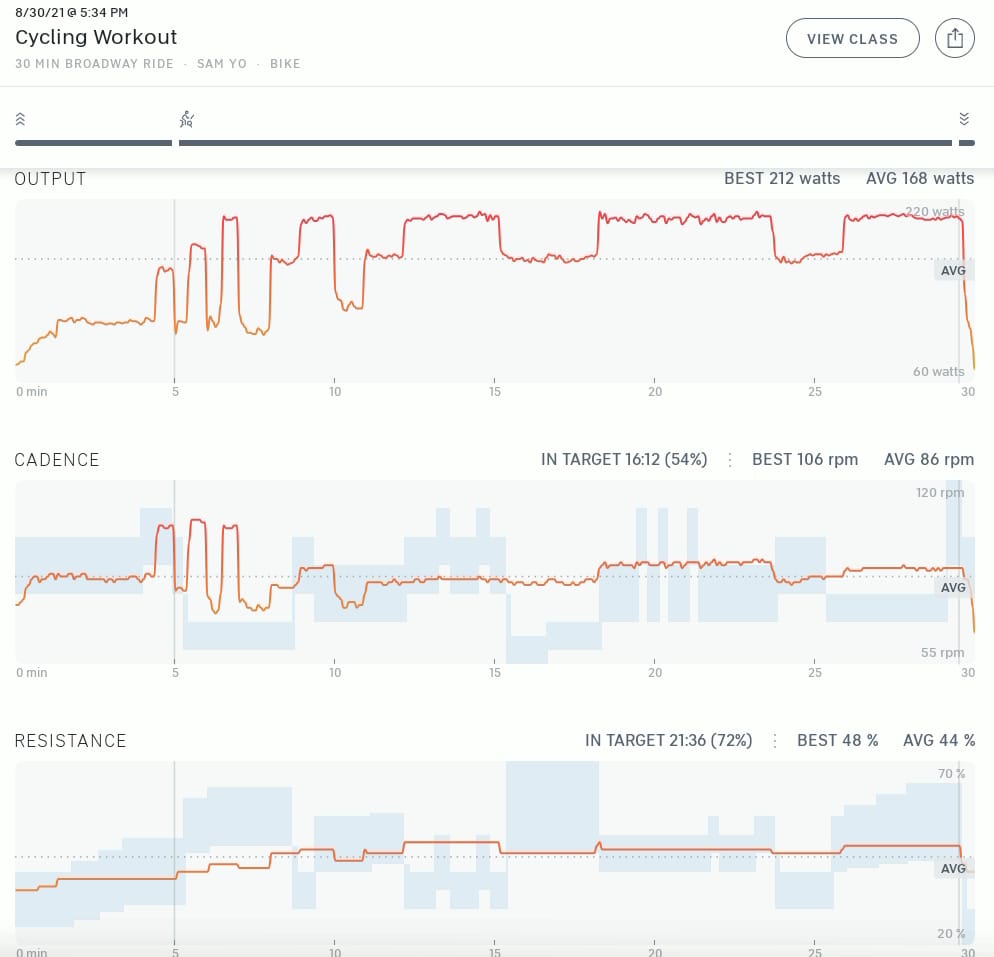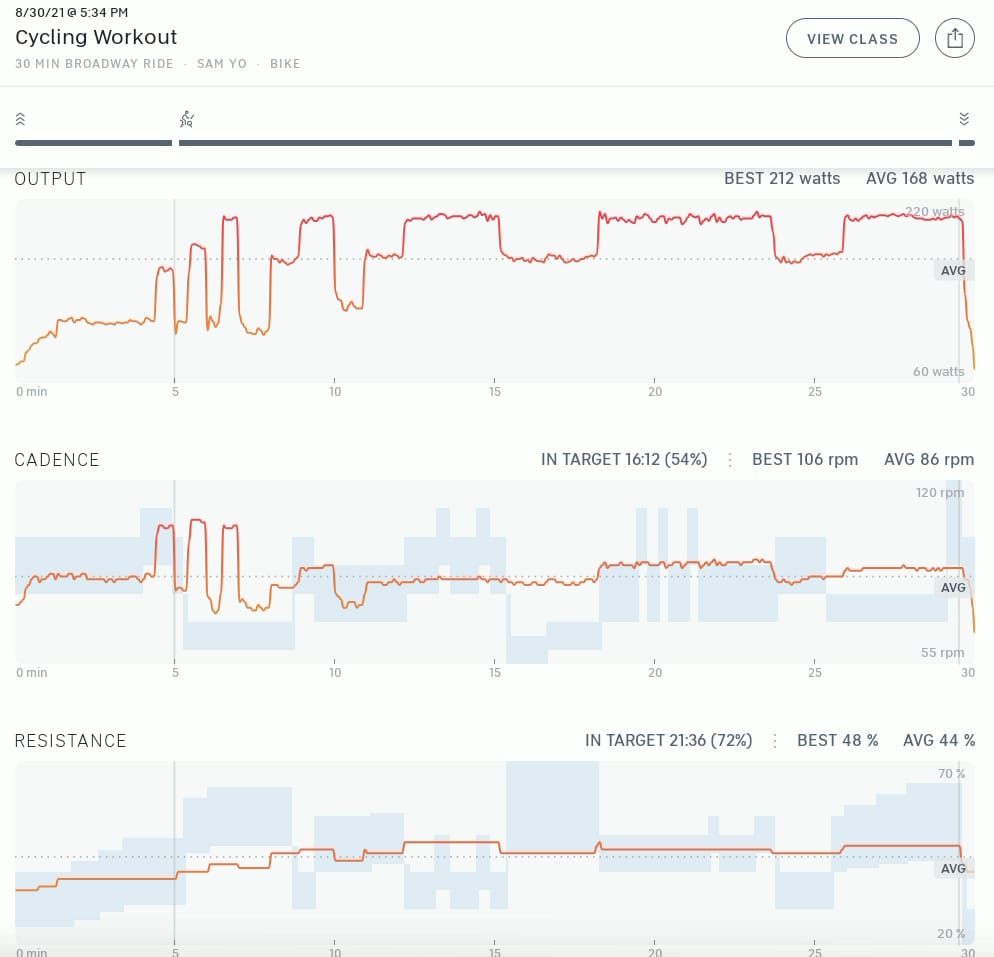 In the example above, from a Peloton Bike, it's the "In Target 16:15 (54%)" for Cadence and "In Target 21:36 (72%)" for resistance that is the new feature.
The graph also will visually show the ranges which were called out using rectangles overlaid on the graph, so that you can see what the range was supposed to be at any time. That feature has been there for a while – the new recent addition is the overall number, for time and % of the class, it gives you.
The metrics are measured individually. For example, you may have been within the target cadence range for 90% of the class, but within the target resistance range for only 40% of the class.
In addition to these target metrics, Peloton has also begun showing the amount of time (both in a total minutes/seconds, and a % as well) you spent the class in Zones 4 or 5 of your heart rate zones, assuming you have set up a heart rate monitor. This is an interesting choice to show on all classes, as some people might now try to get their heart rate higher just to get a higher % time in those zones – which isn't necessarily recommended.


Note that these new summary metrics are currently only available on Bike and Tread devices – it is not yet available on the Peloton App or web browser, even if viewing a class you took on the Bike or Tread. It is also only available for classes that were taken from the on demand library; it does not appear to populate for any classes taken live (which makes sense given that target metrics are not available in live classes).
Also note that the new heart rate zones do not mean you can view the same data for power zone rides – but as a reminder, you can view the zones for any power zone ride as well as have a timer to tell you when zones will change using the Home Fitness Buddy tool found here.
If you're working on your ability to adhere more closely to the metrics called out in class, this should be a helpful new feature.
---
Want to be sure to never miss any Peloton news? Sign up for our newsletter and get all the latest Peloton updates & Peloton rumors sent directly to your inbox.