This morning Peloton officially announced their two newest strength instructors: Callie Gullickson & Rad Lopez.
Peloton is highlighting them as the first ever strength-focused instructors.
The Peloton team just keeps getting stronger, and this time, it's in the singular interest of helping you get stronger. Meet our two newest additions to the instructor team, and our first strength-focused instructors, Callie Gullickson and Rad Lopez!
Callie Gullickson's premiere strength class is Tuesday, June 15th @ 6:30pm ET. Her instructor page is live here.
Callie radiates sunshine. She comes from a large family of athletes, but broke the mold to pursue dance. Years of rigorous ballet training taught her discipline, grace and strength. Her knowledge of technique and emphasis on quality of movement extends to her classes. Callie's workouts are tough, but she'll make you feel good after every class.
Rad Lopez's premiere strength class is Wednesday, June 16th @ 6:30pm ET. His instructor page is live here.
Rad was born and raised in the Bronx, NY in a vibrant Dominican household. Soft-spoken but resilient, he found his confidence through sports and competition. Years of hard work as a boxer led him into fitness and training. Physical and mental strength are key in Rad's classes, and he'll lead you through each workout with a little tough love. His goal is to inspire others to make them feel more confident about themselves.
If their names look familiar – we first shared the news Callie would be joining the team in February, and shared the news about Rad joining the team last week.
The strength studio has been closed for the last 3 weeks for "new and exciting things". We'll have to wait and see what other changes might have been made to the studio soon.
Both instructors have backgrounds in boxing, although neither mention it in their announcement interview. That said, rumors still indicate boxing might be coming, between teases from new coaches, these new hires, and surveys specifically about boxing.
Will you be taking a strength class from one of the new coaches?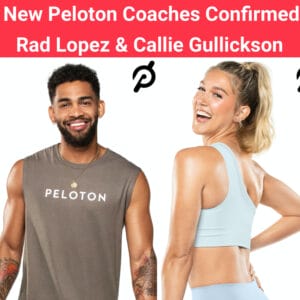 ---
Want to be sure to never miss any Peloton news? Sign up for our newsletter and get all the latest Peloton updates & Peloton rumors sent directly to your inbox.