Peloton has talked before about how they are a data driven company. One way they try to gather data is by surveying both existing & potential members about what they would want to see in classes.
This week, a research company that appears to be working on behalf of Peloton has been emailing a small group of members asking them about Peloton boxing classes.
Specifically, the survey asked:
If Peloton offered boxing workouts that didn't require you to purchase any equipment (allowing you to follow along on a Bike / Tread screen, tablet, phone, TV, etc.), how likely would you be to consider trying one?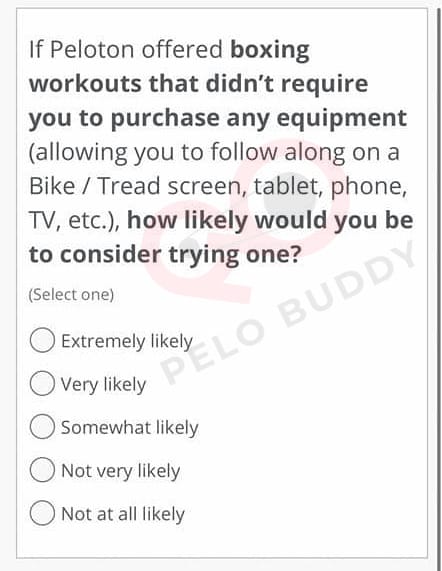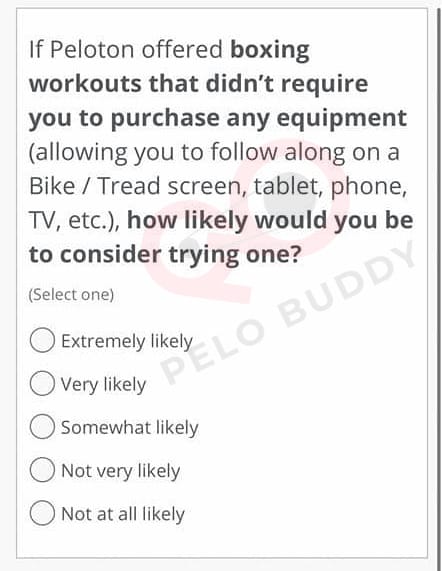 The survey also included a few questions about Peloton's pilates content. Peloton added a new set of instructors and pilates classes in April, but have not added any new pilates content since then.
This will just add fire to speculation around whether Peloton is quietly working on adding some form of boxing classes (or shadowboxing or kickboxing) to the Peloton platform.
Several of the instructors have seemed to drop hints about boxing in the last month or two – you can see videos of both Selena Samuela and Bradley Rose appearing to hint at boxing in our previous article. Additionally, several instructors have previously taught boxing classes before coming to Peloton. This includes Kendall Toole, Selena Samuela, Olivia Amato, Bradley Rose and Jess Sims. And rumored new instructor Callie Gullickson has shared videos of her taking boxing fitness classes in the past.
Many people had hoped that one of the new features & announcements at Homecoming might be related to Peloton boxing workouts – but that unfortunately did not happen.
These surveys have in the past been about features that were added months later. We reported in January how a similar survey was being sent to members about the pause button – and a few months later Peloton officially announced the pause button at Homecoming.
How interested would you be in boxing classes?
---
Want to be sure to never miss any Peloton news? Sign up for our newsletter and get all the latest Peloton updates & Peloton rumors sent directly to your inbox.