Former Peloton instructor Daniel McKenna (who left the company earlier this month) has filed a lawsuit against Peloton alleging "wrongful termination, discrimination, harassment, and retaliation."
Update – The lawsuit was withdrawn & dismissed on December 5th, and shortly after all of his classes were removed from Peloton.
In a New York State Courts Electronic Filing (NYSCEF) dated October 12, 2022, "Daniel Patrick McKenna" is identified as the plaintiff, and "Peloton Interactive, Inc. and Jennifer Cotter" are identified as the defendants. Jennifer Cotter is the Chief Content Officer at Peloton and is one of the top executives to manage and work closely with the instructor team.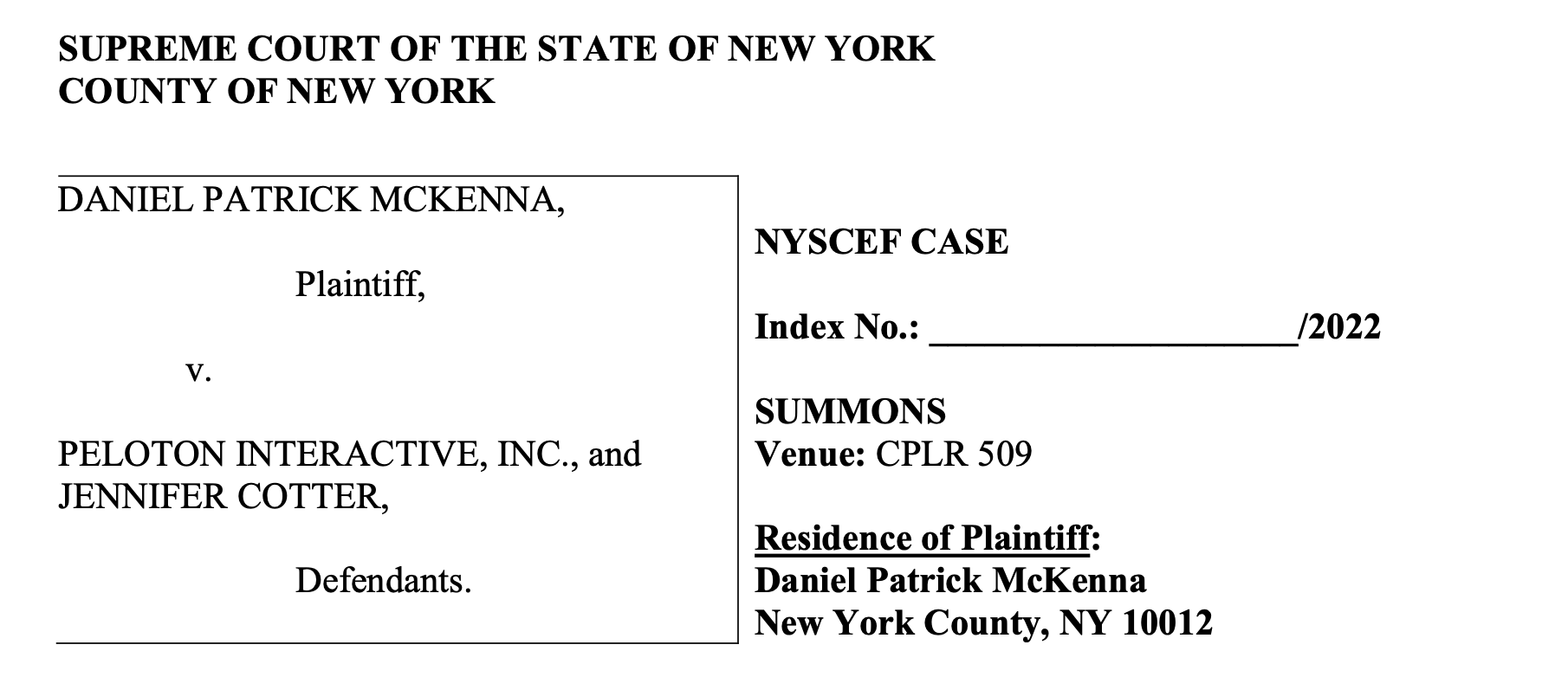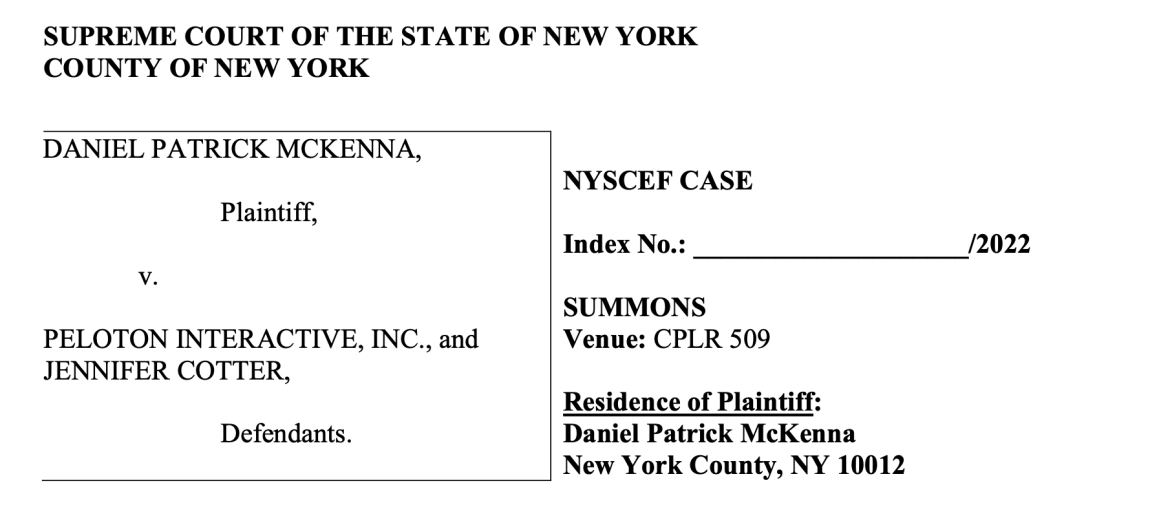 The filing states:
Daniel Patrick Mckenna ("Plaintiff" or "Mr. Mckenna"), through his counsel, files his Verified Complaint against his former employer Defendant Peloton Interactive, Inc ("Peloton"), and Defendant Jennifer Cotter, ("Defendant Cotter"), (collectively, "Defendants") asserting, inter alia, several claims: breach of the employment agreement, actual disability and perceived disability-based discrimination, failure to engage in good faith interactive process, hostile work environment and retaliation.
The complaint goes on to assert that Daniel was subject to a hostile work environment and that Peloton's "conduct was knowing, malicious, willful, and wanton and showed a reckless disregard for which Plaintiff which has caused and continues to cause Plaintiff to suffer substantial economic and non-economic damages, permanent harm to his professional and personal reputations, and severe mental anguish and emotional distress."
The filing argues that Daniel was not given any notice or "legitimate" reasoning for his termination. According to the filing, Daniel's last day at Peloton was September 12, 2022 – exactly three weeks before Peloton announced his departure to members. He was reportedly fired via a Zoom meeting and offered a $130,000 severance package amounting to six months of pay. As an interesting side note, this implies Daniel's annual salary was $260,000, excluding any bonuses & equity.
Daniel's past injury is also brought up in the filing. As a reminder, Daniel experienced an injury earlier this year that forced him off the live schedule for approximately three months. The filing states:
Plaintiff asserts that Defendants willfully and knowingly violated these anti- discrimination statutes when they learned that Plaintiff suffered an unexpected pectoral injury, failed to engage in good faith interactive process, and as soon as he returned to work from his disability, they retaliated against him, and wrongfully terminating Plaintiff because of his short- term disability and perceived disability.
In addition, the filing explicitly names Cotter as one of the central players in the "hostile work environment" and maintains that Cotter frequently made disparaging remarks to and about Daniel. The filing details a disagreement about Peloton's Covid-19 vaccine mandate (which Daniel ultimately complied with); Cotter asking Daniel to remove social media posts unrelated to Peloton; and Cotter making remarks suggesting that Daniel was drunk at work and that he was difficult to understand due to his accent.
Note that Peloton has not yet filed a response to the lawsuit, so Peloton and Cotter have not yet had a chance to share their side of the story – the details contained in the filing are only from one party.
The filing states:
Defendant Cotter's illegal conduct was without limit or bounds, Defendant Cotter even humiliated Plaintiff in front of his colleagues and other Peloton employees at his first introductory meeting with Peloton's new Chief Executive Officer, Barry McCarthy, by audibly saying and stating, "I hope you're not drunk, Daniel." Defendant Cotter further boorishly announced at the said meeting with Mr. McCarthy, "that's Daniel our Irish instructor, he's rough round the edges and hard to understand but the members love him."
According to the filing, Cotter has immense power at Peloton and can essentially make or break an instructor's experience:
Many of the instructors were/are afraid of Defendant Cotter because she had/has the power to reduce their classes, played favorites, advertising spots and placements with reputed sports gear and apparel companies, and created a pervasive atmosphere of hostility.
The filing further lays out the timeline and ways in which Daniel tried to mend the relationship with Cotter, as it severely affected his mental and emotional health.
The filing also includes details about the sequence of events surrounding Daniel's injury in the spring, including a meeting on June 23, 2022:
At the meeting, Defendant Cotter alarmingly and confusingly informed Plaintiff that Peloton could fire him for going on short-term disability but would allow him to resume employment. They said to Plaintiff that it was "not looking good" for Plaintiff and he should be fired because in "corporate America" it was not acceptable to take disability leave for injuries and surgeries.
The filing argues that Peloton has failed to provide any written basis, factual explanation, or detailed descriptions regarding Daniel's termination. In addition, the filing asserts that Peloton's non-compete agreement is too restrictive and prevents Daniel from gaining meaningful employment following his termination.
In summation, the lawsuit provides nine total causes of action:
Actual or perceived disability discrimination under the New York state human rights law.
Actual or perceived disability discrimination under the New York City human rights law.
Unlawful retaliation under New York City human rights law.
Retaliation under the New York State human rights law.
National origin discrimination under the NYCHRL-Disparate treatment against all defendants.
National origin discrimination in violation of the New York state human rights law against all defendants.
National origin discrimination under the NYCHRL-hostile work environment against all defendants.
Declaratory judgment that the non-compete provision of the employment agreement is unenforceable under New York law.
Breach of contract against Peloton.
After weeks of speculation by members, Peloton officially announced that Daniel was no longer an instructor with the company on October 3, 2022. A message posted in the Official Peloton Member Facebook Page provided no details and simply stated:
Members,
Daniel McKenna is no longer a Peloton instructor. His classes will remain in our library for Members to enjoy. We wish Daniel all the best in his next chapter.


Instructor turnover is relatively low at Peloton. Most former instructors have been very quiet about their time at Peloton and the exact nature of their departures, with some going on to work for competing companies or start their own ventures. Former instructor Marina Andresen spoke about a negative experience at Peloton after her departure last year, but she didn't explicitly call out the company.
This is a developing story and we will provide updates as they become available. You can read more about the announcement of Daniel's exit in our recent article.
A full copy of the lawsuit is available here.
---
Want to be sure to never miss any Peloton news? Sign up for our newsletter and get all the latest Peloton updates & Peloton rumors sent directly to your inbox.