Peloton yoga and meditation instructor Kirra Michel is heading home to Australia and members will have an opportunity to attend a meet and greet event in Sydney on October 28, 2022. Australian members who don't live in Sydney can even enter a contest for an opportunity to win a trip to the event.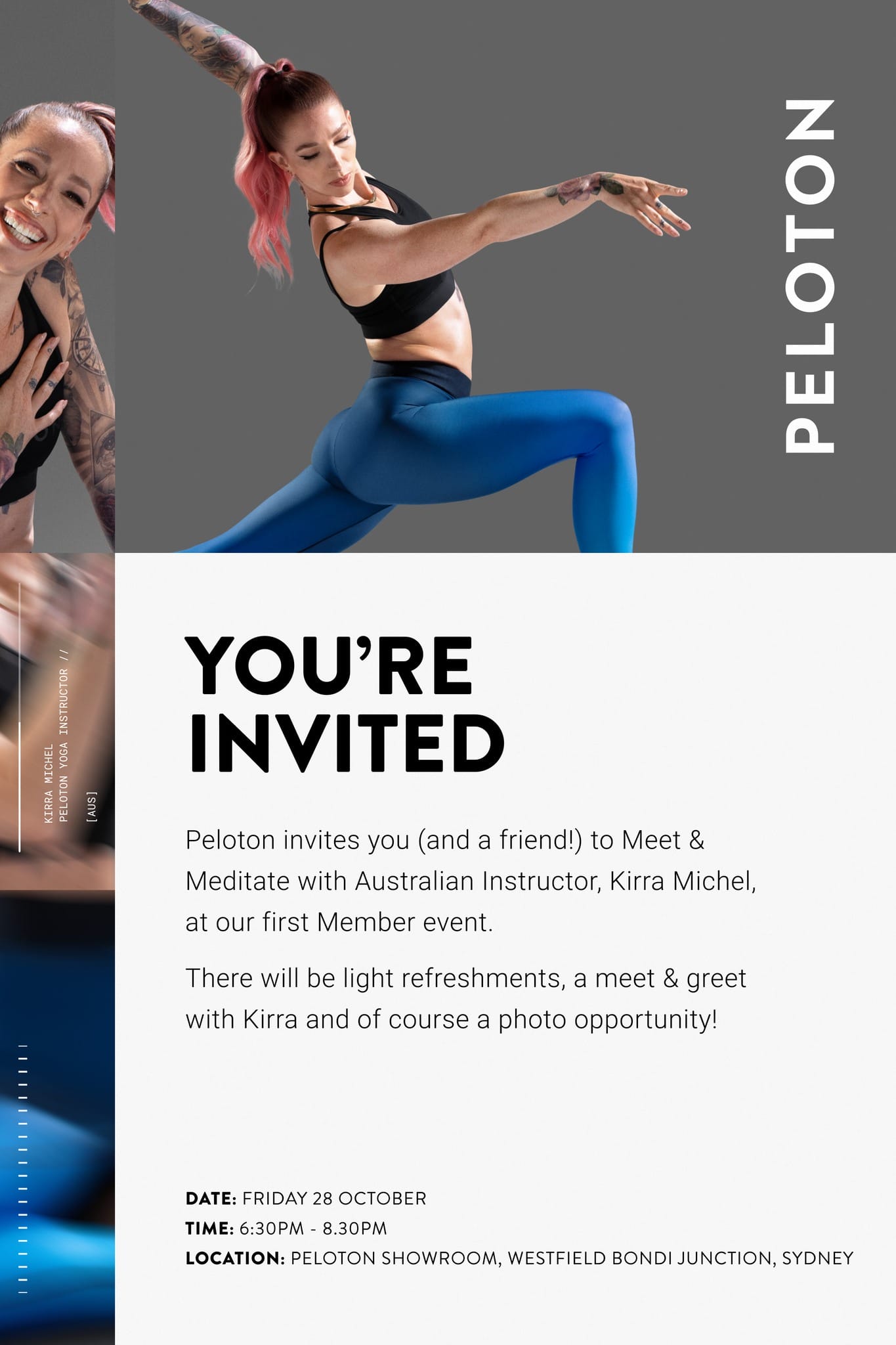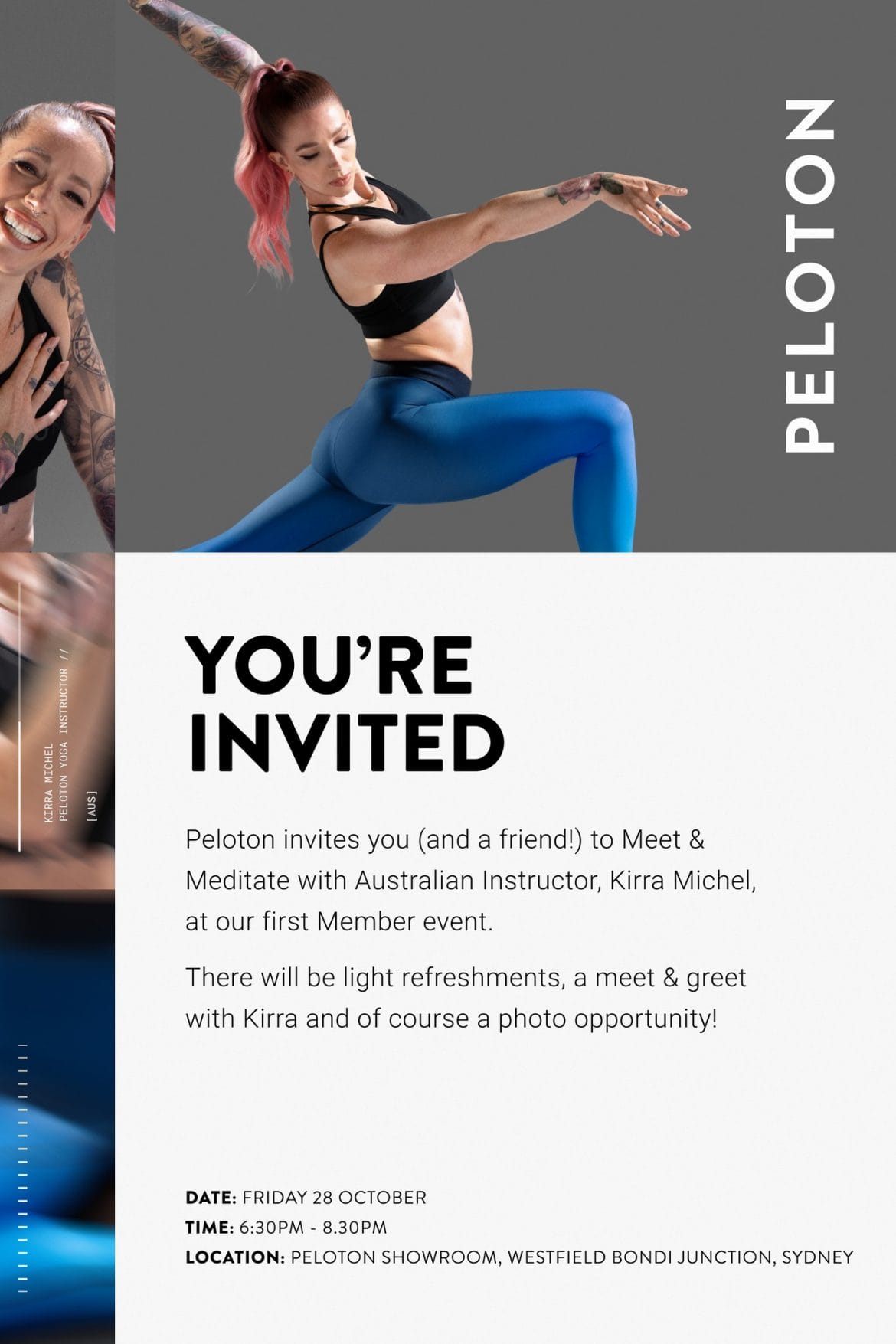 Peloton first shared the news of the meet and greet event in the Official Peloton Australia Member Group:
Kirra's coming to Sydney! And YOU are invited to Meet & Meditate with Peloton Instructor Kirra and this community at our Westfield Bondi Junction showroom on Friday 28 October.
Enjoy some light refreshments, get a photo with Kirra, and meet your fellow community!
You can also invite a friend (they don't need to be a Peloton Member).
Limited spaces are available, please RSVP here: https://bit.ly/3STZKIt
For any questions email us at communityau@onepeloton.com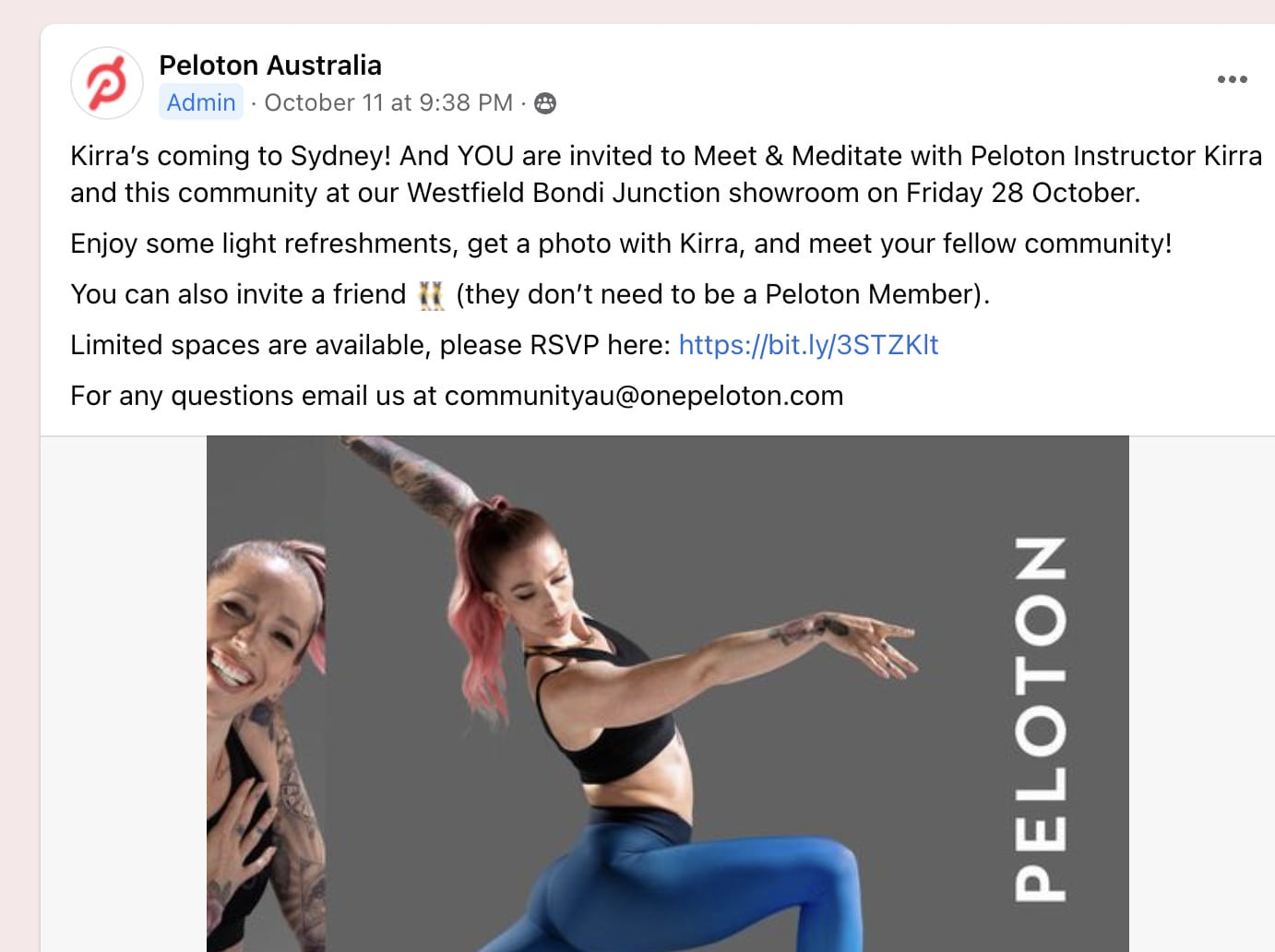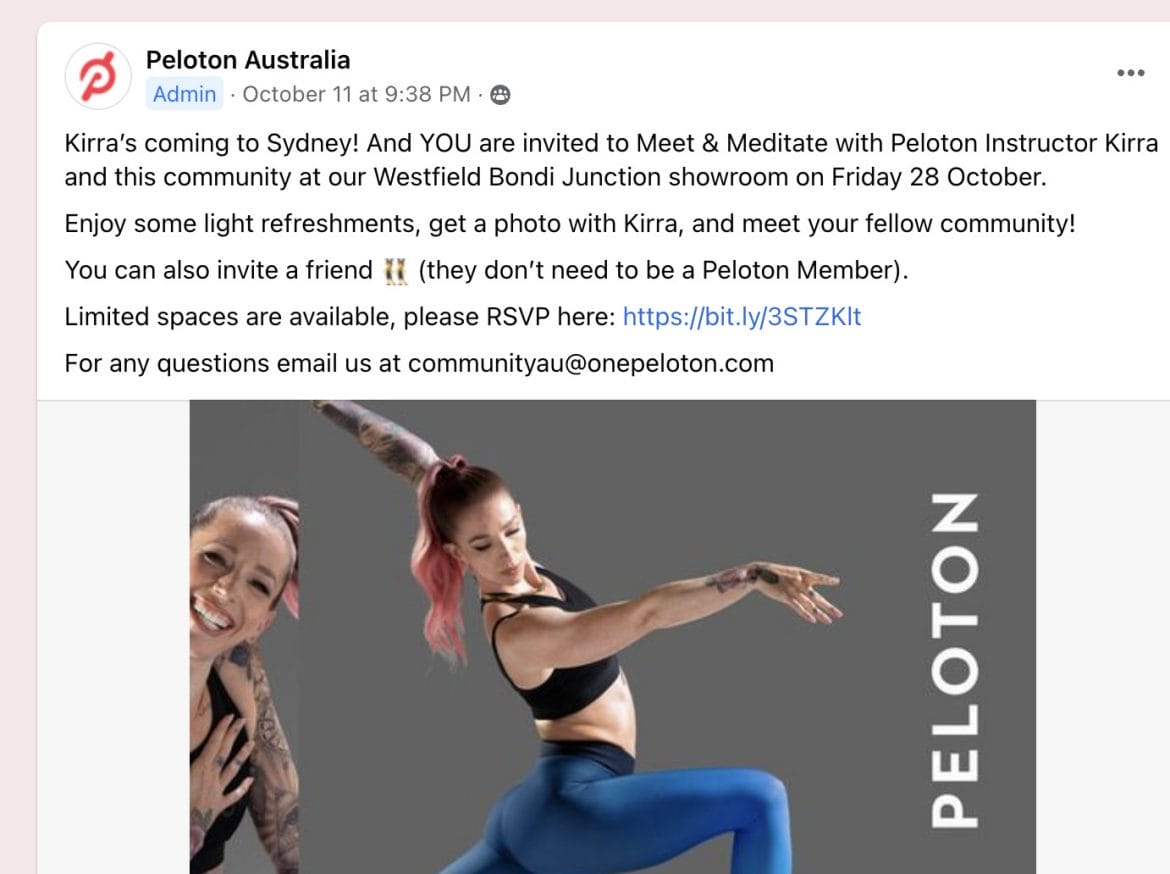 The RSVP page brings users to an Eventbrite RSVP form. The event is free and there is a limit of two tickets per person.
In addition to the meet and greet Peloton is also running a contest for Australian members who don't live in or near Sydney. They shared the news via Facebook:
Want to meet Peloton Instructor Kirra Michel, but don't live in Syndey?!
Tell us your favourite thing about Kirra's classes for the chance to WIN A TRIP for you and a friend to meet and meditate with Kirra Michel at our first Member event! (Trip includes flights + 1 night of accommodation).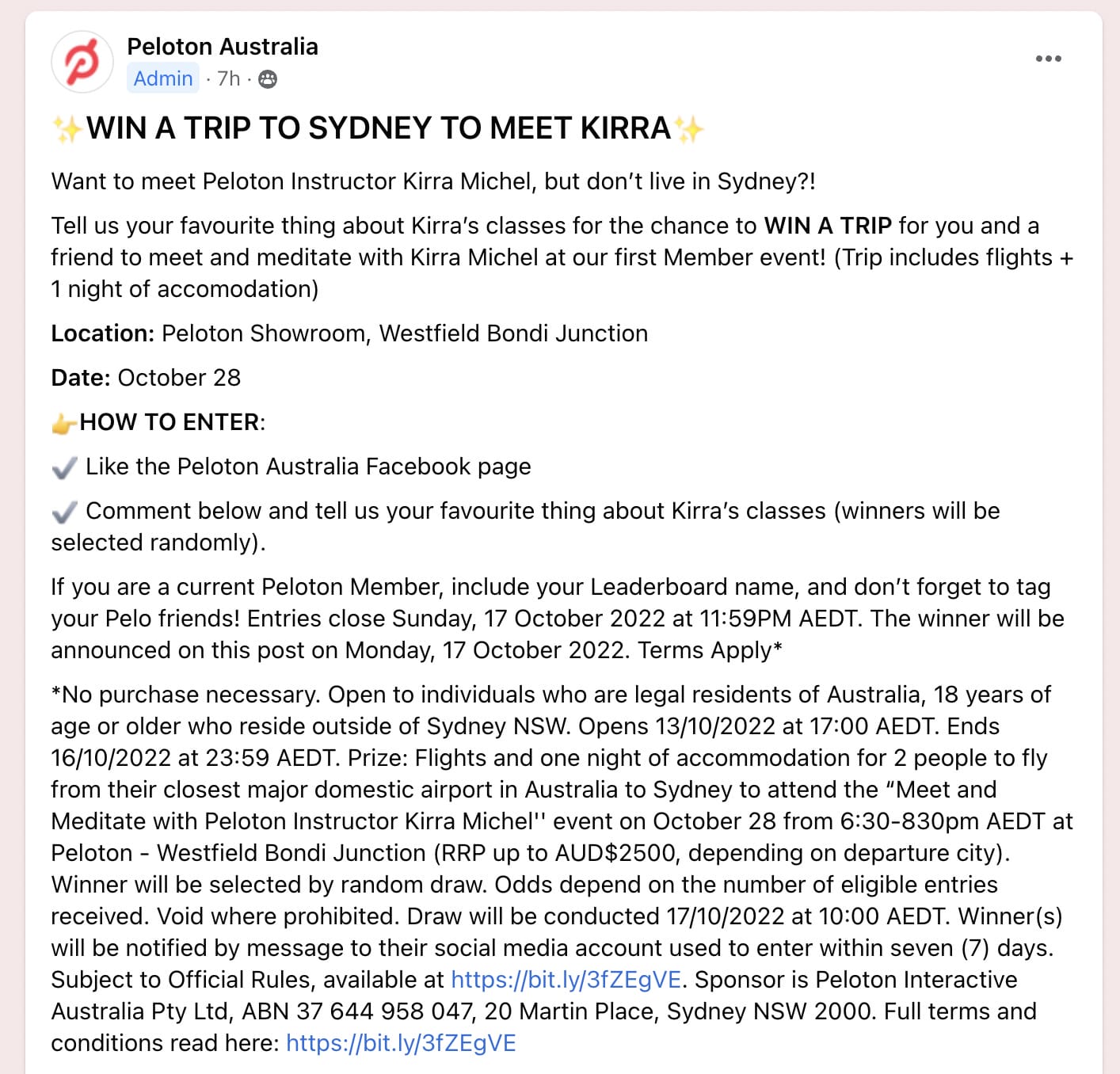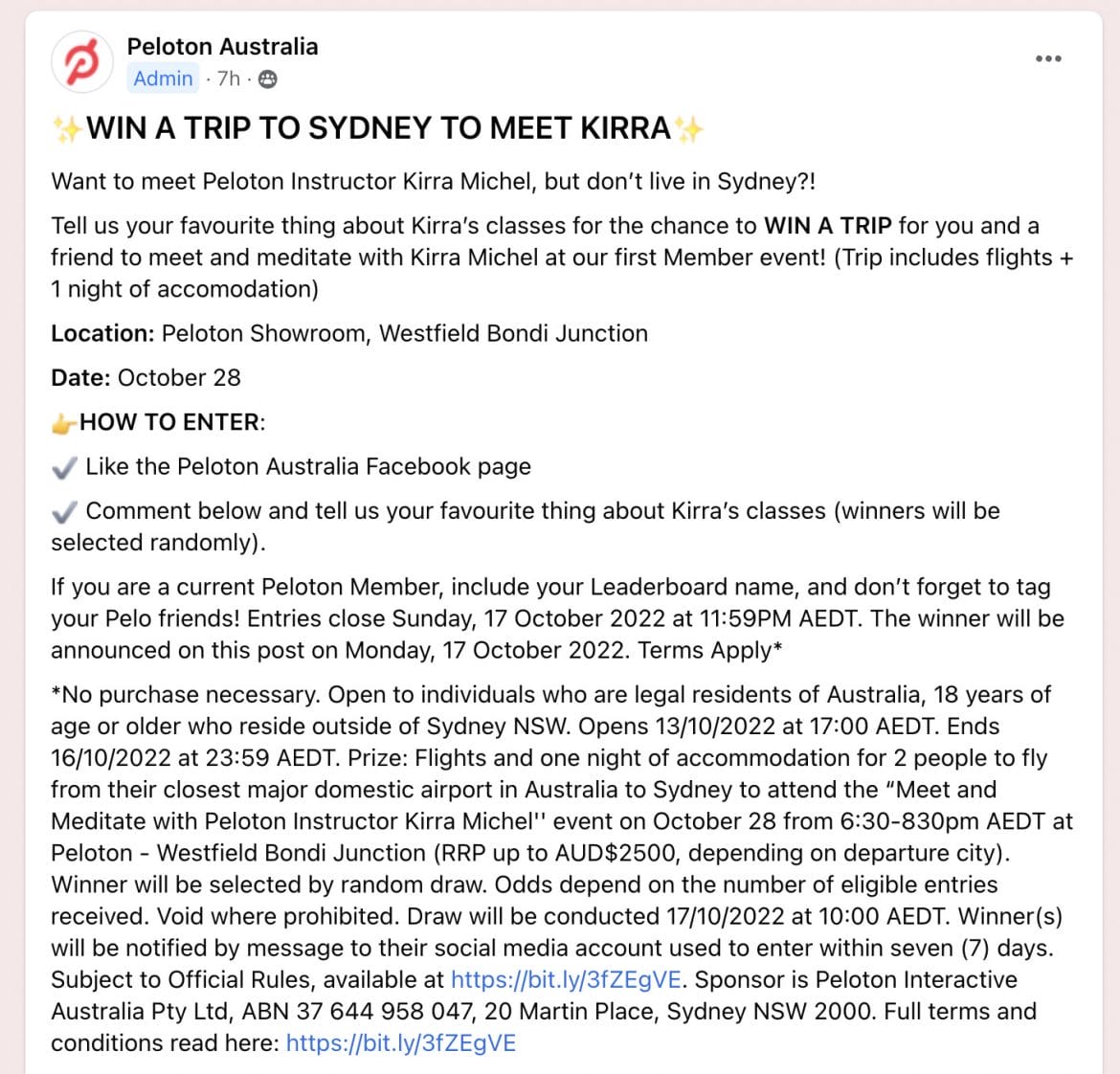 Members can enter by "liking" the Peloton Australia Facebook page, and commenting on the contest post with their favorite thing about Kirra's classes. Members should include their Peloton leaderboard name in their comment, and tag their friends. The winners will be randomly selected from the post.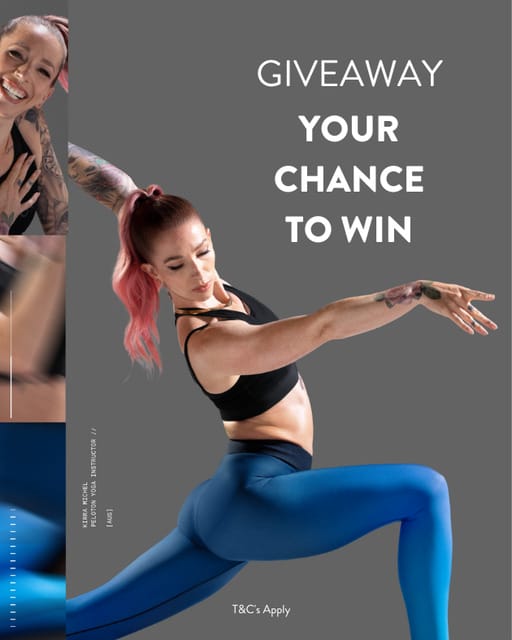 Peloton has also launched a new support page containing the terms and conditions of the contest. Some important items to note:
You must be at least 18 years old to enter.
You must reside outside Sydney, New South Wales.
The contest begins on October 13 and ends on October 16.
The prize includes two domestic roundtrip flights and a one-night, one-room accommodation in Sydney, a combined total value of up to AUD $2500.
Peloton periodically holds meet and greet events, but this will be their first event in Australia. Peloton also recently held a meet and greet in the United Kingdom with instructors Jermaine Johnson and Joslyn Thompson Rule.
If you're interested in attending Peloton's meet and greet with Kirra be sure to RSVP; or you can also enter the contest via the Peloton Australia Facebook page by October 16.
---
Want to be sure to never miss any Peloton news? Sign up for our newsletter and get all the latest Peloton updates & Peloton rumors sent directly to your inbox.