A new filing posted today with the court systems states that Daniel McKenna & Peloton are requesting to withdraw & dismiss the wrongful termination lawsuit Daniel McKenna filed against Peloton & Jen Cotter "with prejudice". This means the same claim can not be brought against Peloton again by Daniel.
Update – Shortly after the lawsuit dismissal was filed, all of Daniel McKenna's classes were removed from the Peloton platform.
Peloton's Senior Vice President of Global Communications, Ben Boyd, shared the following statement about the case:
"Peloton is pleased to report Daniel McKenna withdrew and dismissed his lawsuit against Peloton and Jen Cotter, with prejudice, earlier today, Friday, December 2, 2022. We were extremely saddened and surprised by the original news of the filing. To be clear – Peloton and Jen vehemently denied, and intended to vigorously defend against, the allegations. Fortunately, there will be no need for that. Peloton's focus continues to be empowering our Members to be the best version of themselves anywhere, anytime."
The filing submitted today to the courts was short & simple. The official filing said:
IT IS HEREBY STIPULATED AND AGREED, by and between the undersigned attorneys for Plaintiff Daniel Patrick McKenna and Defendants Peloton Interactive, Inc., and Jennifer Cotter, that pursuant to CPLR § 3217(a)(2), all of Plaintiff's claims against Defendants are hereby withdrawn, dismissed, and discontinued with prejudice and without costs or attorneys' fees to any party. No party hereto is an infant or incompetent person for whom a committee or conservatee has been appointed, and no person not a party has an interest in the subject matter of the action. IT IS FURTHER STIPULATED AND AGREED that this document may be executed in counterparts and that facsimile and scanned signatures shall have the same force and effect as original signatures.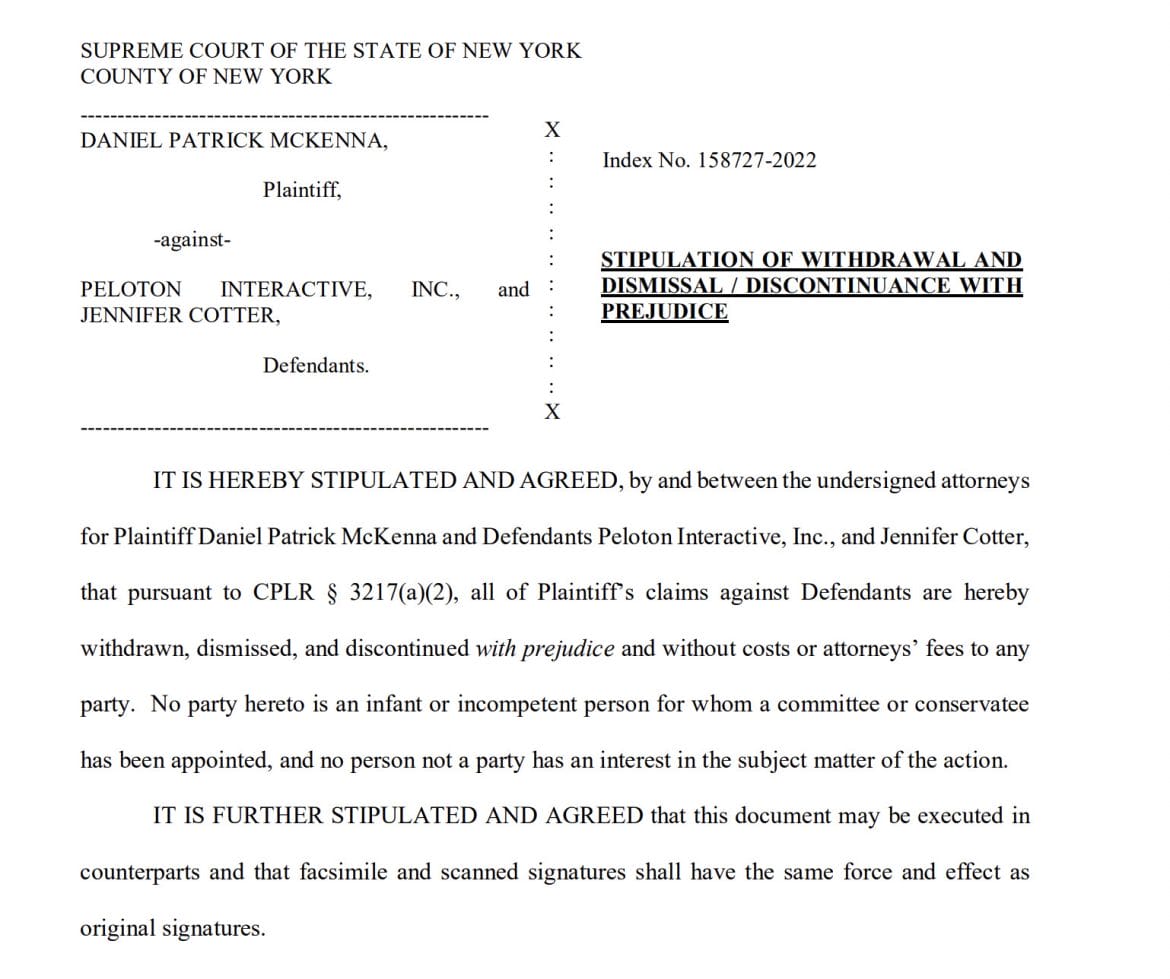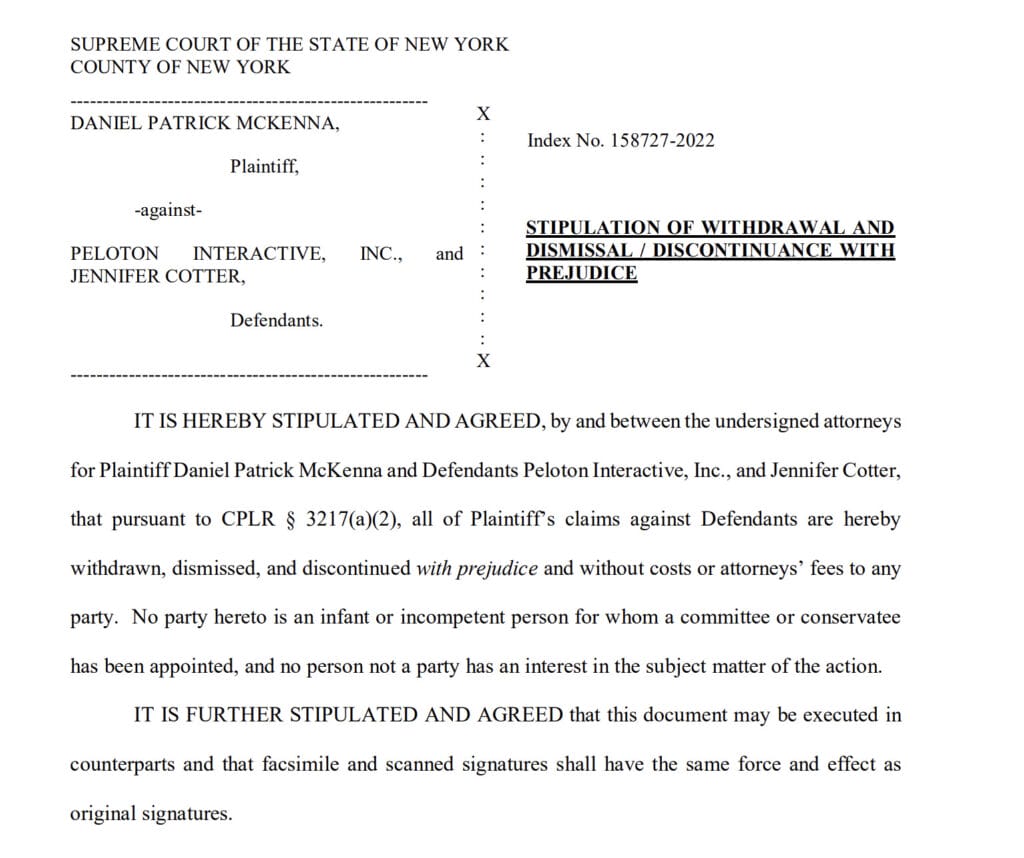 While not officially stated in the court filing, it sounds like this is a situation where McKenna and Peloton came to a settlement & agreement through ongoing negotiations – thus there is no need for the court case to continue – which is common in these types of lawsuits.
Daniel McKenna was announced to no longer be an instructor in October – and shortly after filed suit against Peloton. There were no updates until both parties agreed to extend the deadline until December 5th. This led us to this dismissal & withdrawal of the case just before the December 5th deadline.
---
Want to be sure to never miss any Peloton news? Sign up for our newsletter and get all the latest Peloton updates & Peloton rumors sent directly to your inbox.