Former Peloton instructor Daniel McKenna has launched his own fitness app with streamable classes. He shared the news via Instagram:
Todays the day. Freedom. Never thought I'd say these words but, IVE LAUNCHED MY OWN FITNESS APP!!! Click that link in bio baby and Let's Goooooo!!!
DB Classes
KB Workouts
Gym Workouts
Pull Up Programs
And so much more all available to everyone in the world now!
That's right, Ireland you can now workout with me too!
The work that has been put into this behind the scenes has been second to none! I want to thank all you amazing ladies,
Yeano who ye are thank you for stickin by me!!
This community is everything. All you #irishyanks were only going to get stronger from here!!
Thank you to everyone who has supported me over the last year! It's been a wild ride but that chapters now closed and we onto the next one! LFG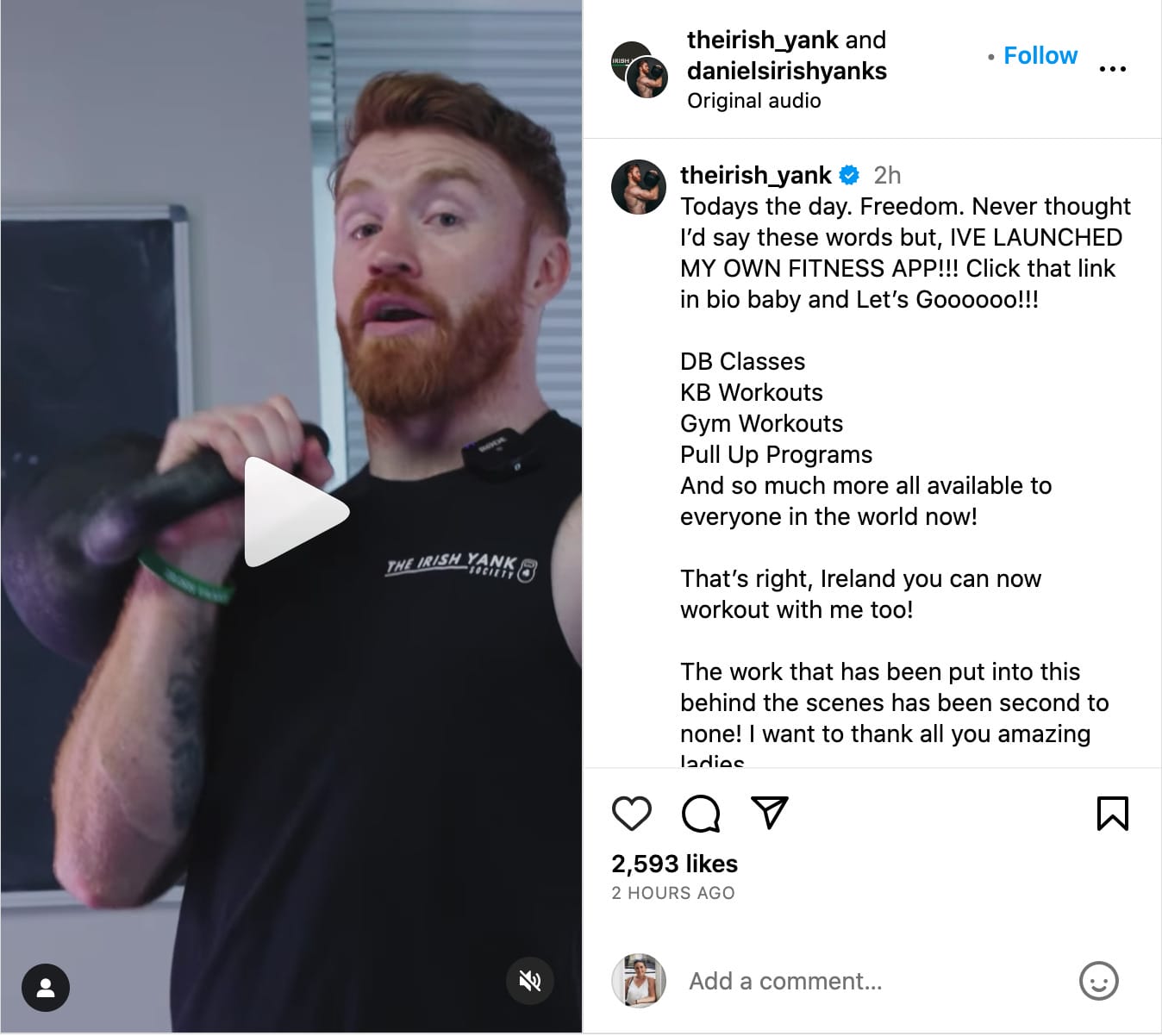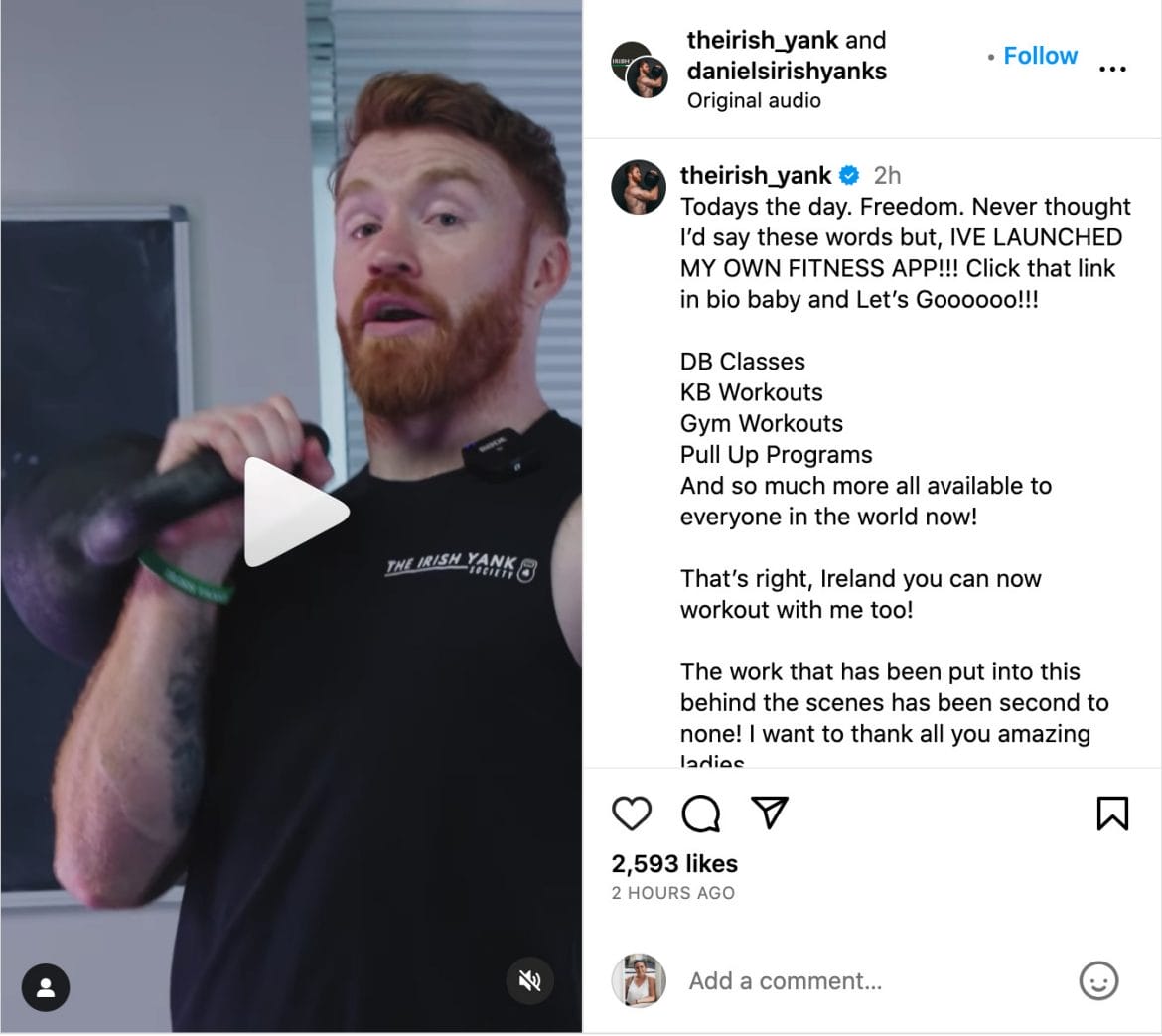 In terms of the timing and Daniel's word choice of "freedom" – it is likely that his non-compete agreement with Peloton expired on September 12, exactly one year after his termination from the company. He launched his new venture on September 13.
Daniel also published a press release with additional information about his new venture:
Today is the day! From leading your favorite NYC fitness classes to taking over your Peloton tablets, Daniel McKenna, AKA The Irish Yank, has finally launched The Irish Yank Fitness App!
Celebrity fitness trainer, former strength and tread instructor at Peloton, and founder of the Irish Yank Society is bringing his beloved strength-focused workouts (and accent! 🇮🇪) to the masses with the launch of The Irish Yank Fitness App, available today for $14.99/month. From weekly kettlebell and dumbbell classes to progressive programs, members will gain exclusive access to Daniel's training tips that have transformed the physiques of A-list actors, comedians, artists, and more.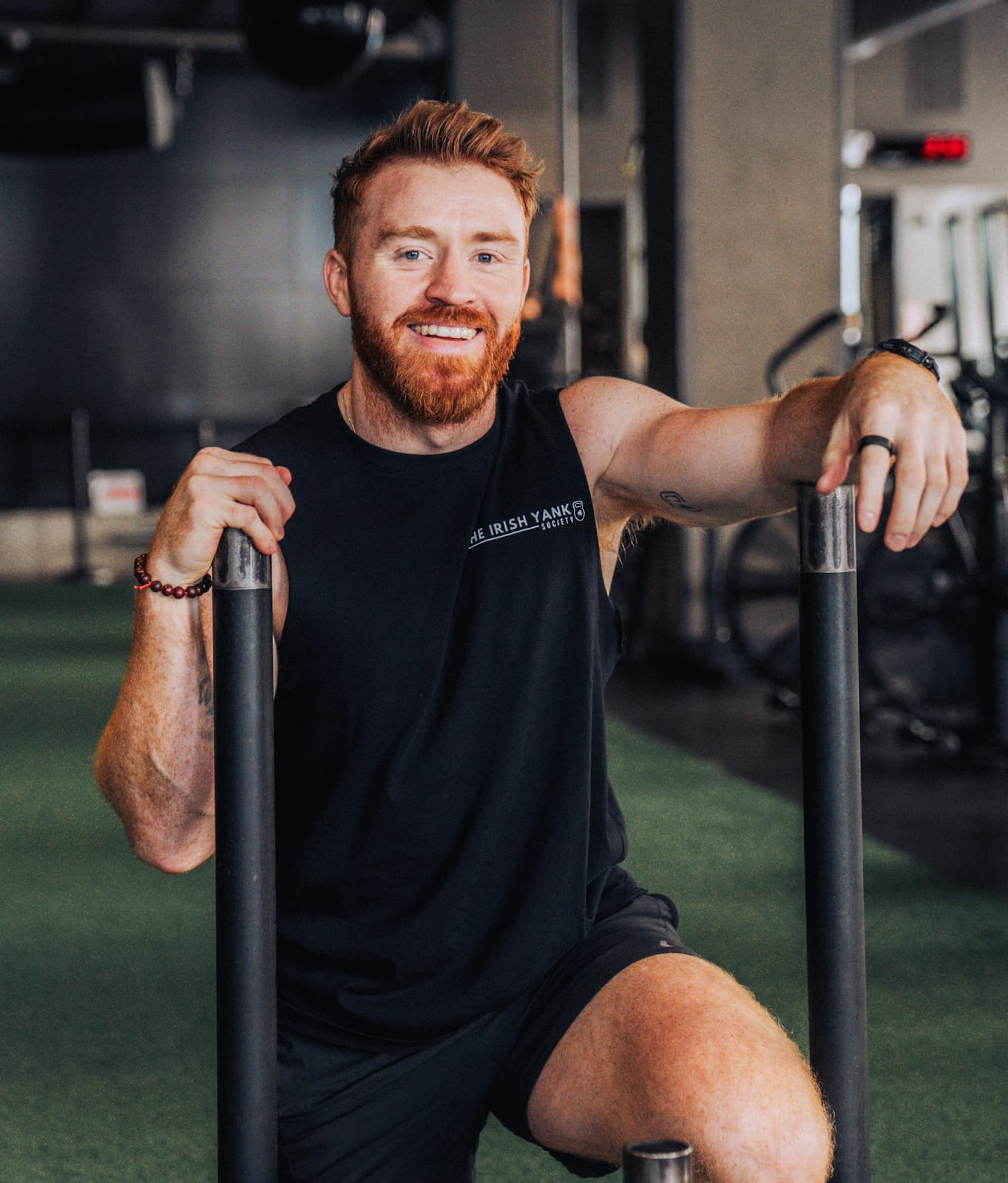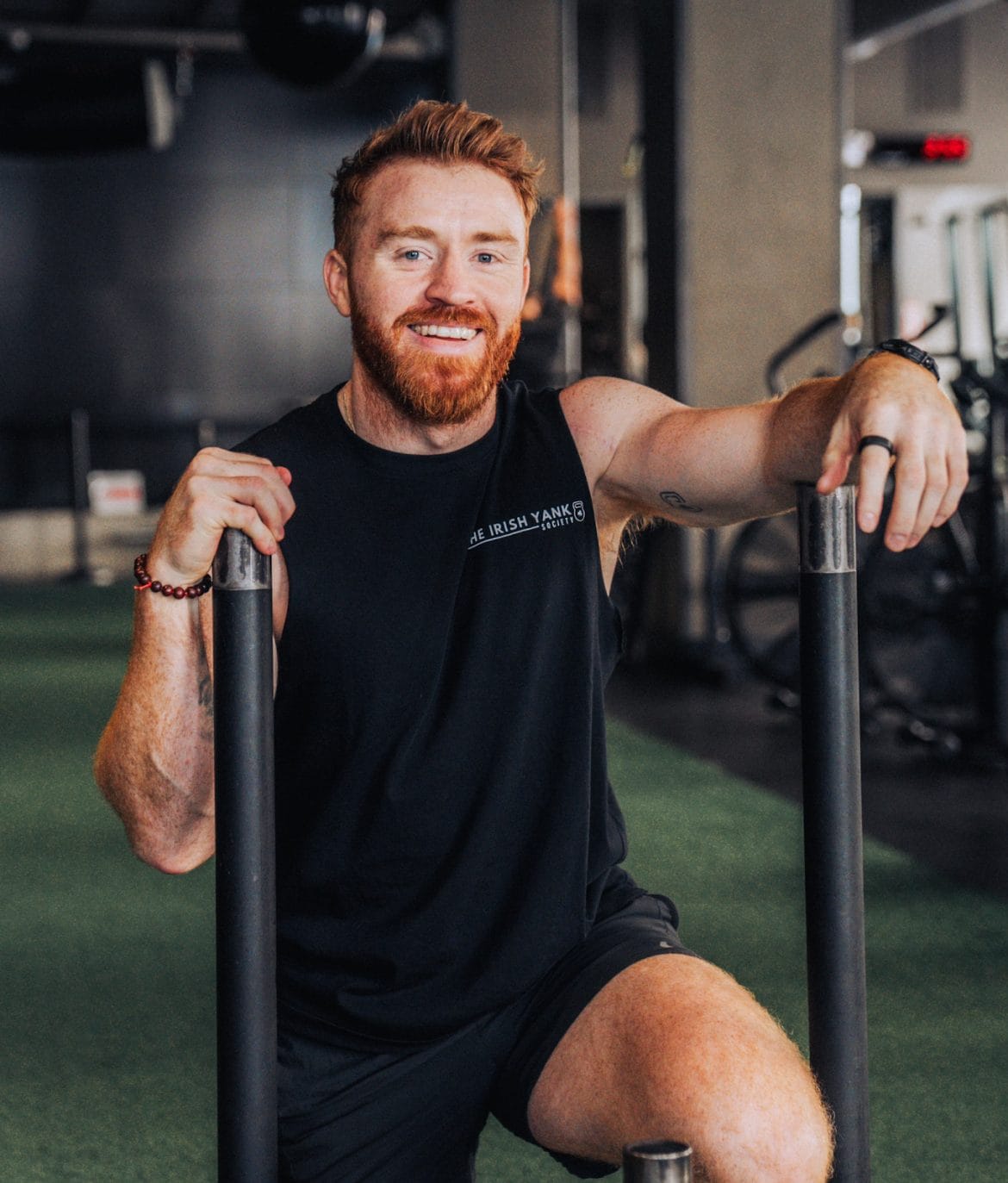 Those interested can sign up for a free 7-day trial via The Irish Yank Fitness website. A membership costs $14.99 per month, or $99.99 for one year – which is a nearly $80 discount off of the monthly price. According to the press release, the membership includes:
Exclusive access to weekly at-home and in-gym workout programs with demo videos
Easy-to-follow videos ranging from 5-minute mobility warm-ups to 30-minute dumbbell strength classes
New classes dropping every week
One-on-one interaction with Daniel to ask questions about your form, share your progress, and more!
Access to a like-minded community via the "Community" feature of the app to stay motivated and inspire one another
Progress tracking and workout logs to help you stay accountable
Nutrition made simple with grocery lists and tips for healthy eating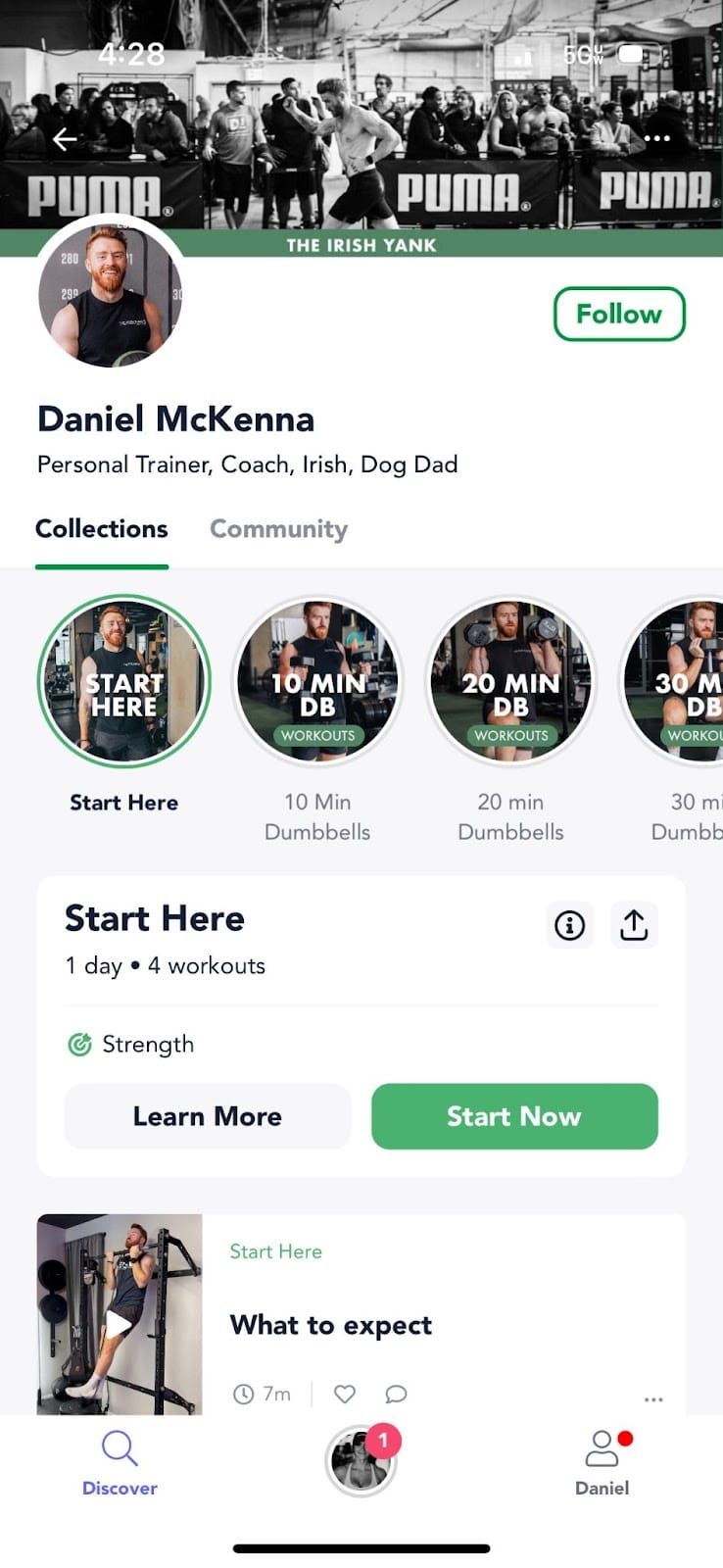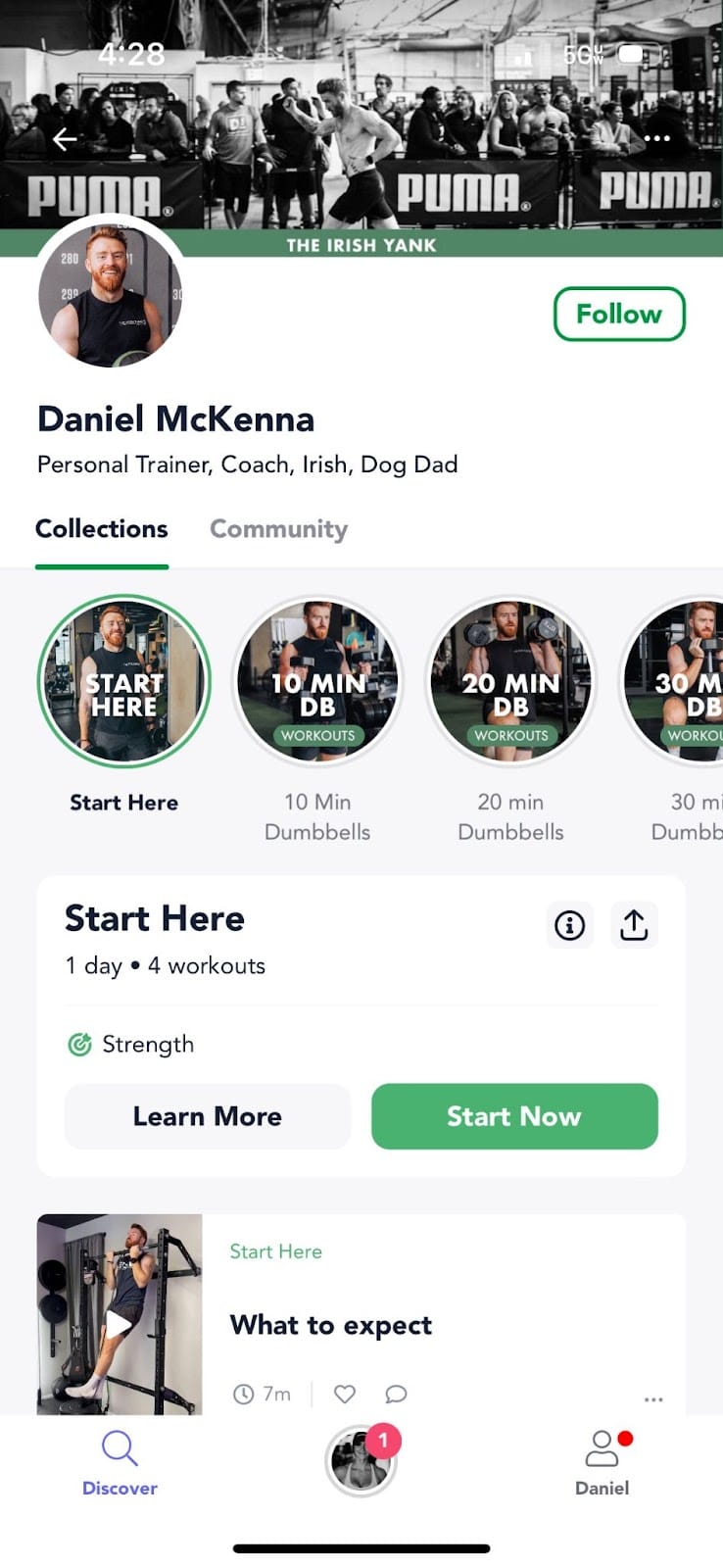 The app is built using Playbook, a health, fitness, and wellness platform that essentially allows individuals within the space to create their own app experience. This means that by signing up for Daniel's new app, members will also gain access to every other coach within the app. So when signing up, you're essentially signing up for Playbook – not solely Daniel's app. In addition, those who already have a membership with Playbook will now gain access to Daniel's content.
As a refresher, Daniel first joined the Peloton team in August of 2021. Just over one year later, Daniel was let go from the company – though the news was not shared with members until October 3, 2022. Shortly thereafter Daniel filed a lawsuit against Peloton alleging wrongful termination. Daniel eventually withdrew the suit on December 2, 2022, and his classes were then quickly removed from the Peloton platform.
You can find more information about Daniel's new business venture via The Irish Yank Fitness website.
---
Want to be sure to never miss any Peloton news? Sign up for our newsletter and get all the latest Peloton updates & Peloton rumors sent directly to your inbox.