Peloton is starting to roll out a change to the pace target levels offered on the Peloton Row, increasing the number available from six to ten. Like many other changes, this change appears to be slowly rolling out to owners of the devices – a release that could potentially take a few days.
Update – This appears to have gone live for all members on September 12th, 2023 after starting to launch on August 18th.
However, as it is rolling out, most members have reported seeing a new popup on their Row advertising the new change to them.
It says:
Pace Targets Update: Going from 6 to 10 Levels!


We've expanded our Pace Target Levels from 6 to 10. Here's what you can expect:
– More overlap between levels, allowing for a smoother progression.
– Narrowed ranges between Easy and Max for seamless transitions between intensities.
– Levels have been migrated to the closest level in the new set so there is no action needed on your part.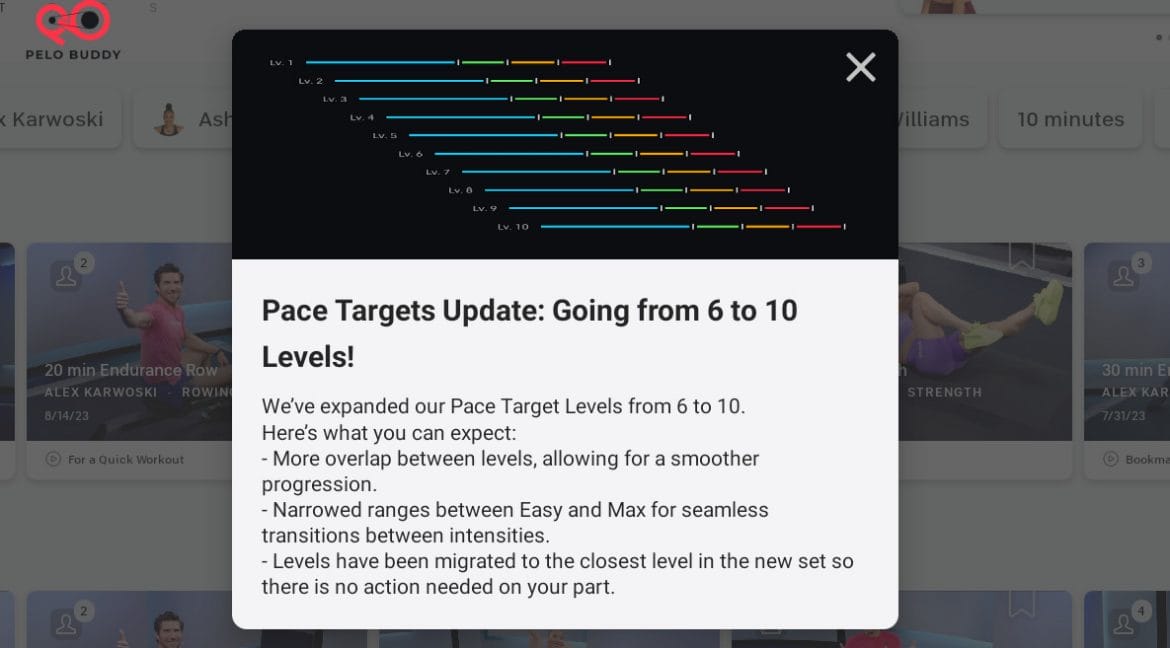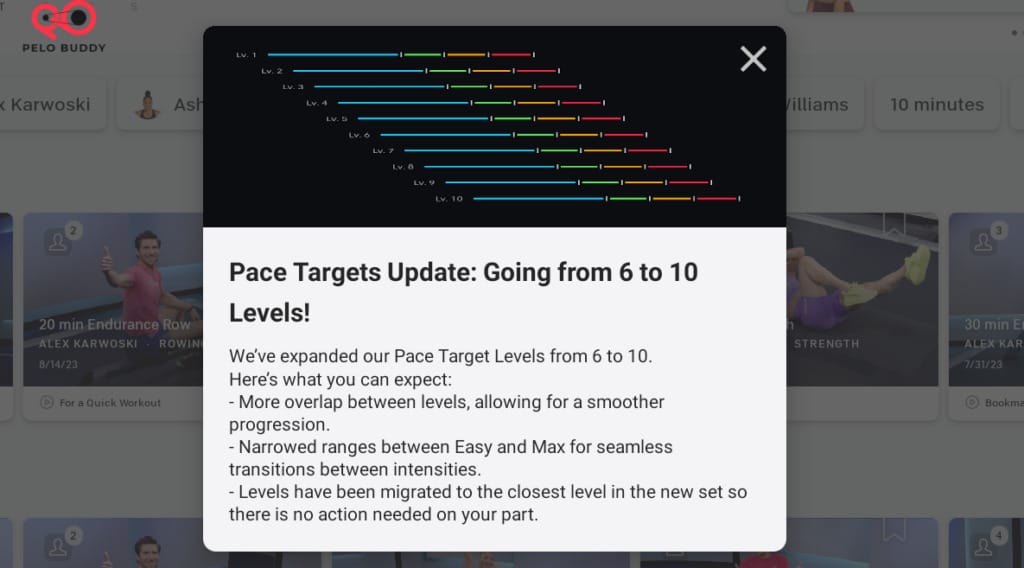 As a refresher, numerical paces are not called out in rowing classes the way they are in cycling and running classes. Instead, the instructor indicates an effort level – recovery, easy, moderate, challenging, or max.
Depending upon what you've set your personal pace target level to, the Row will show you which pace range you should be aiming for. For example, in level 1 the "easy" range might be from 4:30-4:00 pace; while in level 2 the "easy" range is slightly faster and more challenging at a pace of 3:50-3:20.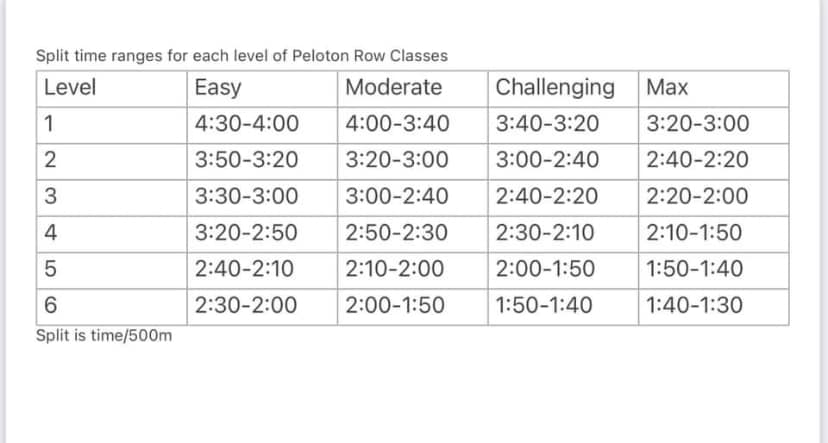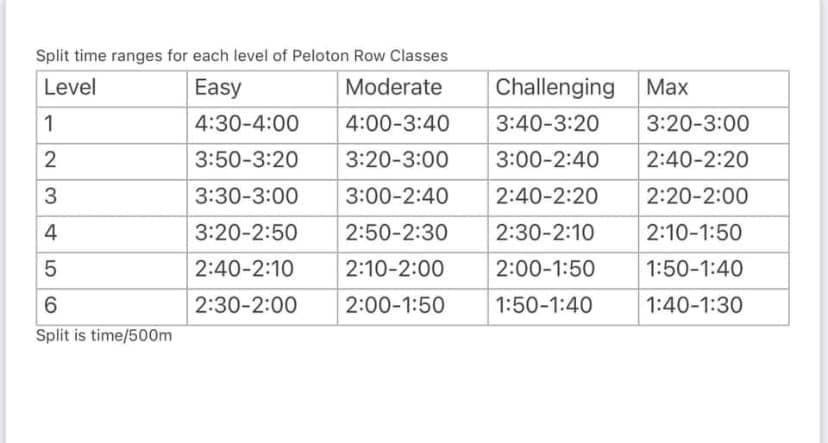 Until now, there have been six different levels to choose from. In particular, the increase from level 4 to level 5 was a fairly significant jump. With this change Peloton is trying to smooth out these transition between zones. This increase will also "provide members with a wider range of pace options that are more aligned with their skill set."
Peloton has updated their support page about rowing metrics with a new chart showing all the ranges for the new personal pace targets.


As this updates rolls out, members might see the personal pace target they previously picked will be automatically updated. As it says in the popup, Peloton is automatically migrating people to the closest corresponding level in the new set of 10.
Peloton also had this to say about the updates:
"We are scaling our pace targets offering from 6, to 10 levels, as well as updating how we calculate our pace ranges. By providing more pace levels, as well as having more overlap between the levels, we believe we can provide pace options that meet members wherever they are in their rowing journey, as well as grow with our members as they advance."
Earlier this summer Peloton unveiled a new statistic for members who own a Peloton Row. Called "Pace Target Distribution," it provides a visual indicator of your adherence to the provided pace targets throughout any given class.
If you own a Peloton Row, will an increased number of available pace levels be helpful to you?
---
Want to be sure to never miss any Peloton news? Sign up for our newsletter and get all the latest Peloton updates & Peloton rumors sent directly to your inbox.