Peloton has officially launched a new "class stacking" feature today – allowing members to combine classes together and take them back to back to back. In effect, this now allows Peloton members to create a custom playlist of workouts & Peloton classes, stringing together as many classes as you want. This has long been one of the most requested features in the weekly Feature Friday request threads in the Official Peloton Member Page. We first reported this feature was launching soon in December. All features seem to be available via the Bike, Tread, and Web. At this time, Android & iOS seem to have the ability to take stacks that were first built via the web or a bike or tread – however they can't be modified via the Peloton app.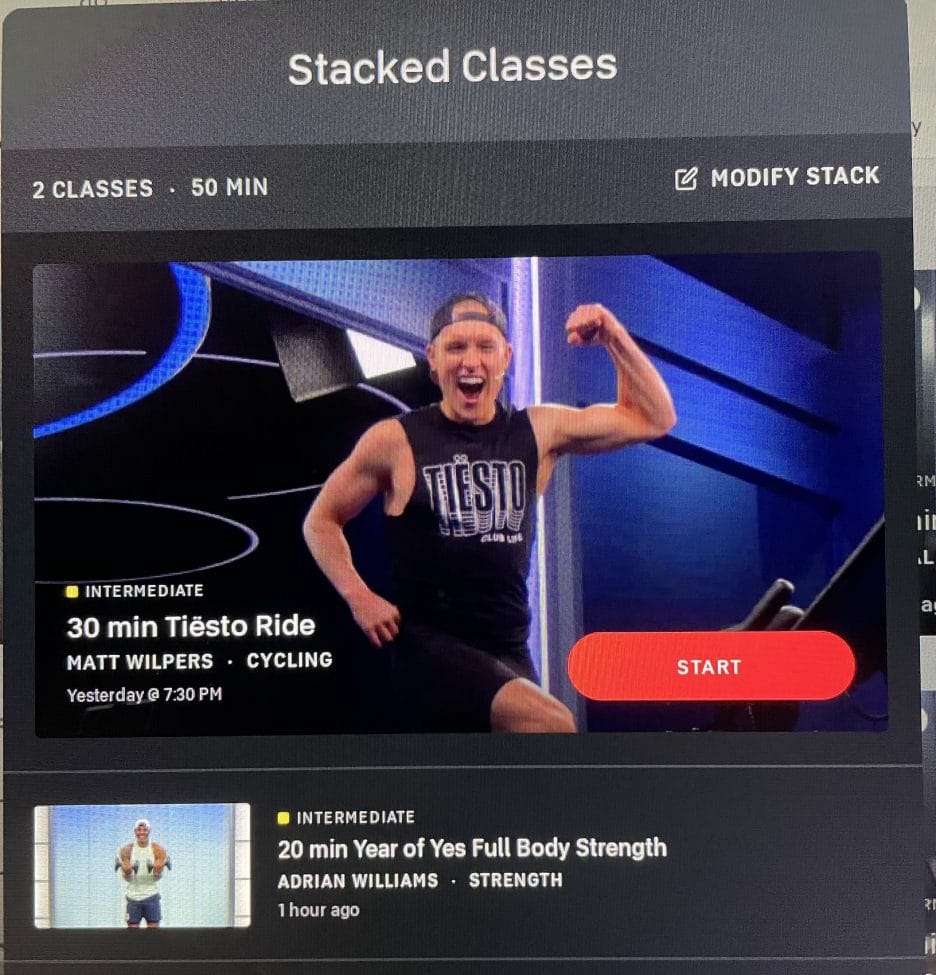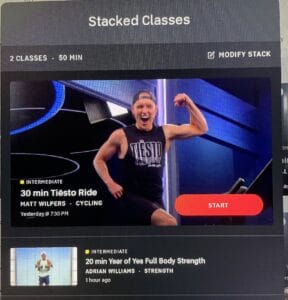 How does Peloton Class Stacking Work? (How do I combine multiple Peloton classes together and take them back to back?)
You have a couple of options to start your class stack. You may long click on a thumbnail picture when browsing classes to add a class to your stack. Alternatively, there is a new icon when viewing class details to add classes to a stack as well. Finally, at the bottom right of your home screen there is a new class stack icon that will launch a popup for your class stack. From the class stack page, you can browse through the on-demand library to pick classes to add to your stack. The class stack page also allows you to manage the order of your stack, moving items around. You may add and remove classes from your stack here as well.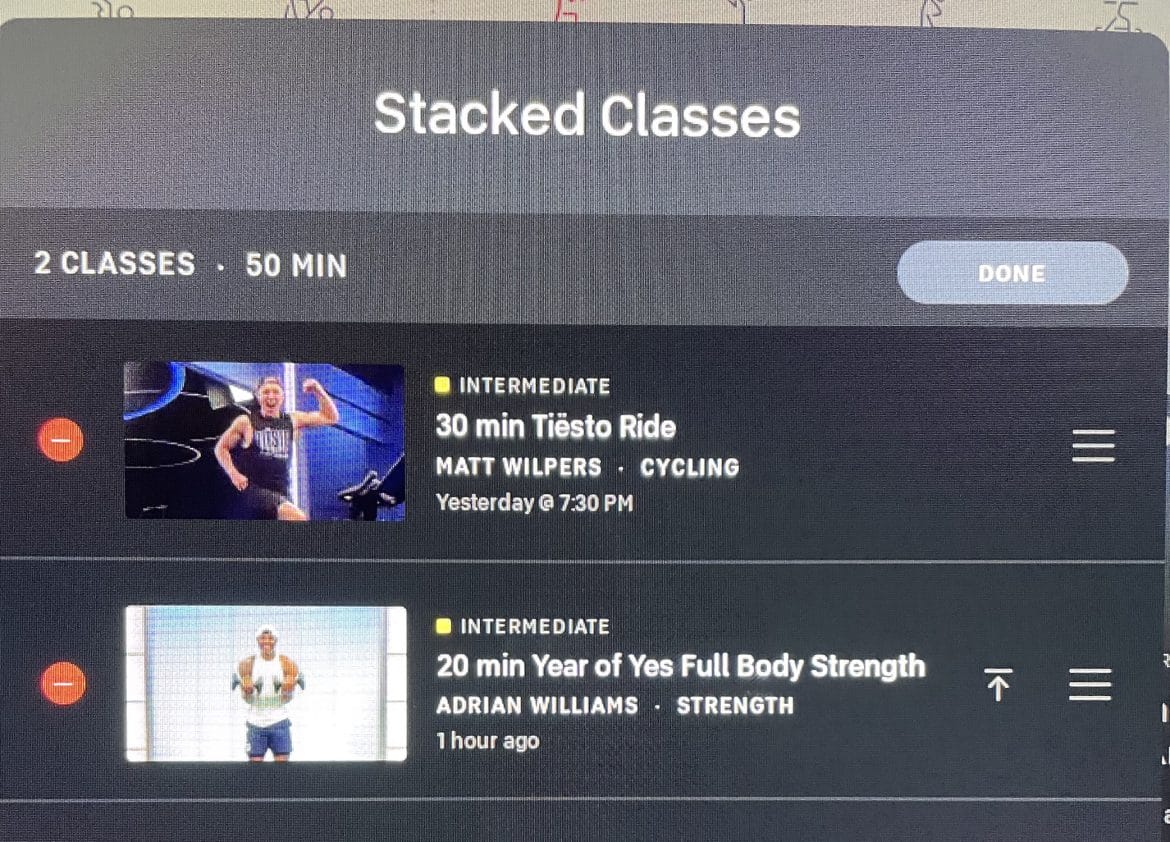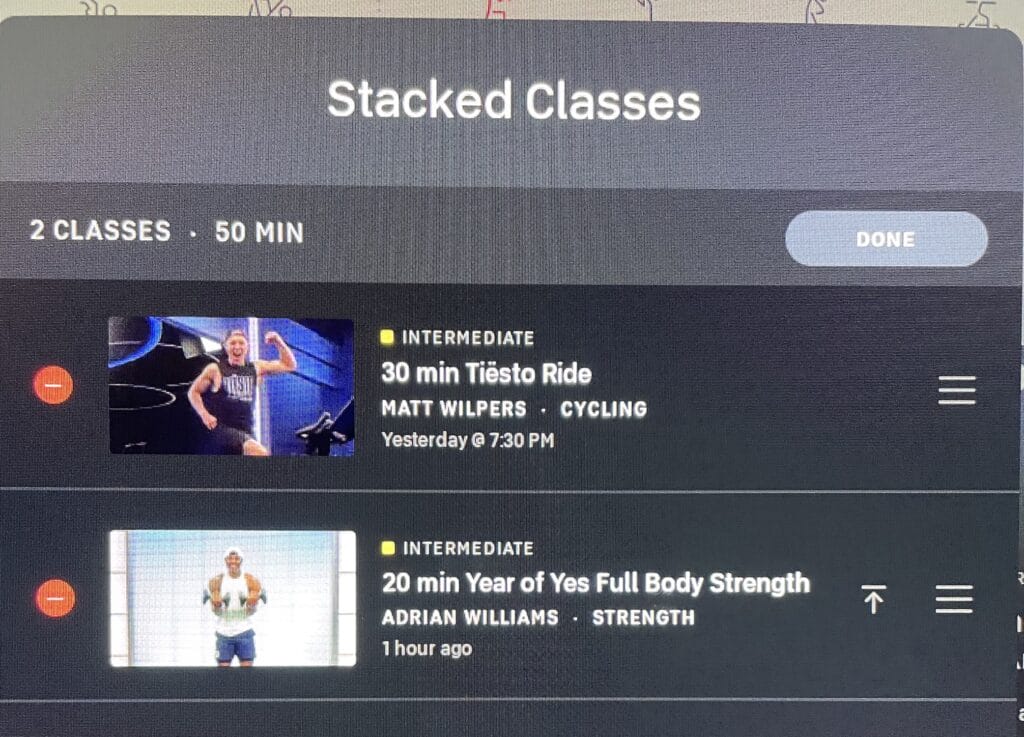 To begin a stack, simply open up the class stack icon at the bottom right of the home page. There will be an icon to "Start Stack". You'll start your first class like normal. When the first class ends, you have the usual class finish screen. However, in the icons at the top of the screen (where you see options for rate class, etc), there is a new option for "Continue Stack".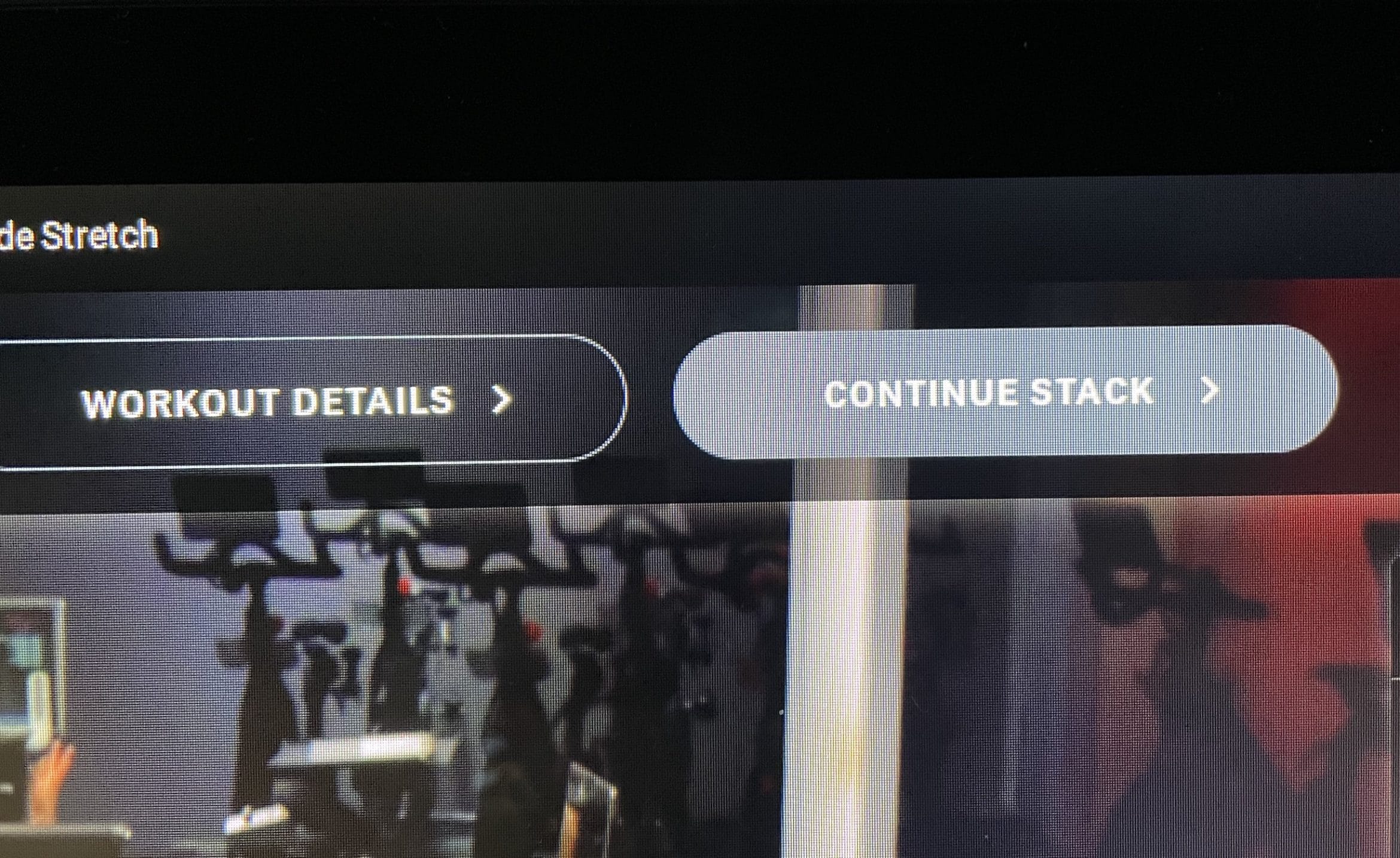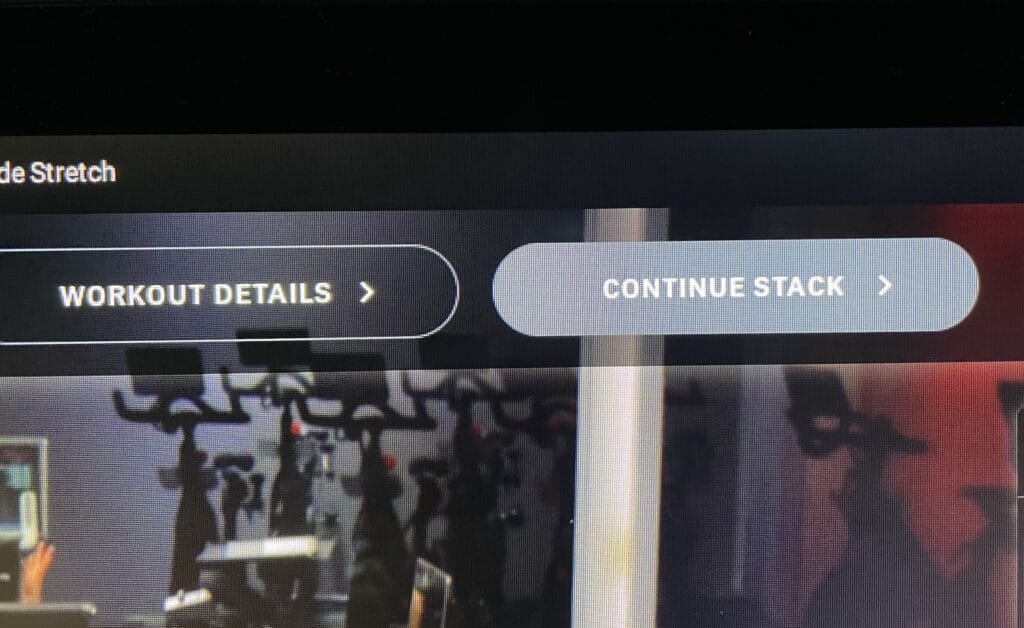 Click that and you'll get a new popup with a few options. Your 3 options are
"Start", which takes you immediately into the next class of your stack
"Maybe Later", which ends your stack of workouts if you need to end early for whatever reason
"Modify Stack", which lets you swap another workout in place of what should have been next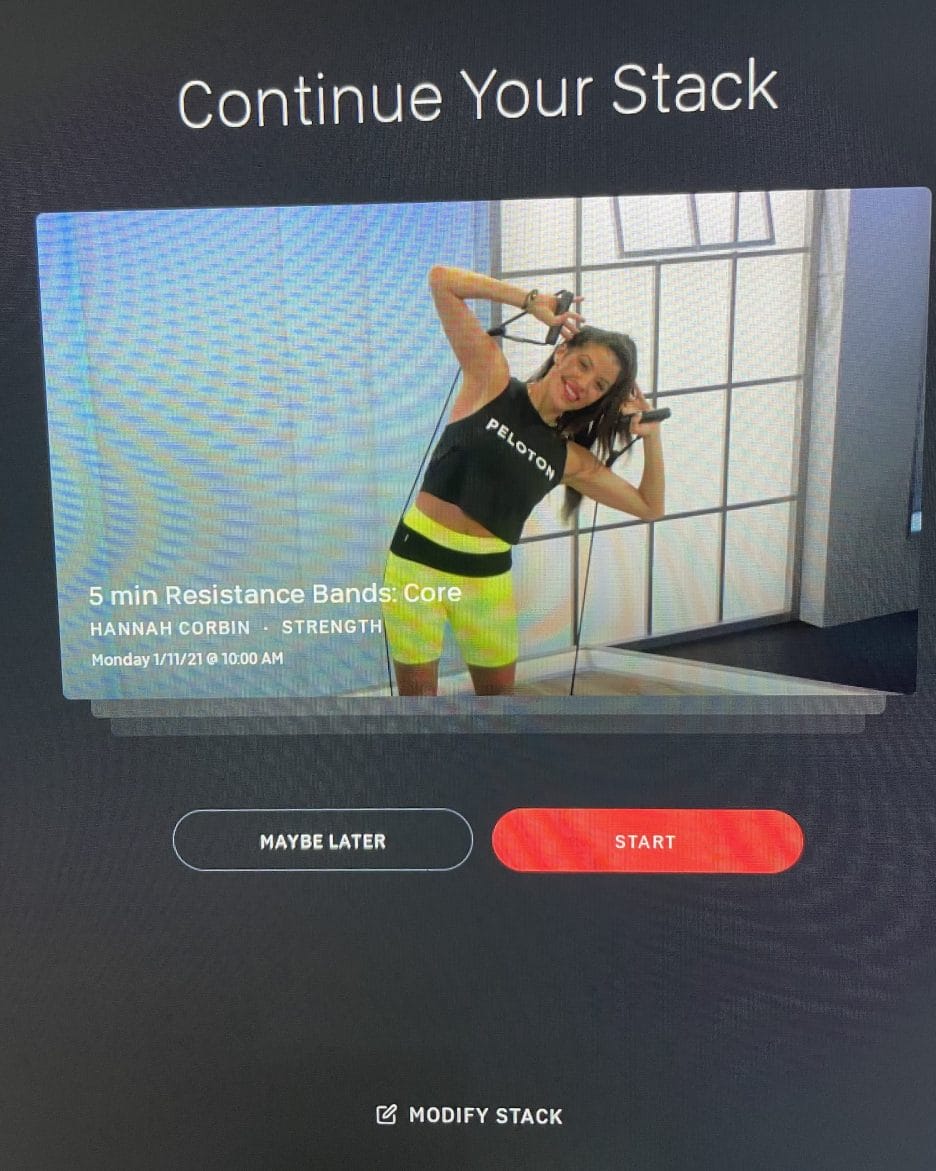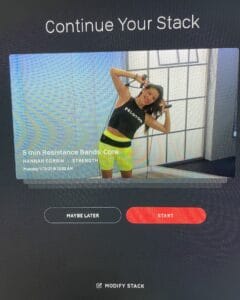 When your class stack is complete, you can see the whole list of classes saved in the Peloton app. At this time, there doesn't appear to be anything in the app denoting the classes were taken as part of a stack, and the stats are saved as separate classes. Note that once your stack is completed, it is automatically removed – leaving you with a clean slate to create your next stack. As you complete individual classes within your stack, they get removed one at a time. So if you have a 5 class stack, and stop after your second class, you'll find that the first two classes are removed from your stack, leaving you left with a 3 class stack.
FAQs about Peloton Class Stacking
Is class stacking available for both the Peloton Bike & Tread? – Yes!
Can I use Peloton's class stacking to take a live class immediately followed by an on-demand cooldown or other on-demand ride? – No, at this time class stacking only appears to work with on-demand classes.
Can I combine any class type? I.e. A Reset Cycling followed by a Reset Yoga Flow? – Yes, you can combine classes of any type
Is Class Stacking available on the Peloton App (iPhone & Android)? Yes, and no. Class stacks can only be built, and modified, from a Bike, Tread, or the main Peloton website. However, once a Peloton Stack is built, you may then take the stack using either the Peloton iOS or Peloton Android app.
Is there a limit to how many classes I can include in one class stack? – We are looking into this.
Can I have multiple class stacks saved? – No. It appears at this time you are only able to have one stack.
Can I name, or rename, my class stacks? – No. Since there is only one stack, there isn't an ability to name (or rename) stacks. If/when the ability to add multiple stacks is created, it's possible this feature will be added.
Am I able to share my class stack with friends? – There does not appear to be any sort of sharing feature built into this at this time.
Can I add, remove, or reorder classes to my stack after I make it? – Yes – you are able to do all of these things. When you go to your stack page, there is an option to edit it. From there you can move classes around in order, swap them out, remove them all, or add new ones.
How will Class Stacking work with Peloton Sessions when it returns? – We would expect these two features will not work together initially, but we will have to wait for the return of sessions to know for sure.
How do the classes show up in my history after I take them? – The classes show up in your workout history as separate classes – so as if you had manually taken them all back to back like normal.
If I stack two cycling classes back to back together, does that count as two rides towards my ride count, or one? – At this time, it appears the classes taken in a stack count as individual classes, so it would still count as two rides.
Can I see other people on the leaderboard when using class stacking? – Yes. Unlike Sessions, where you only see people who are in your current session, Class Stacking doesn't create any sort of unique leaderboard. You see the leaderboard just like you normally would have in all of your classes as if you had taken them all separately.
Is there a limit to the number of classes in a Stack? – Peloton is limiting stacks to only having 10 classes.
Can I use stacks to plan my workouts for a week? Or build a daily calendar? – Unfortunately, since you can only have one stack, you can't build out class lists for every day in a week. However, after you finish one day, you can build the next, and so on.
Have other questions we haven't covered here? Let us know in the comments!
---
Want to be sure to never miss any Peloton news? Sign up for our newsletter and get all the latest Peloton updates & Peloton rumors sent directly to your inbox.