One of the key elements of Peloton On Tour – Peloton's five city tour acting as a replacement for Peloton Homecoming that is unfolding between July and December, 2023 – is the Leaderboard Awards. In this post we'll share the community members who won the awards and a little more about each of them.
The Leaderboard Awards are an opportunity for local Peloton members to be recognized by Peloton and the instructor team. Any Peloton user may nominate a Peloton member who lives in the specific metro area of the tour stop. The inaugural stop of Los Angeles held the first Leaderboard Awards of Peloton on Tour and eight members were recognized and celebrated.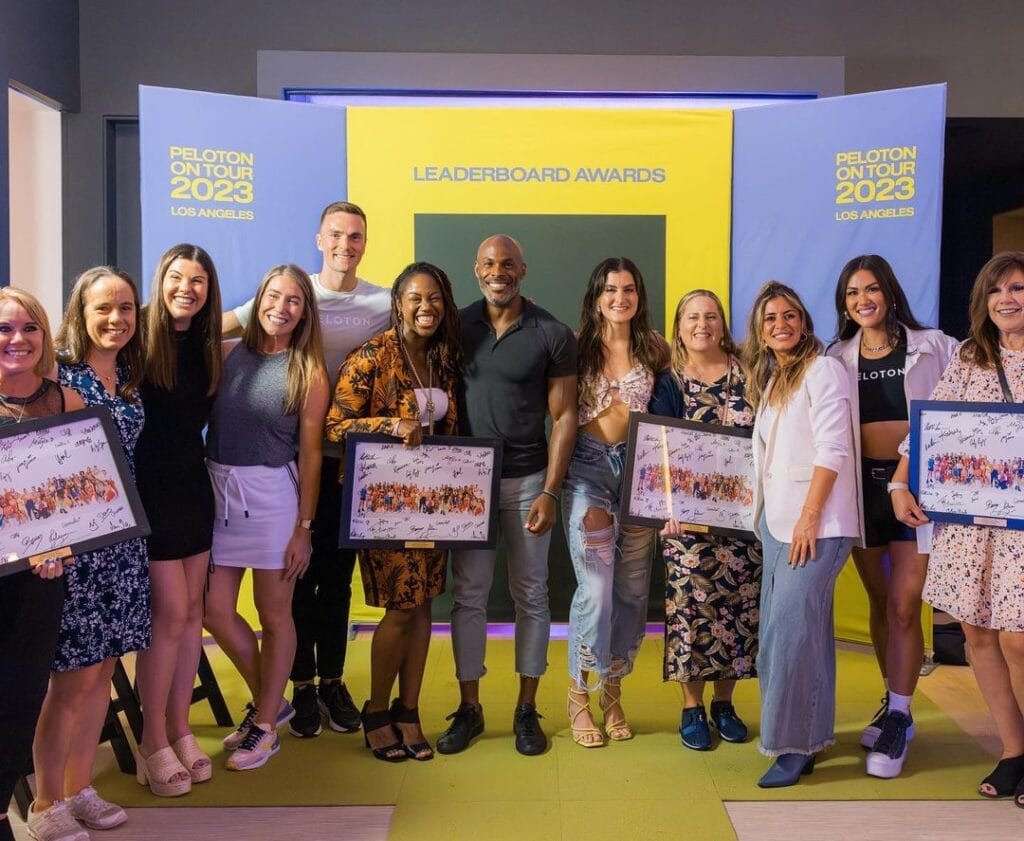 Members were able to submit nominations via a Peloton Qualtrics form up through June 26. There are five categories available to guide nominations and indicate criteria:
List of the Different Peloton Leaderboard Awards in 2023
Community Superstar– nominate a Member who has had an impact in creating a Peloton community within their community (i.e. your favorite group admin)
Social Media Star– nominate a Member who consistently and positively engages with our Peloton community via social
Friend of Fitness – nominate a Member who has brought a friend or several friends into the Peloton family with positive results
Champ of the Comeback– nominate a Member who has overcome a difficult time or experienced dip in engagement who has successfully made a comeback
Wild Card – know someone who is a Peloton star, but doesn't quite fit in these categories? Nominate them anyway!
Peloton published a highlight reel to Instagram, with clips from the ceremony:
Core memories were made at our FIRST ever Peloton on Tour Leaderboard Awards 🫶🏼 We loved celebrating our members in the LA area 🌴 Thank you for sharing your story with us!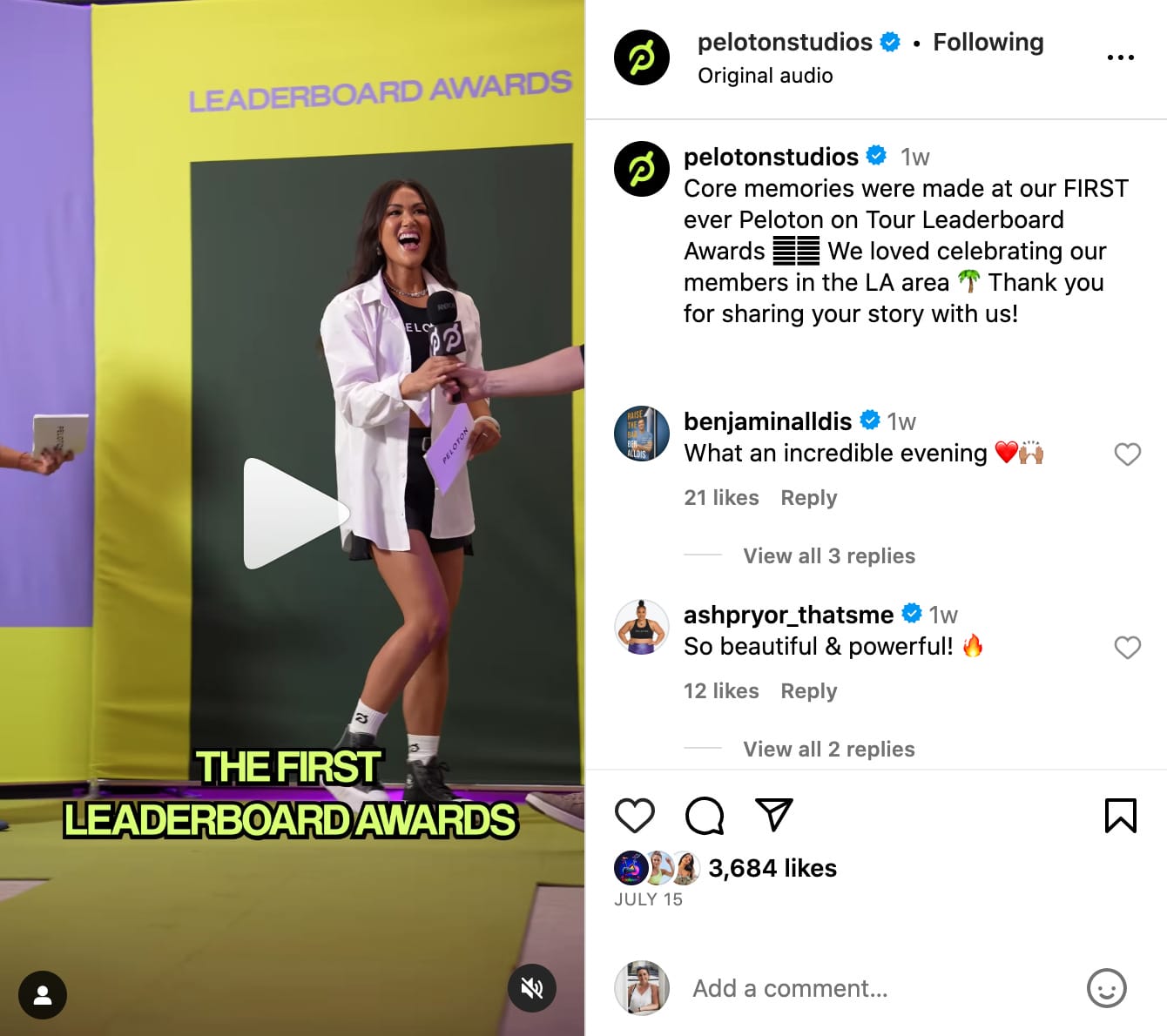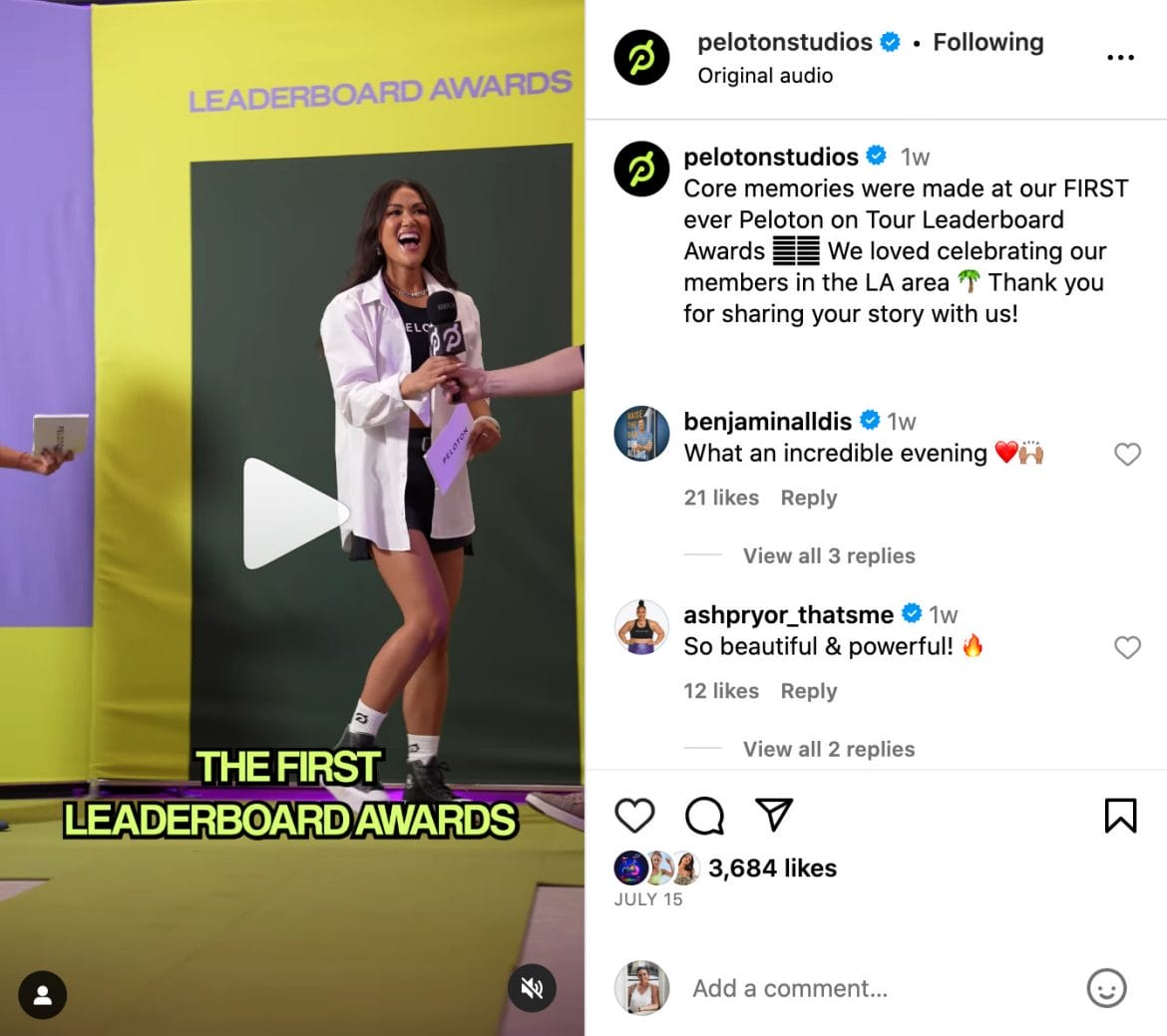 We wanted to know more about the Los Angeles Leaderboard Awardees, and thought you might too! We reached out to all the winners of the leaderboards awards, and all of them were gracious enough to let us share their story with our community.
Winners of the Peloton Leaderboard Awards in Los Angeles Peloton On Tour
Champ of the Comeback Peloton Leaderboard Award Winners in Los Angeles
The first awardee is Kristi Galarneau, and she won a Champ of the Comeback award. In 2017 Kristi's then 13-year old daughter was diagnosed with bone cancer. She underwent 18 rounds of chemotherapy, had a major surgery to preserve her leg, and spent 15 months in a wheelchair. Kristi explains that she was simply in survival mode for the following three years. In January of 2021 she vowed to "find herself and her smile again," and one of the ways she did this was to ride for at least 30 minutes every day. At first she was riding on the app, but in October 2022 purchased her own Peloton Bike. She did her first 100 mile ride this past March, and has completed another eight since then. She has now surpassed more than 1800 rides, and feels that she is a new person. Kristi says, "My daughter's cancer broke me. My Peloton helped me put the pieces back together."
You can find Kristi on the leaderboard at #Four4me, or on Instagram at @_she_flies_with_her_own_wings_.
Friend of Fitness Peloton Leaderboard Award Winners in Los Angeles
The next awardee is Shannon Sims, who was given a Friend of Fitness award. Shannon was nominated by her niece, who says that Shannon helped raise her along with having three kids of her own. When her niece was struggling with postpartum depression, Shannon generously gifted her a Bike+, which she credits with saving her mental health and changing her life for the better. Shannon has a 285 week streak of her own going, and they encourage one another from opposite ends of the country. Shannon has focused on giving back to others throughout her entire life – whether by volunteering at church, driving cancer patients to chemotherapy appointments, or going above and beyond for her family and friends.
You can find Shannon on the leaderboard at #MamaHoo, or on Instagram at @shannon_sims.
Social Media Star Peloton Leaderboard Award Winners in Los Angeles
The next awardee is Jess Menardy, who was recognized with a Social Media Star award. Jess was nominated by her community for creating a page that makes everyone feel seen and understood, without fear of judgment. She deeply appreciates the work that goes into creating Peloton's classes – curating plans, playlists, and movements – and wants to do her part to ensure that hard work never goes unnoticed. Jess shares her daily workouts on her platform and encourages everyone to get out there and move. She not only reminds people to move their bodies, but also to be kind to one another. She is also a huge champion of Black-owned small businesses and uses her voice to highlight others.
You can find Jess on the leaderboard at #JDMenardy, or on Instagram at @JessMenardy.
The next awardee is Nancy Andersen Hamilton, who also received the Social Media Star award. Nancy hosts PELOTALK, a social media account of workouts and class suggestions, a celebration of all things Peloton, and a deep dive podcast with members from the Peloton community. She has a knack for finding unique and fun individuals who are passionate about their fitness, and enjoys getting to know them in real life. Nancy loves podcasts and wanted to create something one-of-a-kind for the Peloton community.
You can find Nancy on the leaderboard at #NANNYHAMMY, or on Instagram at @PeloTalkShow.
Community Superstar Peloton Leaderboard Award Winners in Los Angeles
The next awardee is Celestine Rojas, who received a Community Superstar award. Celestine is one of the founders and a current administrator of #MilaMafia, the group dedicated to instructor Camila Ramón. Celestine is extremely creative and provides beautiful graphics for the community, such as class reminders, selfie collages, Reels, challenges, and GIFs. Celestine is particularly committed to promoting Peloton's Spanish language content. She is known for creating Reels translating Spanish-language content into English, in an effort to promote Peloton's Spanish-language content with non-Spanish speakers. Celestine goes above and beyond to ensure that the #MilaMafia provides support to its community.
You can find Celestine on the leaderboard at #Celestine_, or on Instagram at @Celestineoninsta.
The next awardee is Catherine Sullivan, who also was recognized with a Community Superstar award. Catherine is an active member of many Peloton groups, but particularly #BensArmy. She is the mother of three young children, a practicing psychiatrist, and can often be found at the top of the leaderboard. She is a natural leader, always sending high-fives, jumping on rides to push and encourage others, and leading group rides. Catherine frequently comments on social media posts, always knowing the right words depending on the situation. Her nominators describe her as inspiring, motivating, empowering, and a friend to all.
You can find Catherine on the leaderboard at #PsychMomMD, or on Instagram at @psychmommd.
Wild Card Peloton Leaderboard Award Winners in Los Angeles
The next awardee is Bridget Gramling, who was recognized with the Wild Card award. Bridget participates in as many classes and modalities as she can, frequently switching things up and never hesitating to try something new. She especially enjoys outdoor runs, HIIT cardio, cycling, strength, yoga, Tread Bootcamp, Barre, and meditation. Bridget feels tremendously grateful to have received a Leaderboard Award and hopes that others have a chance to experience the celebration as well.
You can find Bridget on the leaderboard at #BikerBridge98, or on Instagram at @bridgetgramling.
There was one final winner who was not able to attend the award ceremonies – Ricky Levy. Ricky was nominated by his girlfriend, whom he met through Peloton during the Covid-19 pandemic. They met through the Peloton Singles Group Over 40.
You can find Ricky on the leaderboard at #hookem96, or on Instagram at @hookem96_peloton.
We're tremendously grateful to the Los Angeles awardees for sharing their stories with us.
Each awardee was given a number of special gifts from Peloton: a Peloton Logo and Leaderboard Awards Blanket; a framed and signed photo with all of the Peloton instructors and a plaque that read "Peloton On Tour 2023 Leaderboard Award Winner"; and a mailed shipment of Peloton Apparel items.
Note that in Los Angeles the Leaderboard Awards were a private, invite-only event – however, in Atlanta the event has been opened up to anyone who is interested and was able to secure tickets.
Members in the Atlanta metro area who were interested in nominating a fellow Peloton member had until July 28 at 5:00 p.m. ET to do so.
Congratulations to the Los Angeles Leaderboard Award winners!
---
Want to be sure to never miss any Peloton news? Sign up for our newsletter and get all the latest Peloton updates & Peloton rumors sent directly to your inbox.