Update Peloton confirmed this acquisition in their 10-K form released on August 27th, 2021. The form stated that "In addition to the above acquisitions, on April 5, 2021 the Company acquired Latitude 32 Engineering LLC ("Latitude32″) for a purchase price of approximately $8.5 million, all of which was assigned to goodwill, which is fully deductible for tax purposes. Goodwill represents the future economic benefits expected to arise from other intangible assets acquired that do not qualify for separate recognition, including an experienced workforce that will help accelerate product development and go to market strategy, as well as expected future synergies."
Original Post
A new report from Bob Treemore on Twitter indicates that Peloton has likely acquired LATITUDE 32 Engineering – "A Consumer Electronic Company" who have extensive experience around wearables & fitness tracking devices. Their website describes them as follows:
Latitude 32 Engineering is a consumer electronics product development company that partners with customers ranging from aspiring entrepreneurs to global brands. L32e prides itself on a team of experienced engineers who have spent decades working at companies like Nokia, Motorola, Microsoft, and Apple. Drawing upon a foundational understanding of the component and integration intricacies for these technologies, Latitude 32 spearheads the design and development of any type of consumer electronic device.


Latitude 32's primary strength lies in the ability to successfully bring products to market. L32e works diligently to provide valuable insights to customers lacking experience in this arena as a trusted partner and advisor.
Latitude 32's website also shows several different focus areas that the company made products for, including:
Sport – Latitude 32 designs high impact product applications suited to withstand extreme environments in all kinds of sports
Wearables – Latitude 32 designs wearable devices that process and track important information happening both inside the human body and out in the connected world.
Fitness – Latitude 32 develops head-worn, wrist-worn, and hand-held fitness tracking devices that accurately measure biometric data.
Audio – Latitude 32 partners with customers to integrate audio and microphones technology that maximizes the sound capabilities of many different devices.
Accessories – Latitude 32's accessories create new dimensions for both virtual reality and augmented reality products, giving the user a more robust experience.
Bob was able to find a list showing the previous clients that Latitude 32 had worked with. This included Fitbit, GoPro, Intel, Nokia, Microsoft, Zune, Skullkandy, and more.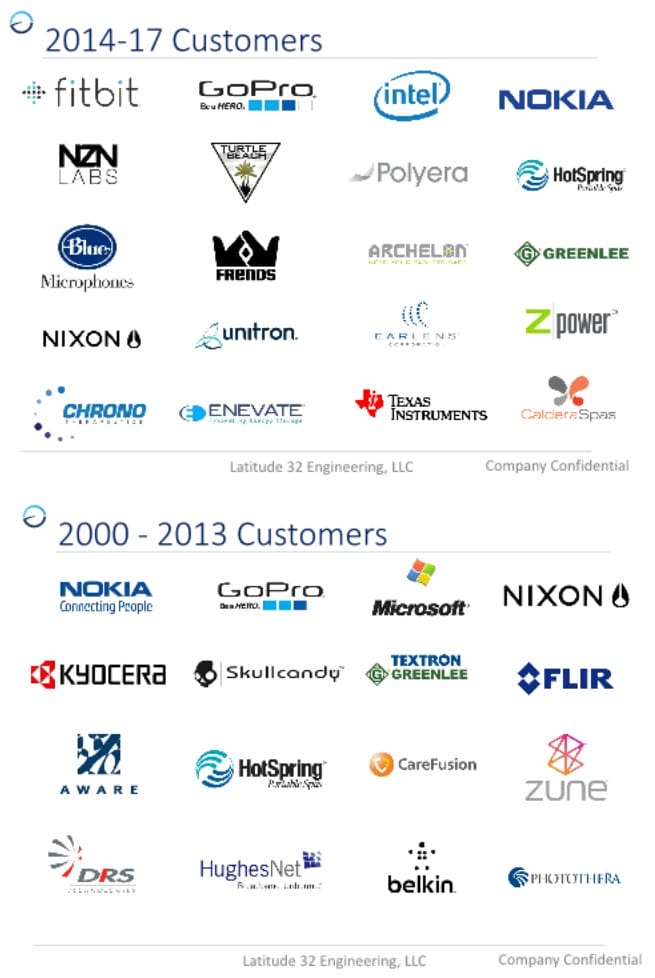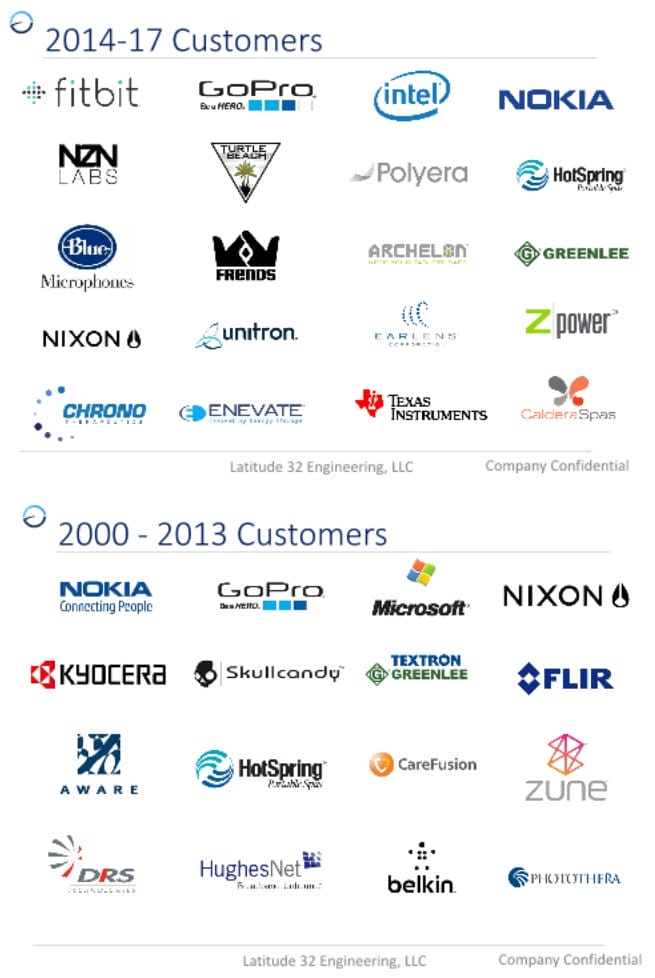 Some of the specific products they had worked on included the Fitbit Blaze, FitBit Alta, HD Hero 3 & 4, and more.
Additionally, Bob reports that prior to working at L Latitude 32, their employees had diverse backgrounds working at several consumer wearable companies, including Fossil Group, Fitbit , Sony, Quartus, Dialed Watch, Sonos, Nokia, Microsoft and Huawei.
If Peloton were to want to develop their own Peloton wearable of some sort, whether it was a Peloton watch, or Peloton Whoop competitor – it appears that Latitude 32's team has a lot of experience that could help – along with the previous acquisition Peloton made of Atlas Wearables.
Bob reports that prior to the rumored acquisition, Latitude 32 had somewhere between 20 – 35 employees, and had reported somewhere in the range of $4-6 million of revenue.
Similar to some of Peloton's previous acquisitions, the former employees LinkedIn profiles indicate a mass migration to Peloton. 17 of the former employees now report that they work for Peloton – including the President, Vice President, CTO & principal engineers. All 17 of those employees indicated on LinkedIn they joined Peloton exactly 2 months ago. Tim Wiley, former President at Latitude 32, is now Vice President of Hardware at Peloton. Jocelyn Lo, former VP at Latitude 32, is now Principal Engineering PM at Peloton. Russ Nixon, former CTO at Latitude 32, is now Director, Electronics Engineering at Peloton.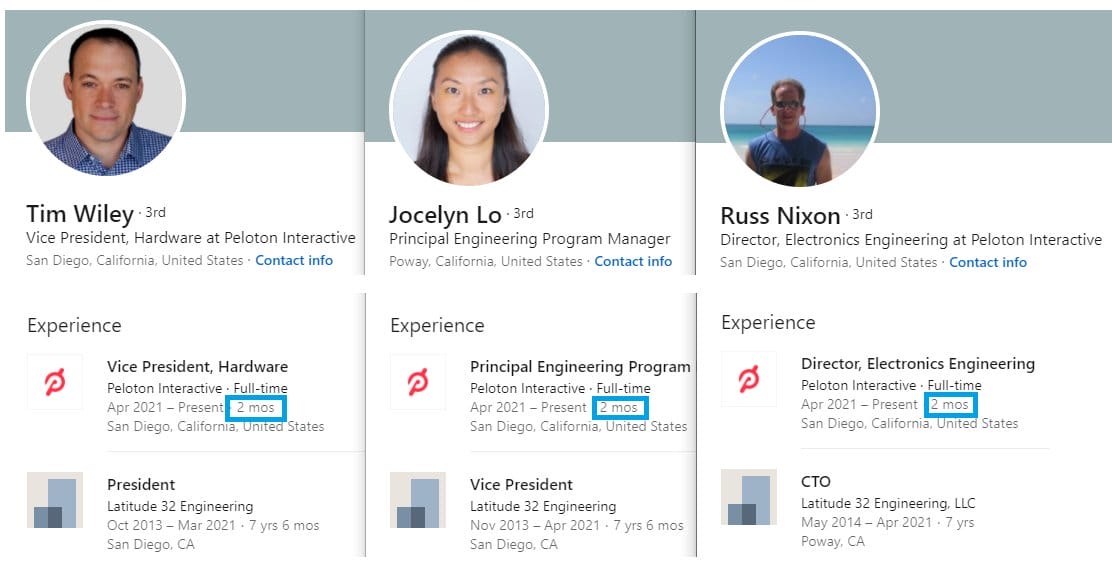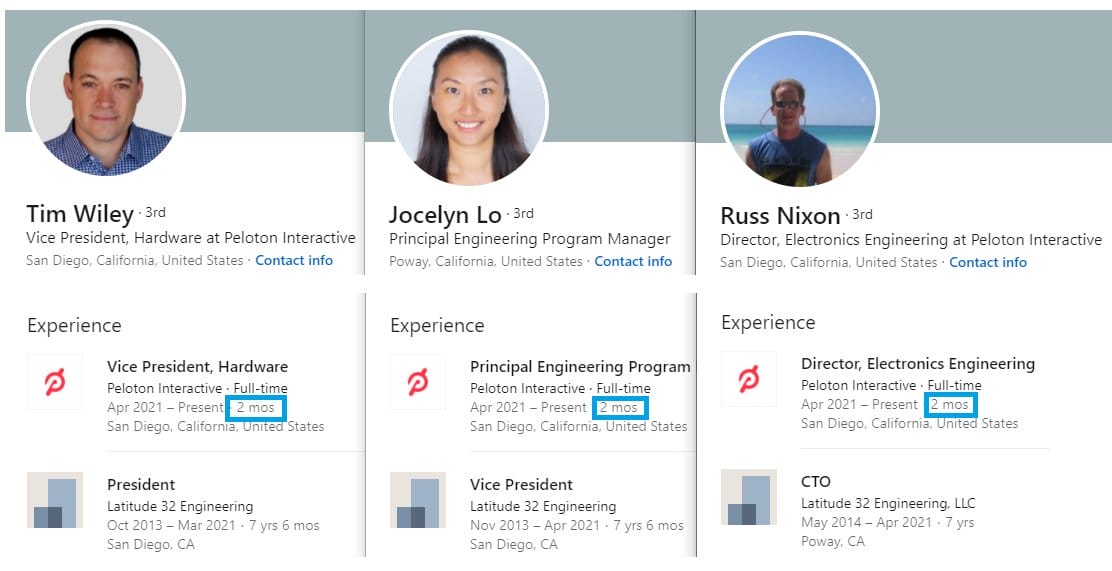 Peloton has been on an acquisition spree in recent months. The media has covered Peloton's acquisition for Precor for $420 million in depth. However, Peloton has made a number of smaller acquisitions as well – several of which Bob Treemore first broke the news of.
These acquisitions include Atlas Wearables (who made a smartwatch), Aiqudo (who create AI voice technology), and Otari Studio (maker of a smart / connected Yoga mat). Additionally, last fall Peloton acquired PeerFit – who work in the corporate wellness space.
You can see Bob's original report on this acquisition here.
---
Want to be sure to never miss any Peloton news? Sign up for our newsletter and get all the latest Peloton updates & Peloton rumors sent directly to your inbox.