Update – Bloomberg has now confirmed this acquisition, as well as our previous reports of Peerfit, Atlas Wearables, and Aiqudo
Hot on the heels of the news from last week that Peloton is rumored to have acquired Atlas Wearables last November, we have another acquisition to report. While this one isn't confirmed by Peloton, another source definitively confirms this acquisition happened [Update – Bloomberg has also just confirmed this as a third source].
We can report that Peloton acquired Otari Studio (creators of the Otari Mat) around December 2020.
Who is Otari Studio, and what was the Otari Mat? They marketed themselves as the the "World's Most Interactive Workout Mat", and you could "Stream Fitness & Yoga Classes from Top Instructors with Live AI Pose Feedback."
The Otari Mat was designed to have a HD screen, placed on a yoga/workout mat. A detachable arm extended from the monitor that held an AI camera – which would capture & analyze your form for each activity, and could also count your reps. The platform would feature both live & on-demand classes – but use the AI camera to provide feedback on your form in the coaches voice.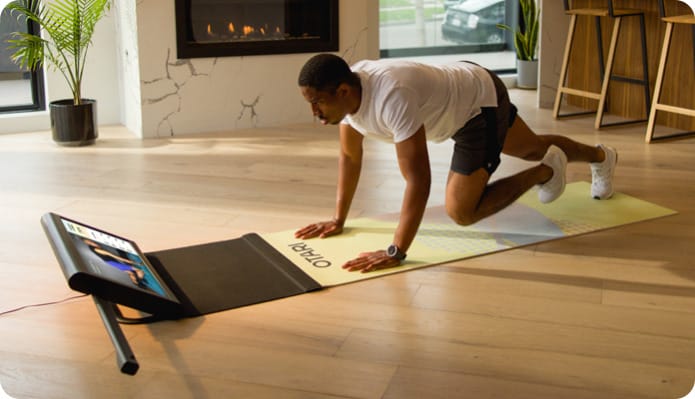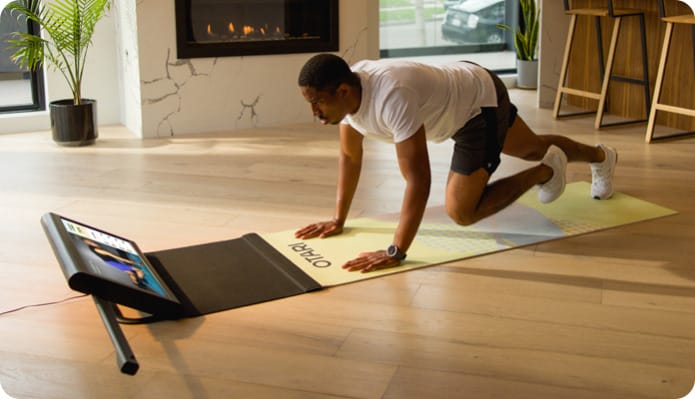 This project was launched via Indiegogo in May of 2020, and ended up raising nearly $100,000 from 230+ backers – enough to successfully fund the project. Backers never received a product as the timeline for the project kept slipping as can sometimes happen with crowd funded projects. However, in December of 2020, backers received a notice informing them the project was shutting down, and everyone would be getting a refund:
I wanted to share some bittersweet news. We unfortunately will not be able to deliver the Otari Studio Units as originally intended. There were many challenges that contributed to this decision. While we are disappointed we are not to be able to fulfill our initial dream, we are very excited to have the opportunity to apply our technology to new and innovative experiences.
A key line in there is that they are "are very excited to have the opportunity to apply our technology to new and innovative experiences." Knowing they are shutting down, what ties them to Peloton (which would definitely be a place they could apply their technology)?
Otari was a startup, and as such, had some venture capital firms who had invested in them. C2 Ventures was one such firm who had invested money in Otari. They have a page on their website listing the companies they have invested in.
Otari Mats is listed as one of their investment, however, it specifically notes that Otari was acquired by Peloton.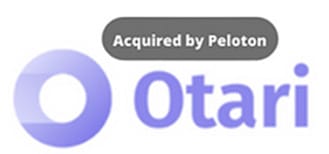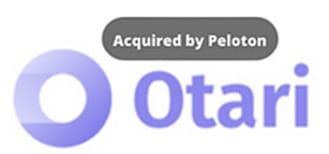 The AngelList page for Otari shows a 4 person founding team. One of those was an advisor, and another founder had left the company in July 2020. This leaves two other founders with the company: Skyler Erickson & Chris Kruger. Both of them have updated their LinkedIn to show they work at Peloton, and that Otari was acquired (by an unnamed company) in December 2020. Skyler Erickson's LinkedIn page shows he started a new role as a Staff Engineer at Peloton as of January 2021, after being CTO at Otari. Chris Kruger's LinkedIn page reports him also now was a Staff Engineer at Peloton, after being the CEO & co-founder at Otari until December 2020.
The shutdown note from Otari talks about how they are excited to "apply our technology to new and innovative experiences". Based on this, it doesn't necessarily sound like Peloton plans to relaunch the Otari Mat as a standalone item under the Peloton brand of products. Rather, they might try to take some of the software advancements and roll them into future Peloton products (or as software updates in existing ones). This seems like a similar acquisition to the one they made with Atlas Wearables in November – where they are more interested in some of the patents and software they had created – in Atlas' case, the Exercise ID technology.
Here are other recent acquisitions Peloton has made in the past few months. All have now been confirmed by Peloton or Bloomberg.
Otari Studio – Fitness Mat / AI Technology – December 2020
We first got a nudge to look at Otari from @chupotle and @BobTreemore on Twitter.
---
Want to be sure to never miss any Peloton news? Sign up for our newsletter and get all the latest Peloton updates & Peloton rumors sent directly to your inbox.