March 2021 Update – Bloomberg has now confirmed this acquisition, as well as our other reports of Otari Mat, Peerfit, and Atlas Wearables
It appears Peloton might have quietly acquired the software company Aiqudo in the last month. According to Aiqudo's LinkedIn page, they are "the most versatile white label Voice To Action® platform that enables brands to build their own custom voice experiences." Bob Treemore first reported this rumor on Twitter @BobTreemore.
At this point, nothing has officially been reported on this acquisition by Peloton. However, this has happened in the past, such as last November's rumored acquisition of the company Peerfit, which we wrote about here.
So what would lead one to believe that Aiqudo might have been acquired by Peloton?
In his report, Bob noticed that within the last two months, a large percentage of Aiqudo employees had changed their workplace from Aiqudo to Peloton on LinkedIn. Bob reports that Aiqudo had in the ballpark of 30 employees or so – and that at least 19 of them now report working for Peloton, and all changed their profiles around the same time. Aiqudo had two offices: one in Silicon Valley, and another in Belfast, Northern Ireland.
Aiqudo's leadership page notes 3 key employees of the company (plus a 4th investor/board member). These include two cofounders of the company, and their chief science officer.
Of these key employees, two of their LinkedIn profiles now show them working for Peloton. Rajat Mukherjee, the Co-Founder & CTO of Aiqudo, is now the VP of Engineering at Peloton. David Patterson, the Chief Science Officer at Aiqudo, is now the Senior Director of Engineering at Peloton.
The other co-founder mentioned on the leadership page, who is also the CEO, is John Foster. His LinkedIn page says nothing about Peloton. However, his work at Aiqudo mentions that there was a "Successful exit 2/21 (details not disclosed)". For those not familiar with the term, an "exit" for a founder can refer to their company being acquired. February 2021 was when many of the employees at Aiqudo changed their job locations over to Peloton, so combined with the confirmation that there was an exit/acquisition, this would seem to be a pretty good indicator this rumor is true.
Other key employees also now show new positions at Peloton. Conal Loughrey & Michael Lai, both formerly VP of Engineering at Aiqudo, are both now Directors of Engineering at Peloton. As mentioned above, at least 19 of the 30 or so Aiqudo employees now self-report through LinkedIn that they work at Peloton.
Assuming that Peloton did acquire Aiqudo, what does that give them? For one, it gives them a boost of software developers. Both John Foley (CEO) and Jill Woodworth (CFO) of Peloton have mentioned that Peloton is trying to hire software developers as fast as they can to help them build out new features that members are requesting for all of their platforms. Acquiring other companies is a technique sometimes used to help build out development teams.
In addition to the employees, there are a number of ways Peloton could integrate AI voice technology into their platform. One is adding a voice interface to Peloton Digital or the Bike/Tread, allowing you to pull up or browse workouts using your voice: "Peloton, find me 30 minute Climb rides from Cody Rigsby." Another way would be to allow members to use their voice to adjust the resistance on the Bike+, for example (although during a HIIT ride it might be much more difficult to use voice than just turning the knob). That said, there are a number of ways voice technology could be utilized, whether it's on the hardware itself, through the Peloton digital apps, or even if Peloton just used it to help enhance some of their backend tools.
Peloton has previously mentioned in their quarterly earnings call & reports about acquisitions they have made. For example, in the Q2 2021 earnings report released on February 4th, their 10-Q filing mentioned 3 undisclosed acquisitions they had made (with one of these likely being Peerfit).
During the three months ended December 31, 2020, the Company completed three separate transactions to acquire certain software, developed technology, and an assembled workforce for use in the development of the Company's connected fitness products and services, for total net cash consideration paid of approximately $78.1 million, inclusive of $2.4 million of direct transaction costs. The Company accounted for each transaction as an asset acquisition in accordance with ASC 805.
However, if the Aiqudo acquisition closed in February 2021, this might instead show up on the Q3 earning call report, and the other 2 acquisitions from 2020 are still yet to be disclosed.
What would you like to see Peloton do with enhanced AI Voice capabilities?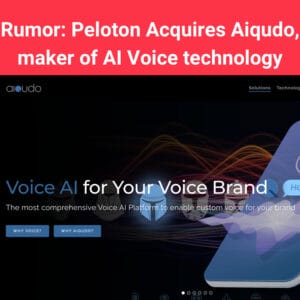 ---
Want to be sure to never miss any Peloton news? Sign up for our newsletter and get all the latest Peloton updates & Peloton rumors sent directly to your inbox.