March 2021 Update – Bloomberg has now confirmed this acquisition, as well as our other reports of Otari Mat, Peerfit, and Aiqudo
It's been less than a month since we reported on a rumor that Peloton acquired Aiqudo, who were a 30 person company who created voice AI technology. Peloton's merger & acquisition team appears to have stayed busy, as Bob Treemore on Twitter is reporting about another possible acquisition.
It sounds like Peloton has also acquired Atlas Wearables, a small company who were working on the Atlas Multi-Trainer 3 watch, marketed as "The worlds most powerful training and recovery tool." The watch had yet to become available to the general public, however, there was a limited beta of the product made available to some users, and was available as a pre-order
What made the Atlas Wearable special? They created a technology called "Exercise ID", which allowed the watch to automatically detect what exercise you were doing, and count reps for you. You can read more about it on the page for it, but their brief description is:
Atlas Multi-Trainer is the only workout tracker that calibrates your form. Exercise ID is a movement recognition system exclusive to Atlas. It allows individual personalization, exercise detection, and repetition counting. And once calibrated, Exercise ID automatically identifies future exercises as you workout – creating a hands-free experience compatible with over 1,000 unique exercises. Once you calibrate a movement, you can incorporate that exercise into any workout routine and your watch can automatically ID those exercises.
If Peloton is working on a rumored strength device, this technology, or the science behind it, could be used to help the device count reps for you. Alternatively, if Peloton continues to build out their strength program with floor workouts, the science could one day be used to keep track with which exercise you are currently on and how many reps were completed in a workout like an EMOM. Atlas Wearables had been awarded a few patents for their technology. Peloton might also simply be trying to build out their technology team and this was a good way to add some experts in Artificial intelligence, machine learning, and computer vision.
Could Peloton be interested in the watch itself that Atlas Wearables was developing? It's possible. One open job position Peloton has posted is for "Industrial Designer 3 – HRM Wearables Technology Designer". This could simply be for working on the in-house heart rate monitor Peloton has, or could be part of a project for a new Peloton product/watch.
This transaction sounds like it took place in the tail end of 2020, although it is just now being reported. Peter Li, one of the cofounders & CEO of Atlas Wearables, updated his LinkedIn profile, noting that Atlas Wearables was acquired in November 2020. Starting in November 2020, he had a new position: Director of Artificial Intelligence & Computer Vision at Peloton.
Another co-founder of Atlas Wearables, Mike Kasparian, has a similar story. His LinkedIn also notes that Atlas Wearables was acquired in November of 2020. His new job as of November 2020? Lead engineer at Peloton, working on Product artificial intelligence and machine learning.
Some of the Atlas Wearables member community also seemed to think Peloton acquired the company. This post on Reddit from more than 2 months ago in the Atlas Wearables community discusses some theories on why Atlas Wearables might have sold (ran out of money) and why Peloton might have acquired them (patents). One member also alluded to the fact that an email Atlas Wearables sent to members letting them know they were shutting down the project and eligible for refunds contained a link to a Peloton Privacy Policy.
As we noted in our article about the Aiqudo acquisition, Peloton's 10-Q investor filing specifically mentioned that Peloton had made 3 acquisitions that closed from October – December of 2020. We previously reported one of those was rumored to be Peerfit.
During the three months ended December 31, 2020, the Company completed three separate transactions to acquire certain software, developed technology, and an assembled workforce for use in the development of the Company's connected fitness products and services, for total net cash consideration paid of approximately $78.1 million, inclusive of $2.4 million of direct transaction costs. The Company accounted for each transaction as an asset acquisition in accordance with ASC 805.
With the LinkedIn profiles indicating the acquisition happened in November 2020, this lines up with Atlas Wearables being one of the acquisitions Peloton made late last year.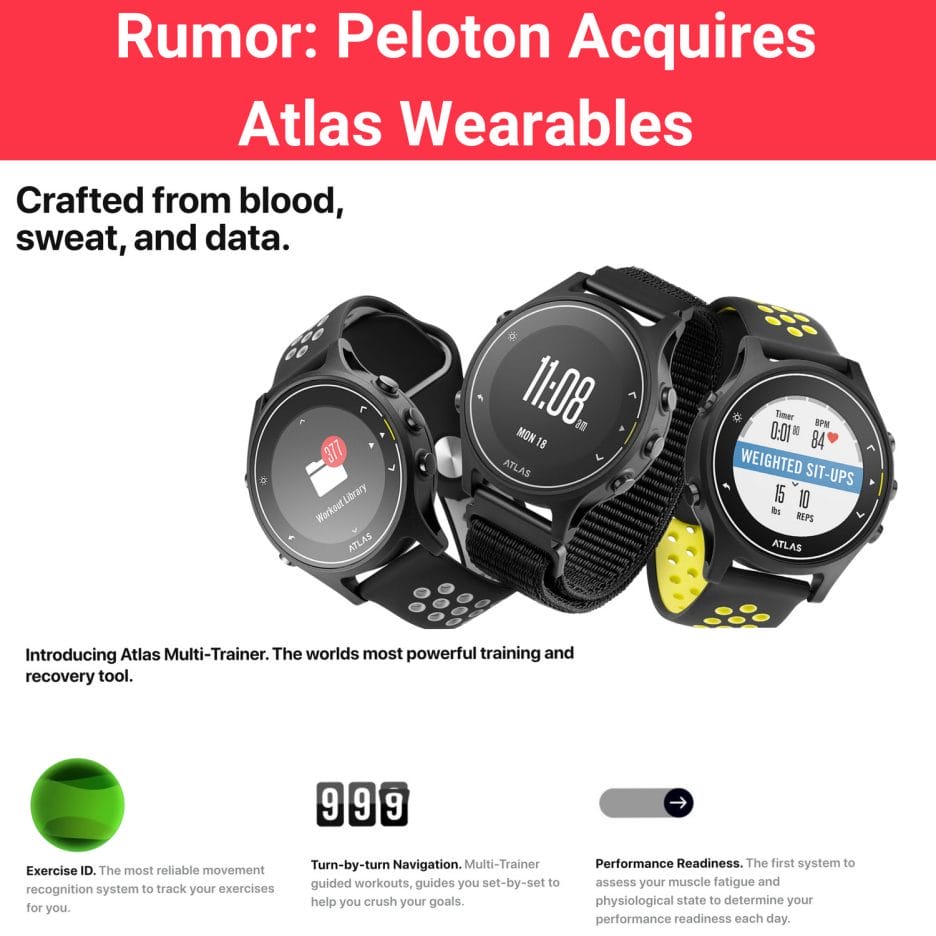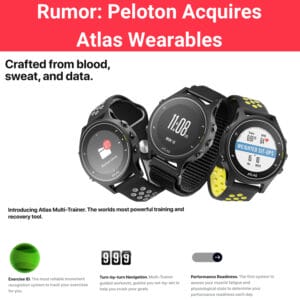 ---
Want to be sure to never miss any Peloton news? Sign up for our newsletter and get all the latest Peloton updates & Peloton rumors sent directly to your inbox.