Peloton's annual shareholder meeting took place today via a live webcast. After the formal business meeting, Peloton CEO John Foley & others took time to answer some investor questions.
During the course of the Q&A, two big topics were addressed that have been frequently asked by members over the past year. These questions are whether members will ever be able to workout at the NYC or London Peloton studios again, and if the Peloton Tread+ will be available for sale again. They were also asked about new hardware products.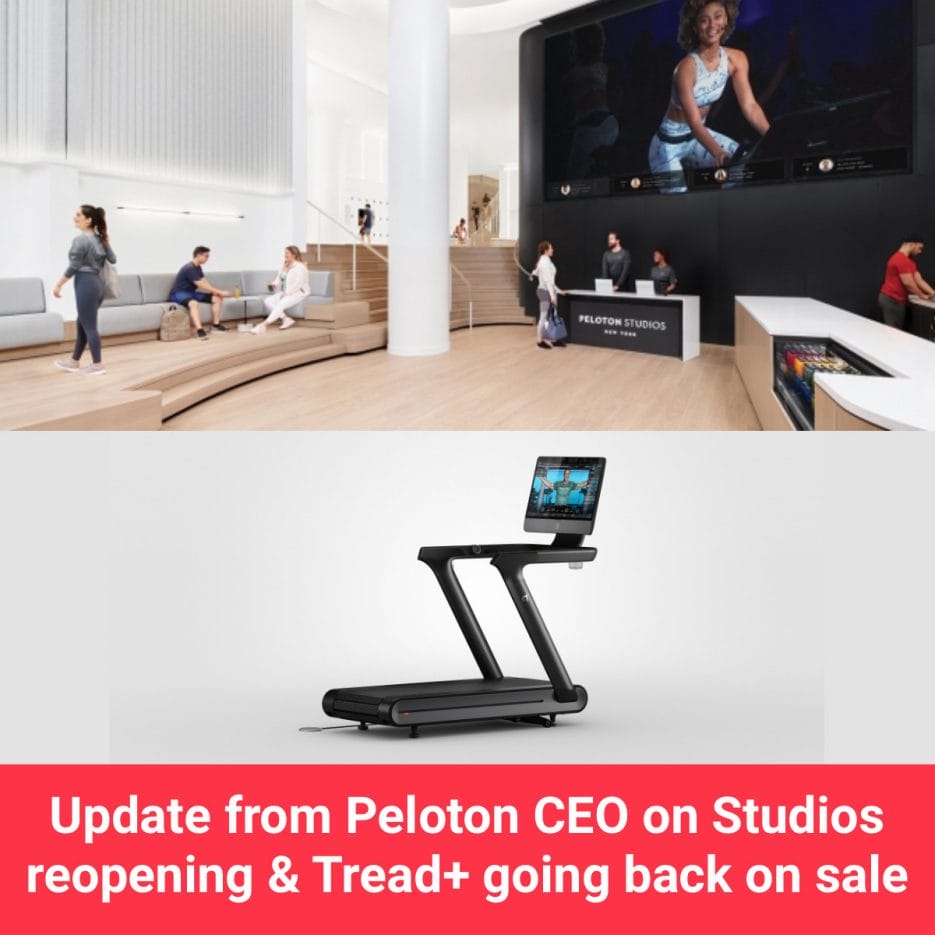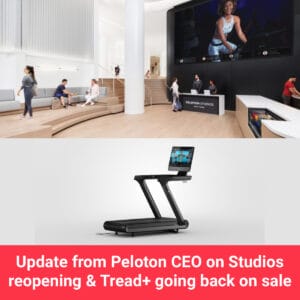 First, John Foley shared that he looks forward to opening the Peloton studios to the public again when they can. He did share that the exact date is still TBD – and didn't offer any sort of timeline for that. However, John said that Peloton "can't wait to open doors to community again at some point."
This question came up in the context of a question around whether Peloton had any plans to open new studios in cities like Los Angeles, Washington DC, or Miami. The answer was a simple "No" – that is not in the plan for near or medium term.
Another questions that came up was whether Peloton had plans to sell the Tread+ again, which has been off the market since it was recalled in May. The new lower cost Tread was recalled at the same time, but relaunched for sale in August. However, it was always expected that the Tread+ fix and resumption of sale would take longer.
John Foley stated that Peloton "remains hopeful that we'll be able to return the [Tread+] product to the US market at some point", however, "at this point we can't comment on a proposed timeline."
He further clarified that Peloton has not yet found a fix for the Tread+, and has not yet submitted anything to the CPSC for approval. He said Peloton is "hard at work developing hardware modifications to further enhance the safety profile" of the Tread+ – but once they did, they would then still have to submit it to the CPSC for approval.
One other interesting tidbit? Around 1,000 members are have beta tested the upcoming Peloton Guide strength device, and around 10,000 members are currently beta testing the Peloton Lanebreak video game [which you can see a hands-on video demo of here].
Asked about new products, Peloton president William Lynch simply said they can't wait to see the launch of Peloton Guide, and there would be more hardware products to come, but they didn't have anything to announce today. A Peloton rower is still rumored for the future.
If and when official dates are announced for either of these, we will be sure to provide an update.
---
Want to be sure to never miss any Peloton news? Sign up for our newsletter and get all the latest Peloton updates & Peloton rumors sent directly to your inbox.