In what is becoming a periodic tradition, Peloton has removed hundreds of classes from the on-demand library. These removals, known as "Peloton Purges", typically occur with no notice. The last big purge was at the beginning of December 2020, when ~675 cycling rides (or 8.4% of the library) were purged. Prior to that, another large purge occurred in August 2020, when the entire library of former instructors Jennifer Jacobs & Steven Little were removed. Another mini-purge took place at the beginning of this month, when the library was purged of any class featuring the music of Morgan Wallen – although this only impacted a few dozen classes total.
The February 2021 purge that took place yesterday hit the cycling library more than the yoga & running library. 658 rides were removed, or a total of 7.5% of the on-demand cycling library. The running/Tread library had 48 classes removed, or a total of 2.6% of the library. Yoga saw 66 classes removed, for 2.8% of the library. We don't have stats for any of the other class types, so can't confirm exact numbers in bootcamps, stretches, cardio, etc. Also note that our numbers above, and in the charts below, are very close approximations, but might be off +- 1 or 2 in raw numbers, and +- 0.1% or 0.2% in overall numbers.
It would appear that this purge was not necessarily music rights related, but instead more of a pruning of classes based on how old the classes were (in an effort to raise the overall production quality of the library). The oldest classes in the on-demand library are now from September 13th, 2018 – which are this class from Emma and this class from Denis. As of now, there are only 14 cycling classes in the library from September 2018, and a grand total of 145 cycling classes from September-December 2018. We don't have exact numbers for what those were before the purge, but can confirm that prior this purge there were a handful of classes from 2017 still in the library, as well as classes from earlier in 2018. We will include a chart at the end of this article showing the number of classes remaining for each coach in both September 2018 & overall in 2018. Note that although this purge seems to be focused on older classes, there are still a handful of newer classes that were removed in it too.
As one might expect with a purge of older classes, the instructors who have been around the longest were the hardest hit. For the cycling coaches, Christine D'Ercole was by far the most impacted instructor, with 118 classes removed for more than 22% of her library. Jenn Sherman & Jess King both had 69 classes removed (for a 14.6% removal of Jenn an 13.6% removal of Jess King). The next biggest drops were Denis Morton (58/15.4%), Hannah Corbin (58/11.8%), Emma Lovewell (53/11.2%), Matt Wilpers (49/12.4%), Ally Love (48/8.5%), and Robin Arzon (46/11.2%)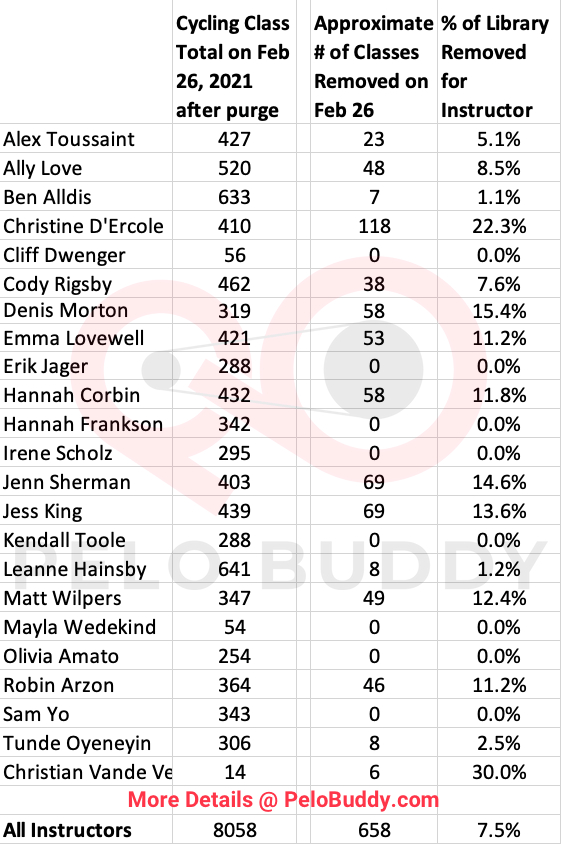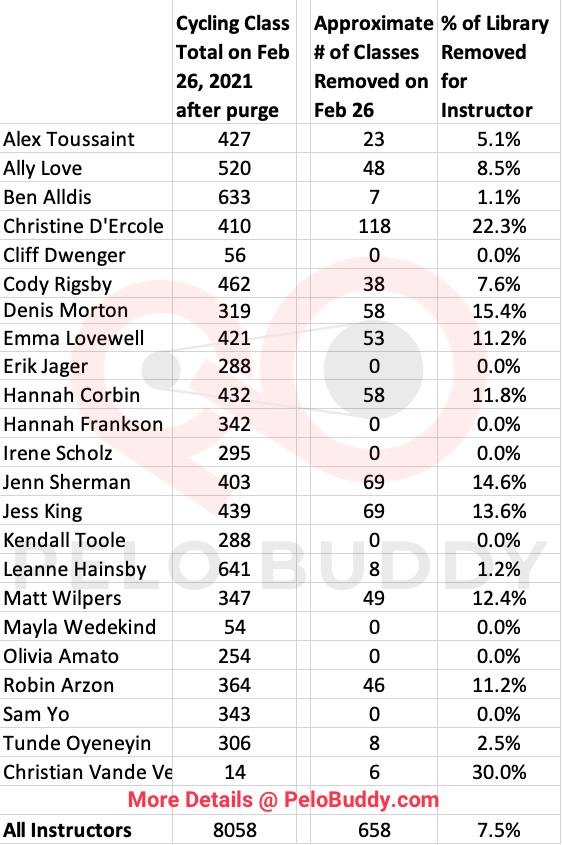 With this purge removing a lot of older classes, several member favorite classes & series were removed. Peloton now has their official artist series, but the on-demand library had several hidden unofficial artist series classes there were removed – including ones featuring: Pearl Jam, Adele, Arcade Fire, Elton John, Florence & The Machine, Queen (the Robin Arzon one, Denis' is still up), in addition to all of Jenn Sherman's "Music Legends" rides and more.
For members who take yoga, the biggest thing to note is that all classes of former instructor Colleen Saidman Yee were finally pulled. As of today, there are no classes of hers left in the library. There had been 44 prior to today.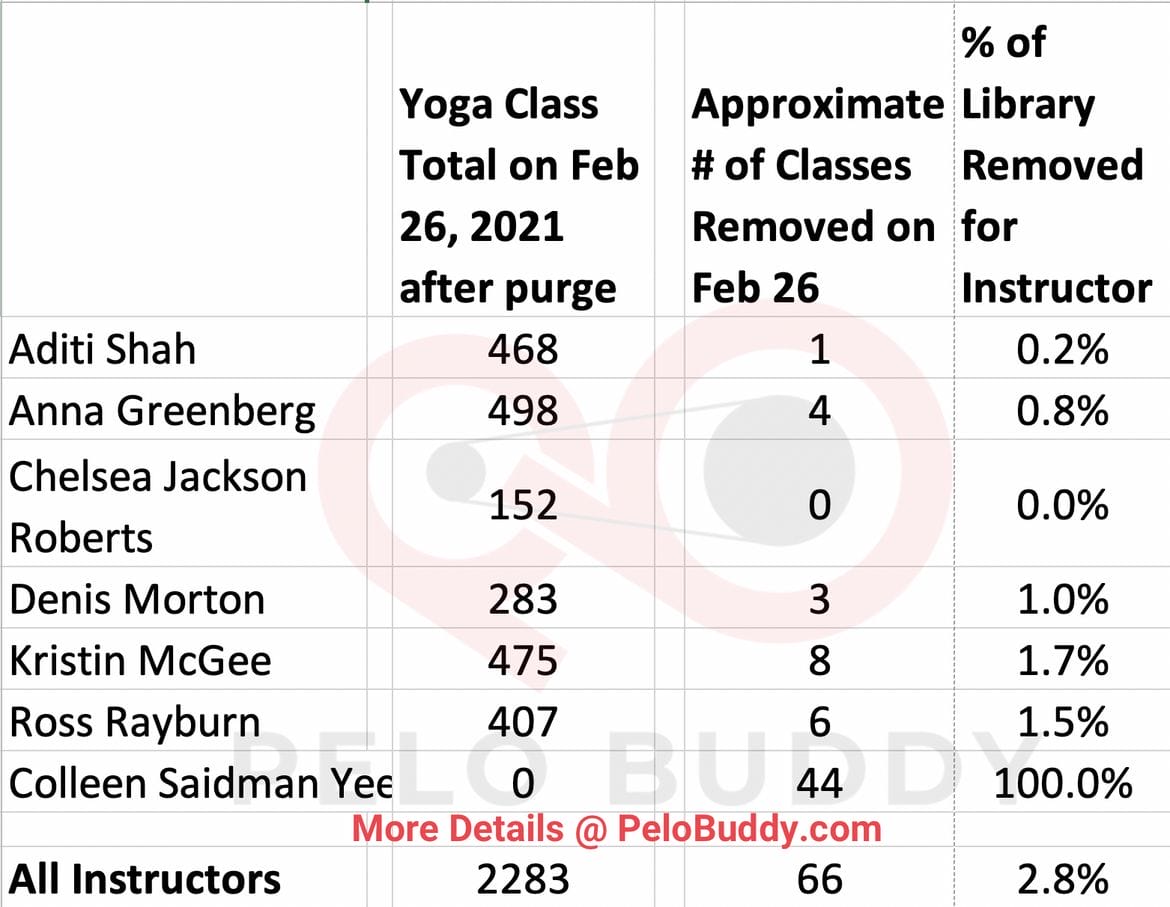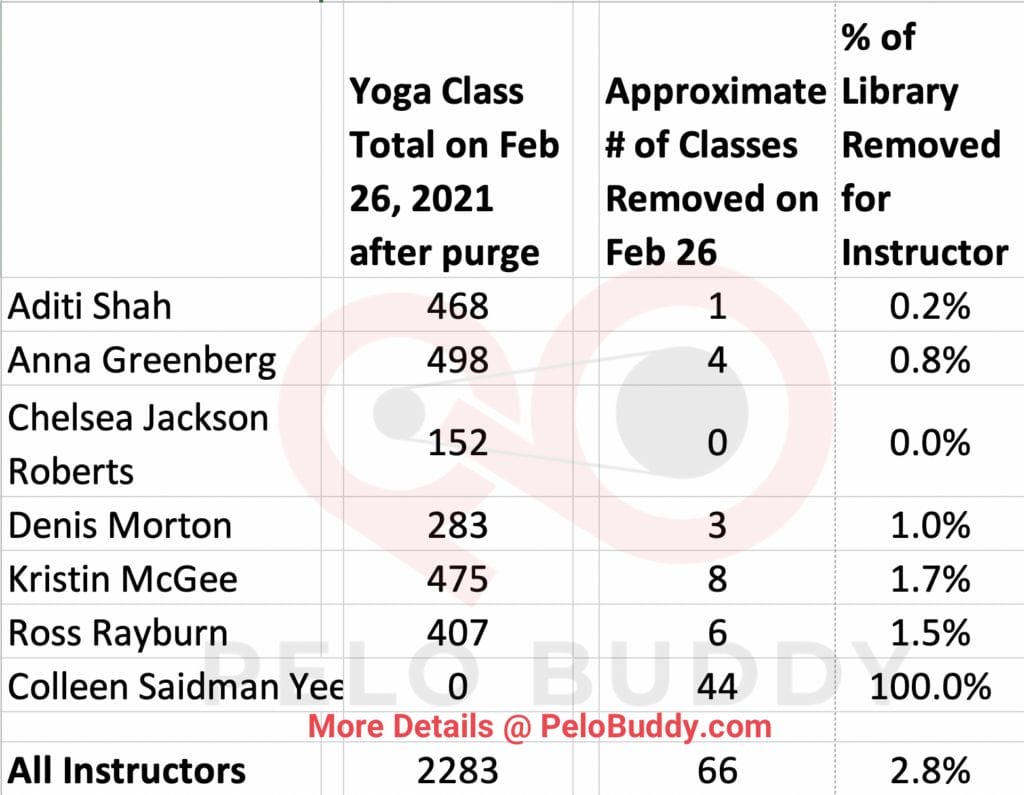 For the Tread users, Becs Gentry and Selena Samuela had the most classes removed. Becs had 19 classes removed, and Selena had 7.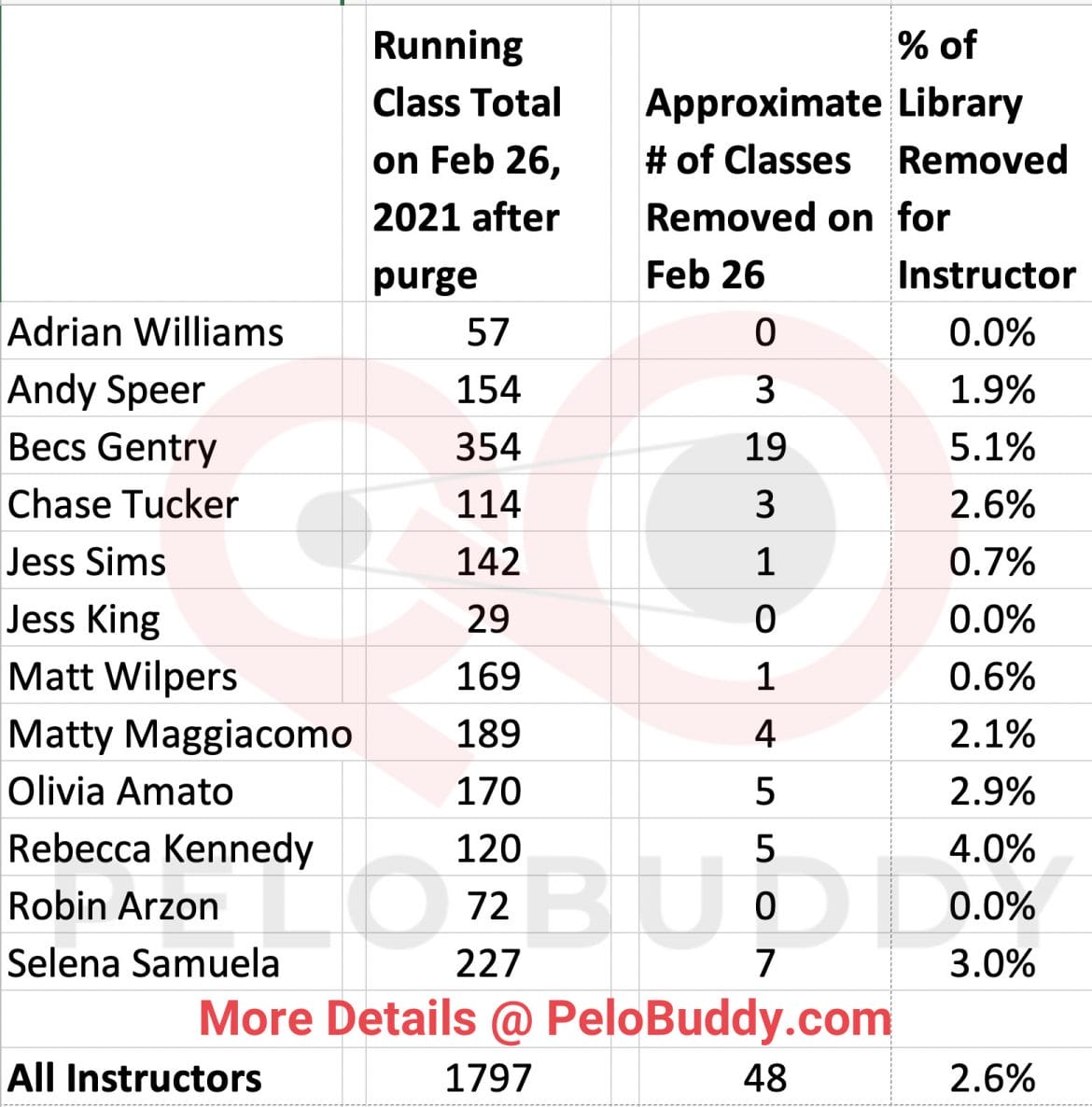 These purges will impact people trying to get all the badges they can (remember, we have a full list of Peloton badges and how to earn them here). For example, this purge removed the last remaining PyeongChang 2018 ride, and the last remaining HRI 2018 ride.
A common request of Peloton is that if they have to do class purges, if they can do what Netflix does and provide a list of classes that will be removed in the next few weeks, so that members can retake their favorite class one last time. To date, Peloton has declined to do so though.
No public comment has been made yet about this purge. However, in the past, Peloton has provided the following statement – which tries to answer the question of why Peloton removes classes from the library or has purges:
Yes, we've made some updates to our on-demand library. We do occasionally remove classes for a variety of reasons including quality, legal or contractual considerations, or simply lack of usage from our Members. We apologize for any inconvenience that these changes may have caused.
Another possible reason for purges some members have pointed out would related to the cost of storing the class video files long term, and whether it is a cost reduction measure, so they don't have to pay storage costs for that many classes. However, that has never been something Peloton has publicly commented on as a possible reason for purges.
Peloton used to state that their library was "ever growing", however, that resulted in an ongoing lawsuit, so Peloton doesn't promote that anymore. In some interviews, Peloton has said that they aim to have at least around 10,000 classes available in the on-demand library (across all class types). After the last purge at the beginning of December, the cycling library had approximately 7808 classes. After yesterday's purge, there are now 8058 classes. So although there were 658 classes purged yesterday, Peloton's current production rate still saw a net increase of cycling classes of over 200 new classes between purges.
As Peloton adds thousands of more classes each month, Peloton can then slowly prune and remove the older classes – with the assumption being the production quality is better now, so the removal of the older one increases the overall quality of the music library. Music rights of course can play an issue too, as we saw in the Spring of 2019 when there was a purge that removed nearly 65% of the library at the time.
In case anyone is curious, here are charts showing how many classes in the calendar year 2018 are remaining overall and for each instructor. Again, as of now, the oldest class in the on-demand library (at least for cycling, running, or Yoga) is from September 13, 2018. For cycling, there are now 14 classes from September 2018, and 145 total from all of 2018 remaining.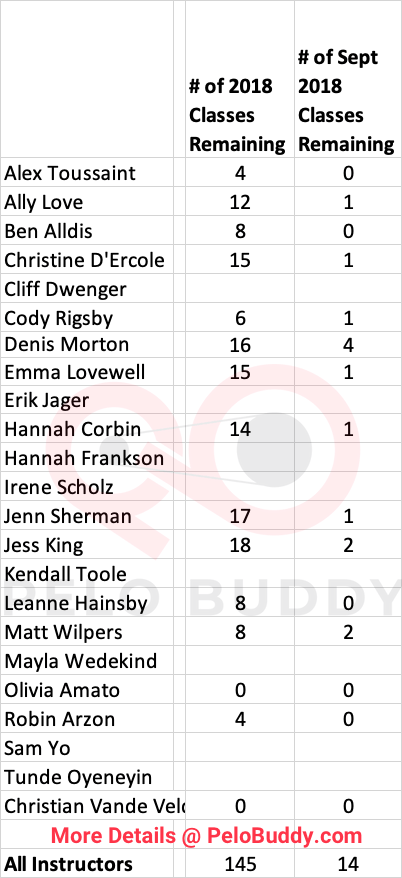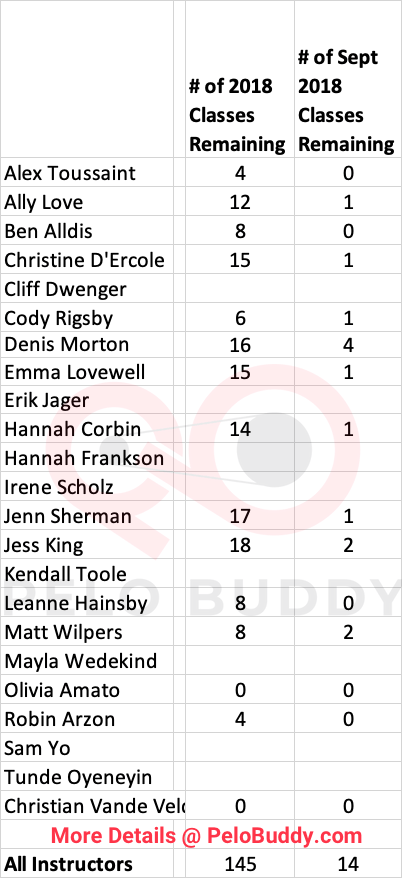 There are 55 Yoga classes remaining from the 2018 calendar year. Yoga wasn't available in September 2018, so that column can be ignored.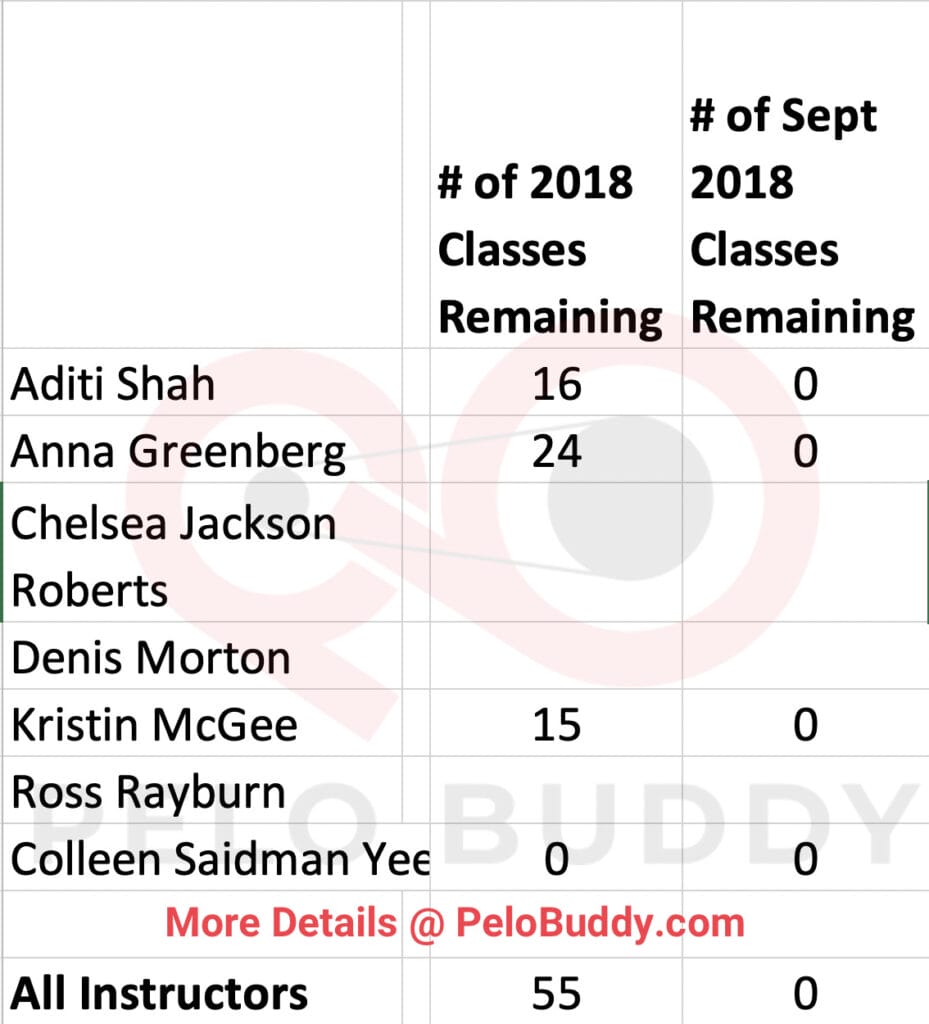 The Tread catalog has 4 classes remaining from September 2018, and 54 total classes from the calendar year of 2018.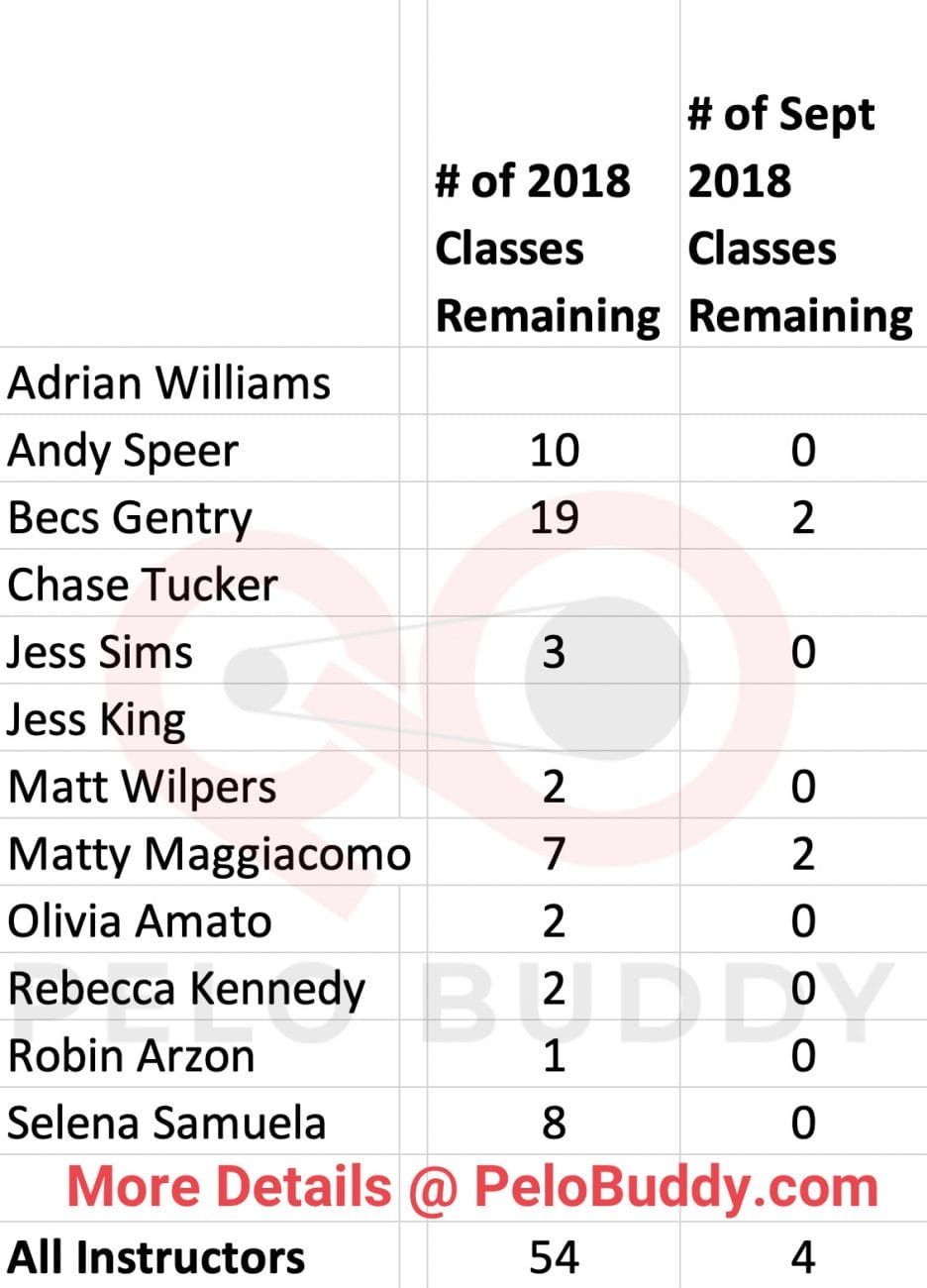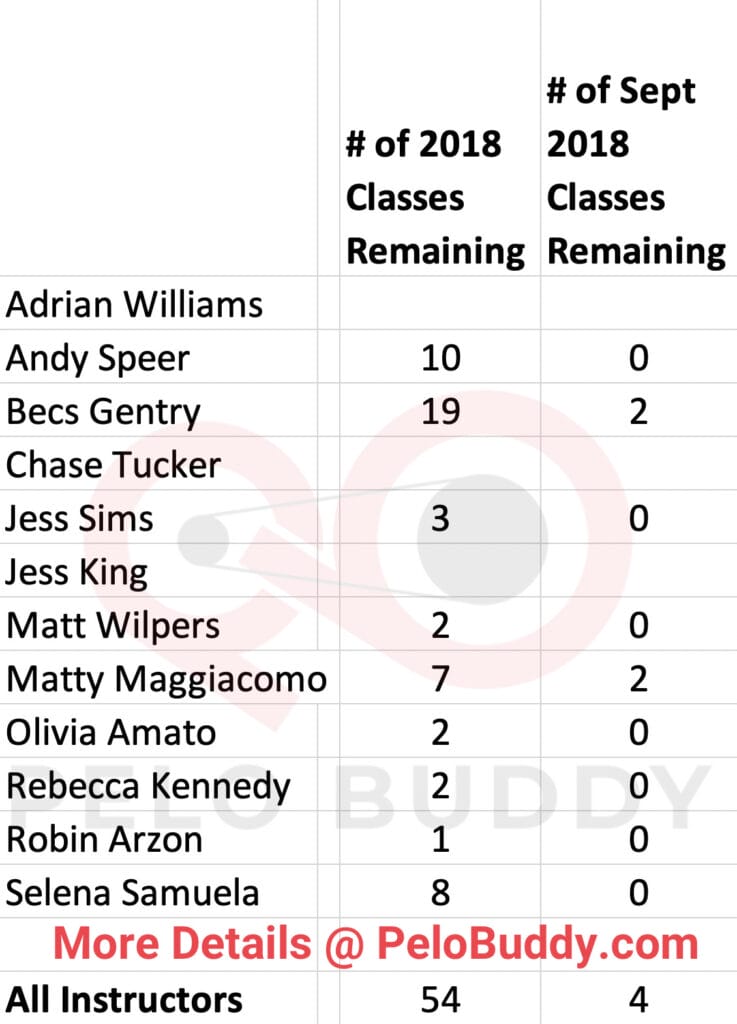 ---
Want to be sure to never miss any Peloton news? Sign up for our newsletter and get all the latest Peloton updates & Peloton rumors sent directly to your inbox.