Over the last 24 hours, Peloton has quietly purged hundreds of workouts from their on-demand library. It appears more than 650 classes in the English-language cycling category were removed, representing a little over 8% of these classes. (We unfortunately do not have data on any other category, like Running, Yoga, or Bootcamp, to have insight into what percentage of those libraries were purged at this time.)
You can see a chart showing how many classes are available for each instructor as of today, December 3rd below. Additional columns show approximately how many rides were removed for each instructor, as well as what percent of their cycling library that was. Note that this does not include bootcamp, stretching, etc – only "cycling" classes.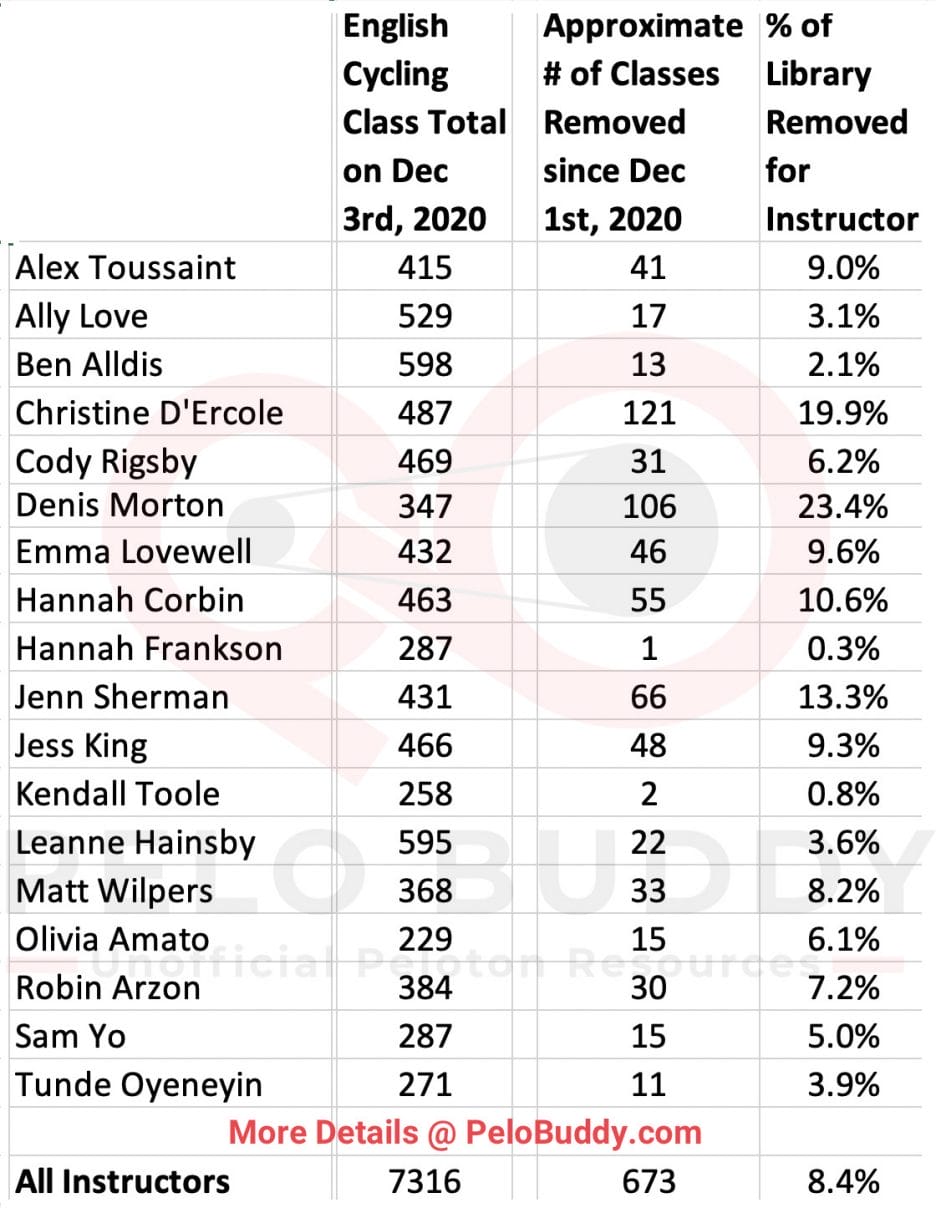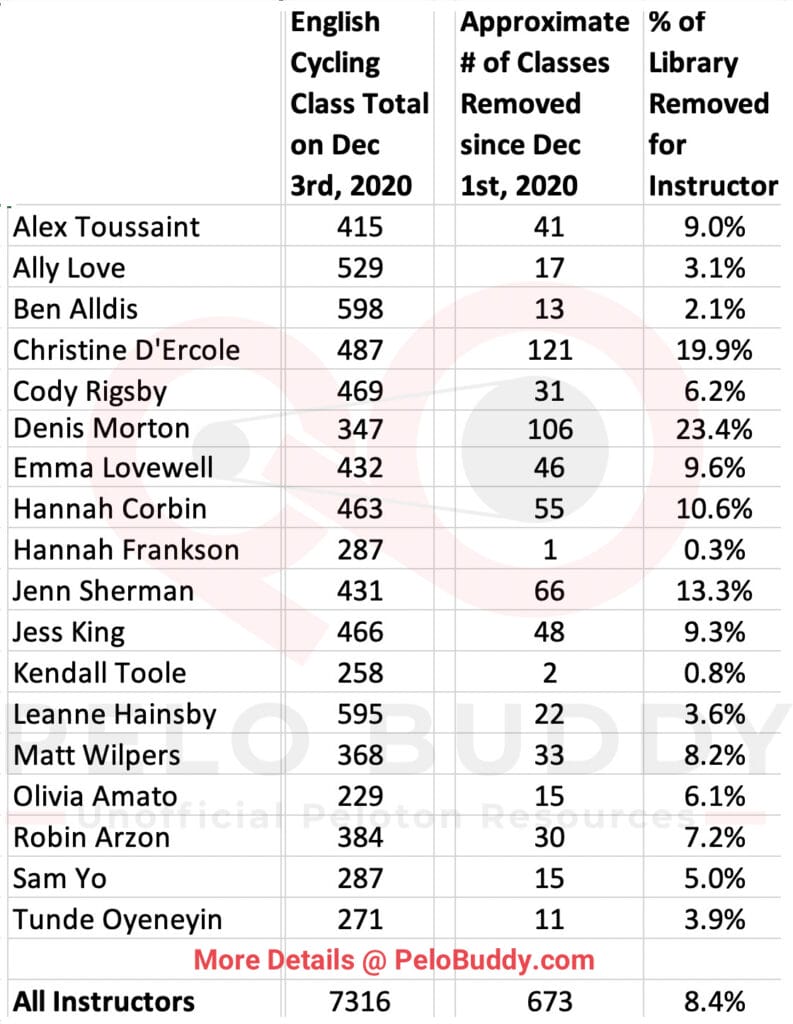 Denis Morton & Christine D'Ercole's classes appear to be the most impacted by this most recent purge, with over 100 rides removed from each. Jenn Sherman & Hannah Corbin both had more than 50 rides purged, and Alex Toussaint, Emma Lovewell, and Jess King all had 40+ rides removed.
In terms of percents of their cycling library that was removed, that equates to a little under 20% of Christine's on-demand library being removed, while Denis' library was reduced by over 23%. Jenn Sherman's was reduced by 13%, Hannah Corbin's by 10%, Alex Toussaint's by 9%, and Emma Lovewell's by 9%. Matt Wilpers' library was reduced by a little over 30 rides, but that equated to 8% of his library.
Why did this purge occur? Or why does Peloton remove any rides from their on-demand library? There can be a variety of reasons. Several of the large purges in the past have been due to music licensing issues – though with that lawsuit settled at the beginning of this year, it seems unlikely all of these would be for music rights. Older classes have been removed in the past as the production quality isn't the same as it is today. Similarly, many old classes are missing target metrics, closed captions, as well as track listings, so Peloton could slowly be purging them so that all classes have the same features available on them. However, this purge included some classes from 2020 that were removed, so there could be other factors involved as well.
In a prior purge, Peloton provided this statement:
We do occasionally remove classes for a variety of reasons including quality, legal or contractual considerations, or simply lack of usage from our Members. We apologize for any inconvenience that these changes may have caused.
This is not the first time, and won't be the last time, purges occur. In August of 2020, Peloton purged hundreds of rides, including all that remained of former instructors Jennifer Jacobs & Steven Little. In the spring of 2019, Peloton purged approximately 65% of their on-demand library at the time. That purge resulted in a lawsuit which is now seeking to obtain class action status, and is still being actively litigated.
---
Want to be sure to never miss any Peloton news? Sign up for our newsletter and get all the latest Peloton updates & Peloton rumors sent directly to your inbox.