Over the past few weeks, many riders have noticed that their favorite on-demand Peloton classes were disappearing. Classes with music by Justin Timberlake, Katy Perry, Meatloaf, and other popular artists were quietly taken down, followed by news of a lawsuit between Peloton and several music publishing companies.
Peloton user Bill Luby (#PeloniousMonk) analyzed data about the number of classes available before "The Purge" and afterward. He found that roughly than 65% of Peloton's on-demand bike classes were removed shortly after the lawsuit became public.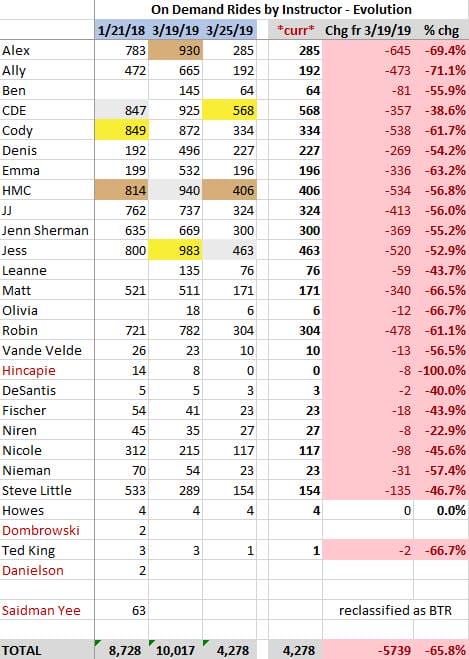 The publishing companies claim that Peloton did not obtain proper licensing of the songs used in their classes. To stream songs during on-demand classes, Peloton should hold synchronization licenses which allow for songs to be included in video productions.
John Foley, founder & CEO of Peloton, responded by saying:
Peloton respects the rights of all creators, including performing artists and songwriters. The filing of the lawsuit is unfortunate and disappointing, as it occurred after what appeared to be fruitful discussions with most of the publishers named. Regardless, out of an abundance of caution, we have decided to remove classes that feature songs that were identified by these publishers.
Foley also assured users that the lawsuit would not affect the Peloton experience or the price of Peloton subscriptions, both concerns expressed by riders in the Peloton facebook groups. There is currently no word on whether classes that were taken down, such as the popular All for One ride, will return after the lawsuit is resolved.
Foley's full message is included below:
Members,

As I'm sure some of you are aware, a complaint was recently filed against Peloton by a small group of music publishers. It is important that you hear directly from me on this, and I'll share what I can here.

Peloton respects the rights of all creators, including performing artists and songwriters. The filing of the lawsuit is unfortunate and disappointing, as it occurred after what appeared to be fruitful discussions with most of the publishers named. Regardless, out of an abundance of caution, we have decided to remove classes that feature songs that were identified by these publishers.

While you may notice this in the near term, I can assure you that this will not affect your experience with (or the cost of) our service, or access to the kind of music you're used to hearing behind our instructors in the thousands of classes in our library.

Peloton has agreements in place with all of what are known as the "major" publishers, record labels and performing rights organizations, as well as many independent publishers and labels. These agreements provide licenses to a broad catalog of music that our instructors can choose from to program great classes for you.

Furthermore, we have strong creative relationships with our licensors, with managers of artists and songwriters, and with our music streaming service partners. Their input has helped us craft new features like "Now Playing" and "Track Love", released just last month.

Peloton believes that being the best partner we can be to songwriters and artists ultimately best serves our Membership and community. We remain committed to bringing you the most impactful music experience in fitness.

Thank you for your understanding and support.

John Foley
Founder and CEO