Peloton Studios New York (PSNY) is testing a new photo booth for members to utilize before and after classes. Members first reported seeing the set-up at the end of July. Note that Peloton was apparently testing it on and off throughout the weekend – meaning not all members who were at PSNY may have seen it.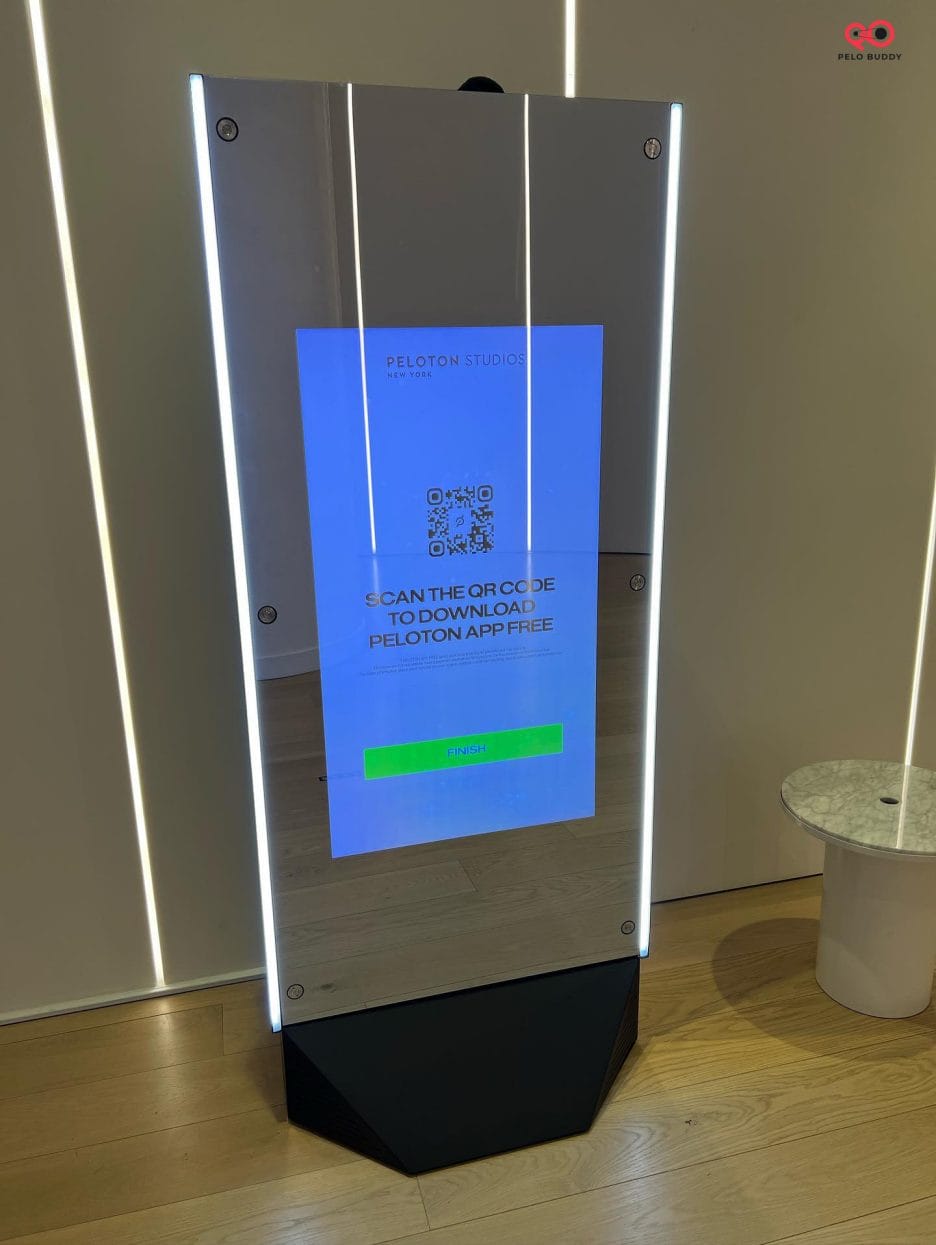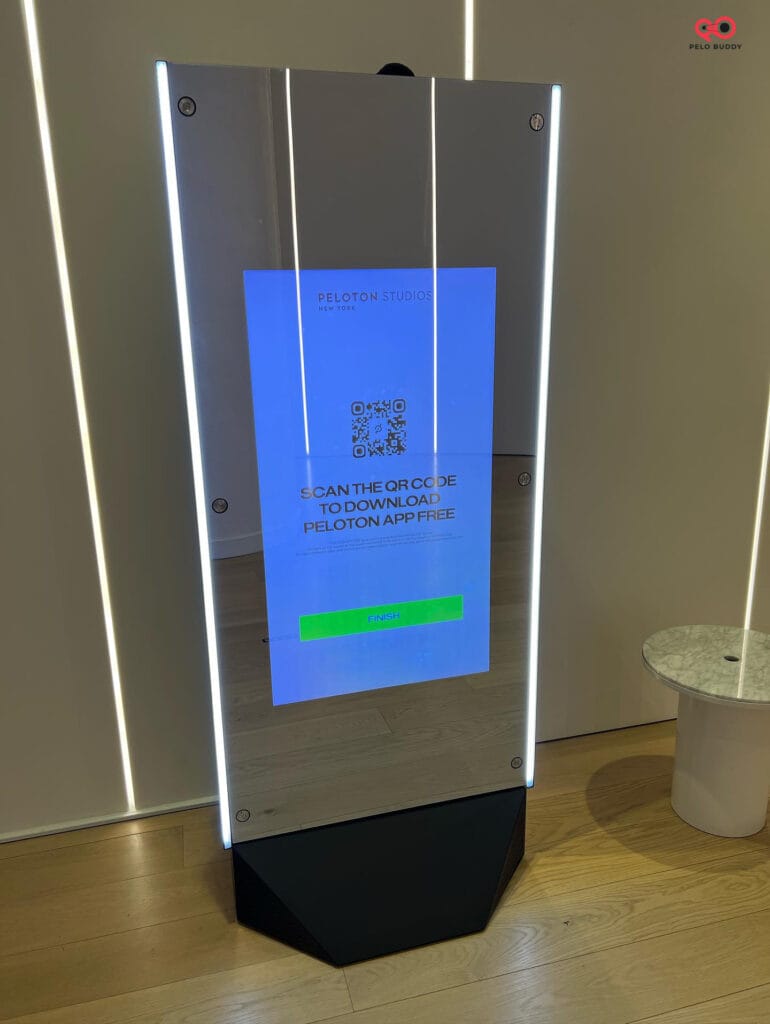 The photo booth is located in the lounge area upstairs, outside of the locker rooms and across from the small showroom area. Members shared that the device is conveniently placed and easy to use. It is self-serve, meaning that there is not a formal process for accessing it – think of a photo booth you might see at a bar, arcade, or wedding. However, the booth at PSNY is apparently much larger – and able to capture a full body photo or large group – and produces better quality pictures.
At this time, there is no charge for the photo booth – it is completely free for anyone visiting the Peloton Studios to use.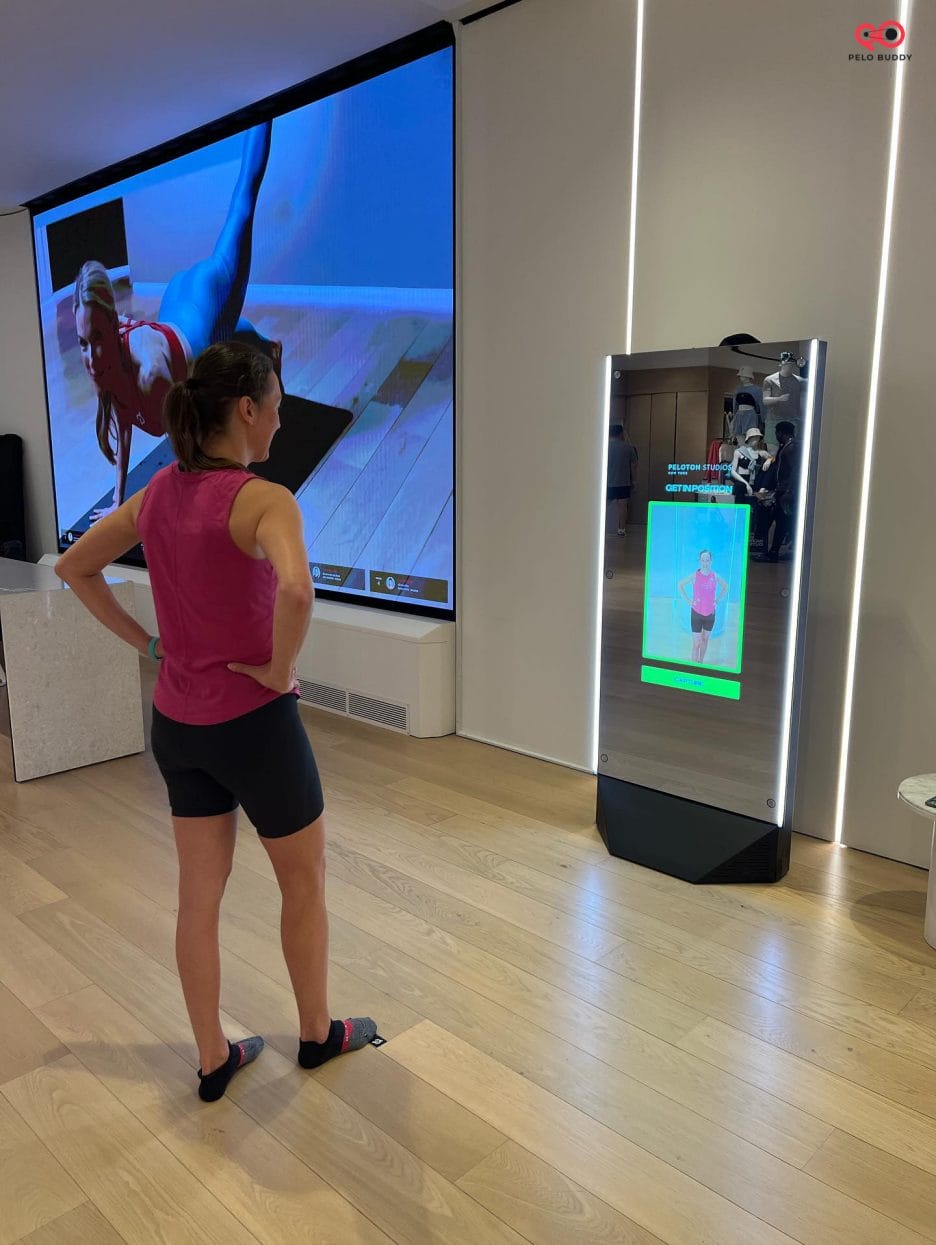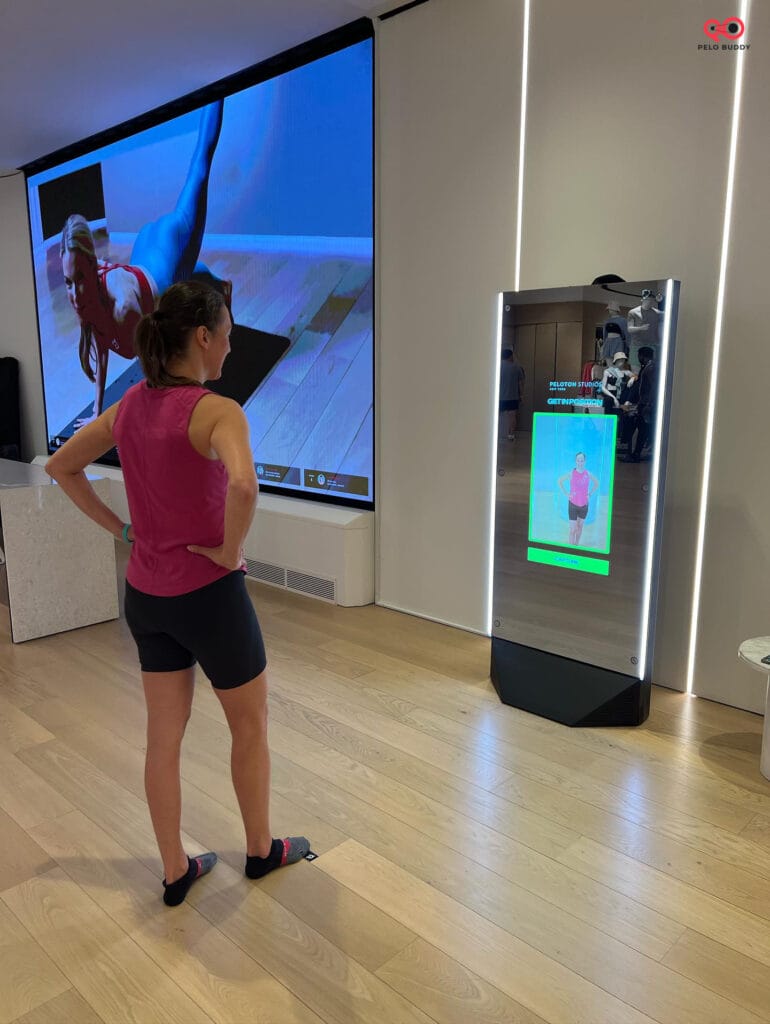 The booth looks like a large Lululemon Mirror device, but with a very large lens, and white lights around the edge. There is not a curtain or physical backdrop of any kind, but there are digital backgrounds that you can add if you want. The booth is in front of a pillar, and there is a sticker on the floor to instruct members where exactly to stand.
There are numerous different options to customize the photo – you can pick different borders, backdrops, and add text. For example, one member shared his photo in which he was able to add celebratory text for his recent retirement.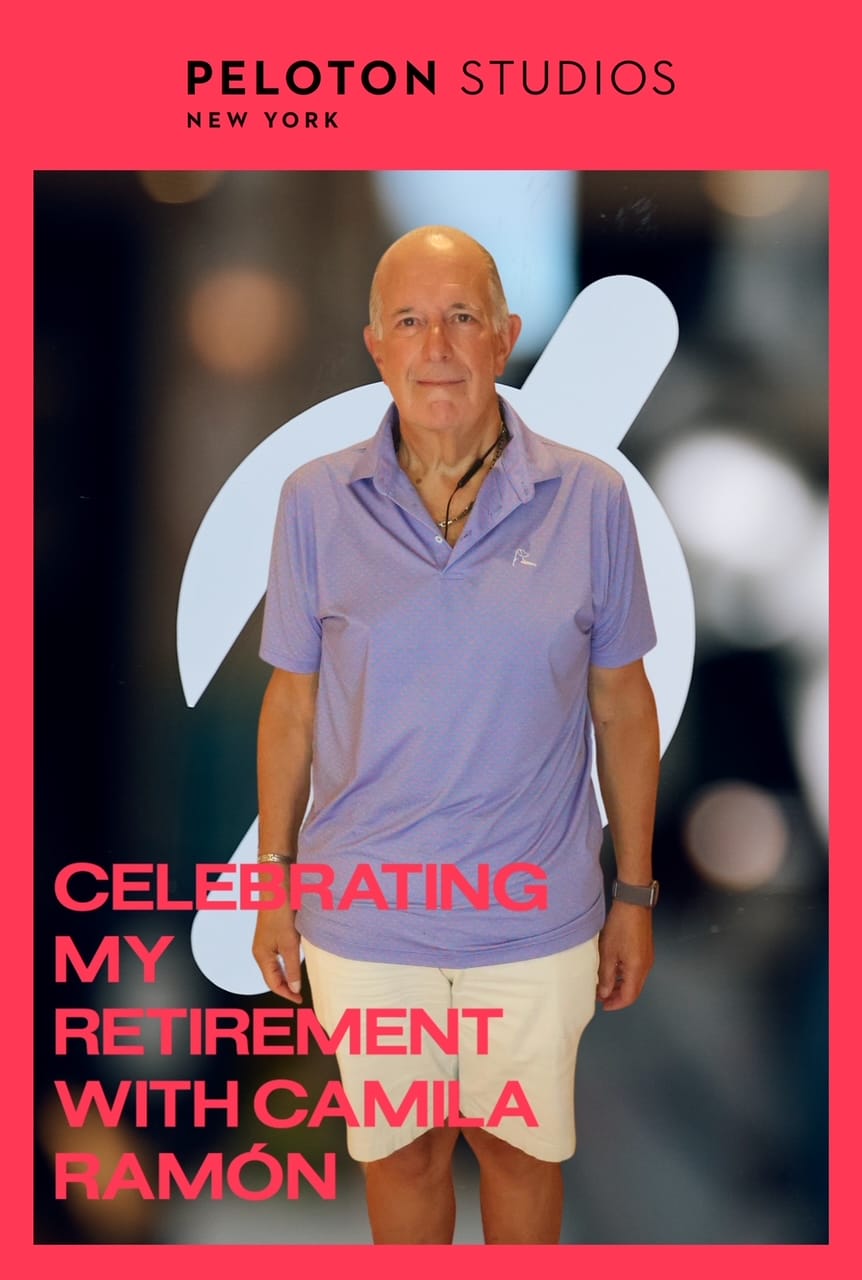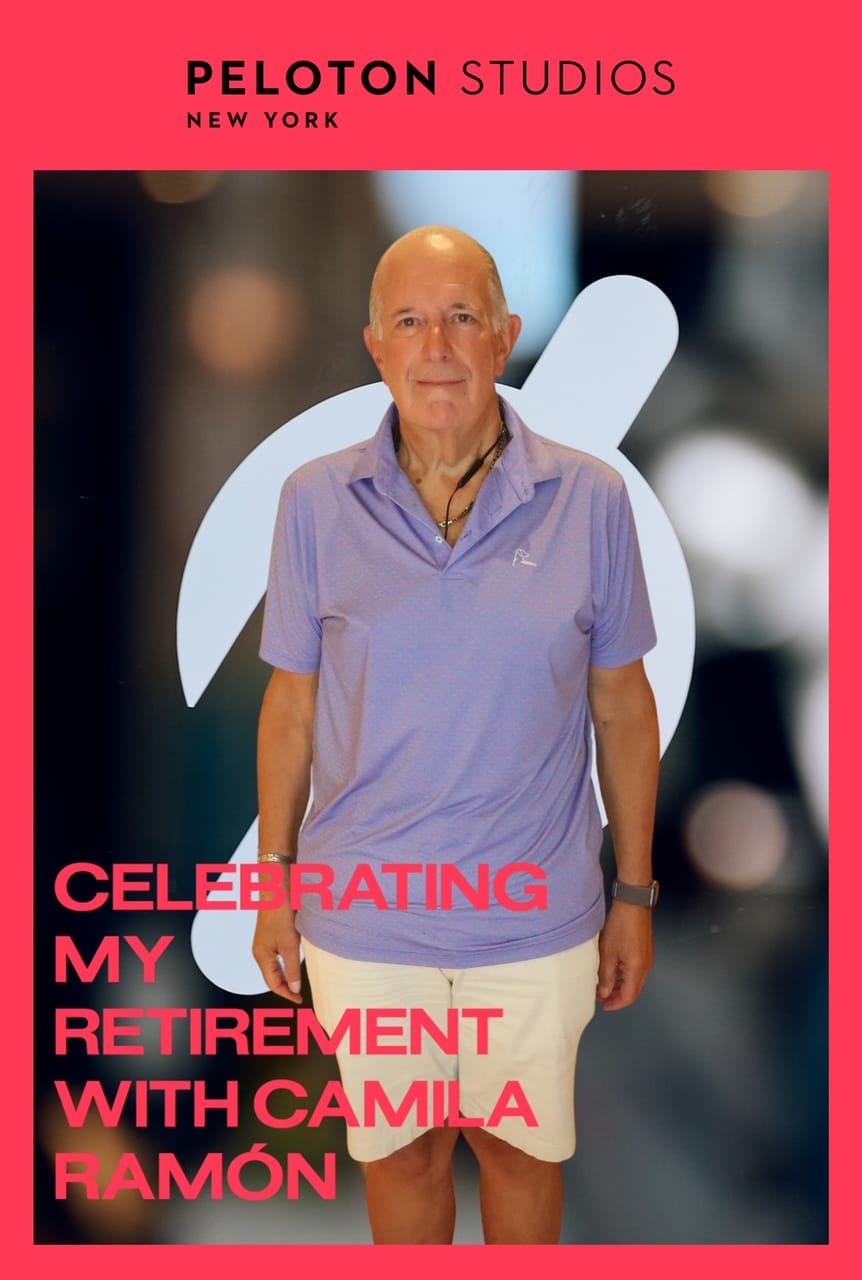 It is easy to imagine Peloton expanding the available borders and backgrounds in the future, particularly for special events happening at PSNY.
Members can choose between a still photo or a GIF/Boomerang – and can have it emailed to yourself quickly. You have to provide your name, email address, and indicated whether you want to be on a mailing list.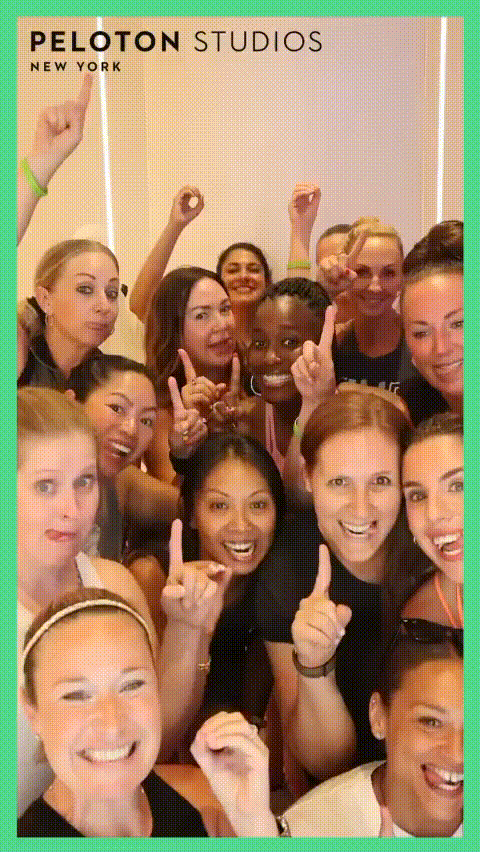 Last weekend, you had the option to get a physical copy of the still photo printed. However, members who visited PSNY during this first weekend of August have reported that there is not an option to print still photos – you can only receive them via email. It is currently unclear whether Peloton will add the printing option back, or stick to digital photos only. Considering potential malfunctions and technical issues that can arise with any kind of printing, it may provide a more seamless and user-friendly experience to limit photo distribution to digital.
Overall, members shared that the booth was visually and technically impressive, easy to use, and added a very fun element to their experience at PSNY.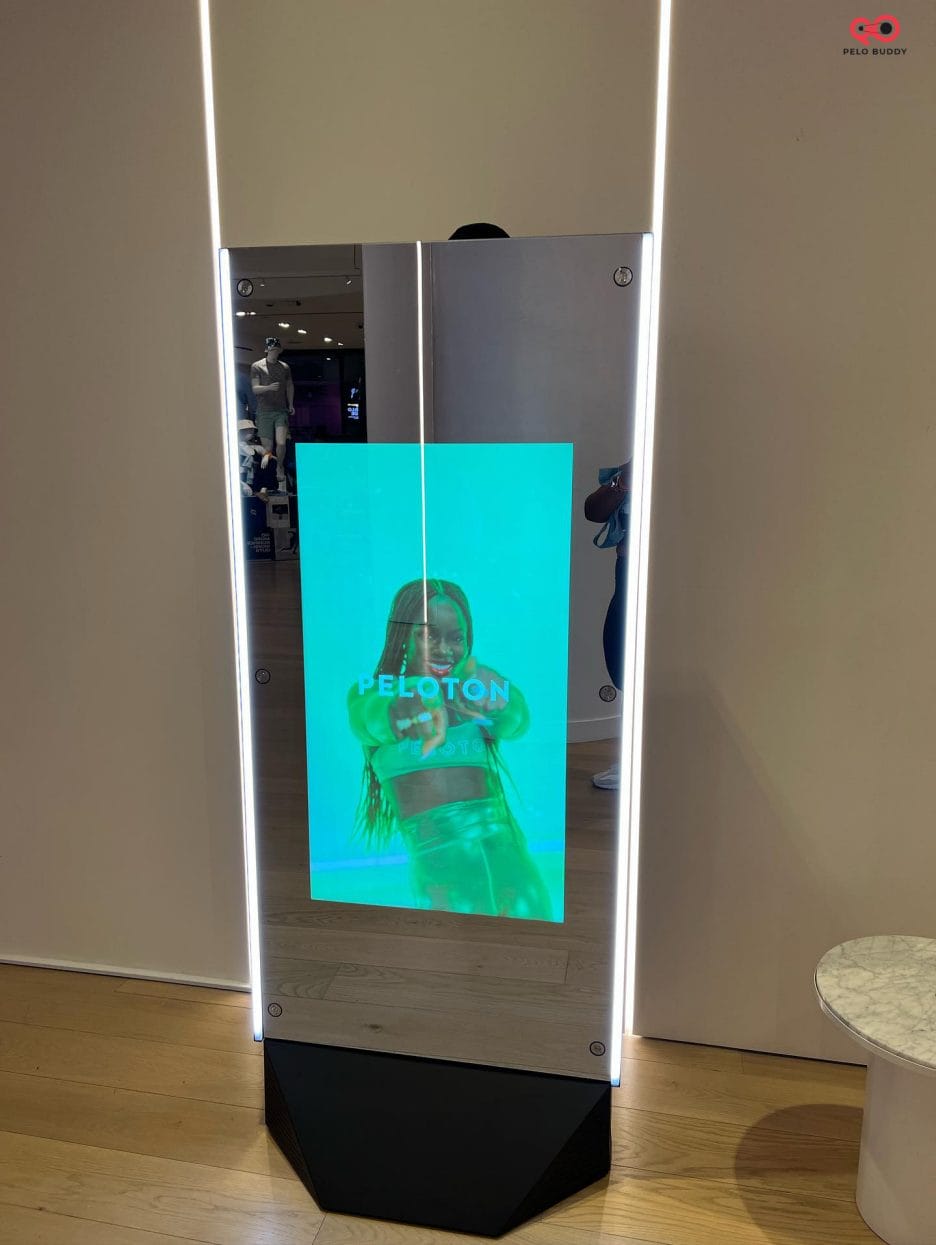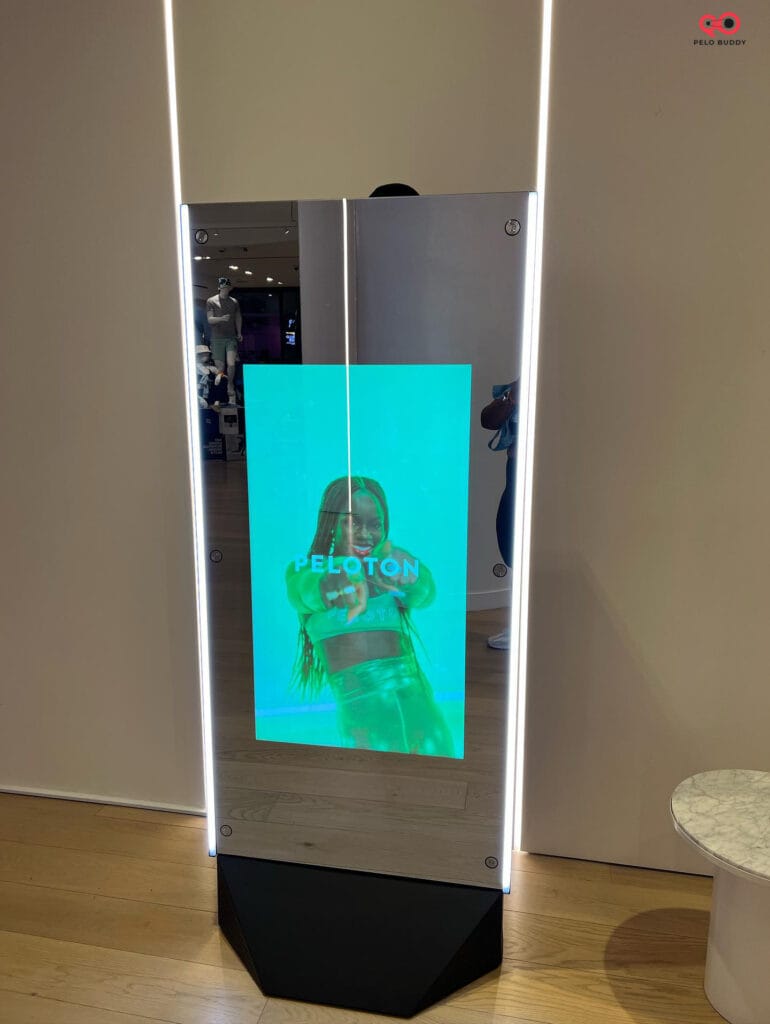 There have been a number of developments at PSNY over the course of the summer. Peloton recently altered the entrance order for members so that first-timers are able to enter before those with milestones. In addition, Peloton is now checking IDs as a part of the check-in process, and is using cell phones instead of buzzers for the waitlist.
Special thanks to Brian #Luvtoride40, Ariel #themermaid, #yumcrispypata, the #YouGetToCrew, and others for sharing their photos and experiences with the new photo booth at PSNY!
---
Want to be sure to never miss any Peloton news? Sign up for our newsletter and get all the latest Peloton updates & Peloton rumors sent directly to your inbox.