Peloton has begun teasing a number of new programs, artist series and collections that will be dropping throughout the month of May. Some are already available, others will be launched during Peloton Homecoming from May 13 – 14, and others will release later in May. Read on for a full list of what classes & programs to look forward on Peloton in May 2022. Of course, we are also waiting to hear what other announcements might be made during Homecoming, like the Peloton Rower, or the official exact opening dates of the Peloton Studio.
Official Peloton Tunde Oyeneyin Arms Strength Training Program – "Tunde's Arms"
First up is an official Peloton Tunde Oyeneyin Arms Strength Training Program, called "Tunde's Arms". Over the years there have been a number of unofficial Peloton Tunde Arm's Programs & Challenges. Peloton has taken notice of this and is creating their own official program. It's not yet clear whether this will be a Peloton Guide exclusive program for 7 weeks or not – though we would expect it to be compatible with the Movement Tracker feature of the Peloton Guide either way. The Peloton Tunde Arms Program will first be available during Peloton Homecoming. This will be a busy month for Tunde, as her new book Speak comes out May 3rd.
Peloton "Peak Your Power Zone" Program
Next up is a third Peloton Power Zone training program, called "Peak Your Power Zone". This will also launch at Homecoming, and is a follow-up to Peloton's first two Power Zone Training programs: Discover Your Power Zones (which was refreshed in 2021), and the newer Build Your Power Zones program. You'll be able to follow along with the new classes in the Peak Your Power Zone program with Home Fitness Buddy Power Zone Training Tool & Timer shortly after they launch. Will Peloton also take this opportunity to add some new instructors to the Power Zone Team, like Sam Yo who has been teasing new things in the works for him?
Peloton Fleetwood Mac Artist Series
Also launching during Peloton Homecoming will be a new Fleetwood Mac artist series. Classes for that will begin around Peloton Homecoming, and one class is already showing on the schedule – a 60 min Fleetwood Mac Total Strength with Andy Speer on Sunday, May 15 @ 10:30am ET.
Strong as a Mother Pre/PostNatal Collection on Peloton
Launching today is a brand new "Strong as a Mother Pre/PostNatal Collection". While Peloton already has dozens of other prenatal classes & postnatal classes (those links will take you to a list of each), Peloton is launching a newer collection of them, all of which dropped today. It is described as "Celebrate the strength of mothers in this collection of pre and postnatal strength, yoga and meditation classes. This collection was carefully designed with Members in all stages of their motherhood journey in mind."
2022 Peloton Mother's Day Classes
Peloton has also confirmed they will be having special Mother's Day classes, which aren't listed yet, but will be on the schedule from May 6 – 8. Look for a new Mother's Day Peloton badge as well.
APIHM (Asian and Pacific Islander Heritage Month) Celebration
Peloton is also continuing their tradition of celebrating APIHM (Asian and Pacific Islander Heritage Month) during May. Several classes are already available on the schedule, along with a new collection, and a new badge once the classes start.
Mental Health Awareness Peloton Classes, Collection & Series
Over the past several years Peloton has had special classes for Mental Health Week, and this year will be no different. The week of May 16th, be on the lookup for several different Mental Health Awareness classes on the schedule (you can find previous ones here, and the new ones once they are added.). There will also be a special mood series class dropping May 18th.
Dear Evan Hansen Peloton Broadway Series
Also as part of Mental Health Awareness Week, Peloton will have a special Broadway Series of classes featuring Dear Evan Hansen which start May 20th. If you're into Peloton Broadway classes, we have a complete list of them here.
New Peloton The Approach Yoga Program with Kirra Michel
Finally, Peloton is having the second installment of their new "Approach" Yoga series. The first was the Power Restorative Yoga with Ross Rayburn which launched in February. The second will be a brand new program with Kirra Michel – which will drop May 25th.
Which of these new programs, classes, or series are you looking forward to the most in May?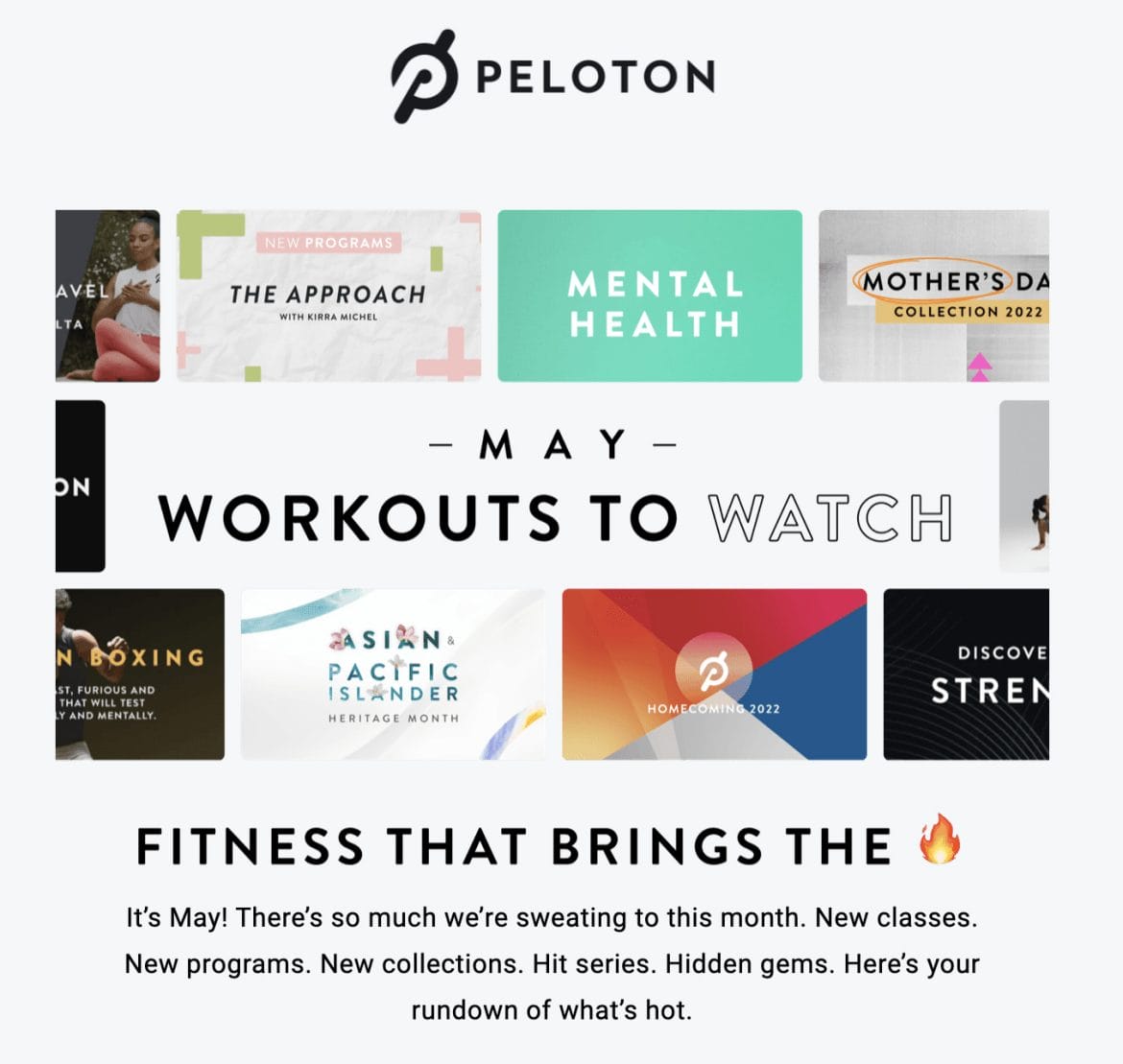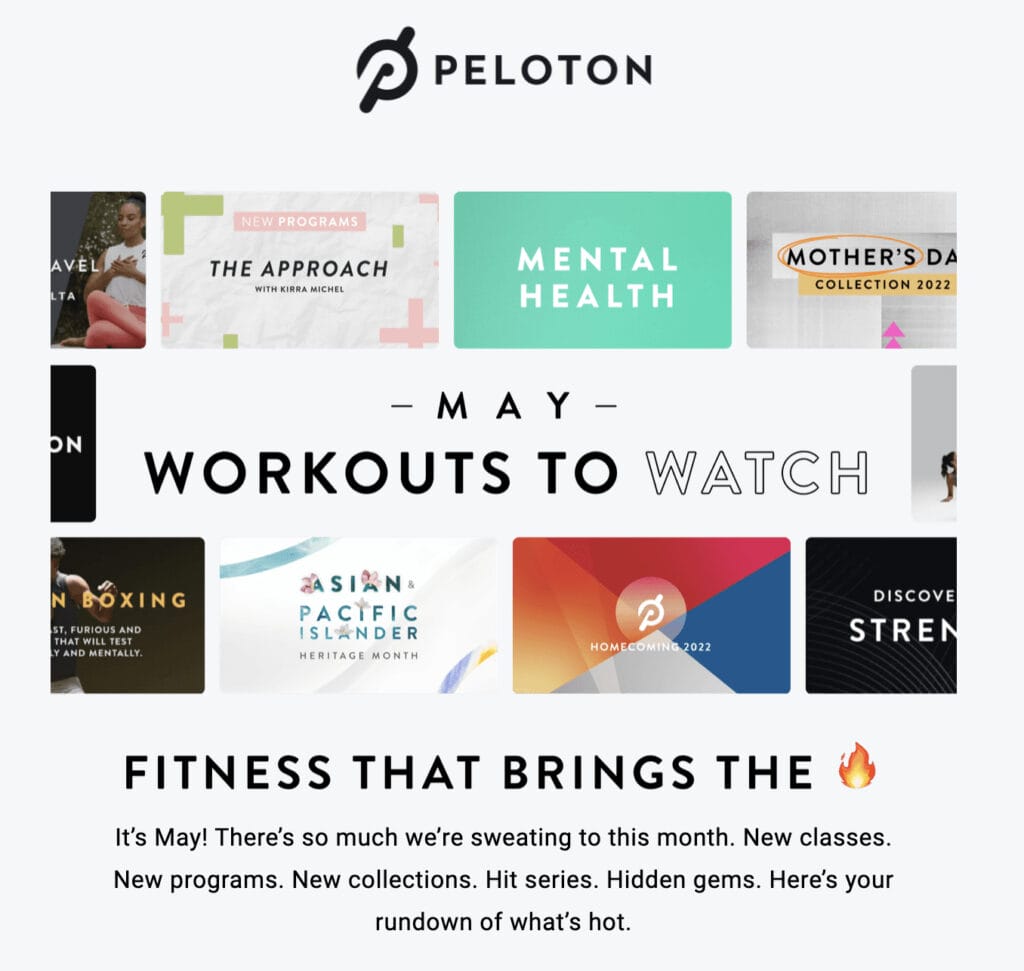 ---
Want to be sure to never miss any Peloton news? Sign up for our newsletter and get all the latest Peloton updates & Peloton rumors sent directly to your inbox.