Peloton instructor Alex Toussaint has announced a book tour as part of the release of his new book, Activate Your Greatness. He shared the news via Instagram:
It's book tour time and we're coming for you first NYC!l‼️Join us on 10/11 at 7pm @irvingplaza for a special evening hosted by the legendary @carichampion 👑
Can't wait to see y'all and celebrate our GREATNESS TOGETHER!!
Tickets are on sale now…Announcing more cites soon 🗣️💯
Locations in addition to New York City have already been added to the tour website. There will be seven events, with more potentially to be added:
Alpharetta, GA – Peloton Retail Store – August 18 at 2:00pm
New York, NY – Peloton Studios New York (PSNY) – September 30 at 2:00pm
Rockville Centre, NY – The Madison Theatre – October 10 at 7:00pm
New York, NY – Irving Plaza – October 11 at 7:00pm
Houston, TX – Holy Family HTX Episcopal Church – October 12 at 7:00pm
Dallas, TX – Half Price Books – October 13 at 6:30pm
Washington, DC – Politics & Prose – October 14 at 5:00pm


Tickets can be purchased via the Macmillan Publishers website; but note that as of publishing time only the D.C. event has a "book now" button. That link redirects to the venue website, which explains that tickets for the event are free and attendees will be seated on a first come, first served basis. In addition, the Irving Plaza event in New York City is not listed on the tour website, and has a separate event link where tickets can be purchased for $82.
Ticket prices and what exactly is included with that ticket will likely vary depending on the specific location of the event, so those interested in attending should check out the venue-specific ticket sites once available.
Members will notice that an event at PSNY is listed on the tour website, even though Peloton has not yet made any official announcements about a special event. However, all instructors who have published books this year have had an event at Peloton Studios: Cody Rigsby, Ben Alldis, Emma Lovewell, and Robin Arzón. We anticipate Peloton will share information about the September 30th event at PSNY in the coming days.
In addition to his book tour, Alex will also appear at Kroger's 2023 Wellness Festival in Cincinnati, Ohio on September 22. According to the festival website: "The Kroger Wellness Festival is a public event to raise awareness of everything Kroger offers, while sharing our vision of physical and mental health for all." Alex will be a featured speaker at the event, and Kroger shared the news via Instagram.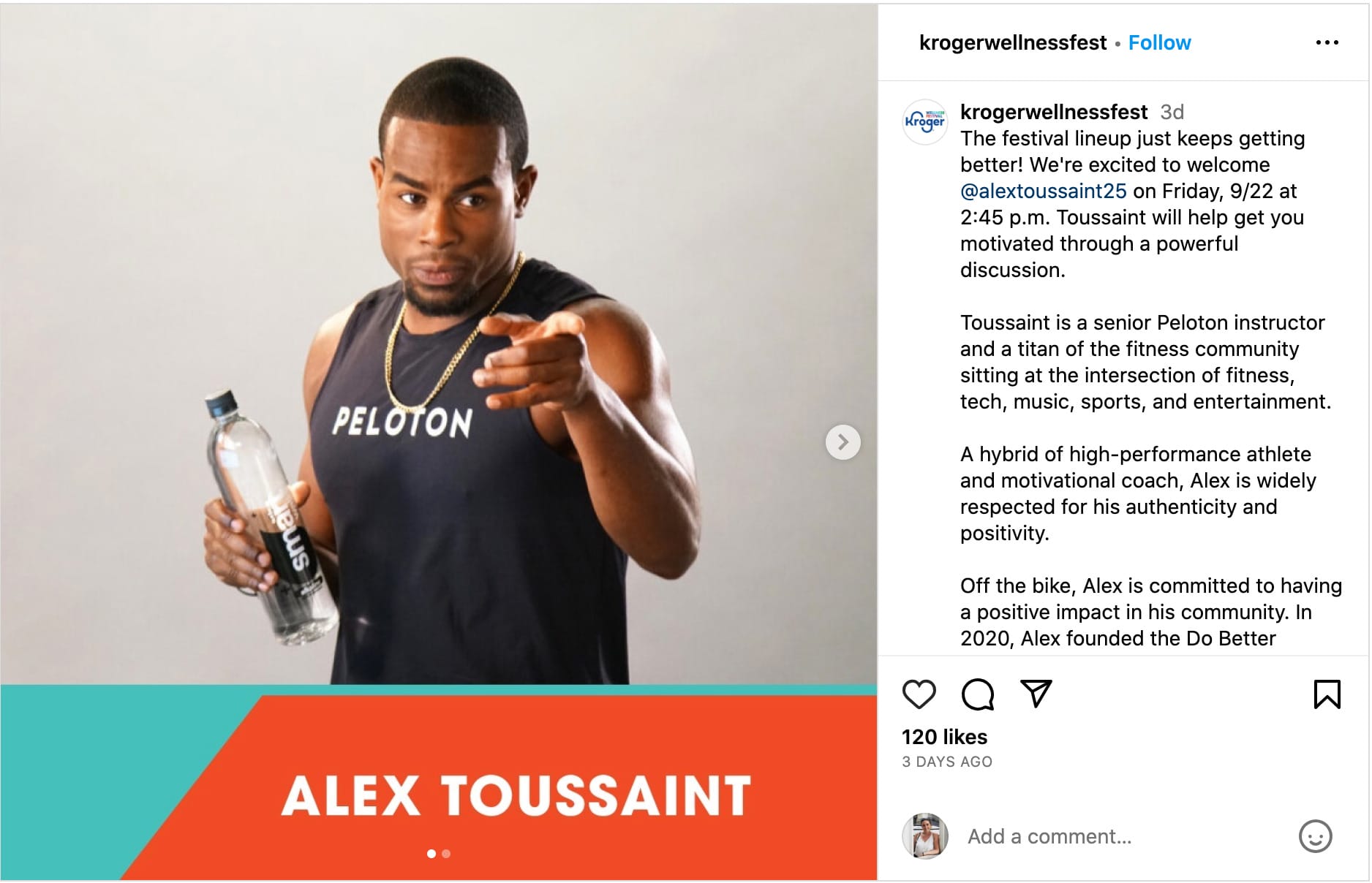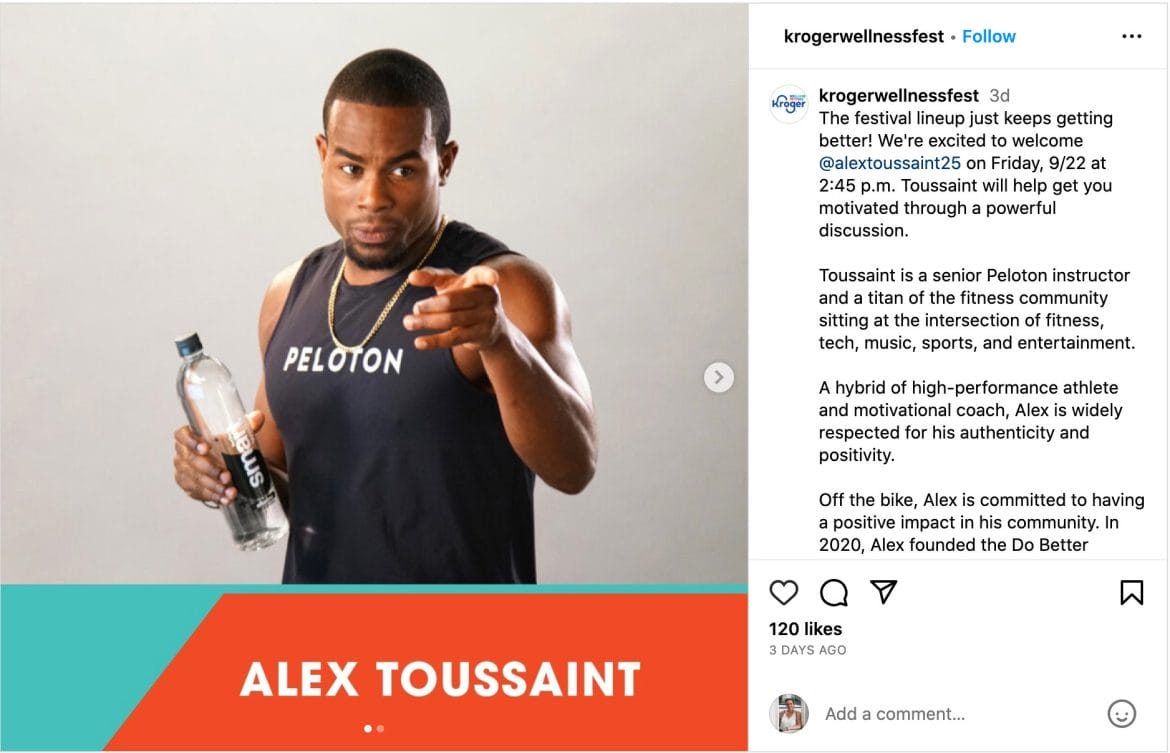 Alex will appear at a "fireside chat" event from 2:45-3:30pm at the BODYARMOR stage. The official event description reads:
Alex Touissaint marries his personal passion for fitness with his military background's rigor in discipline and routine through a fireside chat focused on "Establishing Goals and Fostering Discipline In Your Everyday."


Alex first announced his upcoming book in January of 2023. Activate Your Greatness will be released on October 10, 2023 and is available for pre-order on Amazon (affiliate link).
If you're interested in attending one of Alex's upcoming book tour events, be sure to keep an eye on the Macmillan Publishers website for more details and ticketing information.
---
Want to be sure to never miss any Peloton news? Sign up for our newsletter and get all the latest Peloton updates & Peloton rumors sent directly to your inbox.