Peloton had a surprise announcement this morning that Tunde Oyeneyin would be expanding her class schedule, and begin teaching Bike Bootcamp classes.
The reveal started with a class dropping straight to on demand. You can find the first Bike Bootcamp class here, from 12/2/20 @ 10:00am ET.
Peloton also updated the upcoming class schedule to show her first live & encore Bike Bootcamp classes.
Tunde Oyeneyin Bike Bootcamp Schedule (Initial 2 Weeks)
30 minute Bike Bootcamp: Upper Boddy – 12/2/20 @ 5:00pm ET (Encore) – Tunde Oyeneyin
30 minute 90s Hip Hop Bike Bootcamp – 12/4/20 @ 7:30am ET – Tunde Oyeneyin
30 minute Hip Hop Bike Bootcamp – 12/15/20 @ 5:00pm ET – Tunde Oyeneyin
Tunde shared her excitement about the addition
BIKE BOOTCAMP!!! I'm soooooo excited to join my teammates Robin, Jess and Cody as the as the newest Bike Bootcamp Instructor. I've been patiently counting down the days to do this with you and now it's finally here – Get ready to bring the same level of heat from the bike to the floor.
Tunde joins Cody Rigsby, Robin Arzon, and Jess Sims as the other Bike Bootcamp instructors. Bike bootcamp classes first launched in September 2020, with all classes being on-demand only. Peloton began offering them as live classes as well in November, and split them out into their own top-level category. Tunde joining the team shows Peloton will continue to put effort behind the new bike bootcamps – we'll stay tuned for what comes next.
And don't worry, there's no indication that Tunde will stop teaching any other class types, this would just be an addition on to of what she already teached.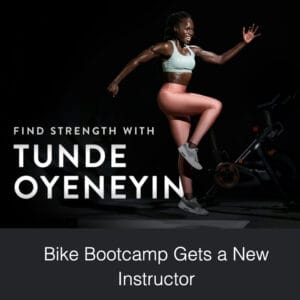 ---
Want to be sure to never miss any Peloton news? Sign up for our newsletter and get all the latest Peloton updates & Peloton rumors sent directly to your inbox.