Peloton seems to be having sporadic issues with another one of their third party integrations. Unlike the previous issue which revolved around the Fitbit, this week's issue seem to be around Apple's Gymkit Integration with the Peloton Bike+ and Apple watches.
Numerous users are reporting after the most recent Peloton software update that their Apple Watch will no longer pair or connect with their Peloton Bike+. This leaves them unable to use their Apple Watch as a heart rate monitor on their Bike+. This is not a global outage, as it only appears to be impacting a subset of Peloton users – but that doesn't make it any less frustrating.
There seem to be a few different approaches to troubleshooting your Apple Watch & Peloton Bike+ integration with GymKit – we'll list of a couple of different things to try. Note that Peloton support does seem to be aware of this issue, and has indicated their engineers are working on a fix – so you could just try waiting as well and hoping the next update fixes it. That said, if you want to take matters into your own hands, read on!
Troubleshooting steps to fix an Apple Watch that won't connect or pair with a Peloton Bike+ – Apple GymKit Issues
These are in listed in order of least involved to most involved. We'll point out that the next to last option (cache clearing + calibration) seems to be the one that works the most, however, since it involves recalibrating your Bike+ (which won't cause any data loss, it just requires jumping through hoops), we list a few "easier" options first, which fix the issue for some people.
Restart Peloton
Always the first troubleshooting step. Power your bike all the way off (press and hold the power button on the back of your screen a few seconds, then select "Shut Down"), wait 10 seconds, power your Bike back on.
Force Restart your watch
Sometimes the issue can be with your watch itself. Try force restarting it (press and hold both the side button and Digital Crown for at least 10 seconds, then release both buttons when you see the Apple logo.), and see if it will connect afterwards.
Toggle Gym Detection Setting on Watch & Force Restart Apple Watch
Open the Settings app on your watch. Scroll all the way to the bottom for "Workout". Towards the bottom, you should have a toggle for "Detect Gym Equipment" Turn this off. Exit settings.
Wait around a minute. Force restart your watch (see instructions above).
Turn Detect Gym Equipment back on in the Settings app of your Apple Watch.
Now try to pair your watch to the Peloton Bike+
Toggle Gym Detection + Clear Cache + Calibrate Bike+
As we said at the start, this one is slightly more involved, but also seems to do the trick (although it doesn't fix it for everyone unfortunately). Although doing a calibration might seem counter-intuitive, one of the steps involved in the recalibration process is a firmware update, which is what you are actually trying to accomplish. Note that some people have success simply recalibrating their bike, so you can jump to that step and try just that if you want.
Start by turning off Detect Gym Equipment on your watch (Settings -> Workout -> Detect Gym Equipment).
Next you'll want to clear the cache of your Bike+. This is actually recommended by Peloton support for other Bluetooth HR issues. See Peloton's support page here for the most up-to-date instructions on how to clear your cache. This won't cause any data loss on your Peloton Bike+ [UPDATE – It's reported the method linked above doesn't always work to clear your cache. Instead, you can do it by going to Settings > Device Settings > Apps > Peloton > Storage > Clear Cache. Thanks to MoJack22 for the update]
Once you've cleared your cache and done the reboot, you now want to recalibrate your Bike+.
Click the Settings button at the top right of your Bike screen
Click into Device Settings
Choose "Home Installation"
Click the large icon for "Start Calibration"
New firmware will download and the bike will recalibrate
Click "Done" on the bike when it finishes
Turn Detect Gym Equipment back on in the settings app of your watch.
Try to pair your watch to the Peloton Bike+
Uninstall & Re-Install Peloton App on the Bike+
Note that you will have to log back in to things after this, but there is no data loss.
Click the Settings button at the top right of your Bike screen
Click into Device Settings
Choose "Apps"
Choose "Peloton" (the one that just says Peloton, not any of the other Peloton apps)
Click Force Stop
Click on the 3 dots at the top right of your screen
Choose "Uninstall Updates"
Click OK
Click on the Peloton Logo at the bottom center of your screen to go back to the home screen
After all of the above is done, a new download should start. Once it's done you will have to re-add your Wifi connection back and re-login to your Peloton Account.
Once you are logged back in, try pairing your Apple Watch with the Bike.
All of the above + Factory Reset
If the above step doesn't work, you can also try a factory reset of your bike. While this will clear all your info, it will be restored once you log back in, but requires you to reset up your WiFi connection, etc.
Please let us know in the comments which of these trouble shooting steps worked for you, or if you have another method of fixing an Apple Watch Peloton Bike+ issue that worked for you.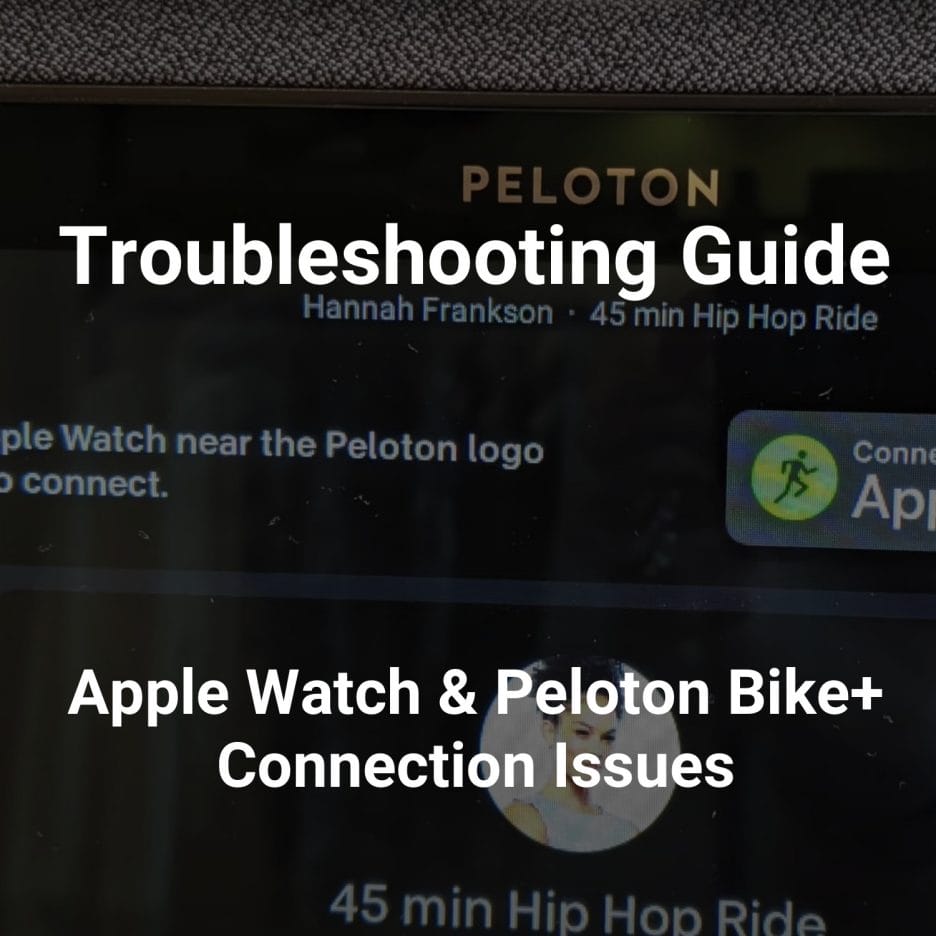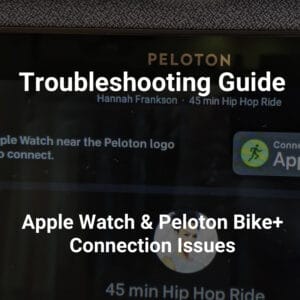 ---
Want to be sure to never miss any Peloton news? Sign up for our newsletter and get all the latest Peloton updates & Peloton rumors sent directly to your inbox.