Update – The feature has officially been released. You can find the official support page here. Peloton also emailed members the following:
Protect your Peloton Tread+ from unauthorized access with our new safety feature, Tread Lock. Starting May 18th, you'll get an automatic prompt to set a 4-digit passcode on your Tread+ before you can work out. After 45 seconds of inactivity outside of a class, you'll have to enter the passcode to start the belt on your Tread+. Keep your passcode secure, and don't share it with anyone who shouldn't be using your Tread+. So after every workout, you can have peace of mind knowing your Tread+ belt is locked.
When Peloton announced the recall of the Tread & Tread+, they also pledged to quickly implement some new safety features – both software based & hardware based.
As part of the official recall, Peloton said they would be "implementing software improvements to the product to automatically lock the Tread+ after each use and prevent unauthorized access by assigning a 4-digit passcode that will be required to unlock the Tread+."
During the earnings call on May 6th, Peloton CEO John Foley stated he hoped that new passcode would be released "in the coming days".
It appears the release is getting closer. The official user manual for the Peloton Tread+ has now been updated with details about the new feature – called "Tread Lock". You can see an image of the feature from the manual below.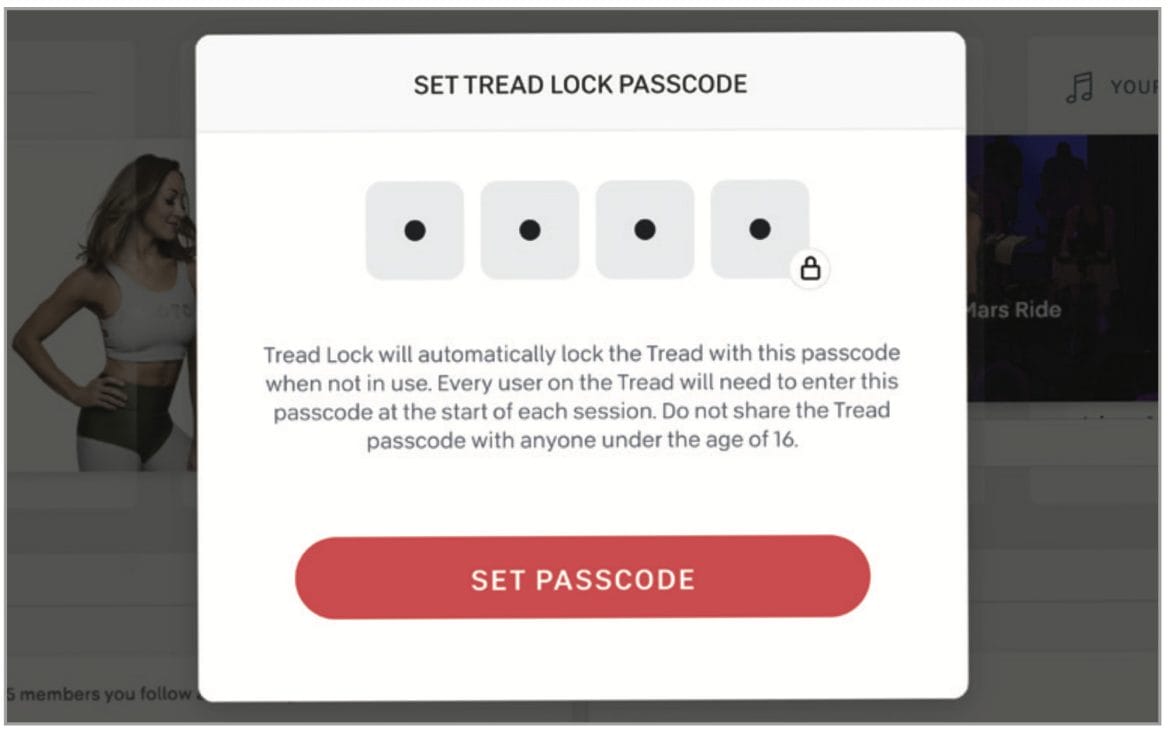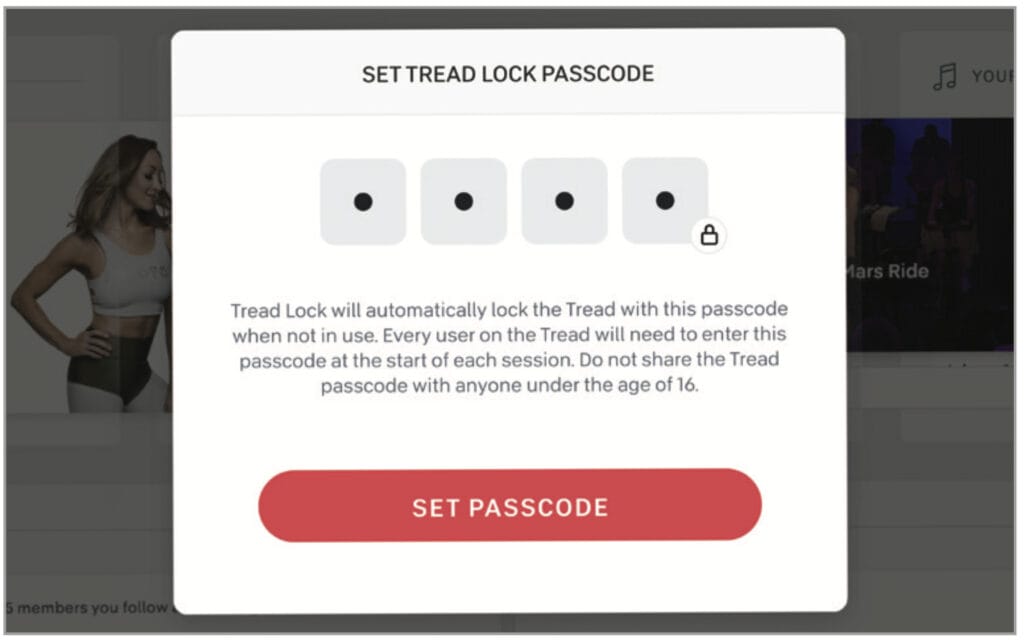 (Update – the feature is now live and you can see full details and get help with the feature here on Peloton's site).
The manual goes on to describe how Tread Lock works – requiring it to be entered after 45 seconds of not being in use. At this time, it does not appear you can have multiple passcodes for each user – there is one passcode for the device itself.
Tread Lock is an additional safety feature that requires a passcode to unlock the Tread+.


Setting up a 4-digit passcode will be required when using your Tread+ for the first time. All users will be required to enter this passcode after 45 seconds of inactivity except during a workout.


NOTE: all user profiles associated with the Tread+ will be required to enter the same 4-digit passcode.
Here is what is considered "inactivity" (or when the Peloton Tread+ will auto-lock) – all of the following conditions have to be met.
1. You have not touched the screen for at least 45 seconds.
2. Your speed is at 0 mph.
3. The incline has not been adjusted for at least 45 seconds.
4. You are not in a class.
It also does not appear that the safety passcode (or Tread Lock) will be an optional feature – but rather a new required safety feature. So if you're wondering how do you disable the passcode on the Peloton Tread+ (or disable or remove the Tread Lock) – it doesn't appear you can. However, if you have simply forgotten your password, Peloton appears to be setting up a system to allow you to reset it.
The manual for the new lower cost Peloton Tread has yet to be updated, so at this time, we aren't sure if the Tread Passcode will only be rolled out for the Tread+, or both devices.
---
Want to be sure to never miss any Peloton news? Sign up for our newsletter and get all the latest Peloton updates & Peloton rumors sent directly to your inbox.