Update – Peloton officially began their Black Friday sales on November 14th, and they'll run through November 28th. You can read full details on the sale here – which offers free accessories with the purchase of a Bike, Bike+, Tread, or Guide.
Original Story
Newly uncovered data indicates that Peloton's 2022 Black Friday & Cyber Monday sales will likely begin on November 14 and run through November 28, 2022 as found by @BobTreemore on Twitter.
This timeframe would align with Peloton's 2021 Thanksgiving holiday sales, which ran from November 15-29.
It is not yet clear what exactly the sales will be yet, though Peloton's announcement of a price match guarantee indicates a sale is likely in the works. Sales in the past have varied widely, including no sale at all, only apparel on sale, free accessory bundles, or a discount on the Bike/Tread itself.
There are already some hints that Peloton might be returning to the structure they maintained from 2015-2019, when customers received a free "The Works" accessory package (a $250 value) with the purchase of a Peloton Bike. Earlier today we shared that Peloton is offering a price match guarantee for hardware purchases made from November 1 through November 28, and a customer support chat box specifically mentions an accessory bundle as something they are matching to.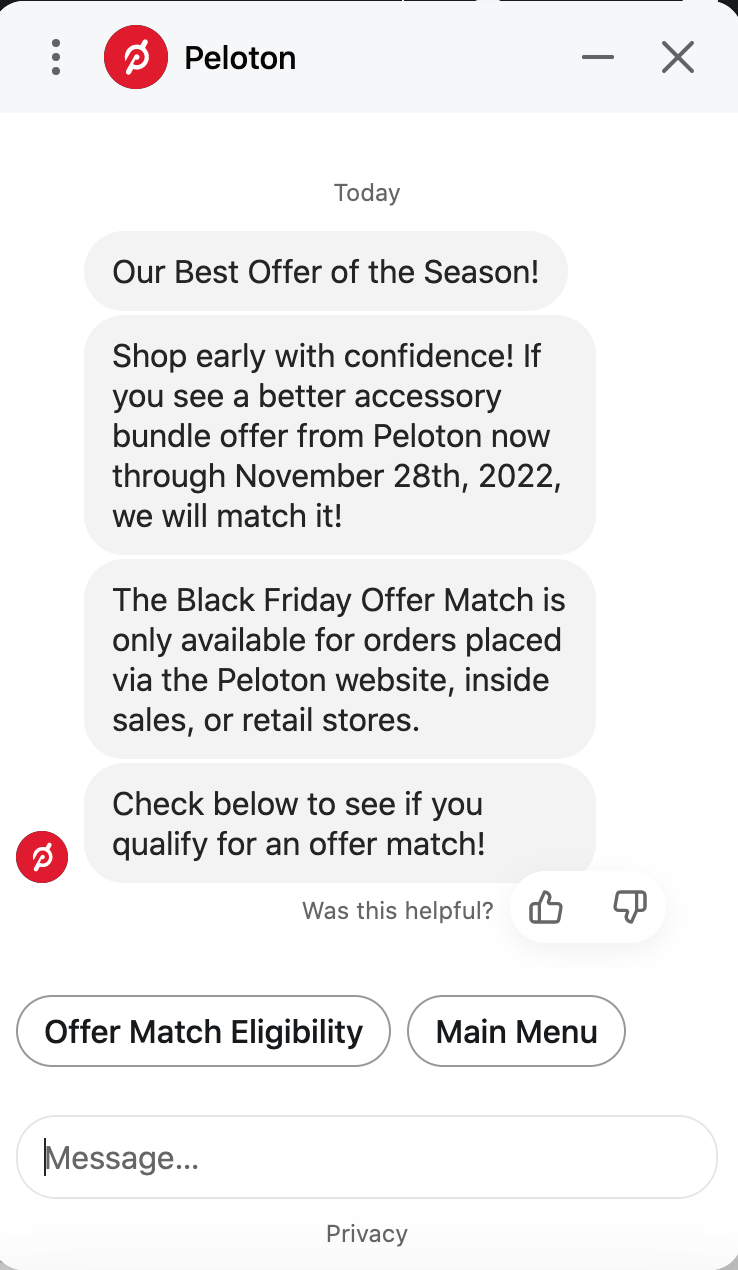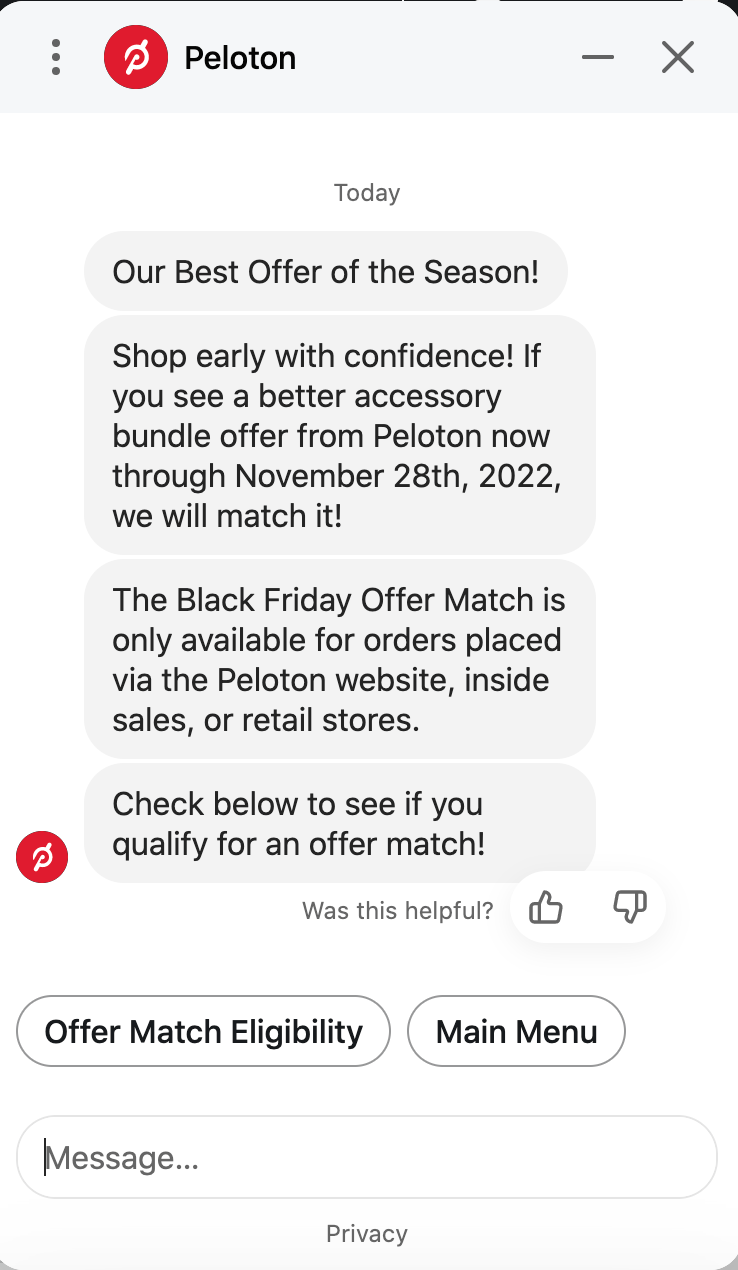 After five years of the same Black Friday & Cyber Monday offer, Peloton switched things up in 2020 by not having any special Black Friday & Cyber Monday holiday sales on hardware (this was due to them having overwhelming demand and massive shipping backlogs at the time). In 2021 they returned to a Black Friday & Cyber Monday sale – but for the first time it included discounts on the original Bike, Bike+, and Tread, as well as discounts on Peloton Apparel. You can read more about past Black Friday & Cyber Monday sales on our site.
The text in the chat box could indicate that there could only be accessory bundle offers this year, but that is not fully confirmed yet – a possibility still exists there could be discounts on the base products themselves.
For the first time ever in a holiday season, Peloton products will also be available from third-party retailers such as Amazon and DICK'S Sporting Goods, so there may be additional Black Friday & Cyber Monday discounts available there as well. Last month Amazon ran an early holiday sale which saw the Peloton Bike with a $220 discount. DICK'S Sporting Goods is also already offering some of their members at $100 gift card if they purchase a Peloton Bike currently.
We will share updates about Peloton's 2022 Black Friday & Cyber Monday deals as they become available!
---
Want to be sure to never miss any Peloton news? Sign up for our newsletter and get all the latest Peloton updates & Peloton rumors sent directly to your inbox.