Starting today, November 1, 2022, Peloton is offering a guaranteed price match (to themselves, not to third party retailers) on the original Bike, Bike+, Tread, and Guide in preparation for their eventual Black Friday sales. A new banner has appeared on the Peloton homepage that reads: "Shop early with confidence. See a better offer from Peloton before 11/28 – we'll match it."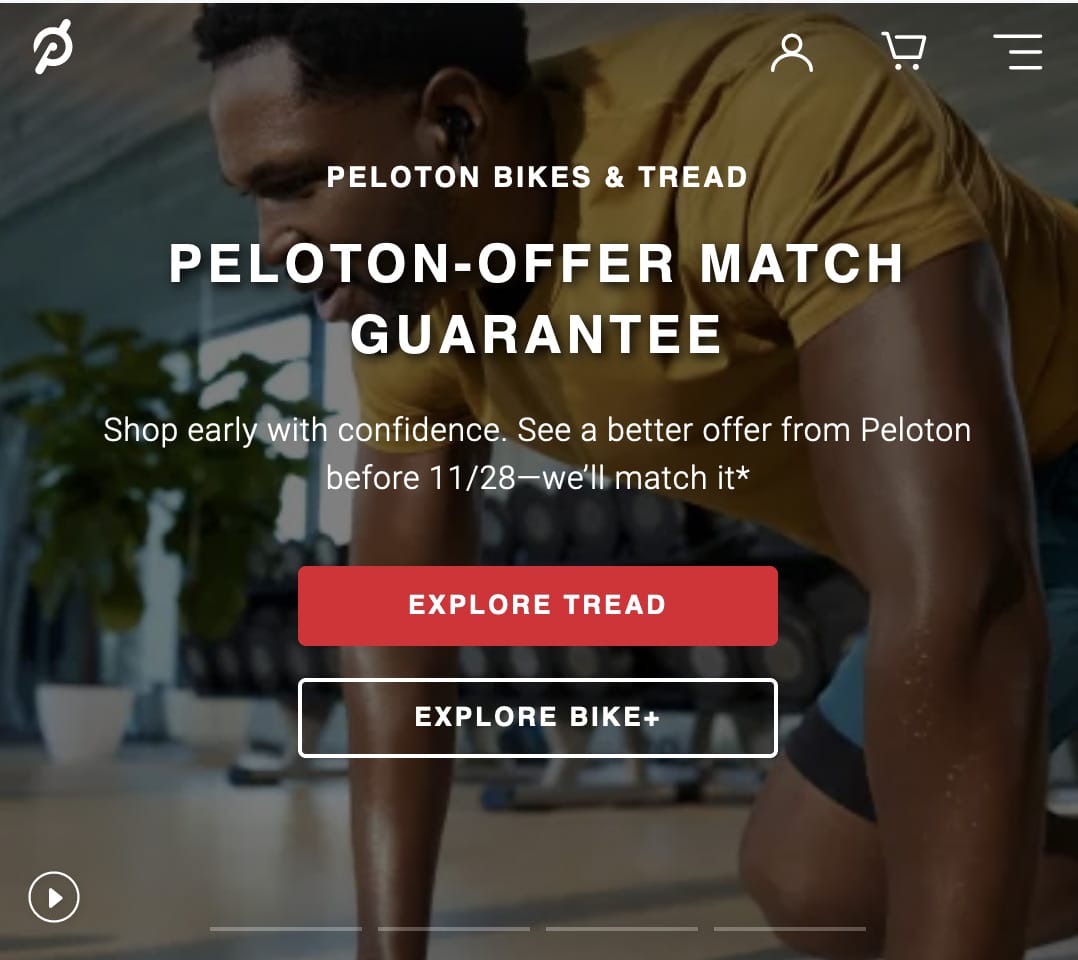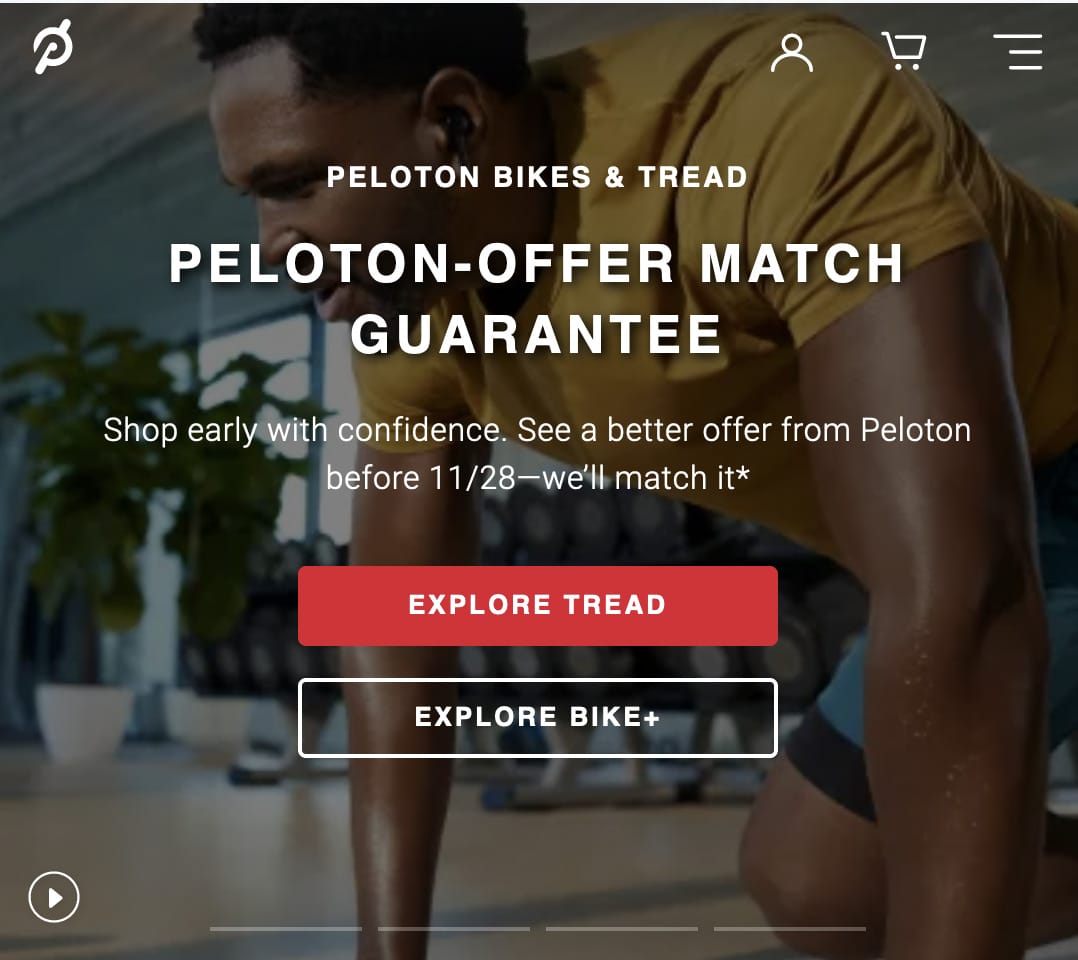 Peloton also sent an email advertising the offer, with a note that ordering hardware now will allow for shorter shipping and delivery times.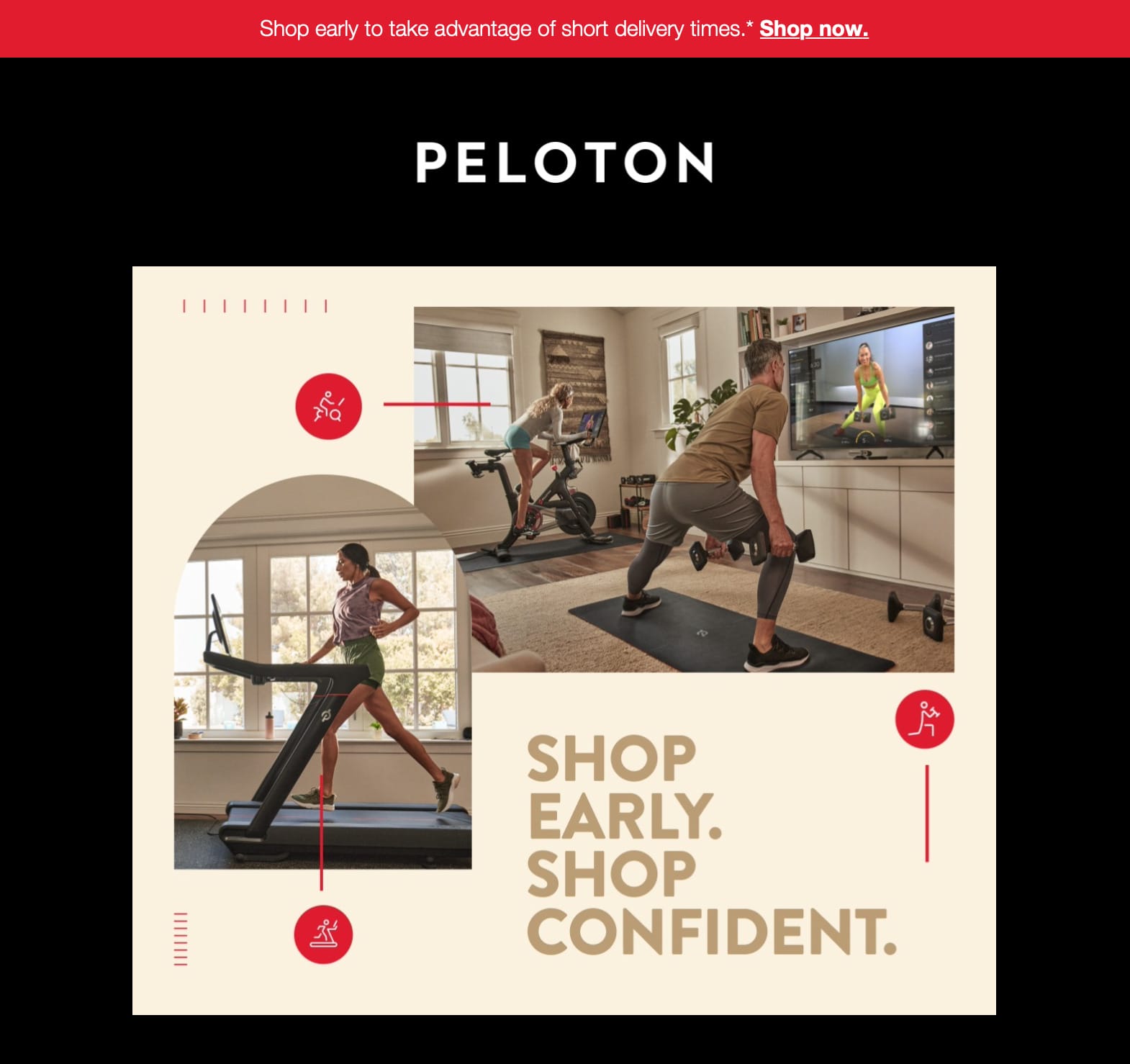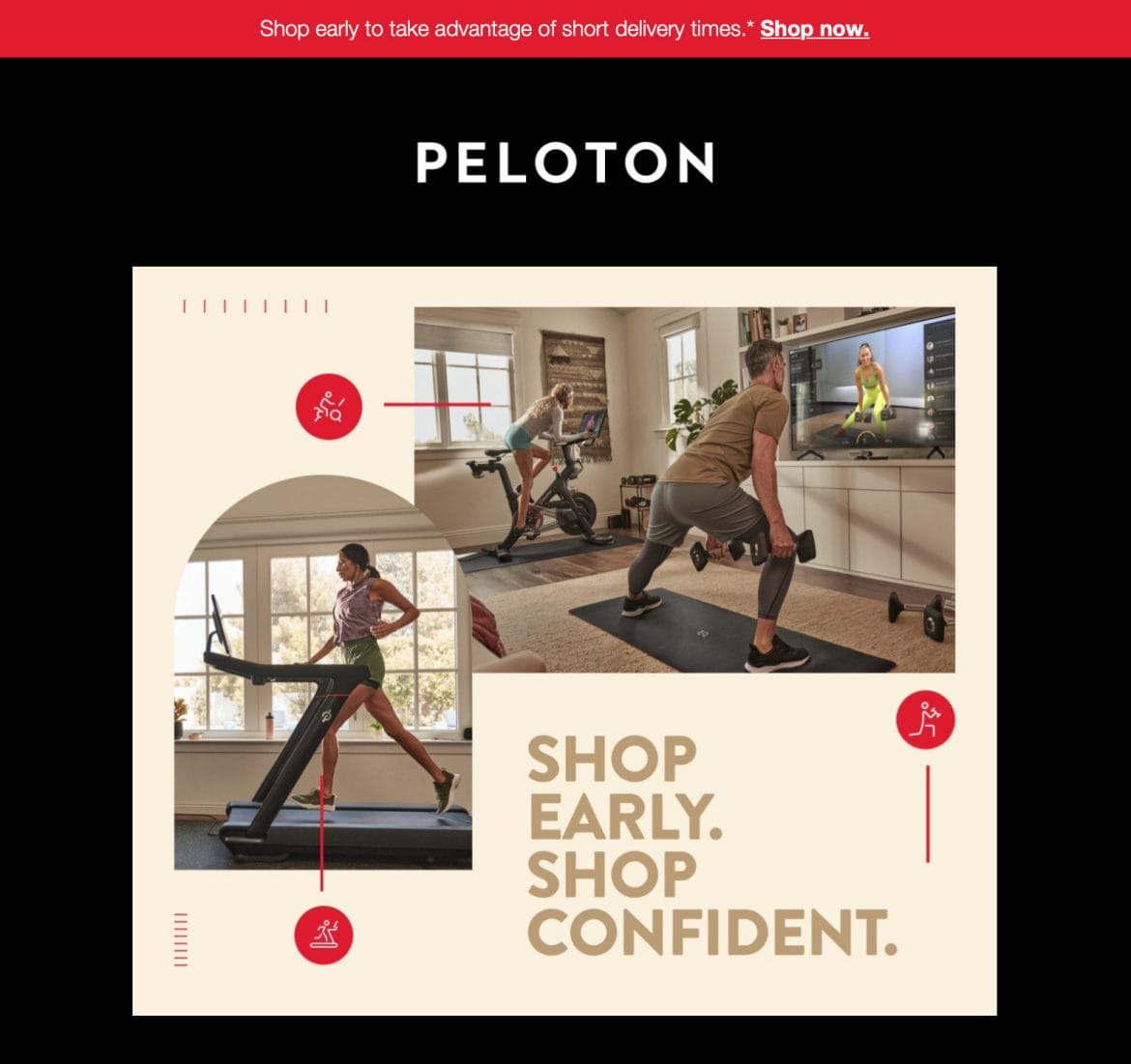 November 28 is Cyber Monday in the United States, which is typically the final day of major Thanksgiving weekend holiday sales. Though only the Bike and Tread are highlighted on the home page, the terms indicate that the Guide is included in the price match guarantee as well:
Starting November 1, 2022, if you purchase a Peloton Bike, Bike+, Tread or Guide through an Eligible Purchase Location and you see a better offer for the same product at an Eligible Purchase Location, you can request an offer match. Offer match requests must be received by Peloton no later than November 28, 2022. Proof of purchase is required for price adjustments after purchase. For additional details, including how to request an offer match, visit us here.
The link takes users to a support page, which provides additional details and important terms:
The offer is only available for purchases made at a Peloton showroom or through Peloton's website (i.e. the offer does not apply if you buy from a third-party retailer such as Amazon or DICK'S Sporting Goods).
The offer does not apply to any accessory-only purchases or Peloton Apparel.
You must make the hardware purchase & submit the price match by November 28 in order to qualify.
The support page automatically brings up a chat box, which specifically mentions an "accessory bundle." This could be a hint that Peloton's 2022 Black Friday sale will return to what they did in 2015-2019, when customers received a free "The Works" accessory package (a $250 value).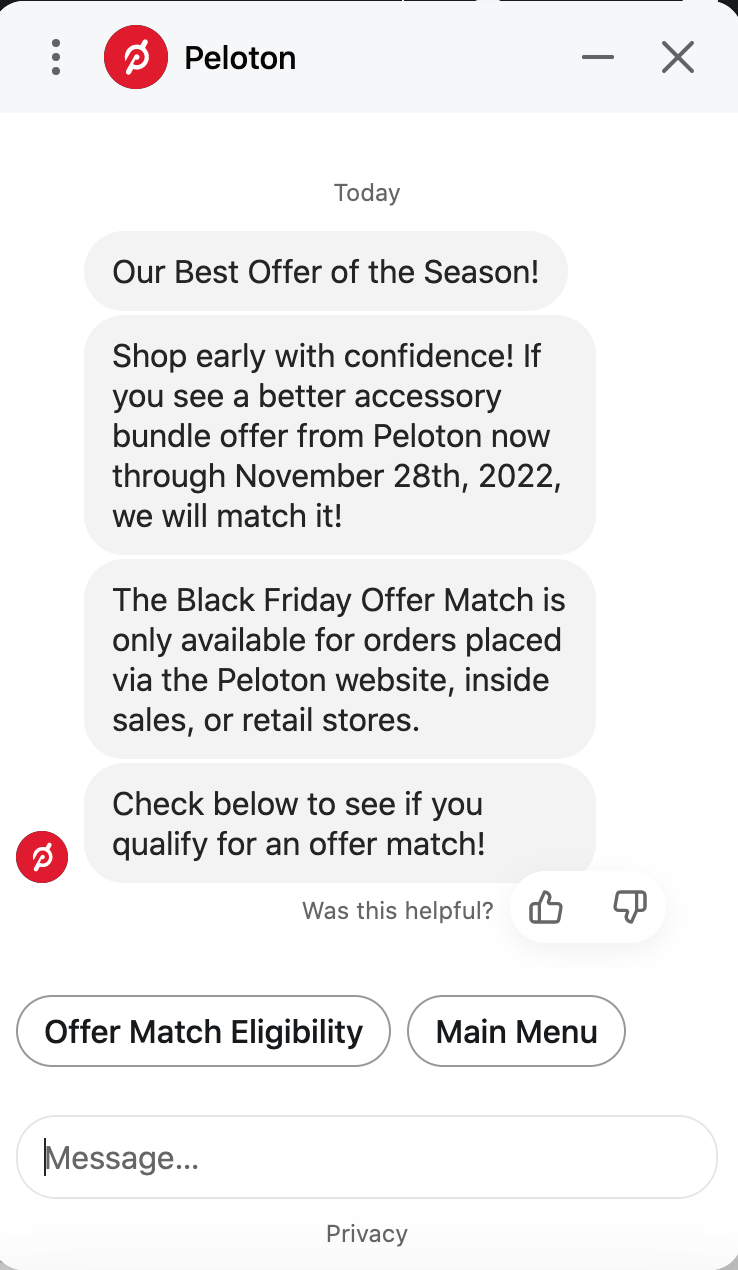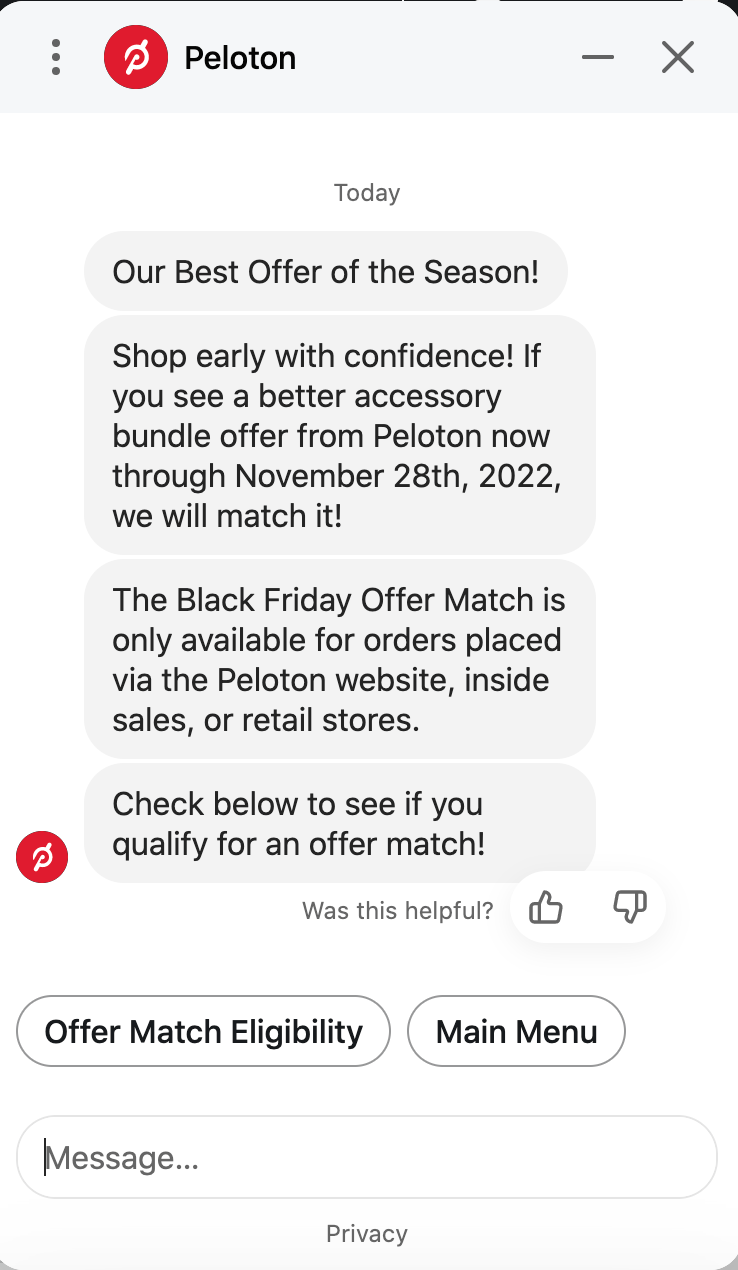 Note that as the Peloton Row is still in the pre-sale phase, the device does not appear to be included in any special holiday offers.
Peloton has not yet announced what exactly their 2022 Black Friday & Cyber Monday sales will entail, but you can get an idea of what their past Black Friday & Cyber Monday sales have looked like here.
---
Want to be sure to never miss any Peloton news? Sign up for our newsletter and get all the latest Peloton updates & Peloton rumors sent directly to your inbox.